Click here to read about the 10×10 challenge and see my picks for this go-around.
We're almost halfway through the Winter 10×10; today I'm recapping looks 1-4. Let's get started!
Day 1
Ralph Lauren button down
Loft sweater
Paige jeans
Puma sneakers – all thrifted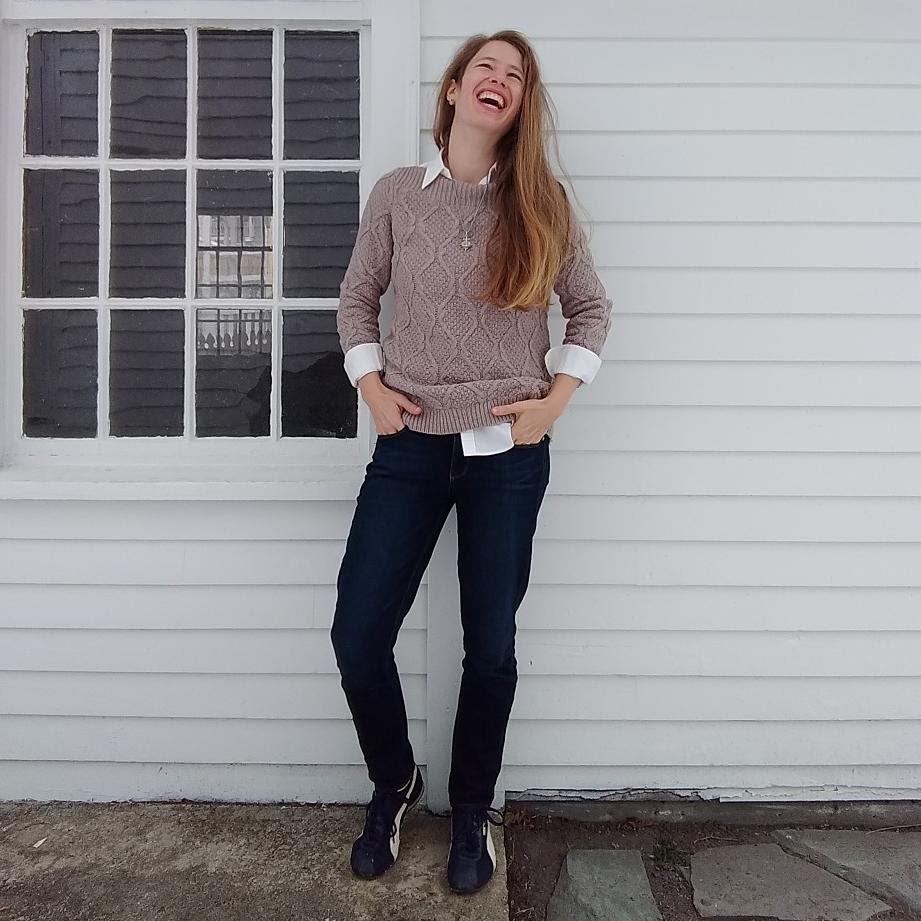 As mentioned previously, I have struggled with layering button down shirts under sweaters. One of my goals for this 10×10 was to give that combo another try, with better-fitting shirts and a thicker sweater to help everything lay flat. So I gave it a shot right out of the gate – and behold! I succeeded. I really enjoyed the crispness of the white collar against the soft, snuggly sweater; the simple color palette; and the way the sneakers just barely kept it from veering into preppy suburban mom territory.
I also love that the Polo logo on the Ralph Lauren shirt is on the cuff; I can keep the very obvious branding out of sight simply by cuffing the sleeves, which I often do anyway. And when I want to wear it sans sweater, there will be no logo marring its lovely lines: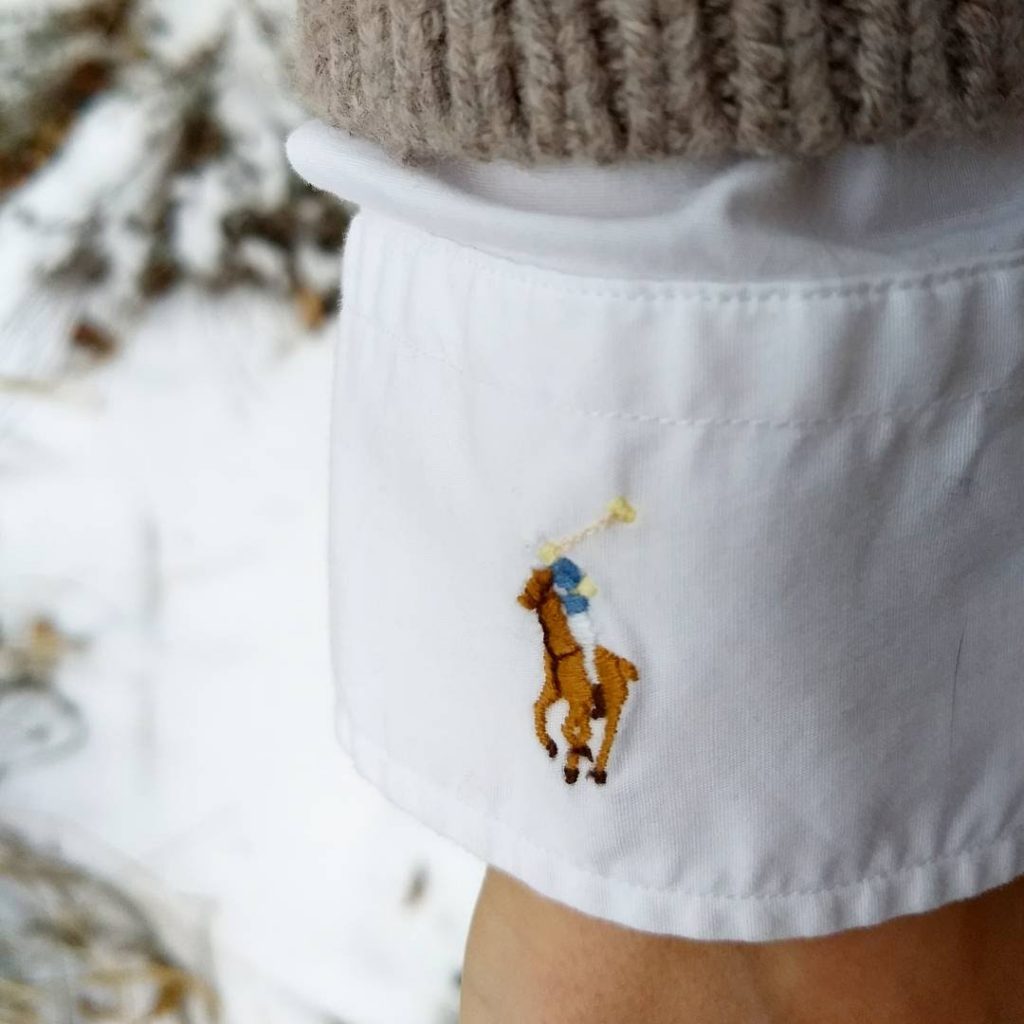 I also think this white shirt fits Light Summer's "cloud white" nicely.
Rating: 10/10.
Day 2
Blue sweater by Loft
White cardigan by INC
Paige denim
Puma sneakers – all thrifted
I was excited to find this waterfall-esque cardigan with gold zipper details at Restoration Project in Belmont, but it's proved harder than I thought to style.  The (Light Summer) lightness of the upper half of my body doesn't look like it belongs with the lower half, and the shawl collar ends at a spot that kind of cuts me off in the middle.
I do, however, love those gold zippers and am committed to giving this another try: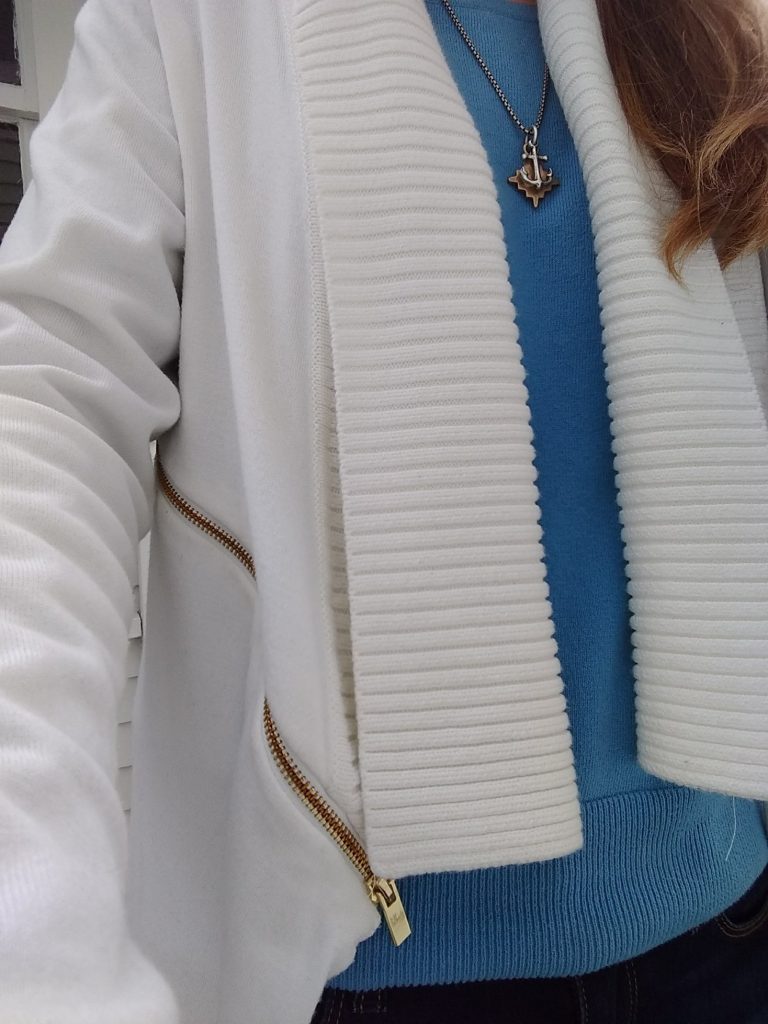 Rating: 5/10
Day 3
Banana Republic turtleneck
Cardigan by INC
Pants by Elie Tahari – all thrifted
Socks by Target (retail)
Shoes by Clarks (retail)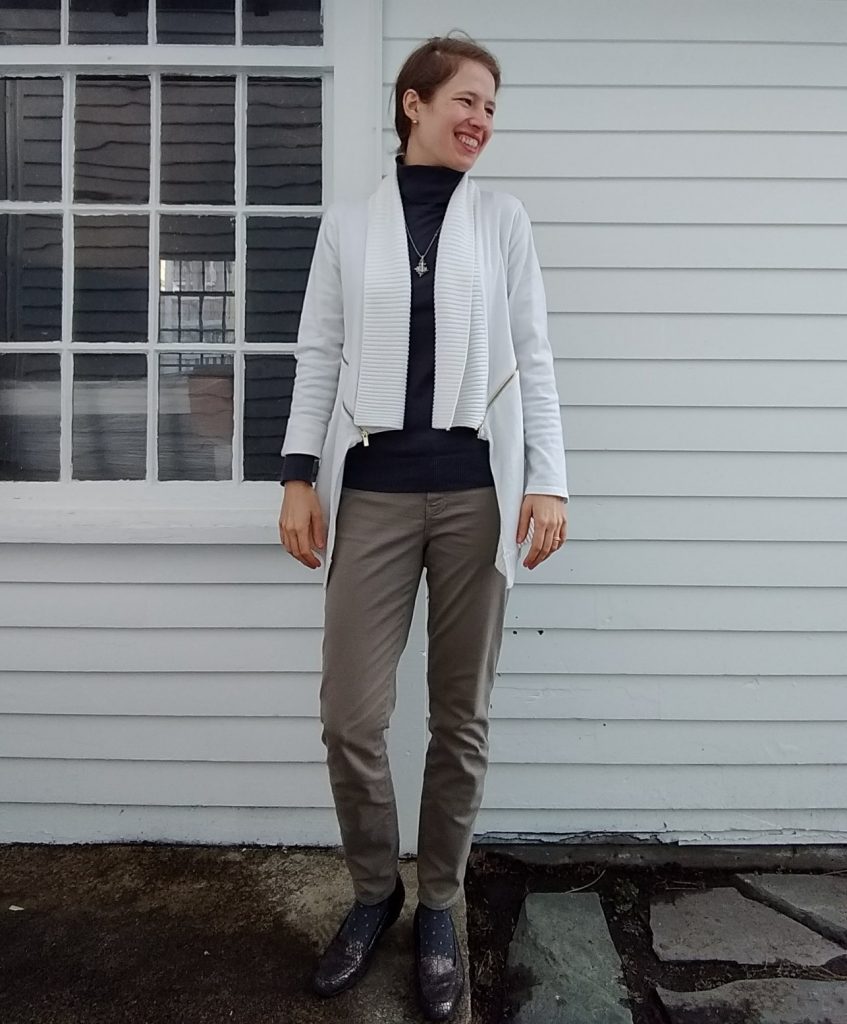 I wore this to church which is why my shoes are fancier and I made the effort to match my socks to my turtleneck. Also why the pants aren't jeans – although they're basically the stretchy chino version of jeans. Suuuuuper comfy (but no pockets – boo).
This turtleneck is super soft and has a great cut; but again, the cardigan cuts me off in the middle. This time it doesn't seem quite as harsh – maybe because these are all neutrals?
Speaking of which, now that I'm trying out more color, the all-neutral look I used to wear a lot doesn't seem nearly as interesting. These are all Light Summer colors (or my approximation of them as I'm learning my color palette), but it falls a little flat. I think the lesson here is that I need some color.
Rating: 6/10. It's polished, but not exciting.
Day 4
Plaid shirt by Lands' End
Sweater by Loft
Paige denim
Rain boots – all thrifted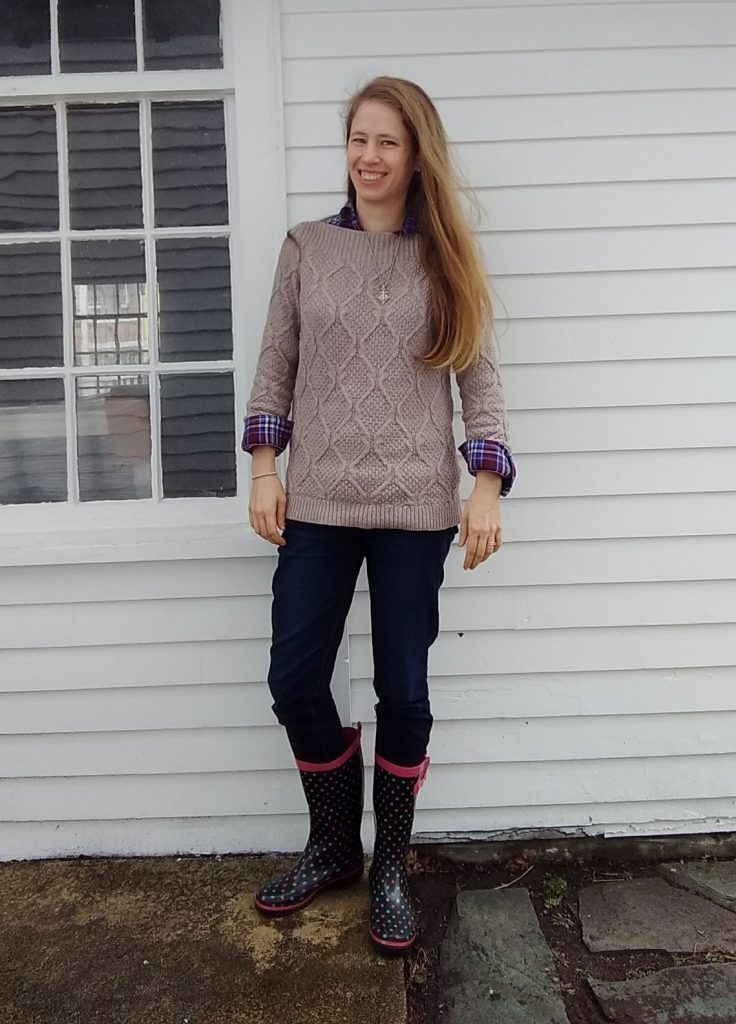 I'm disappointed that the collar doesn't show more above the sweater, although I like the pops of color on the cuffs. I think this sweater works better with the white shirt – the intensity of the plaid colors seems too much for the calm of the neutral sweater. I thought about wearing the purple corduroys with this (and may yet do it) – but that may not solve the bright/muted problem.
PS You can't tell, but there's pink in the shirt that matches the pink in the boots.
Rating: 6/10. The colors clash and it's just not as good as the white shirt.
Let me know what you think of the outfits – and come back Friday for looks #5-7!