I'm doing the 10×10 spring remix hosted by Un-Fancy and StyleBee. All this work week and next, I'll be using 10 pieces of clothing to create 10 different outfits, using self-imposed limitations to spark some creativity. All the details – and the clothes (all thrifted)– here.
Day 4. The dress coat! It's everywhere!
This time I wore it over my Banana Republic leopard print "Heritage" shirt and a textured white skirt (cotton/rayon/linen) by Ann Taylor. Shoes by Bandolino; all thrifted.

The jewelry: cuff bracelet by Monet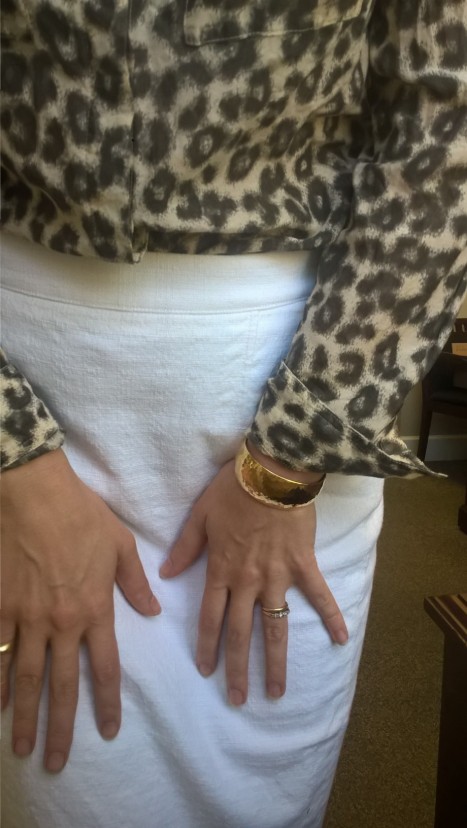 Necklace = heirlooms from my Grandmother. The dove (Holy Spirit) is by James Avery. Not sure where she got the round rust-colored pendant: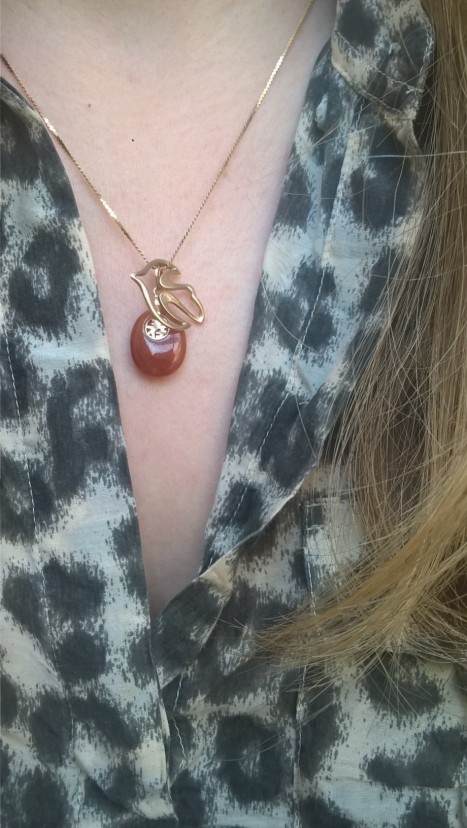 Thoughts on this outfit: pencil skirt + tucked in blouse with a little drape and give, in classic white and funky leopard = my sweet spot. The leopard print pops against the white and the coat finishes it all off.
I included this skirt in my 10×10 because I was on the fence about it – it's a little more booty-hugging than I prefer. Maybe I'm just used to looking at it in the mirror and pictures now, but it doesn't seem as egregious as it once was; just a bit sculpted.  Pockets on skirts are always tricky because they are so prone to pulling; this skirt has a bit of that but not too much. The length is great and the fabric stretchy and soft, plus the liner makes it feel great.  You may have noticed, though, that the lining is peeking out, likely from dryer shrinkage. So after these pics I did my old can't-get-to-the-tailor trick and pinned it: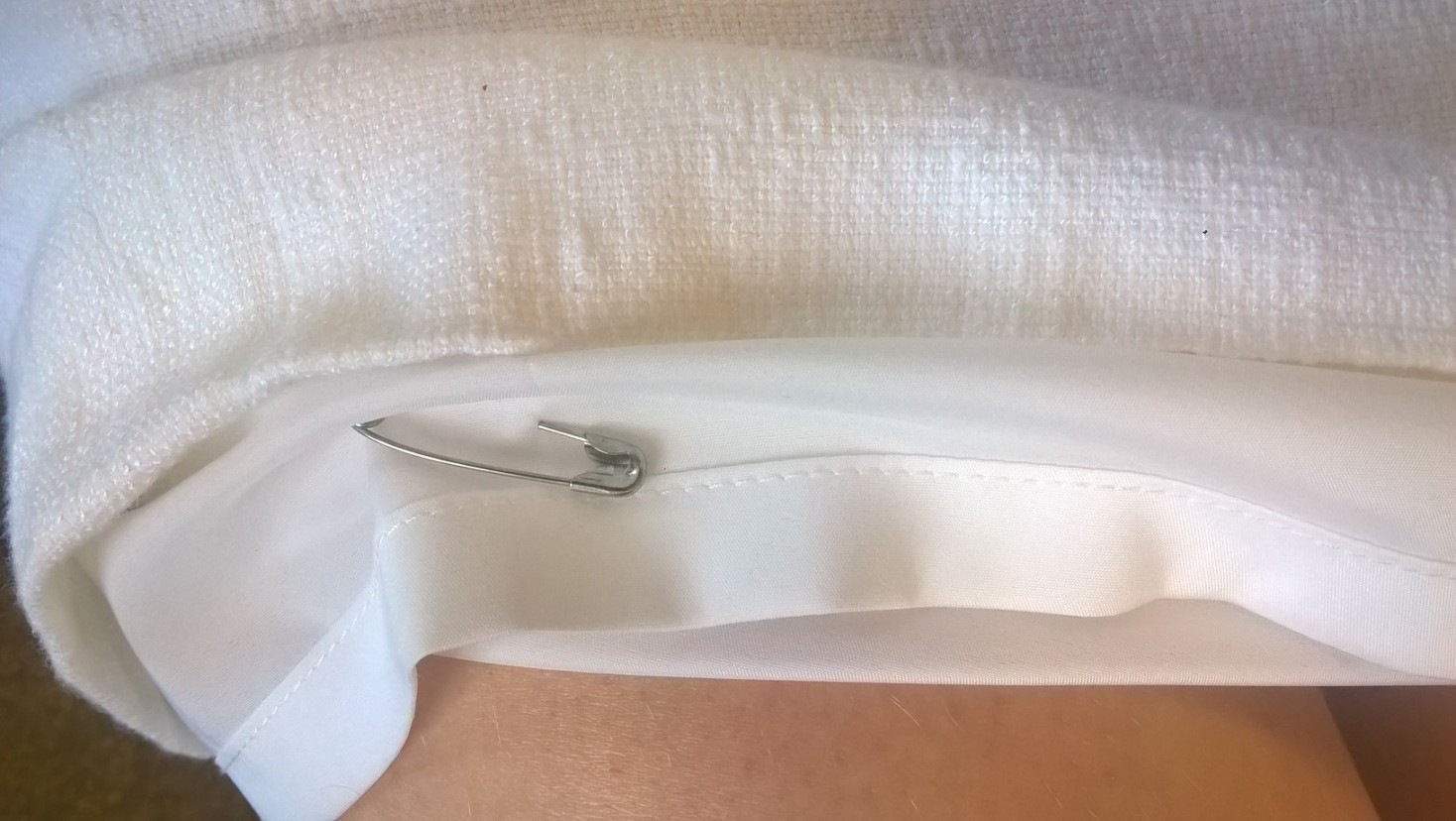 I simply fold the lining over itself about an inch (or however much you need) and then pin it to itself. If it doesn't lay flat, run a hot iron over it. This will hold you until you can get to the tailor or hem it yourself. (Or you can just leave them in like I do – shhhh!)
Ta-da! No more lining peeking out:
I'll get to try out this skirt one more time next week. Right now I'm thinking I will keep it, but I also did a thought experiment about donating it and realized I wouldn't miss it that much – my navy and taupe pencil skirts go with everything, plus I have white trousers for a pop of white against my fun spring/summer blouses. Those puppies are lined, though, and get pretty hot on 90 degree days, so having a white skirt on hand is tempting.
What do you all think of this skirt?  The outfit?  How's your remix? PS There's lots of inspiration and ideas on Instagram #Spring10x10 – great for inspiration even if you're not participating this go-around!