I love color. And as a "Light Summer" in the world of personal color analysis (PCA), there are plenty of gorgeous colors to choose from: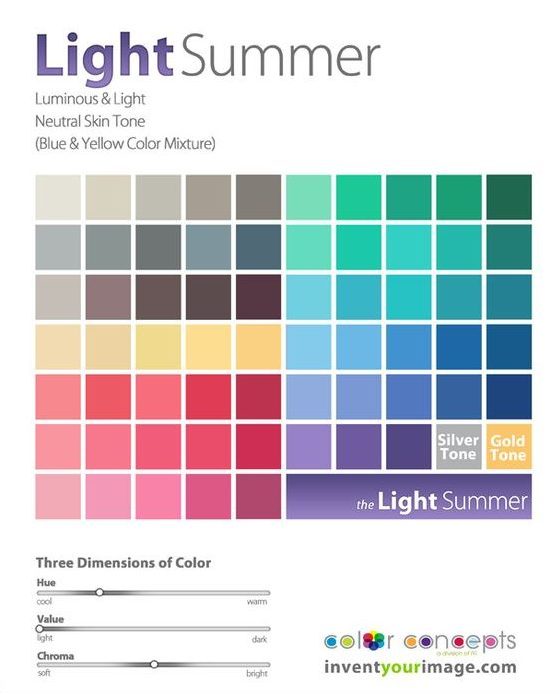 After a detour down the rabbit hole of Instagram-inspired neutrals and with my PCA color palette in hand, I was excited to start wearing color again. After all, I used to regularly dress in electric blue snakeprint blouses and dresses covered in purple tulips with red, green, and yellow accents. (Man I wish I had a picture of that dress to share with you.)
Someone further ahead on the PCA journey than I am cautioned me that neutrals would actually help ground the gorgeous colors in my new palette, and while I knew Kim's advice was right on, as a color-lover, it felt so much more fun to hunt for my new colors than it did to look for neutrals.
But as I've kept working on my Light Summer wardrobe, I've settled down on the color factor a bit and started to really appreciate my neutrals. Two particular favorites are a mauve I've seen referred to as "faded wine" (ha) and lovely shades of taupe. I also dig a real Light Summer gray – one that's light and cool enough to elevate a whole outfit but not so cold it looks stark. Basically, the color of a koala.
This taupe looks weird on my monitor, but who would not be excited about that koala??
I've also realized that some outfits with a lot of color seem to work, where others read as cotton candy.
Too "old-fashioned gender binary baby shower":
Eye-blinding – to me it works but in a magical unicorn one-off kind of way: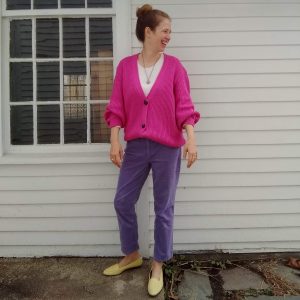 Outfits where color is mixed in with a big dash of "neutral" from my color palette (faded wine, chambray/denim, white, taupe) tend to be less of a gamble:
So basically I've discovered I shouldn't buy colorful pants, ha. It's true, though – I've tried for years to thrift just the right pink yellow, or purple pants, and even when I've hit the hue right on the head, they never really work in my wardrobe. For example, I have a pair of lemon yellow jeans in my drawer right now that I have yet to wear because they just seem to oversaturate every outfit. I'm going to tuck them into storage until spring and see if they improve with a change in the seasons.
Otherwise, the only colorful pants I have right now are green, and I deploy them judiciously. In addition to telling me that my pants forgot to go down all the way (thank you, Sister), my sister commented that the "watermelon" look on the right was overwhelming – fun, yes, but still overwhelming:
View this post on Instagram

So where I've landed for now is that my color generally resides in my top half – shirts, blazers, sweaters – and my bottom half stays neutral (with occasional pops of color in my shoes). This makes for a good mix of colors without me feeling like a clown.
How do you portion out color in your outfits? Or does more = better in your book?