You may recall my recent wedding trip, also known as 48 Hours with no "Luggage."  What I didn't share was the process of trying to find a dress to wear.
It's a problem a lot of people face: you have a wedding/interview/funeral/other special event to attend, something that seems to call for an outfit above and beyond what's already in your closet.  So you go looking for *just* the right suit, dress, shoes, tie…that special, unique ensemble that says "This event is important to me!  This is different!"  And surely, you think, none of the things you wear on a daily basis could convey that sense of gravitas, right?
My dear friend Sarah (check out her blog here) emailed me recently sharing her experience.  Nod along if you've been here—or if reading about bagels makes you hungry:
So I am out of town for a board meeting today (more on that over bagels). Traveled yesterday, meeting today, return tomorrow. And for some reason, I just started freaking out about what I was going to wear. I mean, total and complete freak out. As if my bursting at the seams closet didn't have a single thing in it.
So, as I work next door to the mall, I went to the mall. I tried on several dresses and pairs of pants and they were all horrible. And I needed to leave because, after 4:10, the traffic is a nightmare, so I left, empty handed.
UGH.  I can just feel the stress sweating off her palms and onto her phone keypad as she wrote this.  I was in a similar situation feeling like I just HAD to find the right wedding guest dress, because the bride in question is incredibly chic and I wanted to rise to the occasion in order to honor her with my own (attempted) chicness.
Plus, it would be the PERFECT occasion to really dress up and experiment outside my normal sartorial style footprint—at $5-7 per dress, you can afford to do that at a thrift store, even if you only wear the dress once and donate it right back.
I made two different thrift store runs in a week packed tight with commitments to find *just* the right piece.
My phone wasn't cooperating to show you dressing room photos (le sigh!), but just imagine me sweatily, stressfully trying to make these numbers work while my spouse tried to keep our kiddo busy in the toy aisle of the Goodwill:
a satin blush-colored sweetheart cocktail dress with a poufy skirt and a black ribbon at the waist (didn't zip)
an olive shift with coppery sequins all over the front (oddly, not formal enough)
something silk-like in light blue (not enough oomph for me even to remember properly what it looked like)
and me mournfully eyeing a strapless metallic sheath hugging a mannequin way smaller than me.
I came home with this, a number inspired by a photo from highschool of another one of our friends dressed in a short-sleeved midnight velvet floor-length dress for homecoming (thanks Madhu!):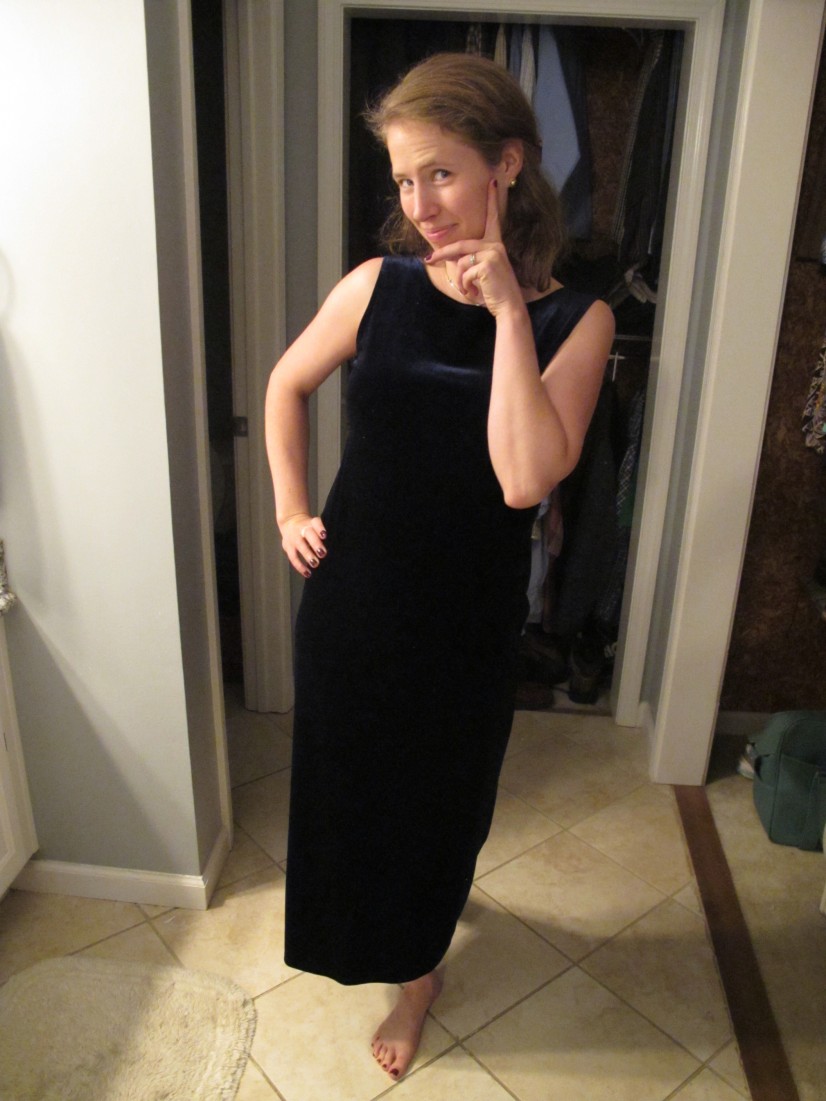 Closeup on the blue velvet and new nail polish for fall—looooove the dark, dark red: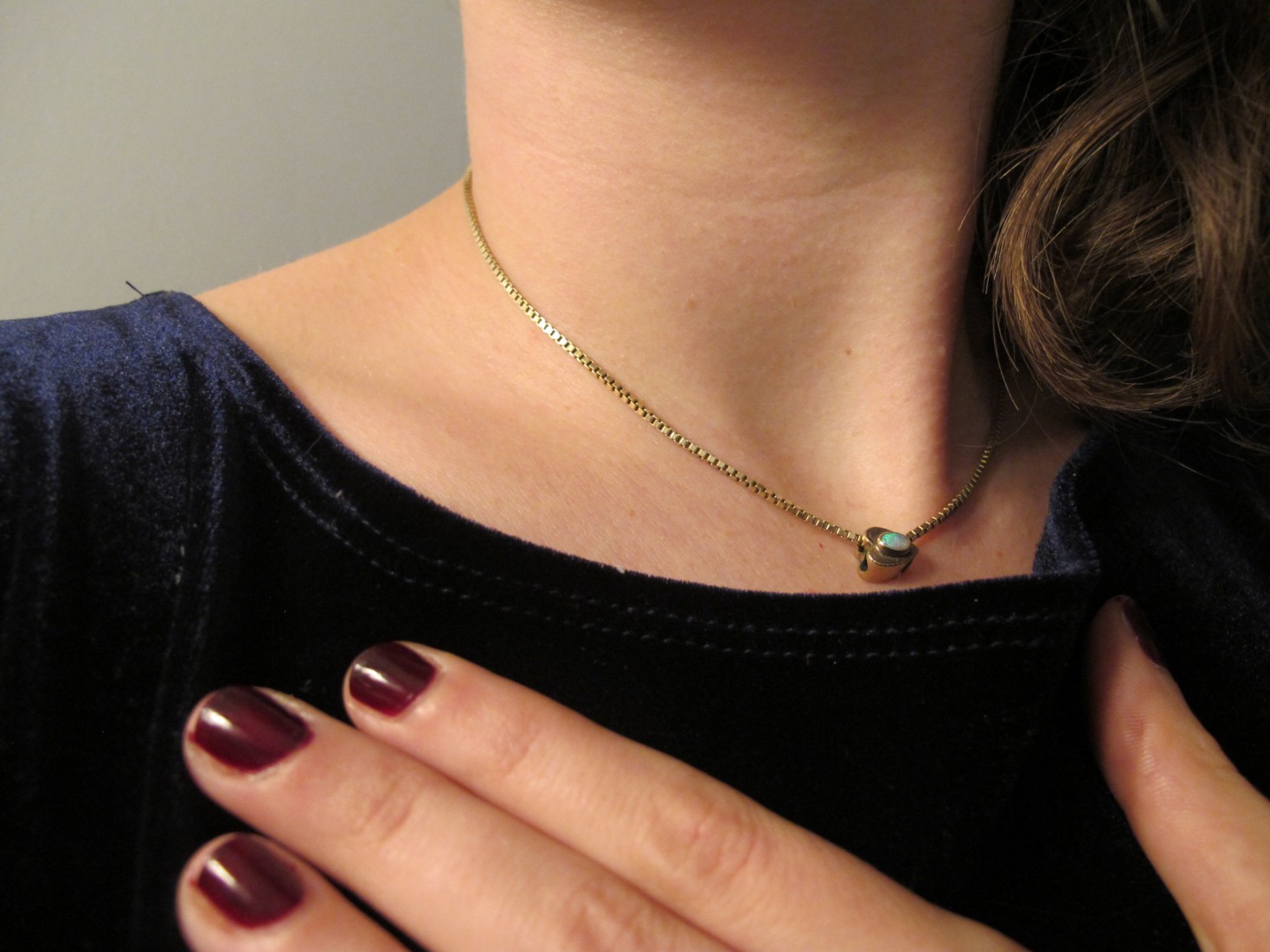 Mmmmmm.  So glamourous.  And yet.
Even though I knew this event would be quite elegant, I didn't know how formal it would be.  Would anybody but bride's maids be wearing dresses down to the ground?  Would I look ridiculously overdressed?  Would I attract more attention with my dramatic look than is really appropriate on somebody else's special day?  (Probably not, but I was still feeling self-conscious about it.)
And, more importantly, all that extra fabric was going to take up TOO MUCH ROOM in my "personal item" on Spirit Airlines and damned if I was going to pay for a larger bag!!!
So I looked into my own closet and found the leopard print dress I ended up wearing to the wedding.  Simple, chic, comfortable, and fancy enough (especially with some accessories magic, including the most glorious pair of shoes I thrifted on one of the aforementioned last-minute Goodwill trips).
Not a show-stopper, and no heights of new-found elegance attained.  But just right.
Turns out being "thrifty"—or in this case frugal/cheap—leads to all sorts of positive outcomes.
Sarah had a similar experience thrifting after her frustrating mall excursion:
I stopped at the Nearly New Shop and there I found a fabulous pair of Talbots pants, a Talbots sweater in the perfect colour for me, kind of a  blue/green, and this cute little shirt on 75% clearance ($1.25), which I'm wearing today (with my regular, had-them-forever pants and blazer).

I also found a brand-fricking-new computer backpack (clearly a promo/companyswag gift that no one wanted, cause it's got a logo on it) that is AWESOME. It was the single best thing about my day of travel hell yesterday.

I will never travel without it. And I got a funky little hemp and cotton yoga bag that will help me at the gym (I've been looking for a specific style bag and this works perfectly). I got out of there for way less than one pair of pants at the mall.

There was something about seeing what I could do with what was there (and what is at home) that was liberating. I still don't have the perfect winter black dress. But that's okay. It'll come.
I love Sarah's attitude about this.  There IS something liberating about seeing what you can do with what's already available, whether through thrifting or through shopping your own closet.  When what we have is ENOUGH, somehow we're reminded that WE are enough, as well.
I didn't have to reinvent myself as some kind of velvet-clad style maven to impress anyone or even honor my friend.  Her wedding was one of the most fun I've ever been to, and the wonderful time I had with our group of friends was honor enough for such a great person.
(Plus, pssst: no one is looking at YOU at the wedding unless you're the one getting married!  Or maybe the mother of the bride. :) )
A closing word from Sarah:
Anyway…thank you for helping me see a new way of shopping. It's so much more fun!!
Amen, Sister!
And now, dear readers, what should I do with this awesome dress???  Cut it short and wear it to work with a sober blazer to tone it down?  Save it for Christmas Eve midnight candlelight service?  Halloween costume??  Or just re-donate it?
Scroll down to weigh in on what to do with this fabulousness, and don't forget to share your stories of when you've discovered that what's in your closet is already enough.