My last few Thursday nights have been marked by a distinct lack of sleep. But Mama's gotta work; wearing this Madewell Breton stripe tee (which is super comfortable – it basically feels like pajamas) is as close as I could get to staying in bed.  How to dress up such a casual-vibe top without completely scrapping the comfort factor?
I wore the outfits below on two consecutive Fridays to play with the styling a bit: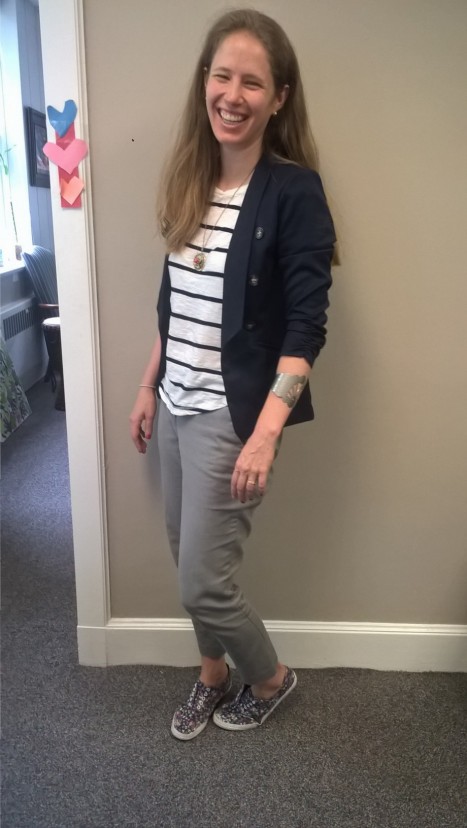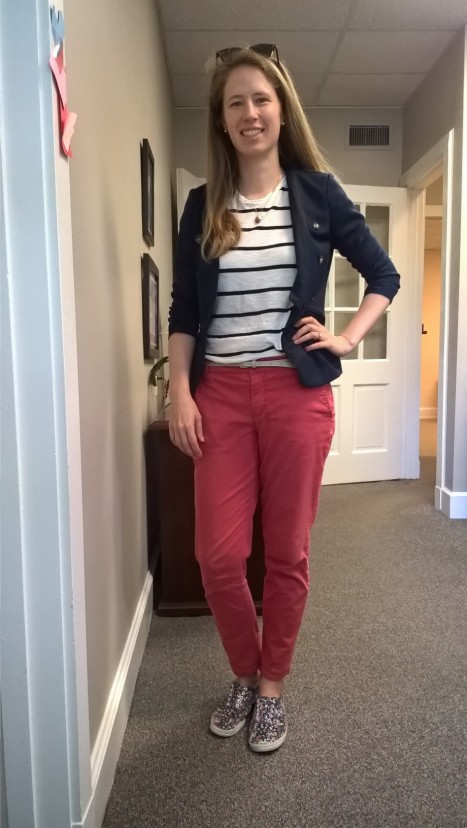 Both: shirt, Madewell; blazer, Charlotte Russe; sneakers, City Sneaks. First: pants, Vince Camuto. Second: pants, Bandolino.
And how's here I added some spit and polish:
The blazer was key to smartening up both of these looks; its touch of stretch kept it from feeling too confining or stiff.
How I dressed it up in the first photo: the "cigarette" pants are in a slim cut and a neutral hue. The necklace (closeup photo below) lends a little gravitas – it's a focal point with some character.  And my cuff bracelet makes the whole thing look "finished."
How I dressed it up in the second: the tucked shirt and skinny belt give a pulled-together look. While the sunglasses-as-headband look definitely reads "beach" in parts of the country, they are my first well-made, non-scavenged pair and they made me feel more dressy. (More on these in a later post.)
Admittedly the floral sneakers round this down to the casual end of "business casual." If I really wanted to dress up, I would've combined all the polished elements listed above into one outfit (grey pants, tucked/belted tee, statement necklace, cuff bracelet) and skipped straight to my bronze wedges: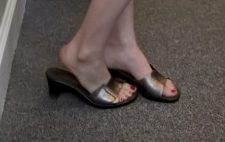 But the combos above passed muster for Casual Friday in my office and prevented me from feeling like a slob even though I *did* feel like going back to sleep.
Here's a closeup on the necklace, a vintage number that belonged to my Grandma: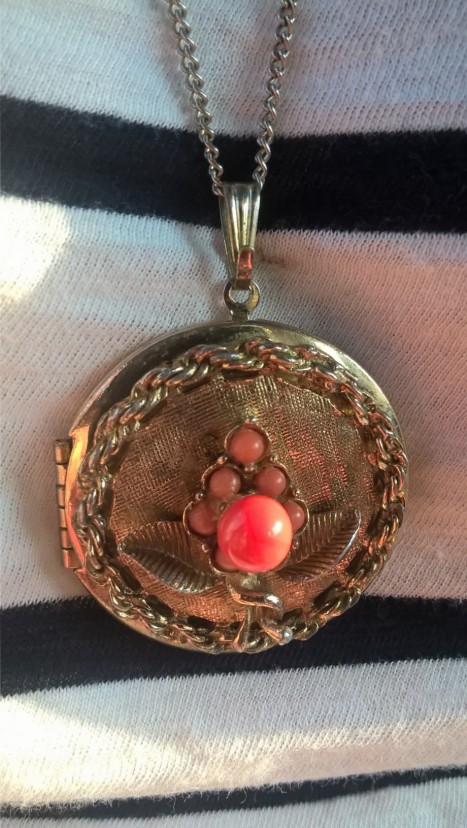 Do you have any tricks for dressing up t-shirts?  Or for masquerading pj-level comfy outfits as workwear? Scroll down to share!