Monday was the first day of the Fall 10×10 Challenge. For those unfamiliar, the 10×10 style remix is a wardrobe challenge that uses limitations to spark creativity. Originating with Lee Vosburgh of StyleBee and now cohosted by Caroline of Un-Fancy, a 10×10 remix takes 10 pieces of clothing and makes them into 10 outfits over 10 days.
What you count as an item is up to you (I'm not counting accessories, workout gear, outerwear), and so is the outcome – maybe you want to be satisfied with what you have instead of fighting the urge to shop, maybe you want to find new ways of wearing what you already have, maybe you don't want to have to stand in front of your closet agonizing over what to wear.
My goals
Since I am already dressing dress from within a maternity capsule wardrobe, my goal this time isn't to find contentment with fewer pieces of clothing or to curb the urge to thrift; rather it's to try out some new-to-me combinations. (You may recall from previous 10x10s that I've sometimes found myself pigeon-holed by tried-and-true silhouettes that didn't create many opportunities for unexpected combinations.) I have a few pieces in my maternity capsule that haven't yet been busted out and are different enough, style-wise, to make for a fun 10×10. (I'm looking at you, long-sleeved maxi dress with a bubble-ish hem!)
My picks
All the pieces are from my maternity capsule wardrobe, which has had a few additions and deletions since I first posted about it. (Update on that soon.) Everything below is thrifted or secondhand except for the ankle boots, which my sister gave me for Christmas lo these many years ago.
Two pairs of pants (turns out maternity pants photograph horribly on the hanger!):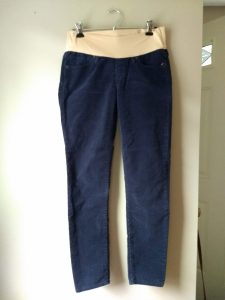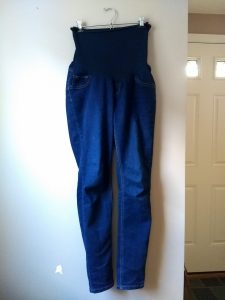 Grey corduroy skinnies by Gap + dark denim skinnies by Jessica Simpson
Two sweaters:
One dress:
One vest (not sure which color yet):
Two pairs of shoes: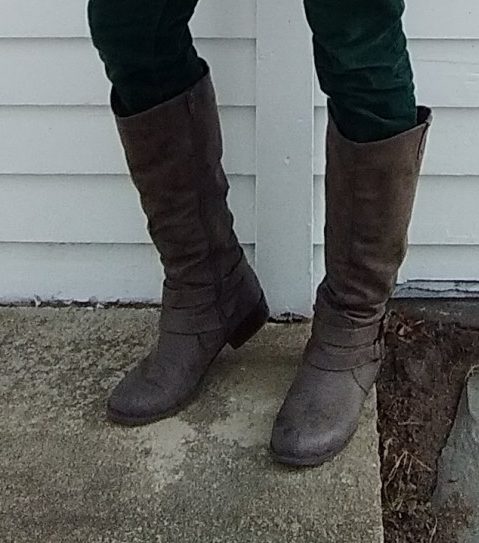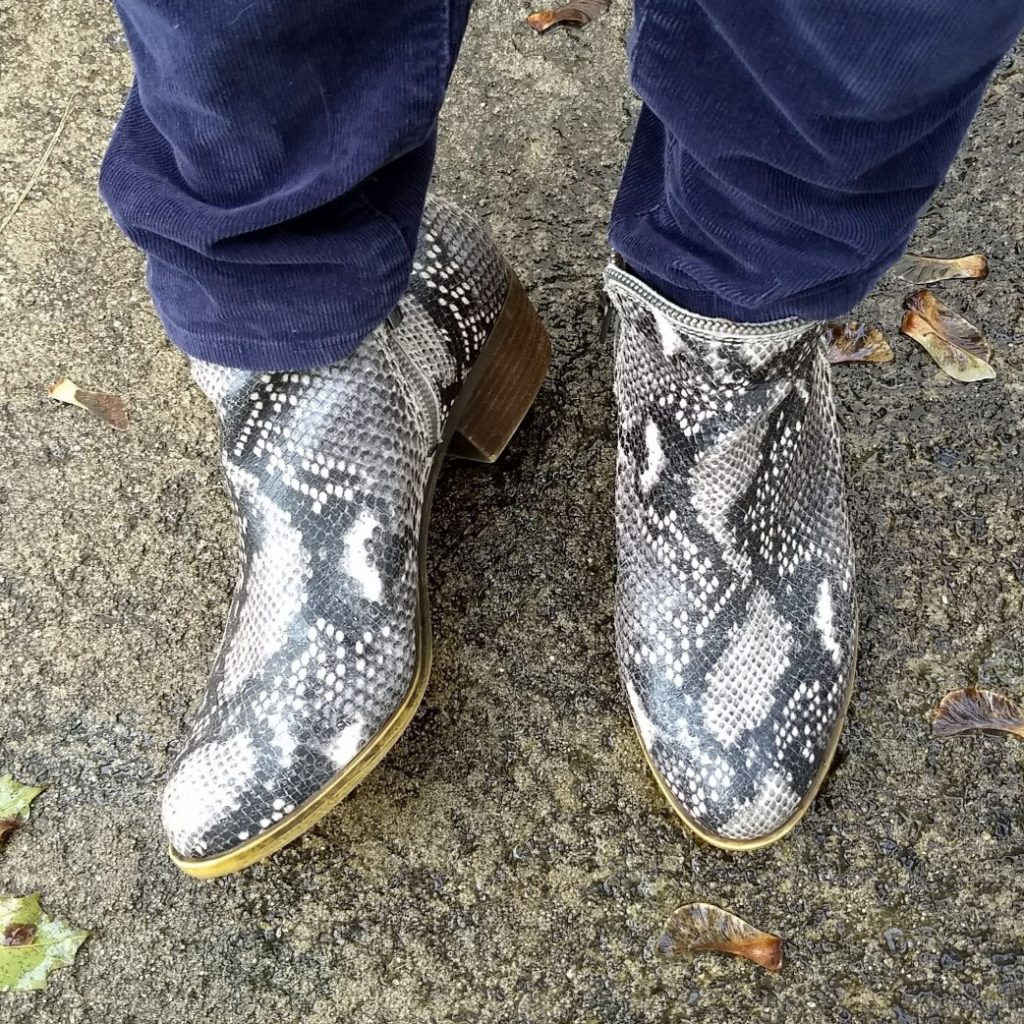 Target; Lucky Brand (not thrifted)
Plus leggings as a layer under the dress, which I'm not counting.
Here's how I've combined these pieces so far:
Day 1
View this post on Instagram
This felt like a typical day-at-the-office outfit. I liked the subtle combination of stripes and snakeprint, and the fact that this swing-ish non-maternity sweater is still going strong. It has good texture. Not so thrilled with the monochromatic-ness of it all, but we'll get to the color soon enough!
Day 2:
View this post on Instagram
This is a completely different silhouette for me, as I rarely wear maxi dresses and definitely don't layer sweaters over them. It has a boho or perhaps even a steampunk vibe that is reined in a bit by the edge of the snakeprint boots: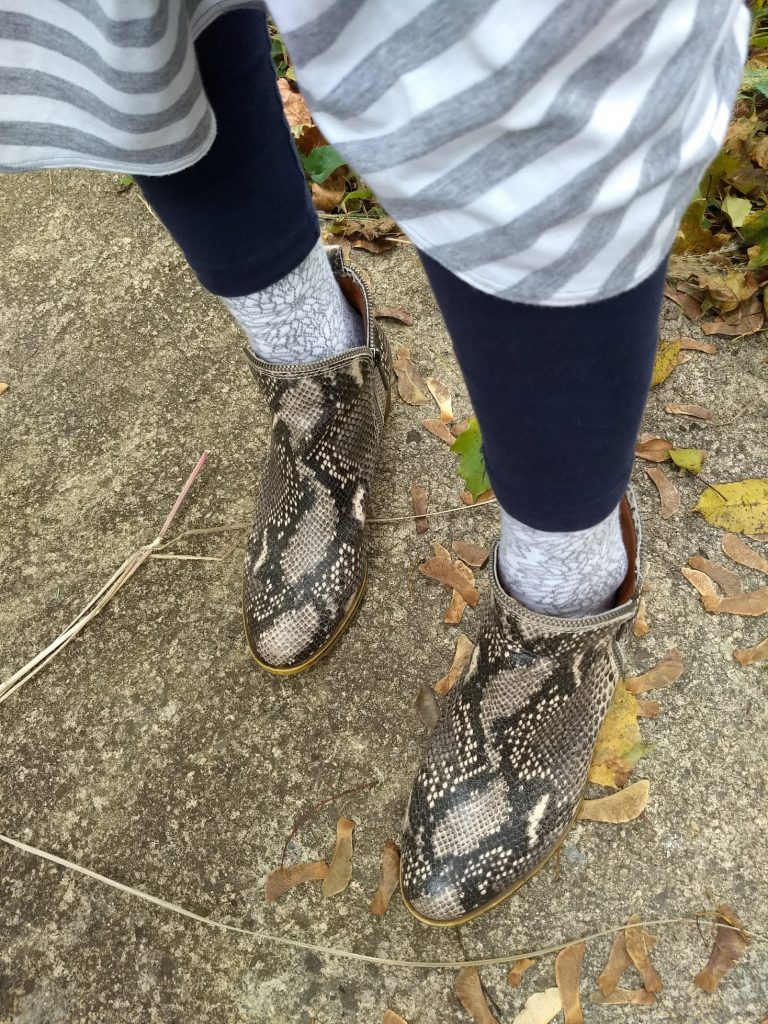 I like the silhouette from some angles, but from others it looks like a reverse bustle:
The comfort and the fun of the stripes save it for me. Ultimately I dig the long sleeves but not the weird bunting-like hem, so I don't suspect this dress will last past the post-partum stage. But you never know; maybe it'll grow on me.
Day 3
View this post on Instagram
I love the pop of color here as well as the denim-on-denim contrast. I grabbed this raspberry textured sweater off the Goodwill rack last weekend at the tail end of a Halloween costume shopping trip for my kid and eyeballed that it would fit/be in my color palette. Very pleased that it does both and that it's a dressier version of the pink sweatshirt I had planned to use in its place.
I do wish the collar buttoned so you could see more of the chambray on top, but it's a small quibble. Here's a closeup of the texture: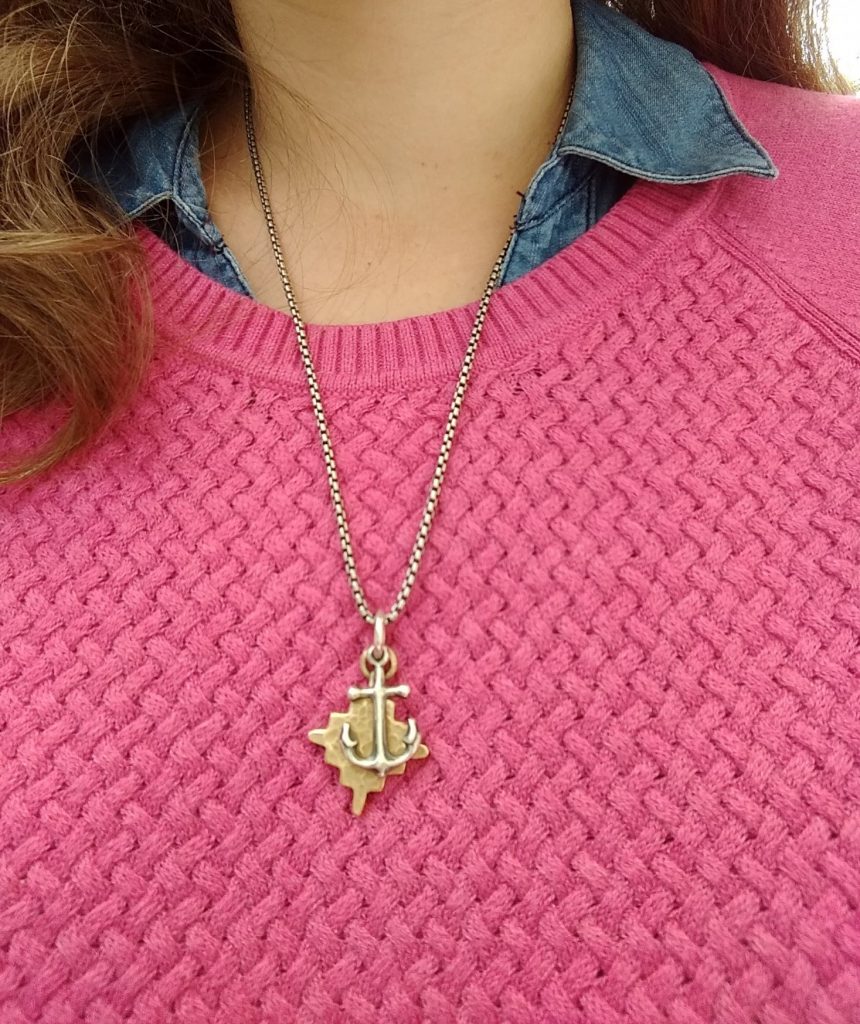 Day 4
I wore the same chambray button-down as yesterday but this time as an open layer over the striped shirt (which you can barely see under the sweater from Day 1):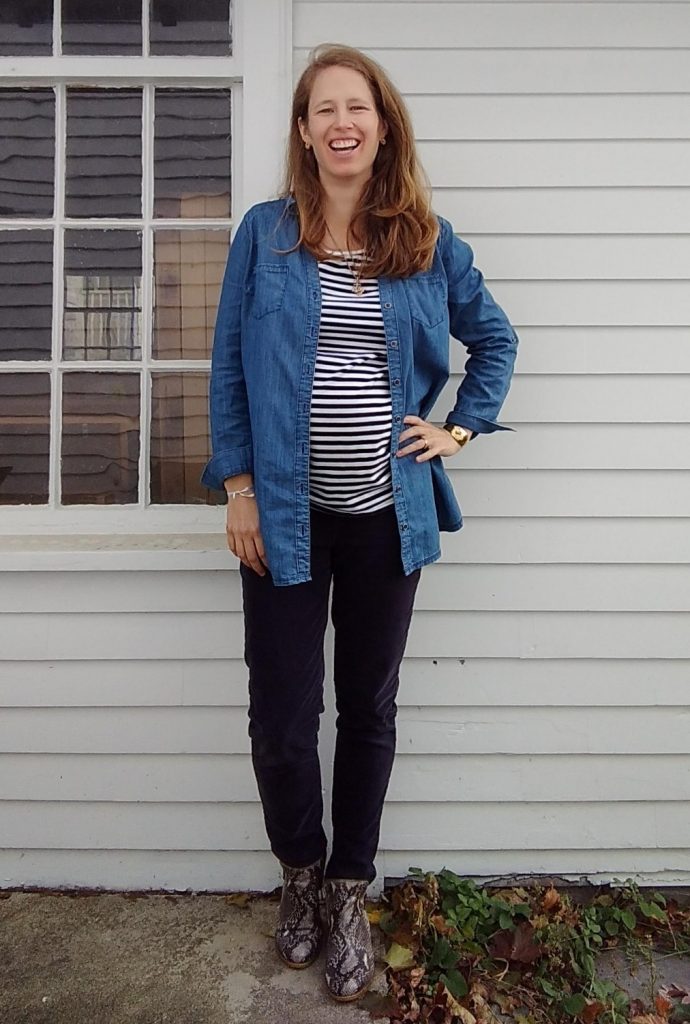 I hadn't planned this combo but wanted to wear the striped shirt with something warmer that wasn't the same as the sweaters from Days 1-3, so I tried it out, and I love it! The stripes + chambray combo is a big win, plus the cords made for a good contrast in texture and color. The boots bring a bit of extra visual interest, print-wise (as do the striped socks, which I wish I had thought to photograph!).
Here's a closeup of the stripe/chambray combo:
View this post on Instagram
So far I'm enjoying this 10×10 much more than I thought, mostly because I'm having fun trying out new-to-me combinations (which is the point, after all!). A few times I've thought "Eh, not sure that's really me…" and then I've gone ahead and worn it just for the novelty and the fun of it, and been pleasantly surprised by how much I like the results. It's a good reminder that for me, a 10×10 doesn't work if it's just swapping out the same ol' pieces in tried-and-true combinations; rather, choosing pieces I can layer and wear in new ways makes it all tick.
—
You can follow along with the remainder of my current 10×10 here or check out previous 10x10s here. Get inspired by the entire challenge by searching Instagram for #10x10challenge or #10x10friends. (Whoops, just went down a rabbit hole there…) Many of the people participating have a very minimalist, neutral-heavy aesthetic, which may not align with yours; but with a little searching you can find folks sporting more colors, fabric other than linen, etc. Also check out the #10x10representationmatters hashtag to see people of color and from across the gender ID/sexual orientation spectrums rocking some slow fashion. Then fall down another rabbit hole of reading the comments on those posts, where some really important and powerful conversations are being had.
See you next week for a recap of the rest of my 10×10 outfits!