Reader (and friend!) Sheena spotted this Old Navy advert featuring bloggers busting the myth that "certain jeans are for certain body types." (Let us take a moment to celebrate that Old Navy didn't select a bunch of skinny white women as their featured style bloggers.)
It reminded her of one of my "Can I Wear This?" posts where young women felt restricted and shamed by these very rules.  That post also features a picture of Sheena!  Isn't she gorgeous?
Inspired by their take on things, Sheena asked me to do another post on fashion rules you should break – particularly ones that say that certain kinds of people "can't" wear certain kinds of clothes.
I should start out by stating the obvious – you can wear whatever you damn well please.
Marinating on it a little more, though, you probably read this blog because you are at least mildly interested in style/fashion/looking fab in clothes you love.  So while "wear what you want" is a great mantra, it's probably not the most helpful declaration in the world re: parsing out how to wear the kinds of things you want to wear.
The Old Navy ad tackled this conundrum pretty well. For example, of COURSE grown women can wear overalls.  But if the last time you personally wore them was in 10th (or 2nd) grade, you might appreciate the advice they give to go slim & flared with your adult version.  I also think they look great with a boyfriend/mom jeans cut, or a skinny silhouette:
Similar logic applies to rules about who can/can't wear certain colors.  If you love red, wear it! But if you're concerned about wearing hues which enhance your skin tone, you're going to want to find a red that works with you instead of drowning you out.  Case in point: cherry red is not for me, as pictures of my prom dress will attest. But I can rock a muted tomato like nobody's business.
One fashion rule being broken all over the place?  Women of a "certain age" can't wear anything too young, shapely, colorful, modern, sexy, etc.  I would counter that while many people don't want to wear everything they used to at a younger age – our taste, lifestyle, and often our willingness to sacrifice comfort evolve as we age – decreeing that anything is outside the bounds of propriety is ageist and sexist.
Inspiration: check out some of the fashion mavens defying the "shoulds":
Advanced Style (70s+; avant garde, sheer, bathing suits!):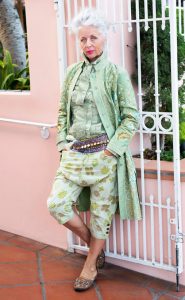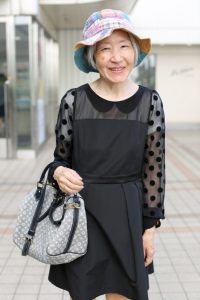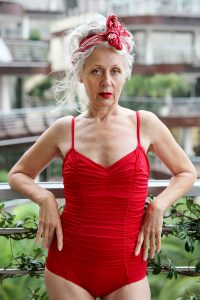 J'Adore Couture (40-something, I think; cutoffs, sheer lace, minis, unbuttoned shirts!):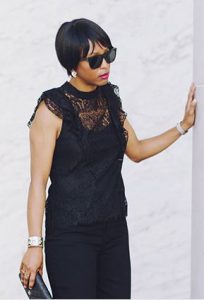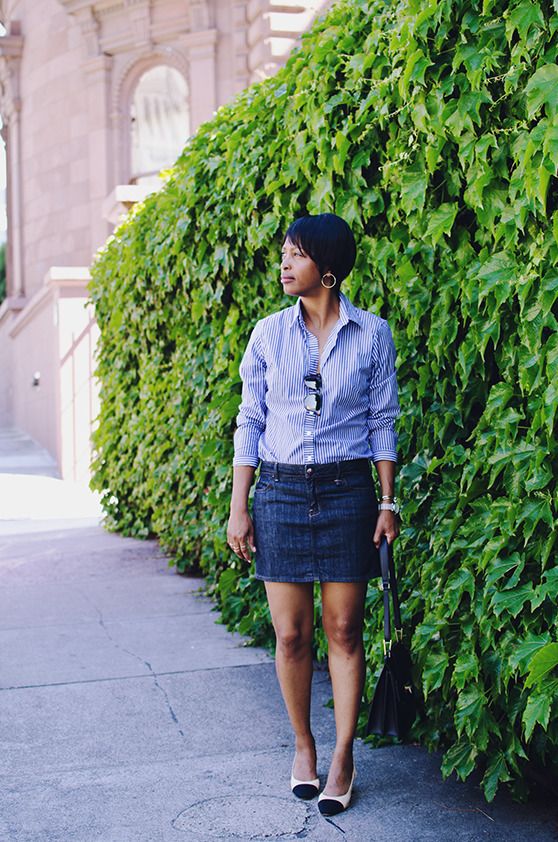 You Look Fab (over 40; jumpsuits, bright eyewear, trends, bold colors, raw hems, moto jackets, skinny jeans):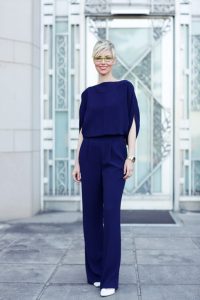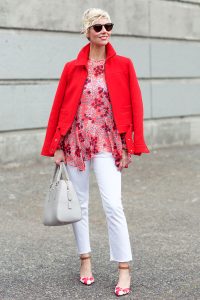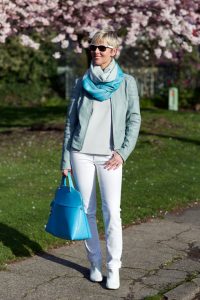 So What to Twenty! ("mid-life"; metallic bomber jackets, off-the-shoulder dresses, overalls, lowcut necks):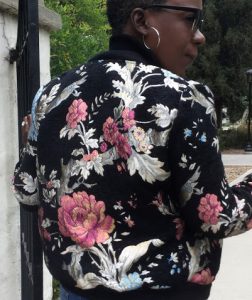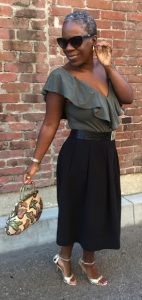 Mama in Heels (40-something; one-shoulders, exposed shoulders, trends, ripped jeans):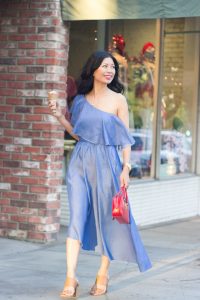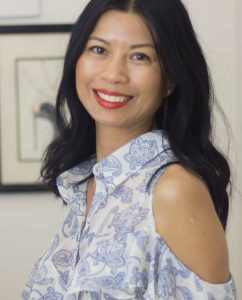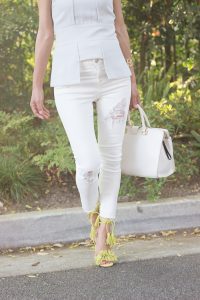 NikkiFreeSTYLE (40-something; crop tops, horizontal stripes, bold patterns, sleeveless)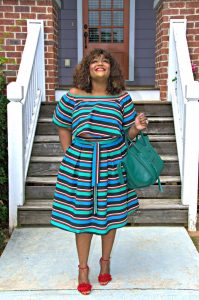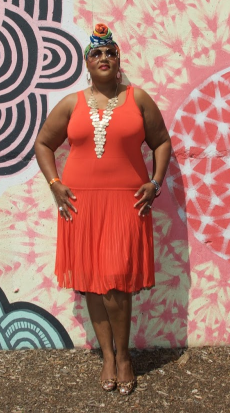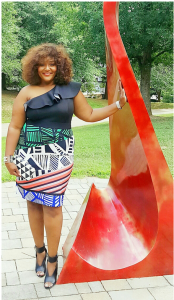 Not Dressed as Lamb (mid-40s; her tagline is "opposing the term 'age appropriate'"; overalls with no shirt, raw hems, bikinis, tulle, crop tops):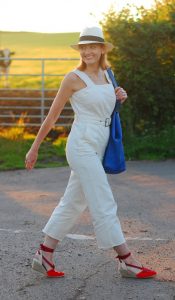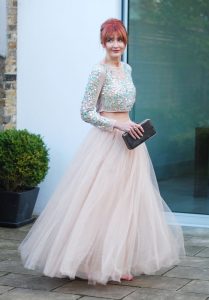 Evolve Your Image (50-something, not currently posting; sleeveless, skinnies, jean jackets/vests, lower necklines, shorts!):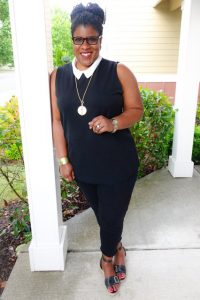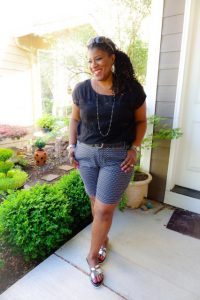 Une Femme d'un Certain Age (50+, maybe 60 now?; military parka, beanie, skinnies, flares, leopard, gold footwear!):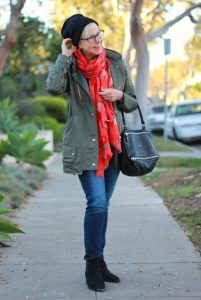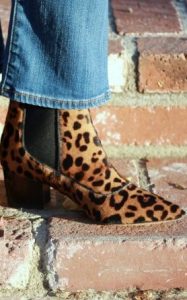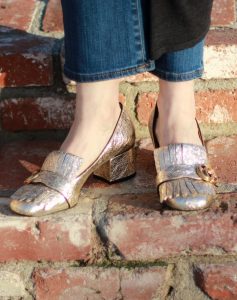 Also, check back tomorrow for another fabulous blogger in her 40s who thrifts! (It's much harder to find older women who thrift – please comment below if you know of more.)
Other long-held dictums (dicta?) include not wearing all-over pattern or horizontal stripes if you shop in the plus-sized section. Seriously? Is it just me or does this smack of shaming women's bodies even further than they already are by implying they need to hide in a corner, sartorially speaking? When was the last time you heard a man being told to skip the rugby shirt 'cause it made him look wider?  Sometimes I think our society is just afraid of Too. Much. Womanness.
Armchair sociological analysis aside, I don't even have a styling suggestion for this one because I think it's just dumb. If you feel overwhelmed by a pattern, that's about the aesthetics of the pattern, not your body size/shape; use accessories/solids to break it up 'til you're happy with the visual.
Inspiration: Adele defies the pattern rule beautifully all the time, as do many style/thrift bloggers: e.g. Dina's Days – here's a great example; Heartprint Style (author on the right in the pic) – good examples here and here; Alison Gary at Wardrobe Oxygen is in love with stripes. Take that, Patriarchy.
Here's another sexist one (I'm on a roll!): tall women shouldn't wear heels lest they tower over the menfolk. As a tall-ish woman whose first boyfriend was short enough to get called "Leprechaun" at school, I say, Bosh. If you're like me and don't like heels anyway, great. But if you do, wear them and revel in your Amazonian glory.  This one may be easier said than done for a lot of women who are fighting not just social pressure, but also their own internalized discomfort about looming over the men in their lives, particularly if one of those males is a significant other.
A quick thought experiment for undoing this conditioning: reverse the genders of the people involved and ask yourself whether, as a man, you would ever think twice about wearing something that made you taller than a woman in your life. Or whether you would give it a second thought if the person in question were a woman too. No? Then work those heels!
Inspiration: here's a slideshow of Hollywood couples where a lady is taller than a man. Or:
The First Lady is two inches shorter than the President but never hesitates to don high heels/do her hair up high such that she ends up looking taller than him (source). Or Queen Rania of Jordan, who regularly rocks elegant heels despite being way taller than King Abdullah even in stockingfeet (source).  And these women are both doing it in front of The. Entire. World.
Last but not least, I know there are a lot of well-meaning "dress for your body type" posts and blogs out there.  I think they can be really helpful for learning about different garment proportions and silhouettes and how they look on different bodies. But style – true personal style – is so much about learning "rules" and then breaking them in ways that work for you.
So if you want to wear ANY fashion out there – cropped pants on a petite frame, pencil skirts on big juicy hips, high-necked blouses over larger bosoms – you should.  Learn how to tweak things you've seen on other body types so that they reflect the look you want for YOUR body.  The only body on which I'm an expert is my own, so my only advice to you in this area is to spend a lot of time looking at bloggers/friends/coworkers whose style you love and who have a similar body type to yours to observe how they do it – and then get things tailored!
Because the only "flattering" you need to do to your body is to wear clothes that fit beautifully and make you feel great.
What about you all?  What are some fashion "rules" that need breaking?