January only involved two thrift stops, but both were bountiful. Let's take a look.
First up, a trip to Global Thrift in Waltham, where I found…
This luminous gray Academy Blazer by Banana Republic, size 8: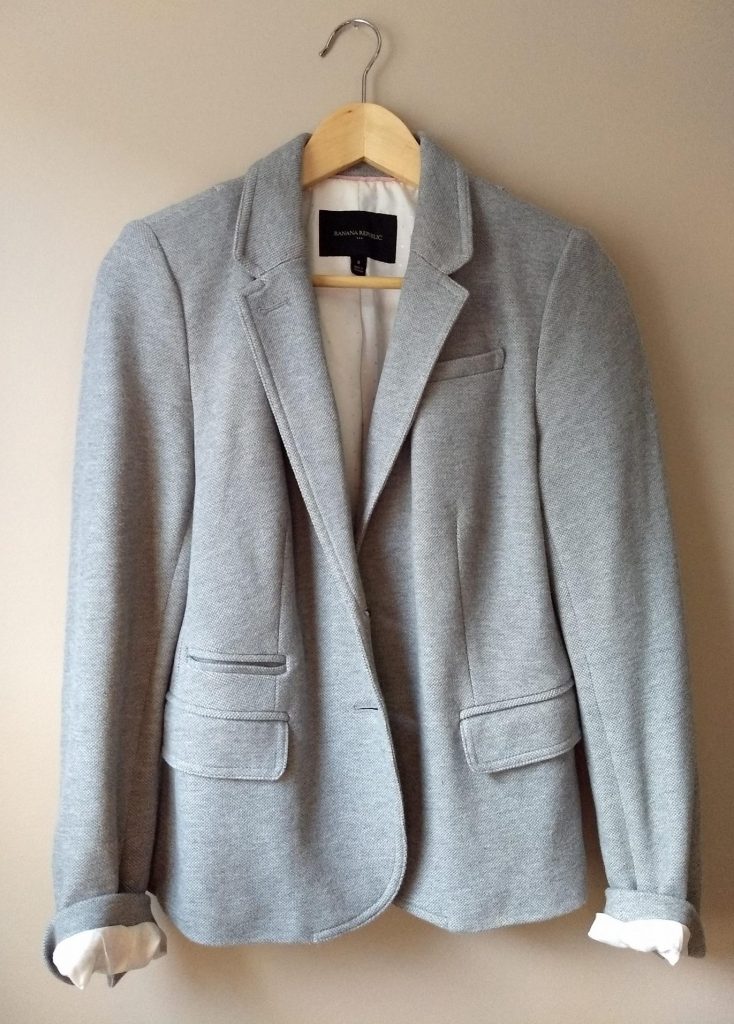 I had convinced myself that I could go without a gray blazer because I had found so many that were off in some way – not the right gray, not the right cut, with clownishly wide lapels. But this has a great fit, visual interest (via the gorgeous texture), fun contrast in the lining, and a color that is a perfect match for Light Summer. I can't wait to wear it once I'm back at work – or maybe on a date before then.
Also at Global Thrift, this excellent, new-with-tags J. Crew striped button down: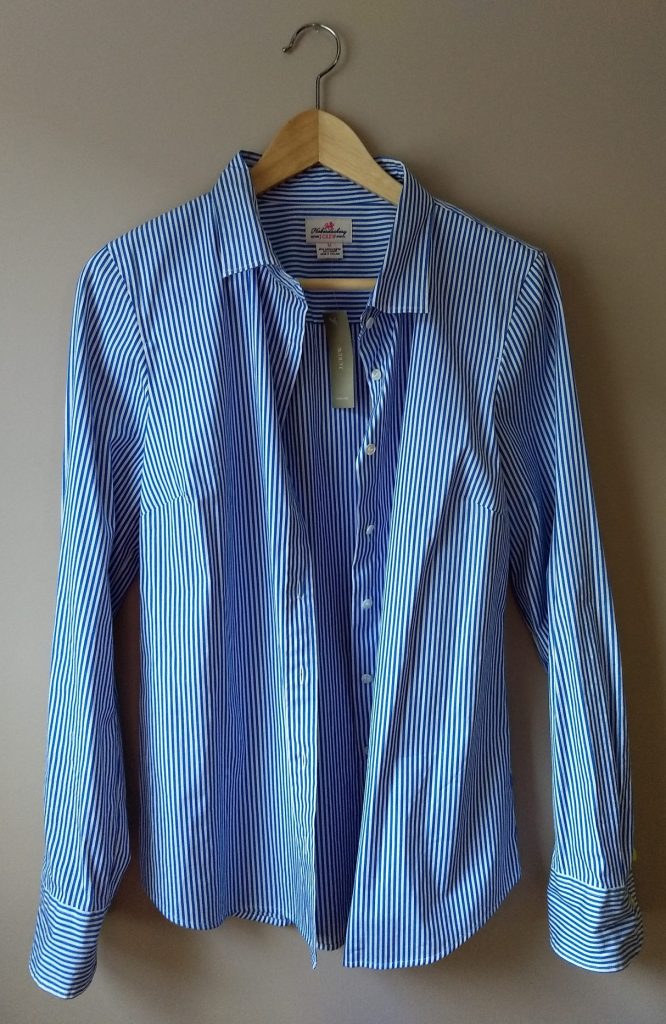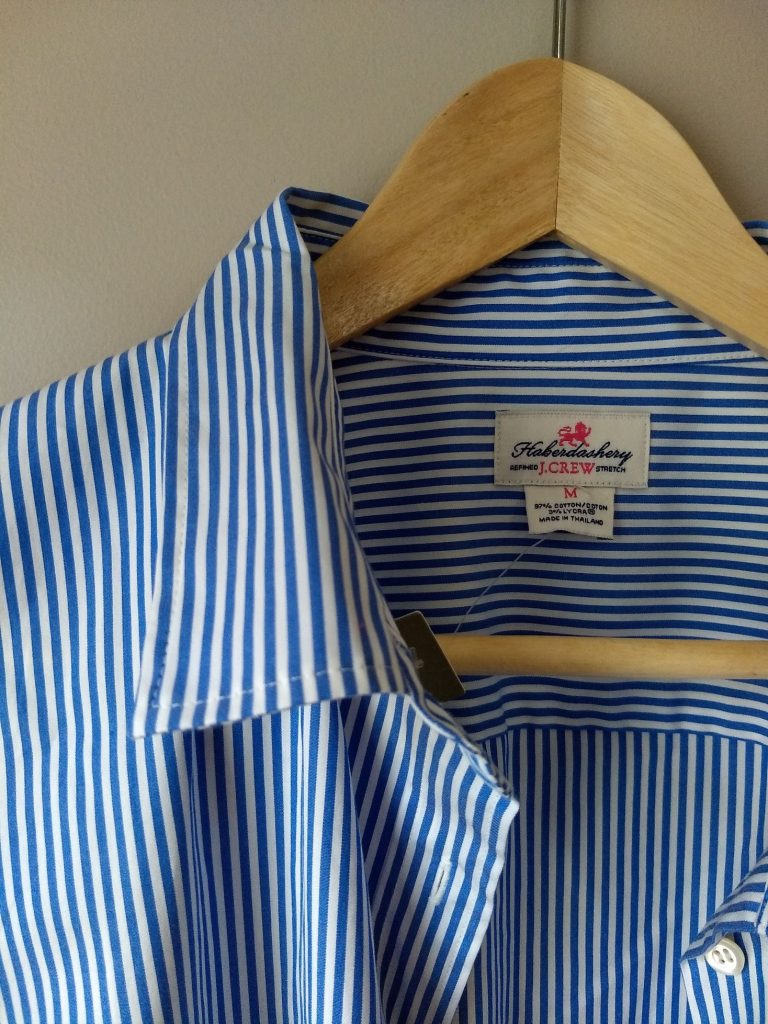 in the exact light blue and white pinstripe I'd been scouting since being inspired by Keila Tirado-Leist's version, which she uses almost like a neutral:
View this post on Instagram
Mine fits right now which is great for my increased bustline (thank you, breastfeeding) and for looking put together while still not feeling entirely familiar in my body. I'm not sure how it will work once things go back to their previous size – the shirt will probably give an "oversized" effect, which should be fun to play with – but I'm taking to heart the words of the Virtual Closet Makeover founder Shira Gill, who encourages post-partum women to make sure they have a core of a few things that make them feel great now instead of limping through this transitional phase feeling shlumpy.
And in that same spirit, this Uniqlo tunic blouse to fill the white shirt role in my postpartum wardrobe: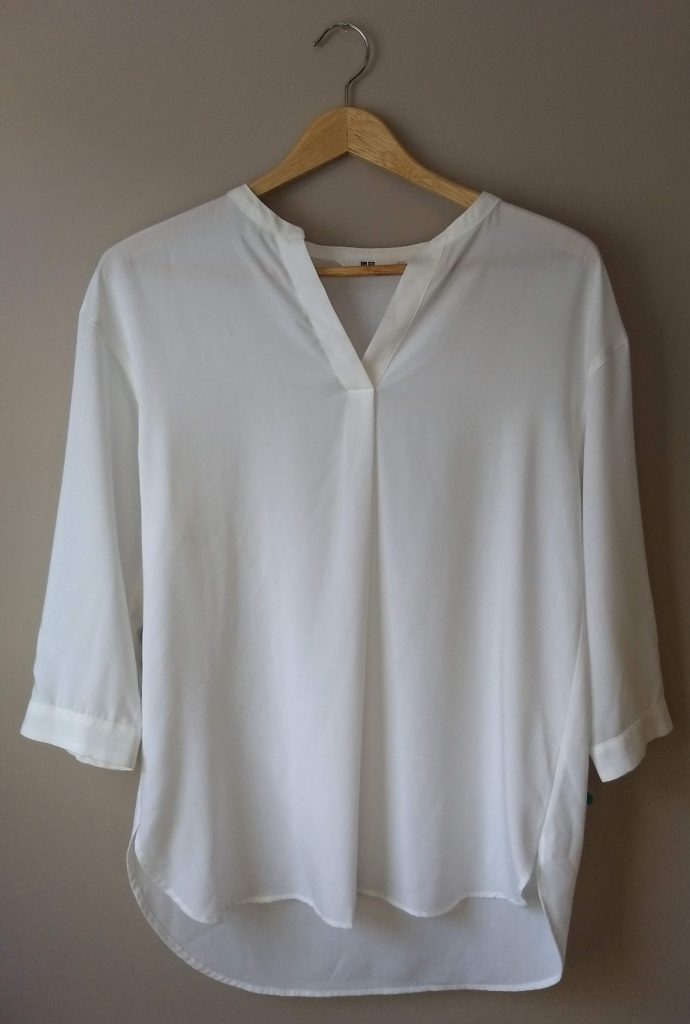 I will definitely try it out, but it occurs to me that the J. Jill cotton long-sleeved tee I thrifted for my maternity wardrobe would probably do this job just fine, including a better color match for Light Summer. I'd love to get better at having these epiphanies before I go thrifting for a new (to me) piece, which is why I keep doing things like the 10×10 challenge or the Closet Makeover, hoping to see what I already have in new ways.
Rounding out the Global Thrift finds, we have two pairs of pants:
Floral Pants by H&M
Do I need more printed pants, or warm weather pants? No. Could I resist these covered in Light Summer tulips? No: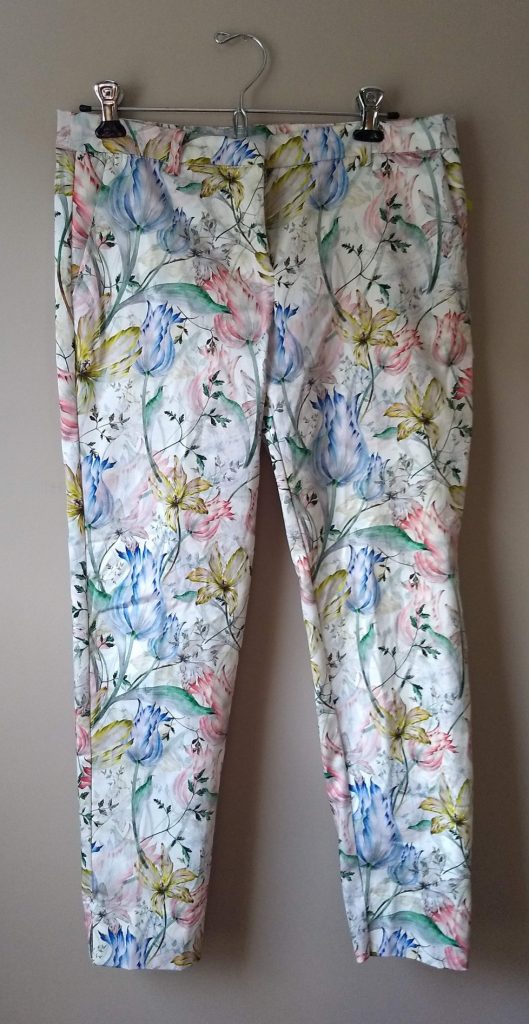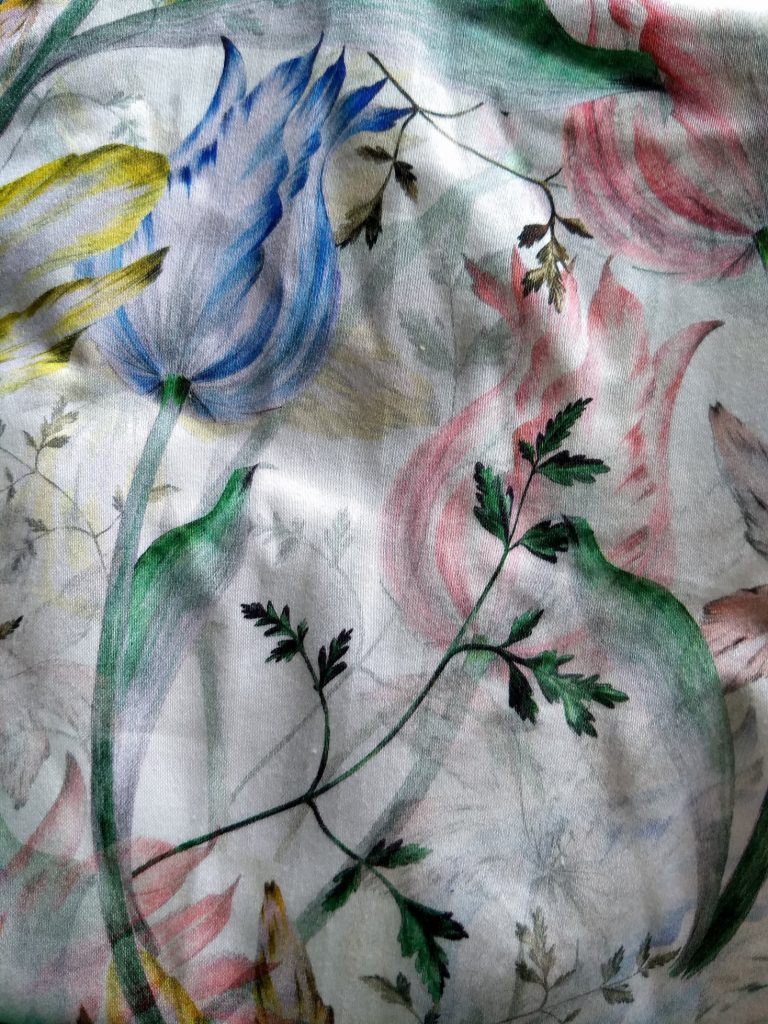 They may be almost too grayed out for Light Summer, but I think the fact that the pattern is in the pants (away from the face) and that I'll likely wear it with blazers in more spot-on LS colors will make it work. We'll see if these pants stand the test of time as favorites or if they are fun for just a season.
And these Vince gray trousers – terribly wrinkly, sorry – and one size larger, to account for transitional sizing, than the exact same pair I wore the crap out of in Atlanta: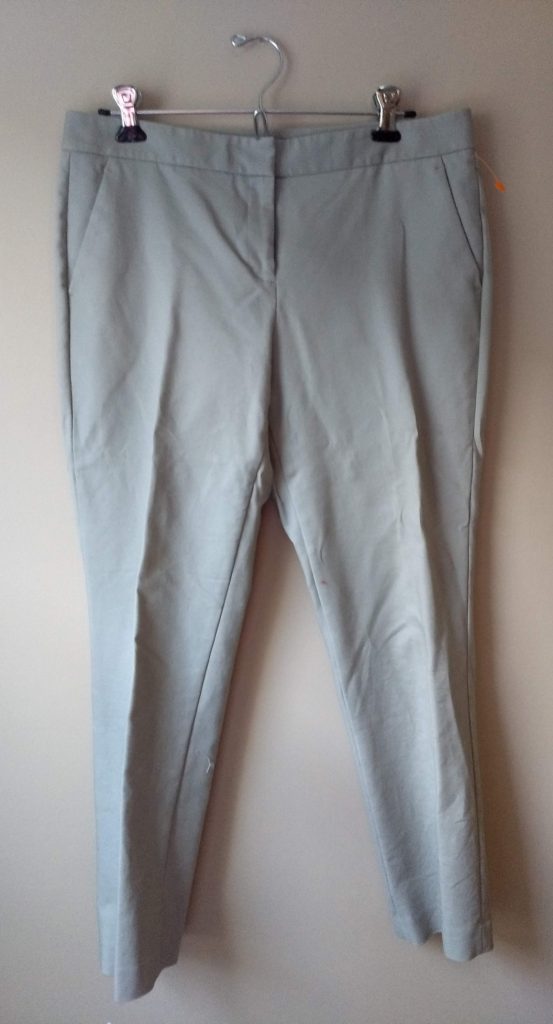 I gave those away when the knees got all misshapen; is it wise to have bought another pair knowing they will one day wear out in a similar fashion? Or when I had finally realized I don't need gray pants to make my wardrobe sing? Or given that I generally don't recommend trying to replace worn out garments with exact replicas because hey, it's the universe giving you a chance to change up your style? Reader, we shall soon discover the answer.
Last but not least at Global Thrift, I found a dark navy gingham button down from Charter Club which I have already donated back to a local thrift store: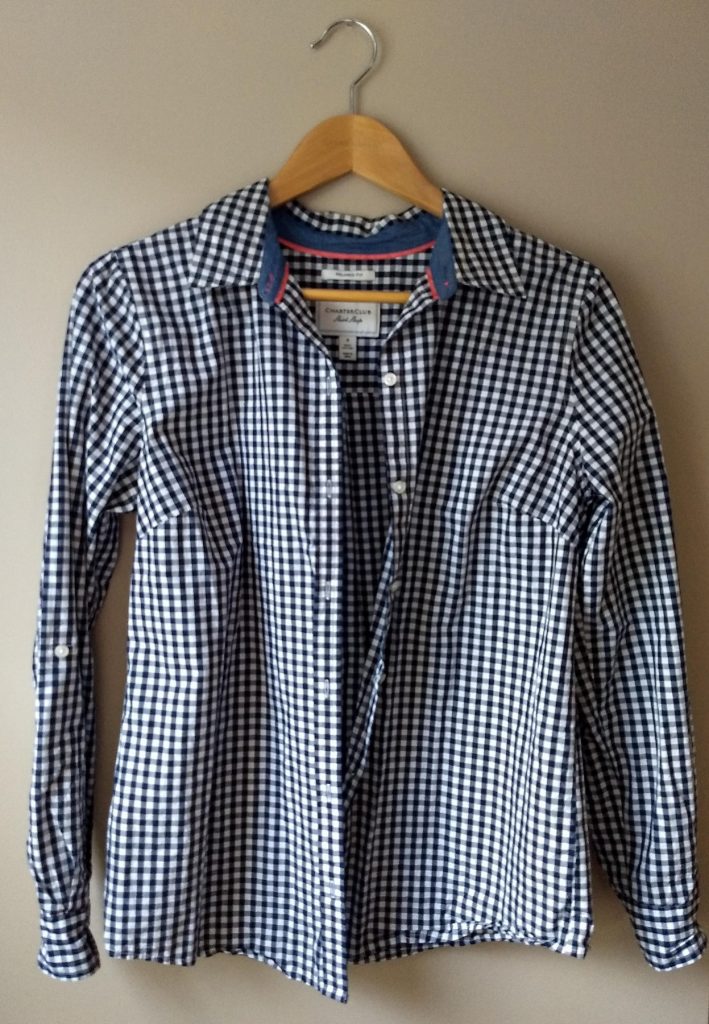 I was looking for something to take the place of this white/charcoal gray shirt, which fit horribly in the bust but which made for great contrast under a solid sweater:
View this post on Instagram
Alas and alack, the intense darkness of the Charter Club shirt didn't make for much of a contrast with my dark gray sweater, and conversely made for too much of a contrast with my lighter color sweaters. It also wasn't long enough to pop out underneath my sweaters the way I like, so as to add visual interest. So back to the thrift racks it went.
Next was a visit to Restoration Project in Belmont, my favorite small non-profit store packed with great finds.
First up, I knew the thrift gods were smiling on me when I found this perfectly pink Hacking Jacket by Banana Republic: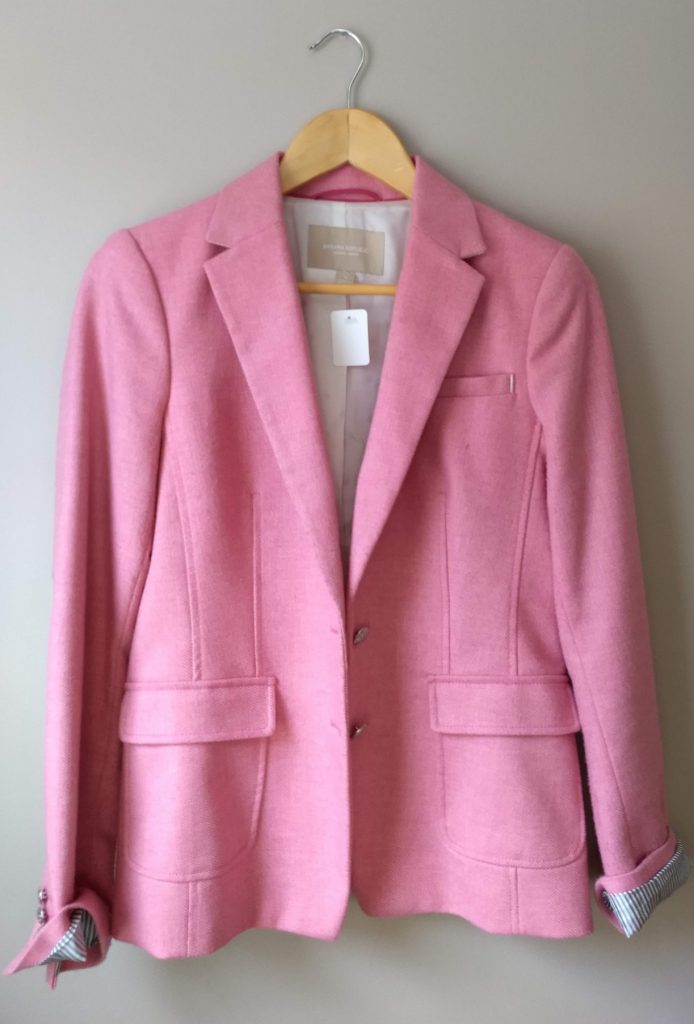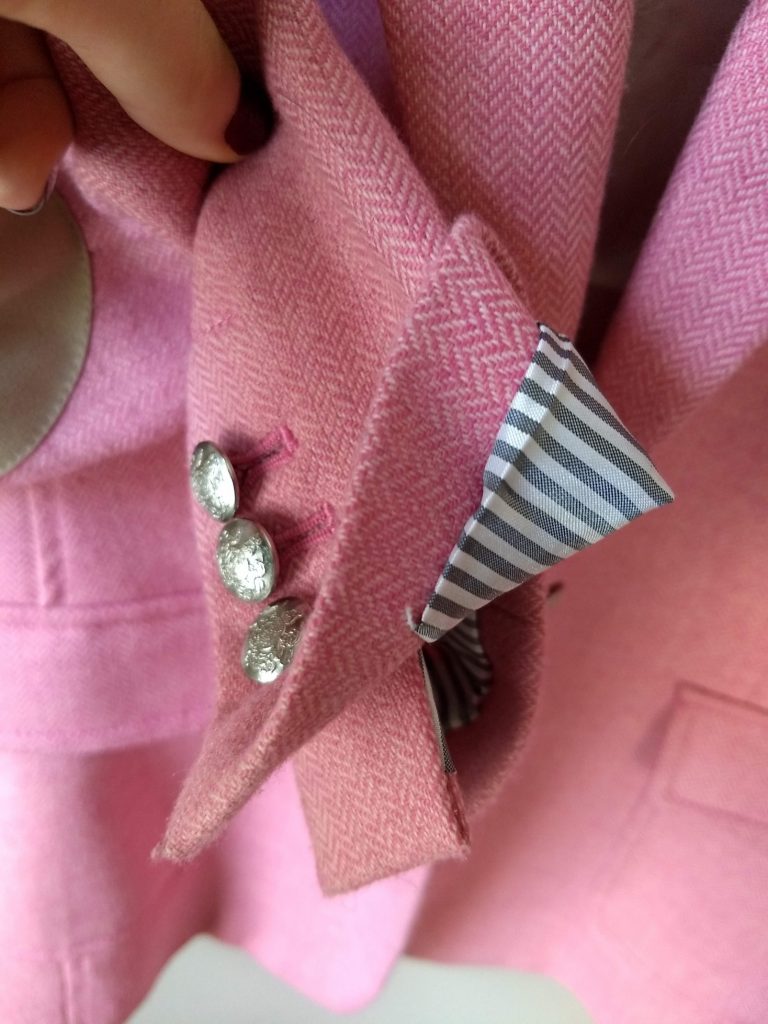 The color is the epitome of Light Summer's soft-but-internally-glowing palette, plus the herringbone tweed gives it that visual texture I crave – so much more interesting than solid, smooth fabrics. It's also significantly warmer than my Metaphor pink blazer, with full-length sleeves and hem. I chuckled at the elbow patches, which highschool me would have adored – but ultimately decided they didn't take anything away from the polished-yet-unusual effect of a pink tweed blazer. So excited to pair this with…everything.
Finally, Restoration Project also gifted me, on the same trip, with this plaid Ralph Lauren button down in a glorious Light Summer colorway:
Funny story about this shirt: I had been eyeing this same shirt on Poshmark for $23 in a size I know fits me from another thrifted RL button down. The pics of said Poshmark listing were so poorly lit, however, that I couldn't be sure it was really a Light Summer palette, so I sat on it. When I found the very same shirt for $5 (and no shipping cost!), and in one size larger (which turns out is a much better fit in this cut), I laughed out loud. What a find! Looking forward to seeing how much color I can pack into an outfit with this shirt – or just wearing it with white pants.
Overall, I feel a bit silly about the Uniqlo tunic top and the gray trousers, and completely thrilled about the blazers and the plaid shirt.
What did you discover this month, fellow thrifters?