First up, the rejects:
By Loft, a blouse-with-skirt number whose colors I loved but whose drop sleeves and sheerness I did not love: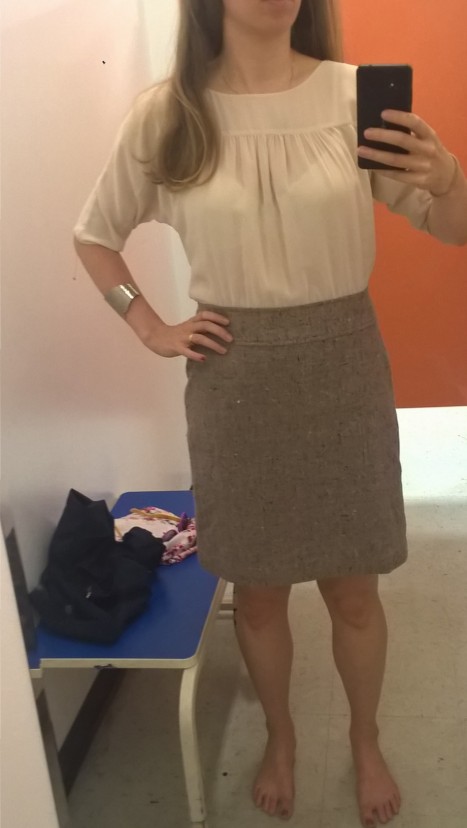 I don't remember who made this but it was too big in the bust and the neck felt too formal for my life: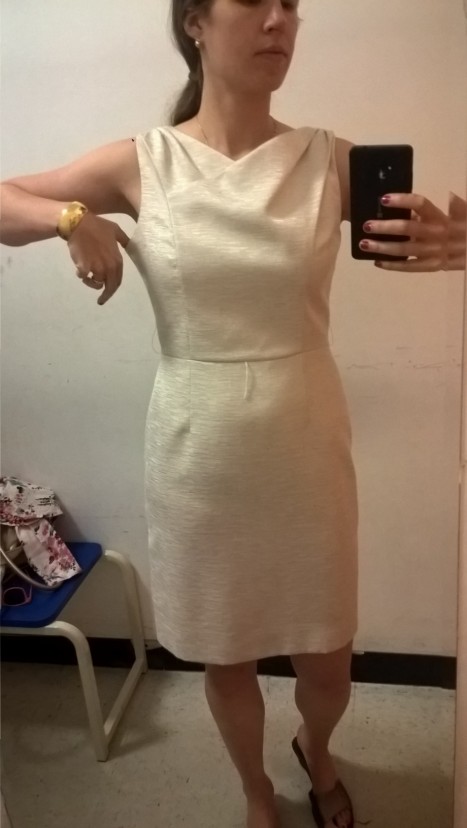 This blazer by Stile Benetton made me look like a fussy governess from the 1950s:

This lemony dress of sunshine was too big (and probably too Sandy from Grease for my personal style):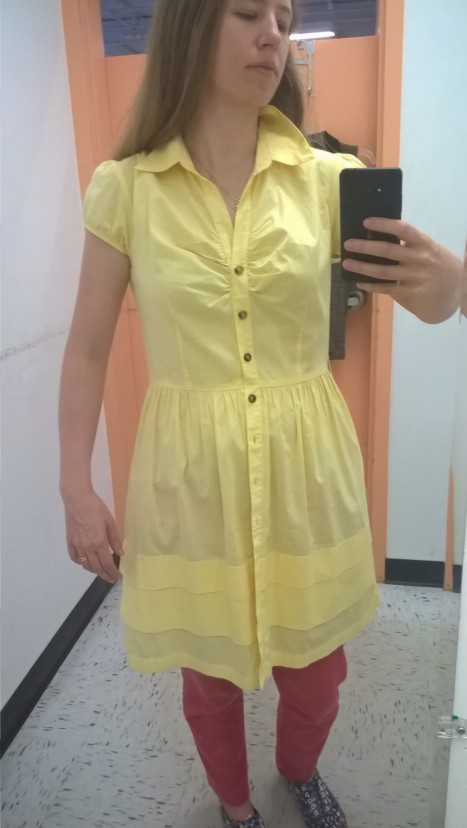 Meow!  I LOVED the color block/print thing happening on this Ann Taylor dress but not the way it pulled across my hips (it was too small):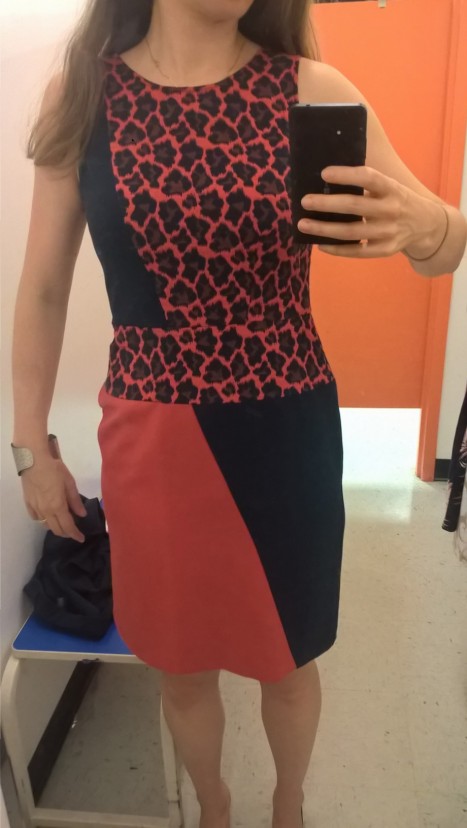 Ugh, these smudgy mirrors!  you can barely tell that this sweater has some lovely gold pattern on the sleeves.  I liked it fine but decided it was too similar to other sweaters I own, plus pretty dark for my skin tone: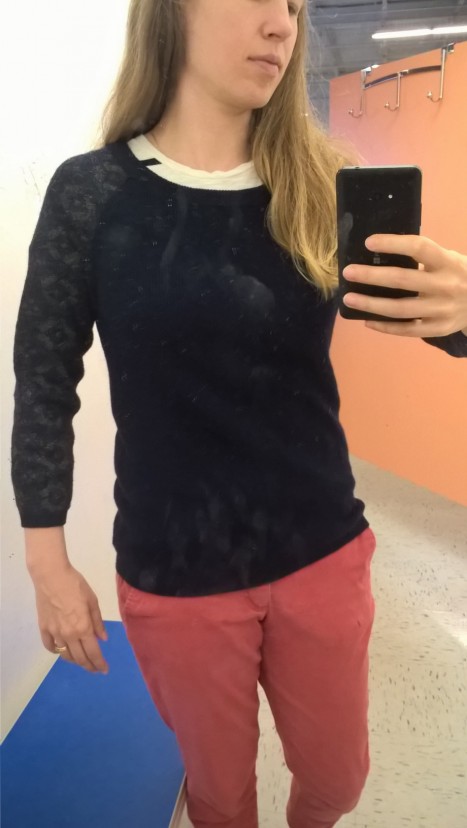 I cried that this vintage handmade beauty didn't fit me: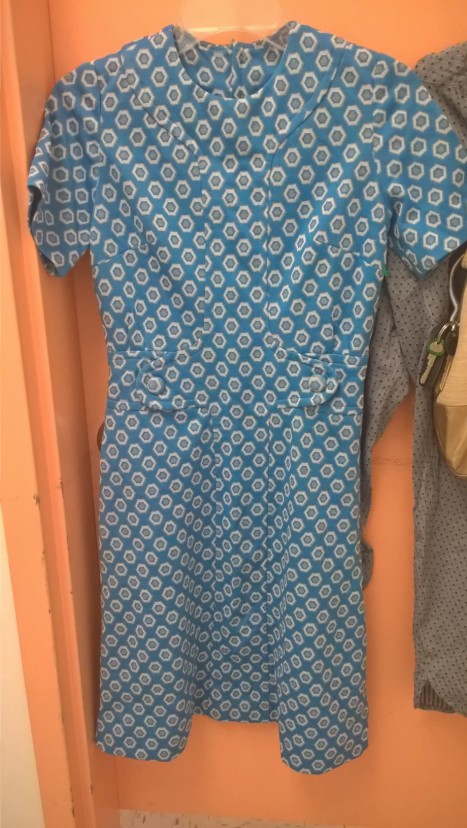 Check out that print! And the buttons… such a great pattern: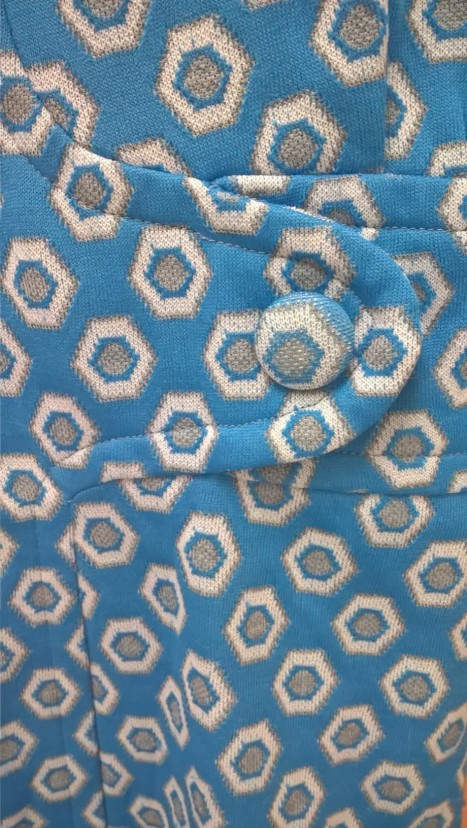 Great lapels on this blazer but too big in the sleeves (and everywhere else):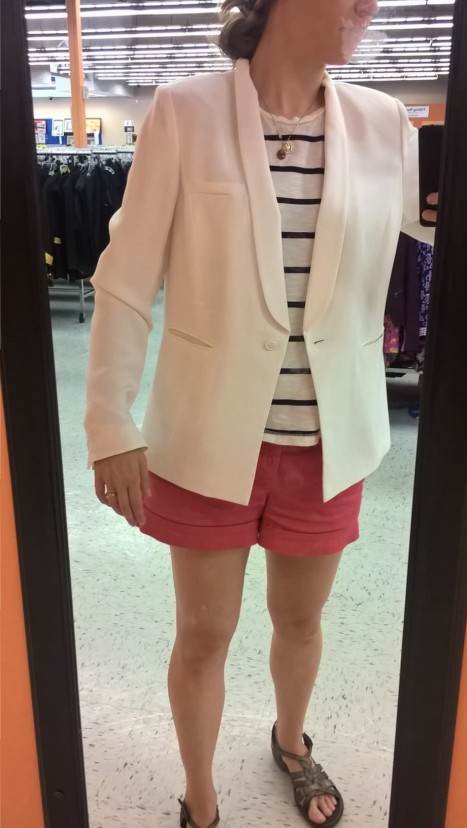 This burgundy moto jacket by Mossimo is so cool, and yet so cropped (particularly from the side).  I don't think I'll ever be ready for a cropped jacket, mostly because if it's cold enough for a tweedy jacket like this, it's too cold to leave my middle protected by just one layer of fabric: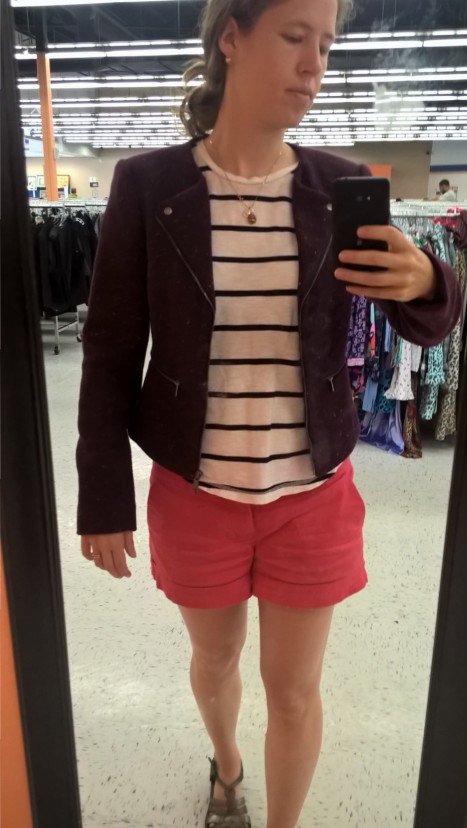 Last but not least, completely for your viewing pleasure, a tweed suit by Gap circa… 1980-something?  1990?  The only thing I loved about this was the navy suede collar and how fun it was to pose in: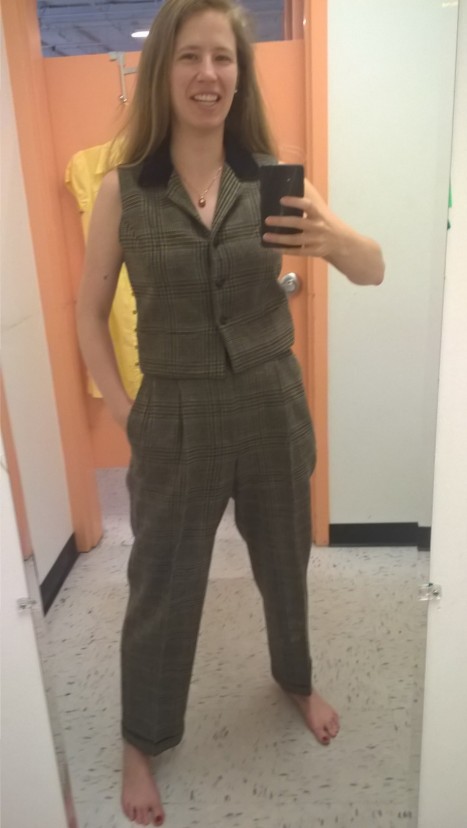 So itchy!

And now, the keepers. As you may remember I've been looking for some more casual dresses, which I found; a fancier-looking one slipped in there as well.
Let's start with this charcoal shirt dress by Gap. Gives the shape I like, it's all cotton (great for weather where your clothes need to breathe), and I can layer it for fall/winter as the color will go perfectly with my winter cardigan:


setting off that blond hair…
Patterned beige and white gathered dress.  I felt like Queen Letizia of Spain in this: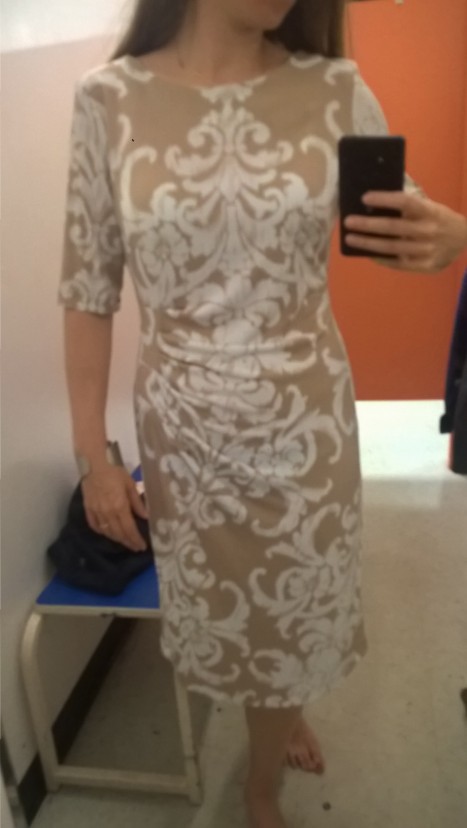 More in focus:

It is too big through the arms/armpits (see below) but I couldn't resist it (despite the fact that it's BEIGE and the pattern looks like a wall sconce). I just felt so long and elegant in it, and I am confident I can use some of the tricks from New Dress a Day to remedy the arms/armpits…once I finally get our sewing machine out and re-teach myself how to thread it.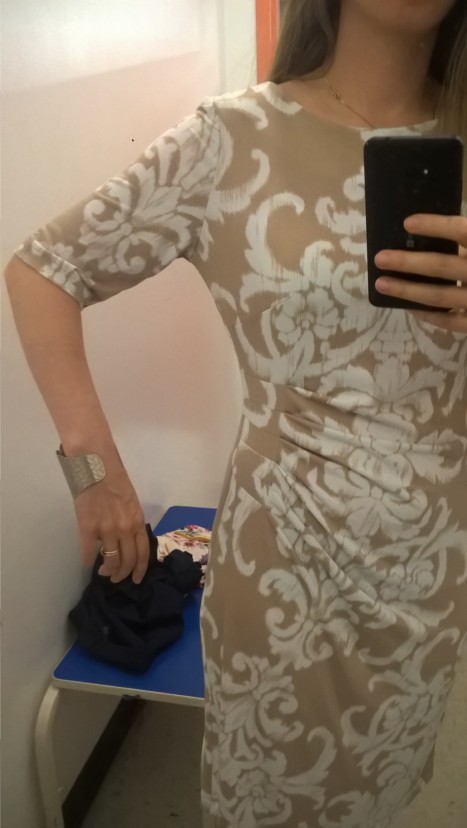 Droopy sleeves/big armpits ahoy.
Speaking of sewing things myself, this spunky little striped Old Navy number with great stretch and excellent sleeves (this length might be a new fave) had a few little holes along the side seam (next photo), which I hand-sewed shut one evening in front of a few episodes of Spirit (or maybe part of Star Wars…my kid is big into horses and Yoda at the moment).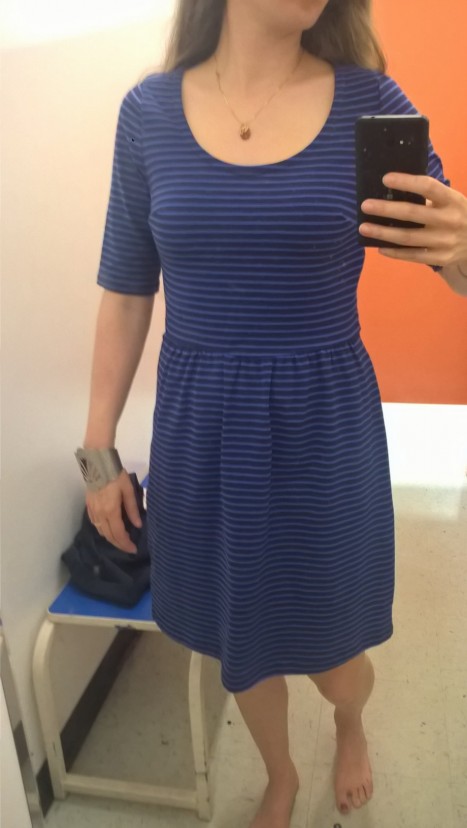 See those shady holes?  Already fixed!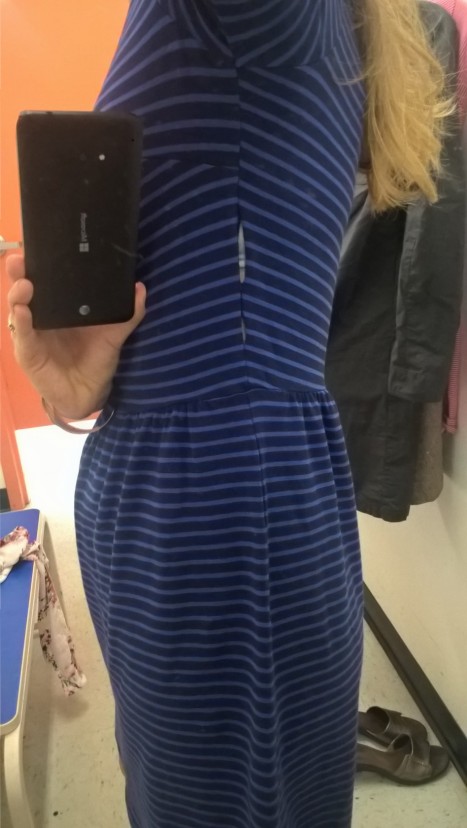 In action here:
So this one belongs in the "keepers turned into rejects" pile.  Self, you should have known that buying some version of this top for the third time was dumb because you had already rejected it twice and its scratchy, too-big ways would come back to haunt you: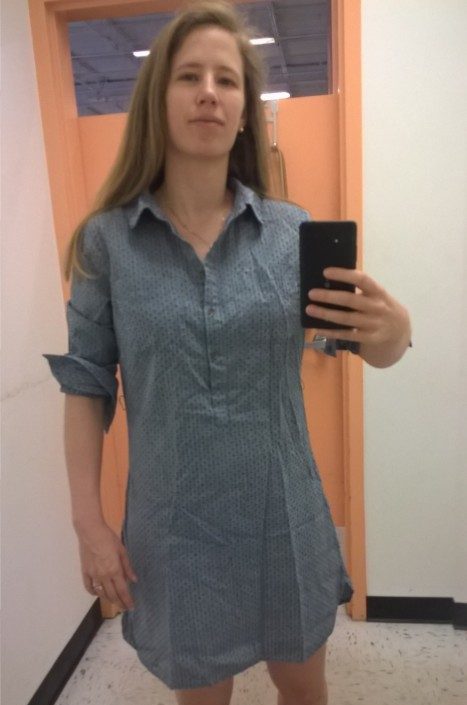 I put it on once at home and said "nope."  You all will be glad to know that even experienced thrifters still make mistakes.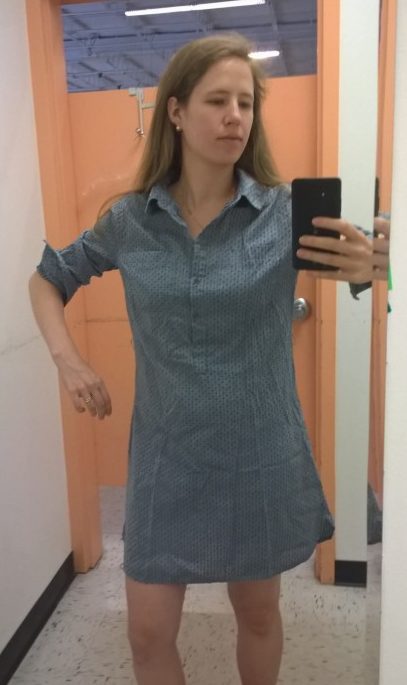 This, however, was a big ol' winner. The light olive color is right up my alley/skin tone and the turned-up sleeves feel polished and current:
The Gucci-esque closure (which actually works) is a great detail that takes it from neutral territory to funky and interesting: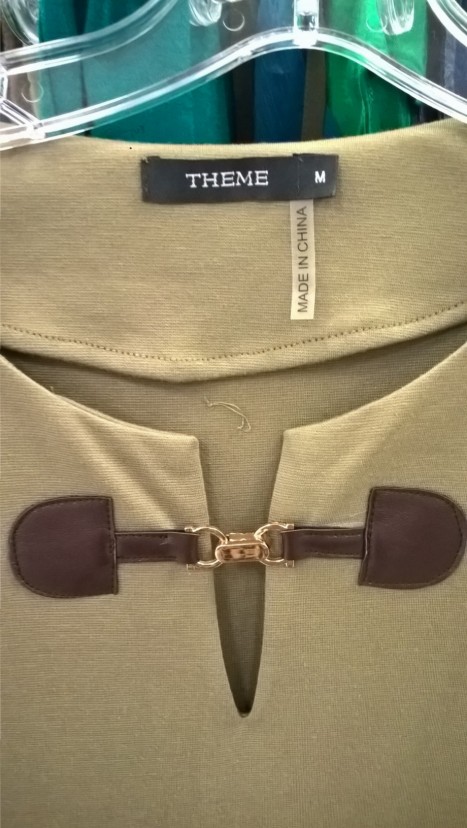 In action(movie):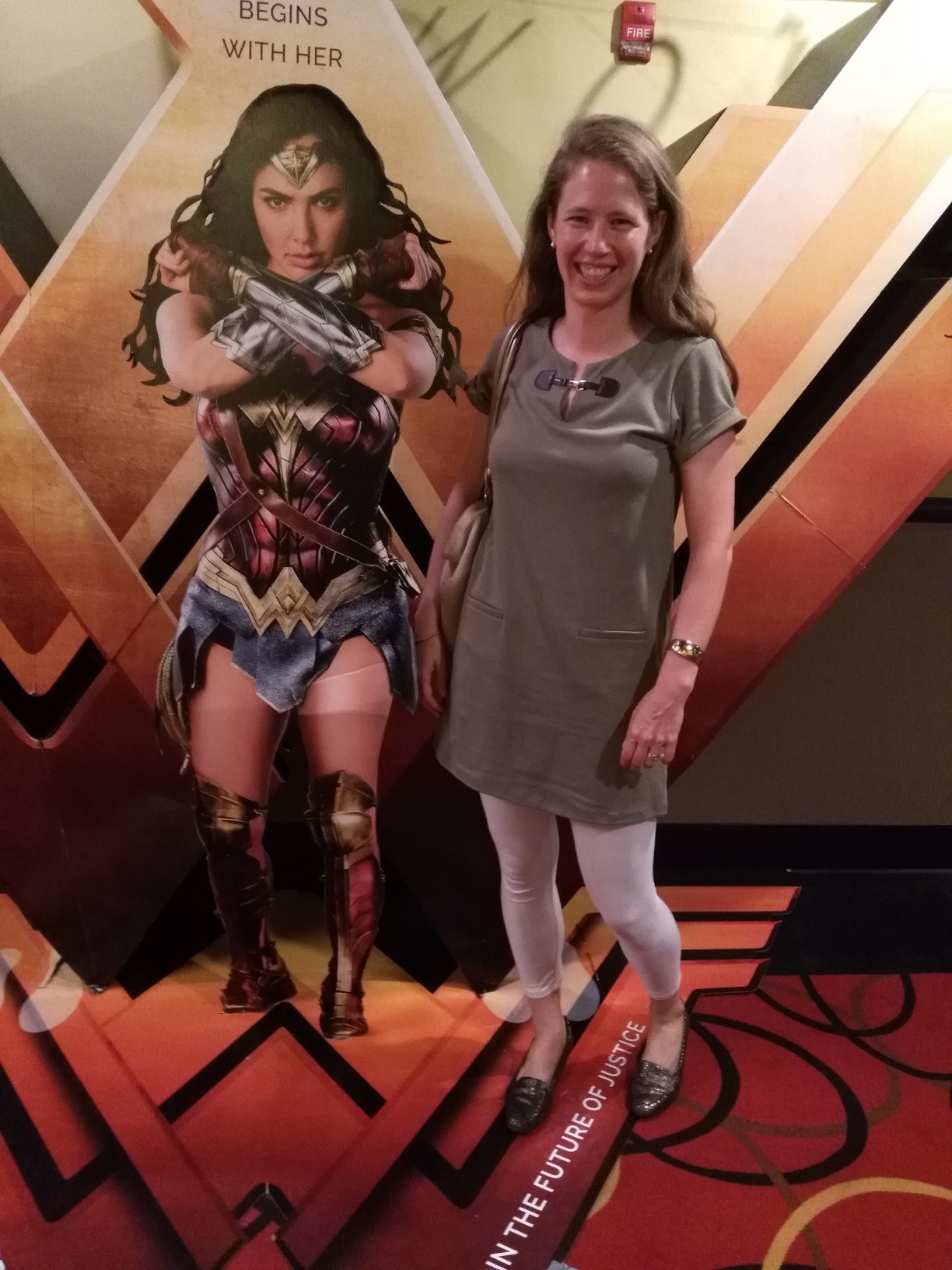 I also got some Etienne Aigner brown boots for $7 which will look great with this dress + leggings come fall. I'll have to showcase these boots in a another post because the photos I got were super blurry.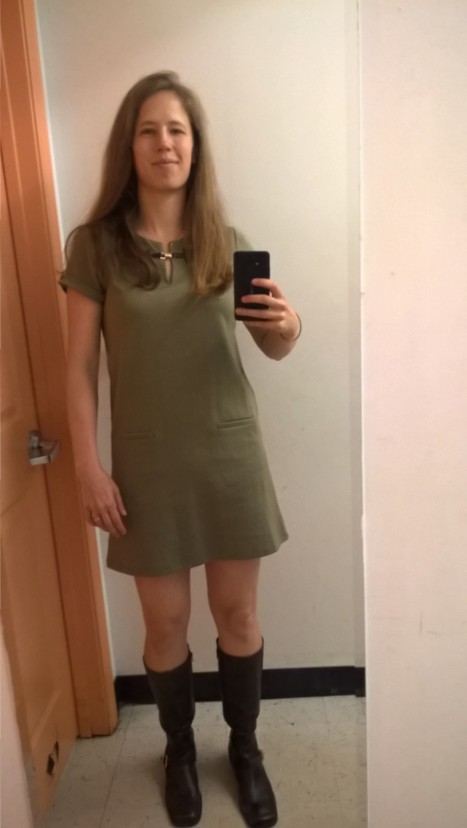 That's it!  How was your May, thrift-wise?  Anything fun on your thrift list?