Inspired by Janice of The Vivienne Files and Susan of Une Femme, I was determined to capture some street style shots for you on our trip to Ireland.
First up, this woman in the Newark airport en route to Dublin was wearing the chicest version of overalls I have ever seen: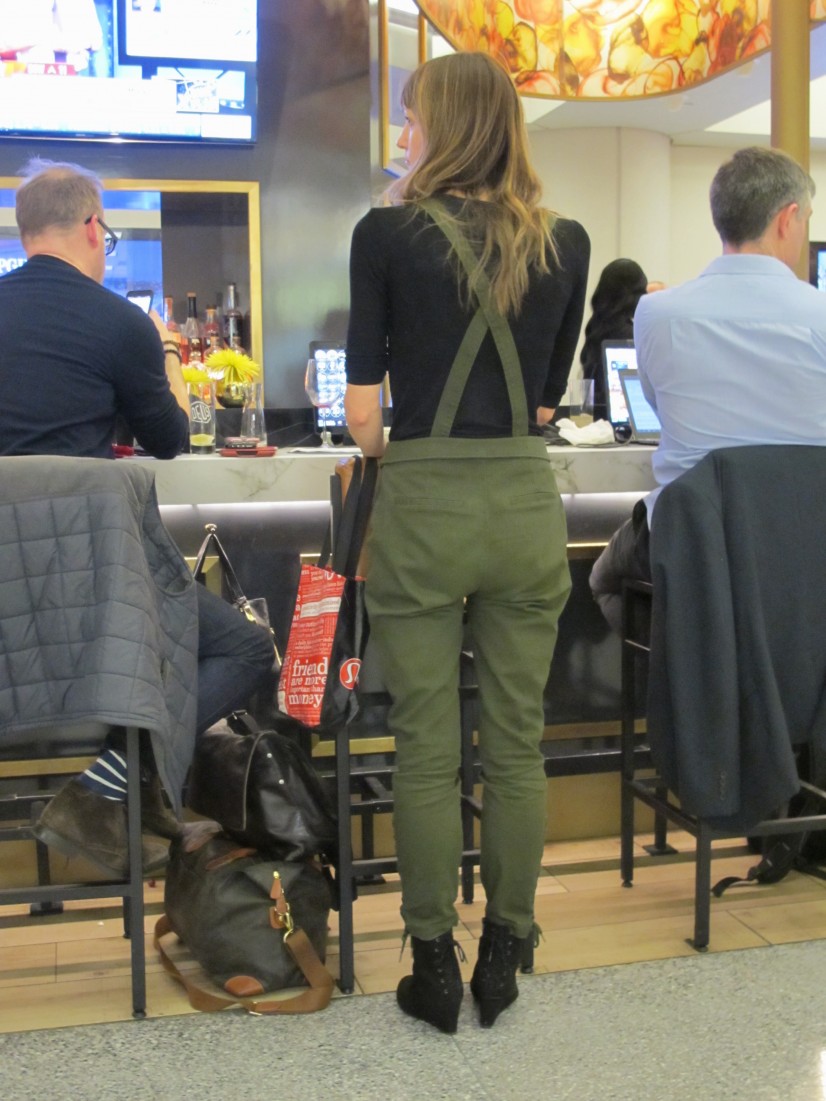 The slim cut, the suspender-like straps, and the color paired with simple black (and boots that tie up the back!) were quite striking.  I only ever saw the outfit from the back but that was enough to convince me.
There was another woman in the airport sporting a super chic ensemble (I'm going to be using "chic" a lot in this post…) that I didn't get a snap of, but it looked something like the photo below. Color the tunic sweater camel and chop the cowl collar in favor of a very structured white dress shirt collar peeping through; then morph the pale messily-coiffed white woman into a woman of Asian descent with an elegant updo.  I was struck by how structurally elegant but also livable the look was; and by how the pants were not skinny pants (as often seen in tunics-over pants looks), but more trouser-like.  Her ensemble stood out in a sea of business travelers.
Now on to Ireland itself.
Maybe it's because I owned an Old Navy track jacket in similar colors in college, but I couldn't resist this jacket with corals/greens/browns and hummingbird/flower applique, spotted at the Dublin Flea Market: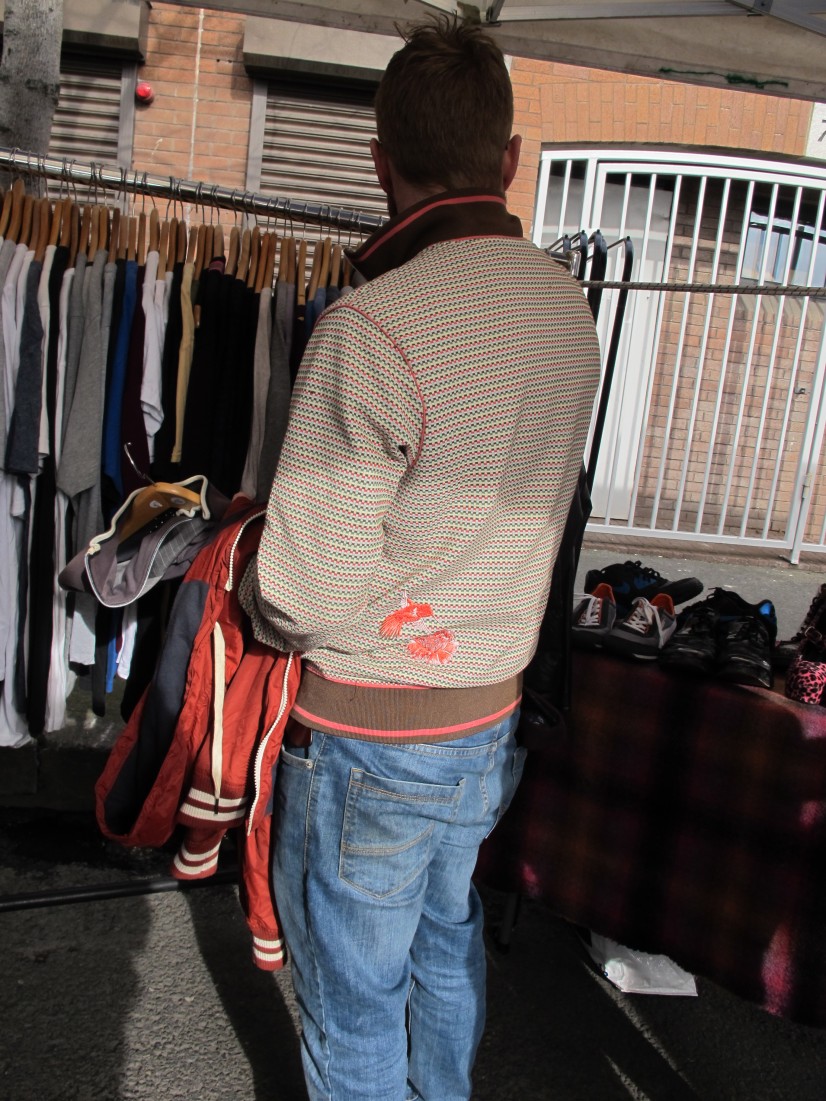 This woman was a chaperone on a high school field trip to Glendalough which involved a good bit of walking in some cold, muddy-ish conditions.  Yet her ensemble, with its bright colors and details like pompons and red gloves, was eminently cheery and stylish: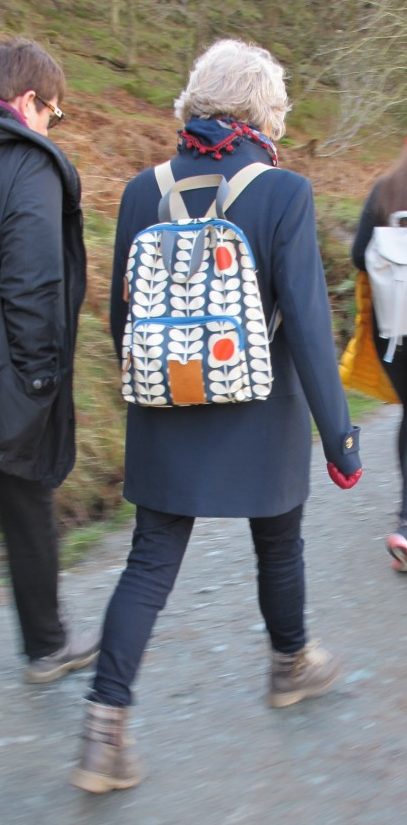 Well done, Teach!
I saw quite a few of these plaid blanket-style capes, worn both inside and outside to add extra warmth: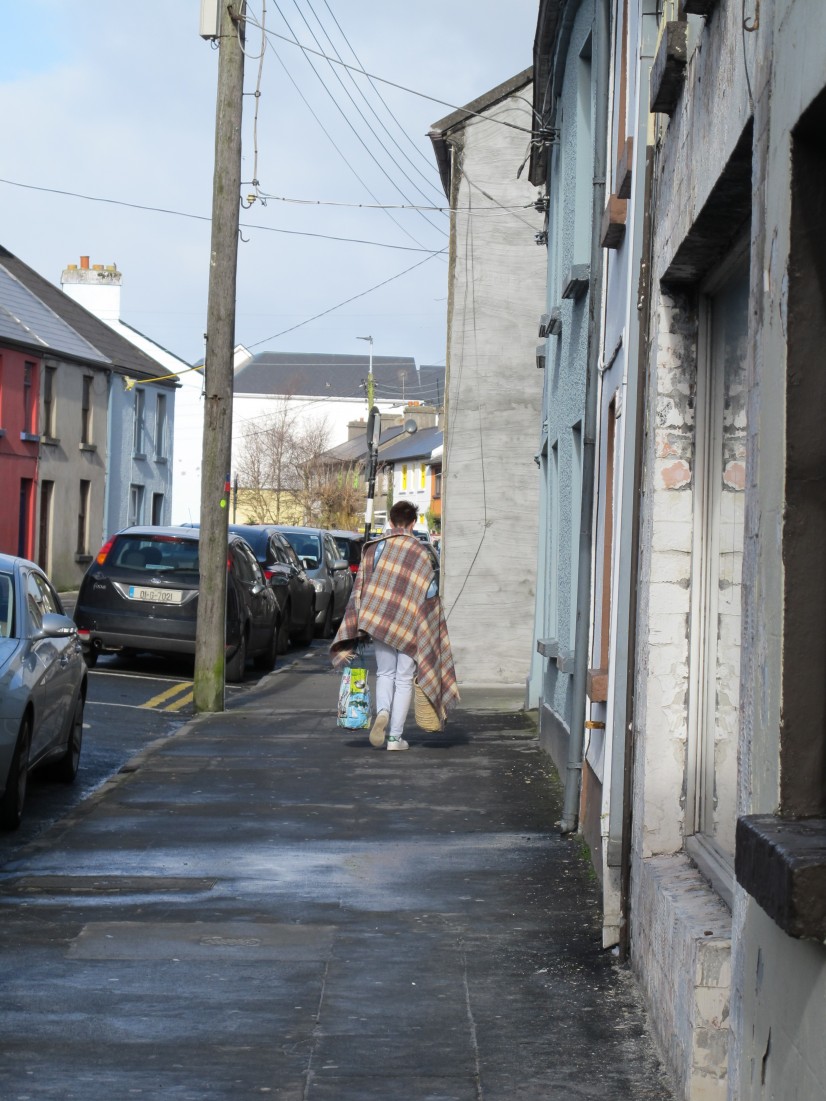 Our waitress at Ard Bia in Galway (where we had the most delicious poached eggs and avocado on toast) wore this great mix of chambray/washed out denim in two shades plus a marled cardigan in a muted red over a soft white tee that hit "late winter/early spring by the sea" so perfectly: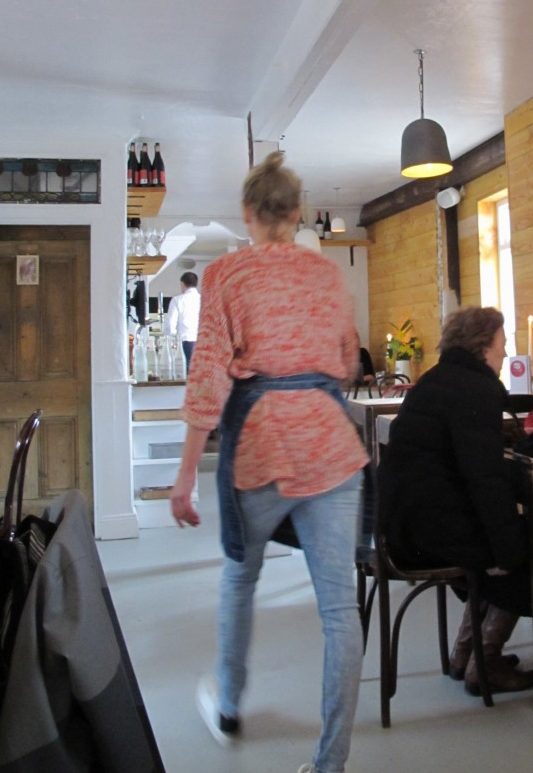 It also worked really well in the airy, light, almost minimalist interior of the restaurant.
Here's a very luxe neutral coat – look at that popped collar! – with a punch of flame via her bag:
A shot of the boots (get it?):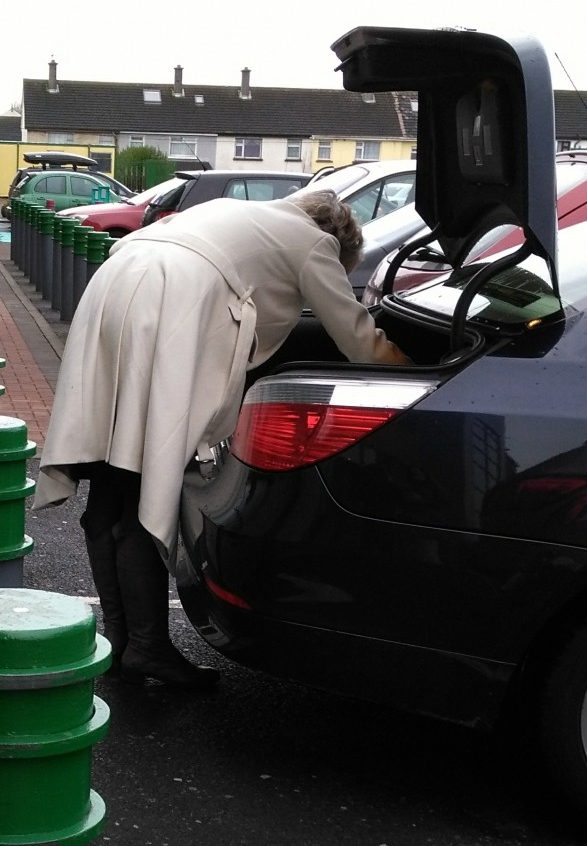 Overall I noticed a lot of joggers on young men; shorter skirts over tights on young women; and dark or neutral colors when it came to outerwear – I definitely stood out in my red wool coat.  I also would've stood out if anyone had known I was wearing leggings under warm corduroy pants – clearly everyone was more accustomed to cold weather than I was!
Ah, and I almost forgot – I was the only woman (besides the nun with whom I co-officiated, and she had her own headgear) to miss the memo on wearing fascinators at the wedding we attended.  I'd previously attended a wedding in Europe that involved hats so I shouldn't have been surprised that all the Irish women had head attire, but even the American women had all figured it out. From vintage emerald green velvet pillboxes to flapper-style feathered headbands to more sculptural numbers, they were stunning.  I'll just have to deal with my disappointment by reassuring myself that my job was to keep all the attention on the bride – who looked absolutely stunning!
Congrats Ashley & Dave, and many blessings on your married life ahead!