This is what I wore to church yesterday.  Can you tell it was a rainy day?  (Hence the indoor photos and strong overhead light.)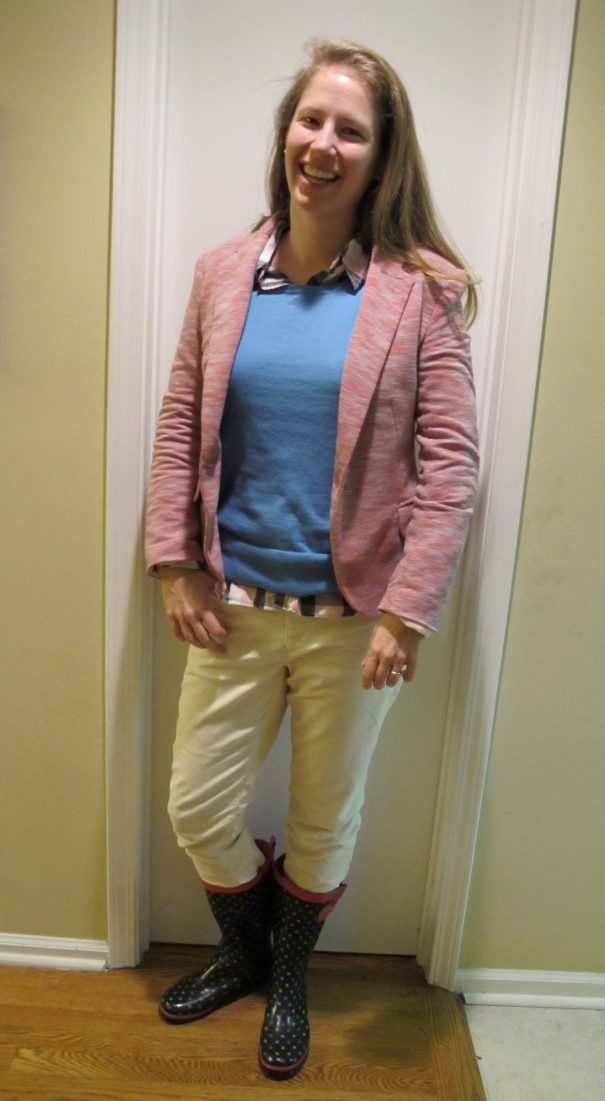 Plaid button down by Japna – thrifted
Blue sweater by Loft – thrifted
Blazer by Cartonnier – thrifted
Cream corduroys by Lauren by Ralph Lauren – thrifted new with tags, then tailored from a wide leg to a slim leg
Rain boots – thrifted, no label
I was, in theory, happy with this outfit.  I started it out (in my head) with these rain boots, knowing I would be corralling a small person in mucky, wet weather: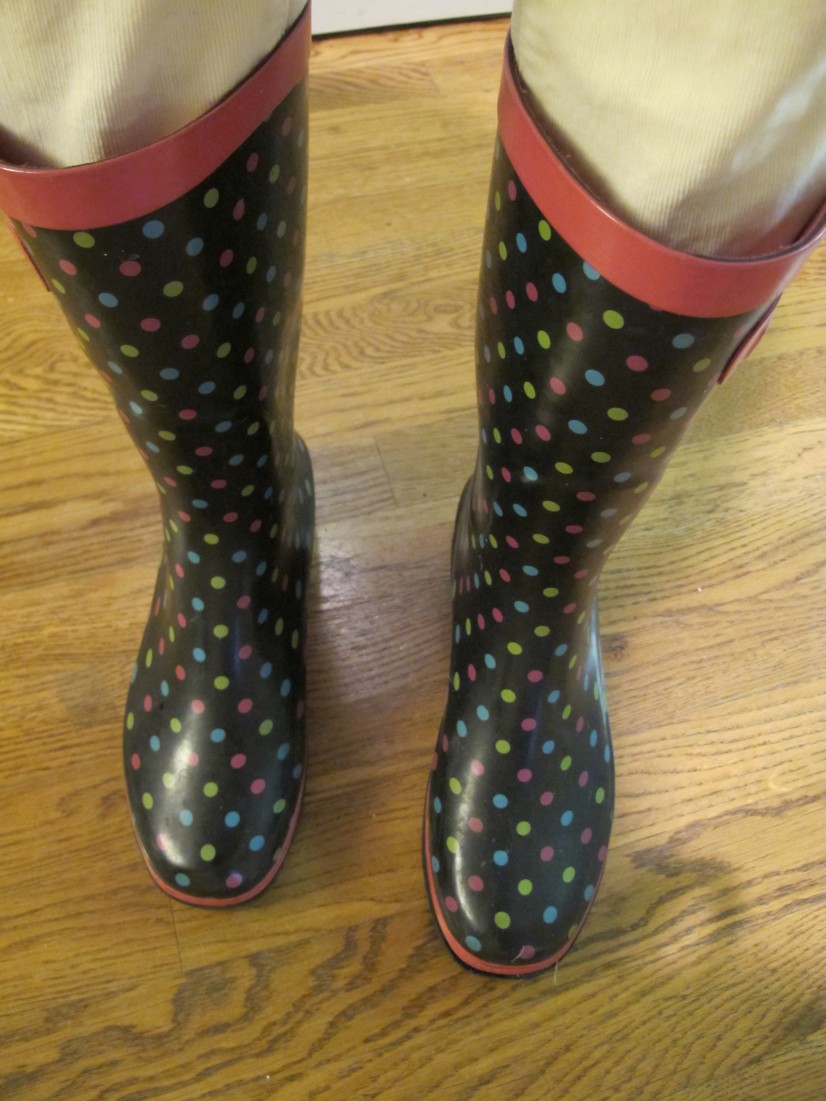 This is the closest I own to riding boots.  Ha.
I wanted to pick up the pink, the light blue, and the dark navy, and this button down and sweater did the trick: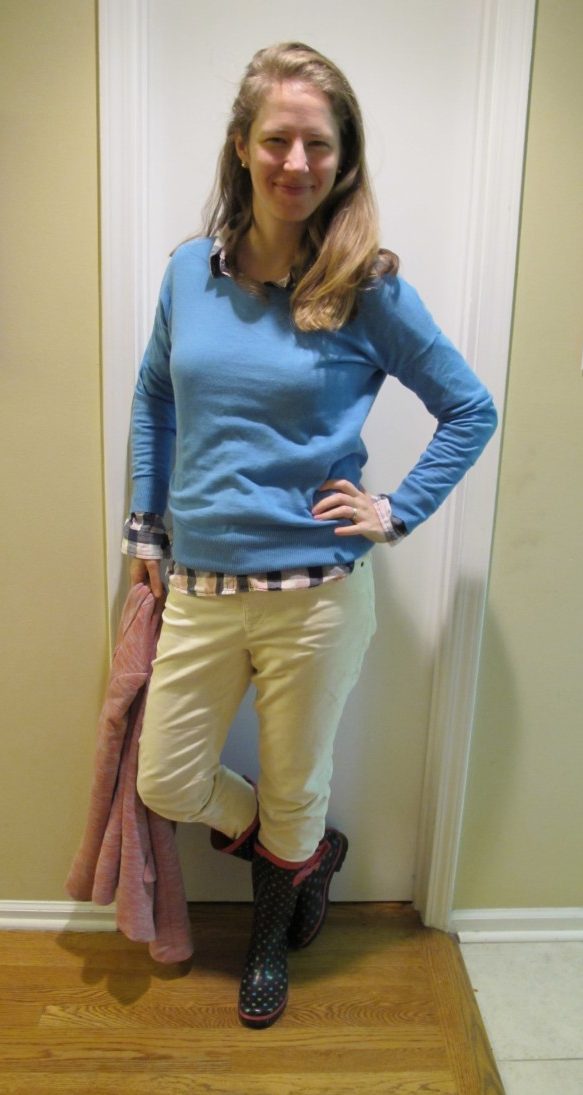 My pink/blue marled Cartonnier blazer was the obvious topper.  (And I thought I wouldn't get a chance to wear it this season – because these ain't exactly wintry hues.)  Close up on the colors/patterns:
The cream corduroys provided some nice neutral real estate between all the color and pattern on top and in the boots.  Navy pants would have worked, too.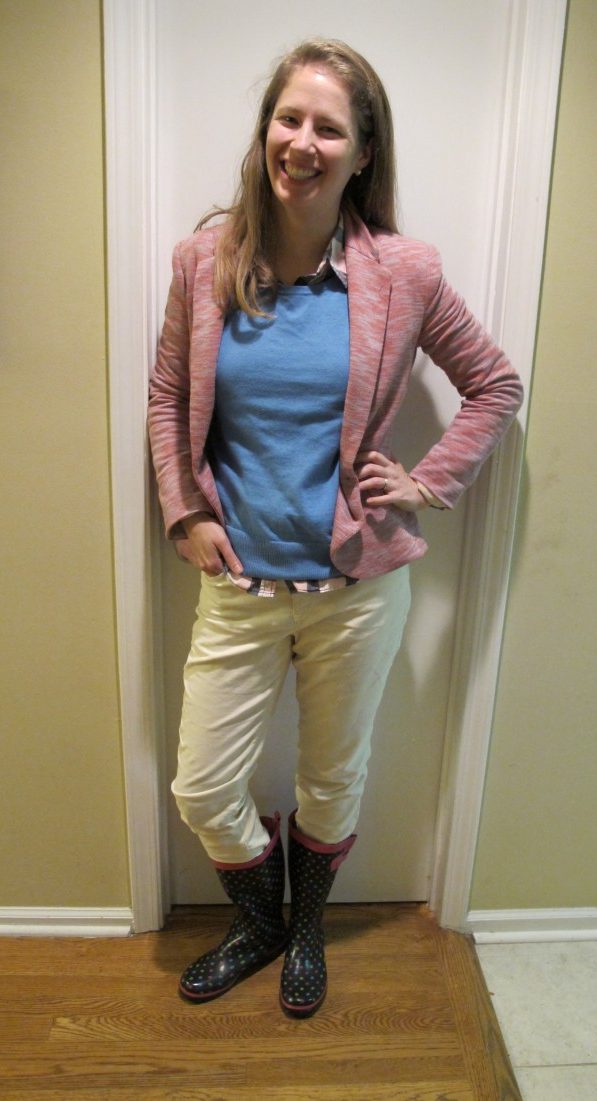 So here's the problem: in theory, I love the idea of a button down underneath a sweater.  It seems so chic – little pops of pattern at the cuffs, neckline, and hem to contrast with a solid (or even not-so-solid) swath of sweater.  And the warmth!
But in reality, this pairing drives me nuts.  The button down never lays properly under the sweater (see all pics above except the first one, which I made my spouse retake for the sake of my vanity).  It looks lumpy and pointy and things pop out in unfortunate places. And even though this plaid shirt is decently long, I'm forever tugging at the hem to make sure it's peeking sufficiently chic-ly below the sweater.
In short, this combination looks chic on Talbots models and in my head, but NOT on me.  Even this combo had to be pulled and adjusted all day, and flattened for this photo (and some button or other pointy part still looks mysteriously like an errant nipple):
Enlighten me, readers!  There have to be some of you out there who wear this look with aplomb and nary a stray scrunch.  What's your secret?  Is my sweater too thin (it's a thin cotton knit)?  Do I need to wash and dry it to shrink it up a bit or iron it before each wearing to get that smooth look?  Is my button down shirt not long enough or form-fitting enough?  Do you secretly safety pin or tape the whole thing in place??
Scroll down to comment – and don't be afraid to wear rain boots as legit footwear, especially since there are so many fun patterns and chic styles to be found in the thrift store: