August ends tomorrow, so I think it's pretty safe to say that I'm done thrifting for the month.  (But now that I think about it, I could conceivably hit up one last place Wednesday after work…tempting….)
Although I'm still feeling pretty satiated as regards my summer wardrobe, I have picked up a few new things since my last Thrift Finds in June, so I thought I'd share what I found.
July
The Atlanta heat had me on the hunt for light cotton fabrics, and this plaid shirt by Japna just jumped out at me.  The colors are a great match for my palette, the feel is oh-so-soft, and the sleeves easily roll up for a warm-weather look on a shirt that will handily transition to fall as well:
Close up on that rolled sleeve with contrasting cuff: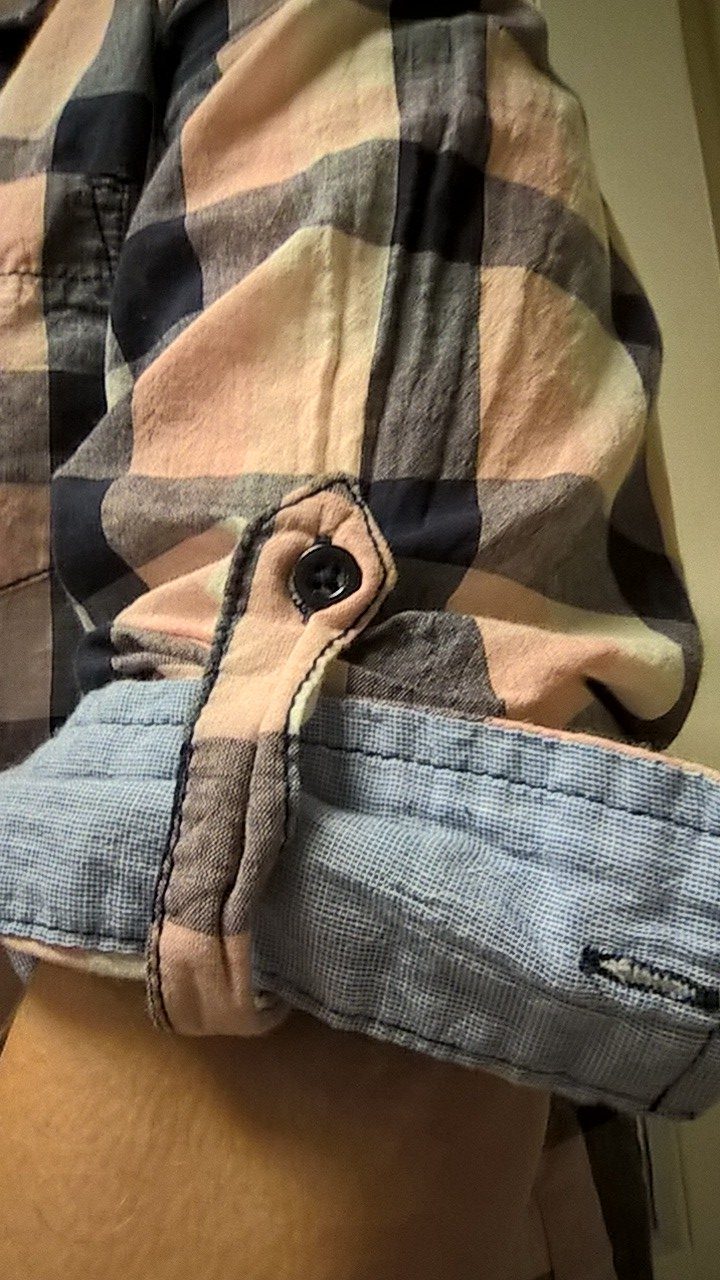 In a sure sign I picked a winner, it's already made it to the Instagram multiple times (and I'm wearing it right now as I type this).
Another cotton choice was this coral shirt dress by Chetta B – so light and breezy yet quality enough to keep my underthings from showing through:
It has a bit of a 60s shirtdress feel, and the silhouette gives a little feminine variation to my sheath-obsessed lineup.  Maybe because of that, I don't think it'll be a forever keeper, but it's been great for some color and pizzazz in these hot months.
August
This sweater cardigan by Old Navy is actually from their maternity line, but with the open front it pretty much makes no difference.  I was really drawn to the graphic pattern here and the creams/greys; I think this color palette keeps it wintry without making it too dark or too overwhelmingly one color (a cardigan like this is a big block of fabric!). I imagine it playing very well with turtlenecks come fall: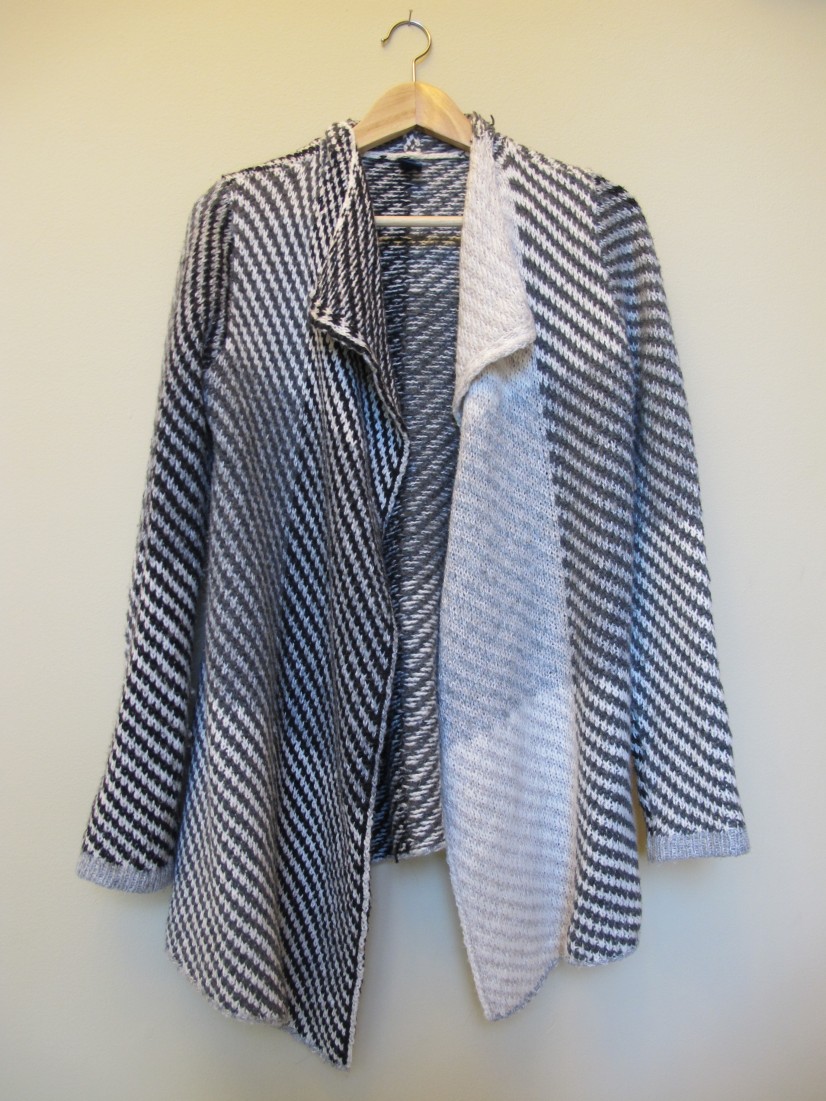 (Side note: I have another cardigan squirreled away for winter which I'll reveal as the weather gets less hot, but I think it and this cardigan are teaching me that I don't like my knitwear to have cabling or other woven texture so much as I like flat knits with interesting patterning happening within the flat knit, if that makes sense.)
Here it is, looking less like a sofa throw, with the white Forever 21 leggings I also scored this month (don't worry, I know leggings aren't pants – necessity pushed me to photograph as many clothes as possible in as few shots as possible before the toddler discovered the camera):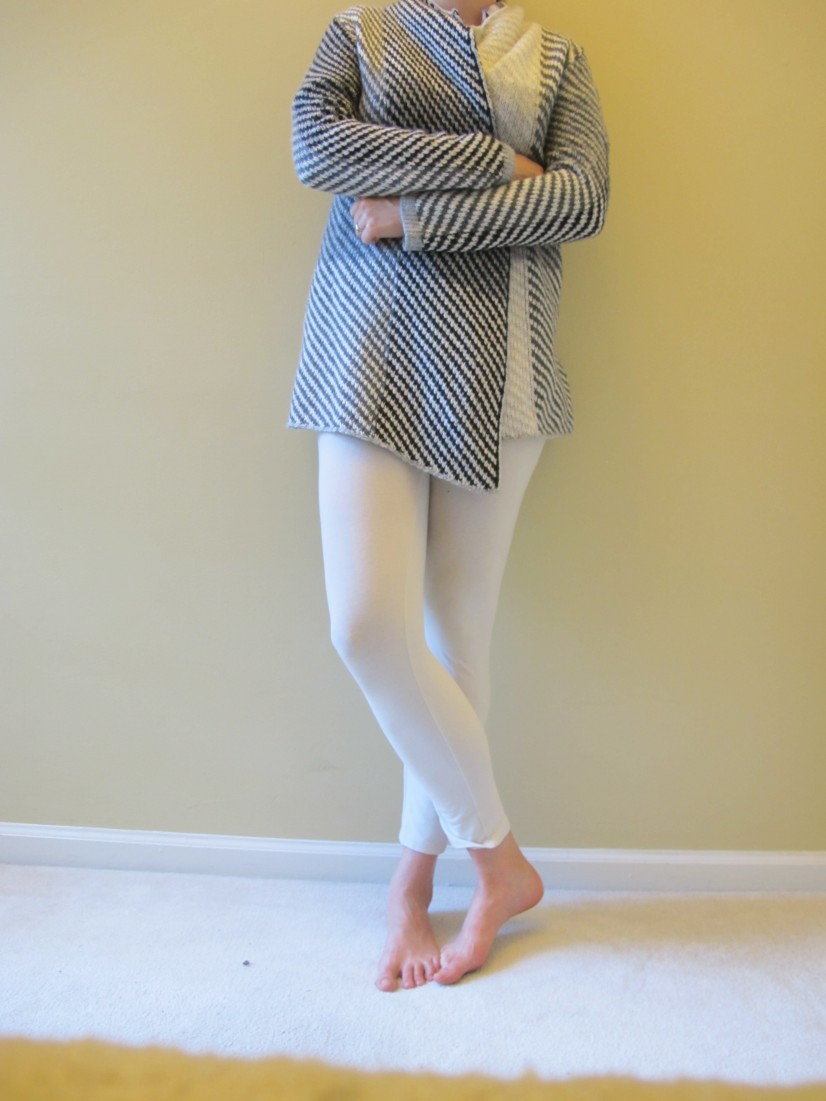 You may recall I had just-above-the-knee leggings on my thrift list to go with this shirt dress, but I have since decided to convert that shirt dress to just a shirt (as in the original post), so regular leggings will suffice. I love the ruching detail on these but they were pretty saggy, so they've been replaced with these.
These navy blue cotton pants by Uniqlo are the next candidate in my search for navy cold weather pants. (You may remember a past iteration here.) They fit snugly for warmth – one of my main reasons for ditching wide leg trousers – but end with a nice slim silhouette instead of the constricting (to me) skinny cut: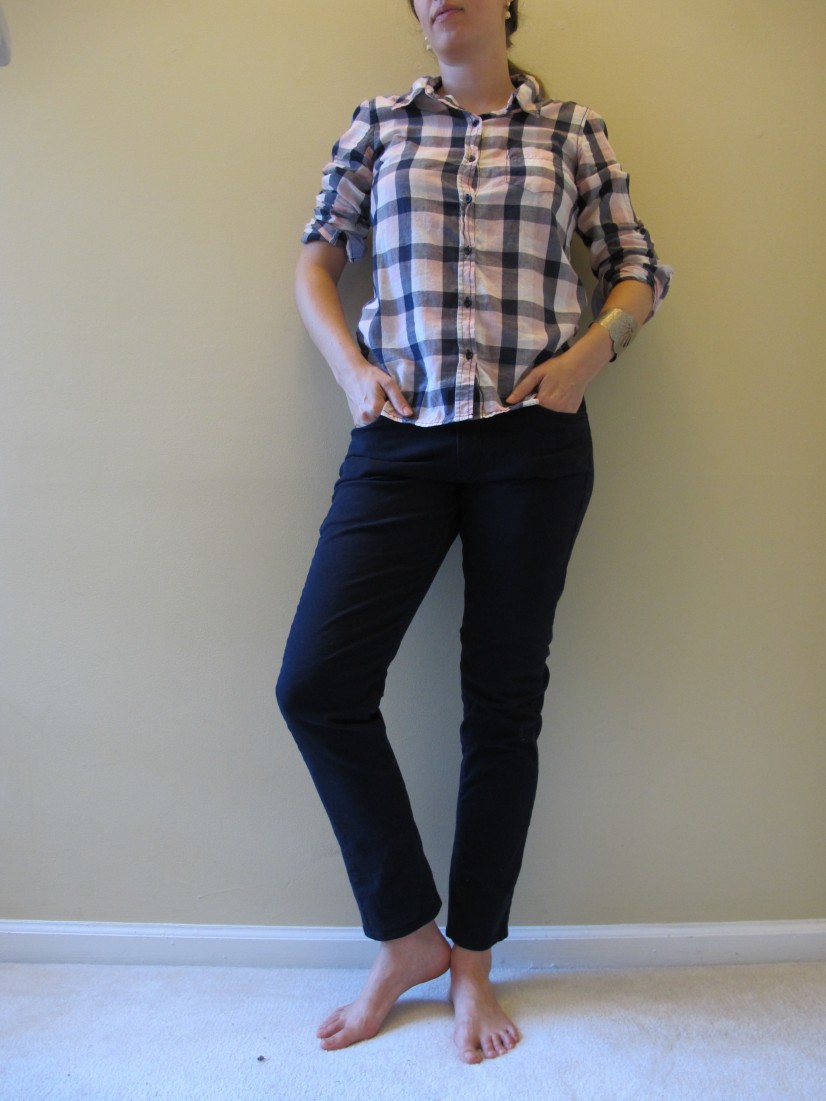 Another plus: the rise on these puppies is well above muffin top territory. My only complaints? One leg seam twists over a bit, and the twill fabric is more casual than the velvety corduroys I've been collecting for the rest of my cold weather pants roster.
Love that funky pants hanger.
Though it hasn't yet been worn on Instagram, this gold top by Zara made my travel capsule wardrobe for our trip to Asheville and dressed me for two birthday parties in a row where it received many compliments: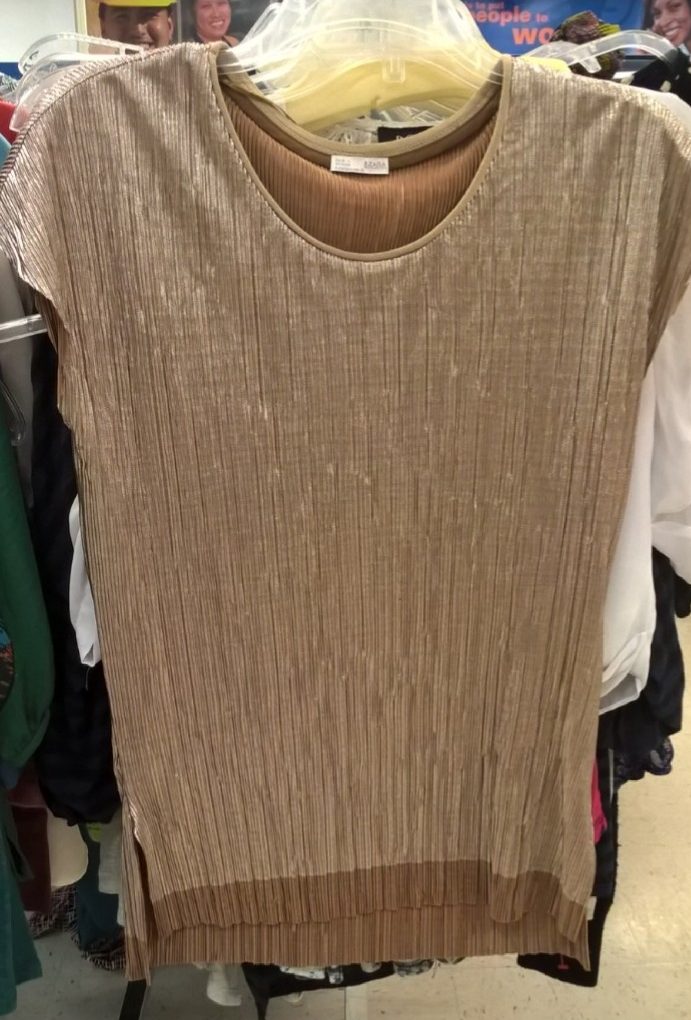 It's a keeper.
Silk long john shirt: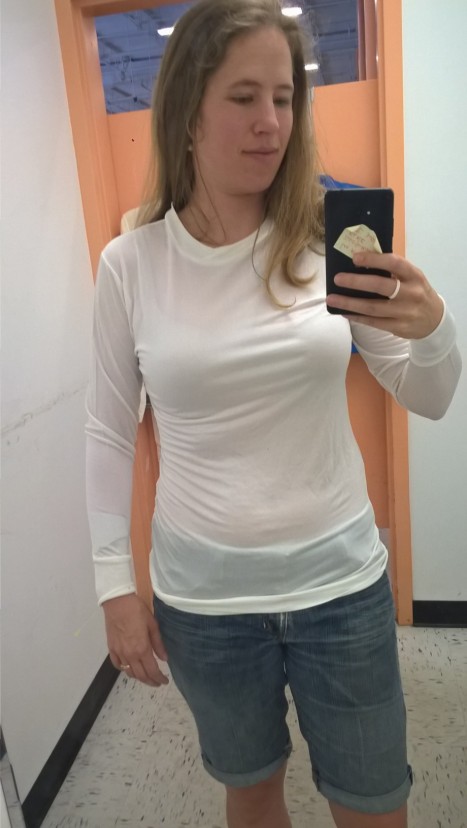 I donated my too short, lumpy long underwear awhile back – I had inherited it from my inlaws and never used it.  But it IS a good idea to have some kind of base layer for doing outdoor activities while visiting them in the c-c-c-cold Northeast – or just hanging out around the house where my internal thermostat is not used to a colder resting point.  Close-fitting silk will do the trick.
I cannot explain what happened with this top other than that I fell irrationally in love with it, Montague-and-Capulet style. Which is fitting, since it looks like it came straight out of 1602:
There are lovely decorative seams on the back which I forgot to capture, and great detailing on the front (just visible on either side of the floral motif), and I justified it in my head by saying it would go well with the cream corduroy pants and navy pants I'm lining up for winter.
But really, this is just an affair of the heart – I mean, look at this velvet!!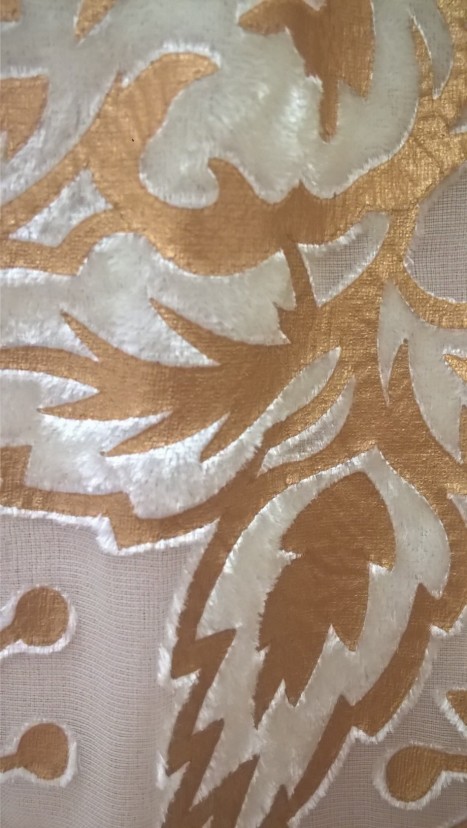 Let's hope this sartorial tangent doesn't end as tragically as those star-crossed lovers did.
(Looking at this last two choices, it seems I have a thing going for metallics lately… maybe I should have bought those Rock and Republic pants after all.)
And now, just like at the end of your favorite movie – bloopers!
The feel of this Banana Republic sweater was luscious, and I thought it might be a good thrift upgrade from this Forever21 sweater of similar stripe (literally):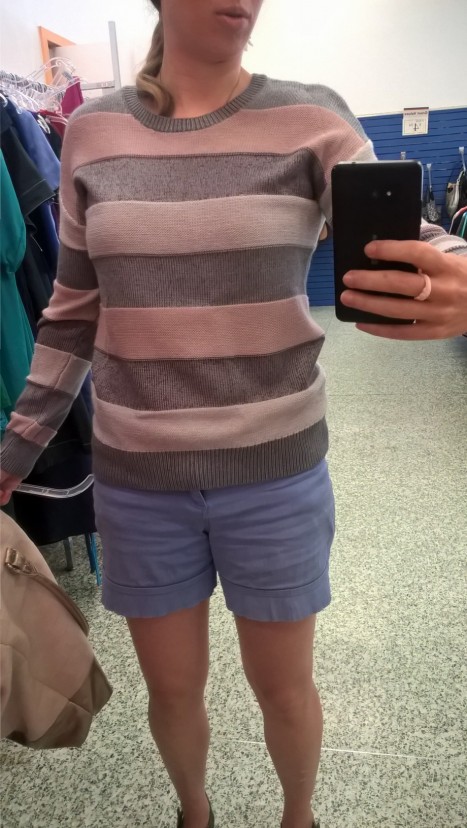 But as you may be able to tell, the blush stripes were set in relief from the grey ones (a reverse stitch, maybe? I know next to nothing about knitting) in a way that made the line down the side all choppy. And the colors were dull and drab on me.
Here's a funky marled cowl neck sweater with an asymmetrical zipper by Converse (who knew they made clothes, too?). I wanted to like it but felt more like Shane Claiborne in his homemade protest clothes than myself: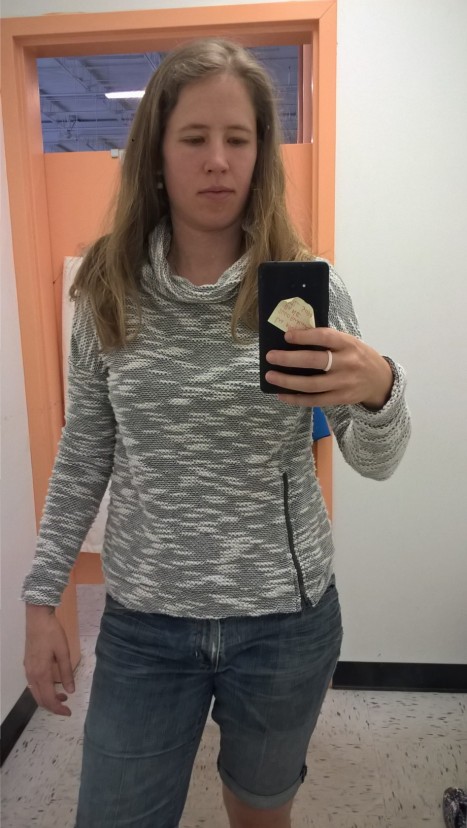 I'm looking for some sleek long-sleeved blouses to layer under cardigans this fall/winter.  This one was a bit sheer, and although the color was a lovely blush pink on the hanger, on me it faded to a sickly, dingy hue (hard to tell from photo):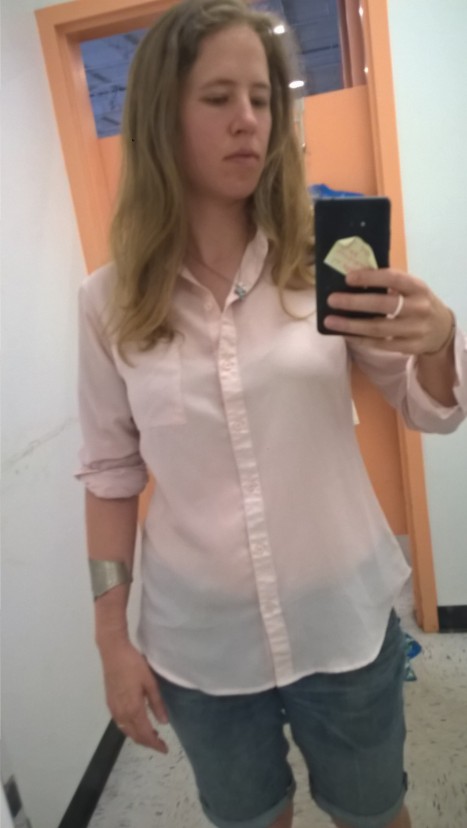 Another candidate for a chic blouse…if I were in a production of the Pirates of Penzance: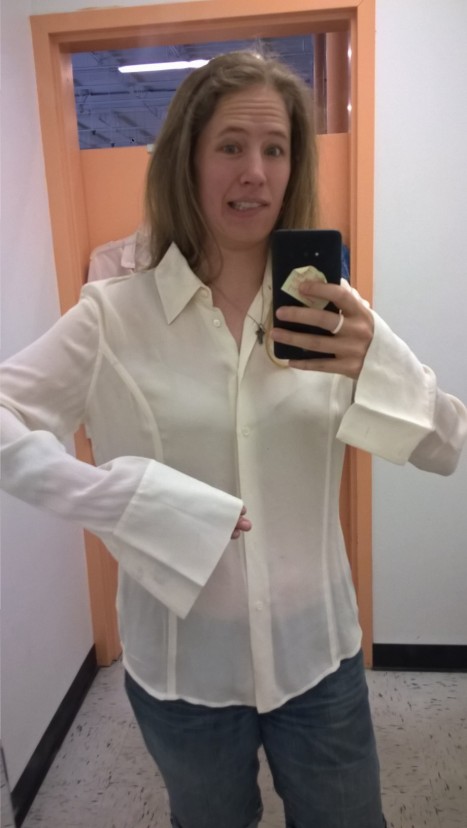 I've kept my eye out for a floral top as I love FLOWERS but don't have a long-sleeved version.  The print on this was great – the color scheme reminded me of a great vintage dress my grandma had.  But the fit was off: too loosey-goosey in the body, and – I'm so sorry I didn't get a pic of this – puffed shoulders that only puffed on one side: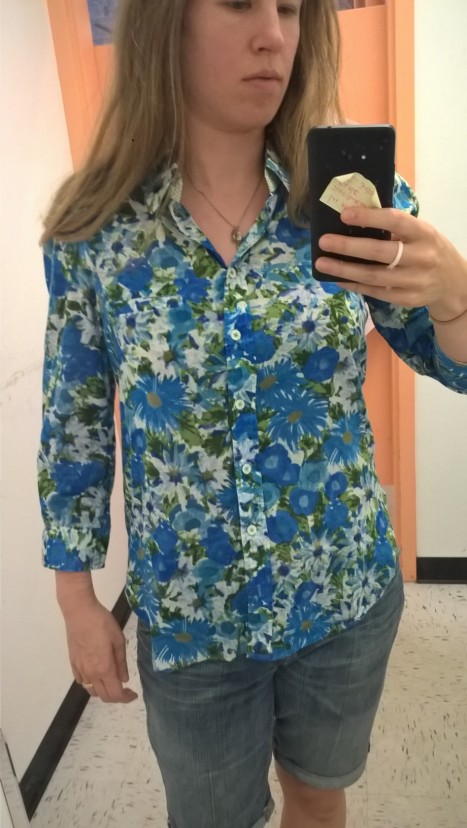 Too bad because look at that awesome contrast detail on the collar (also reiterated at the hemline seam):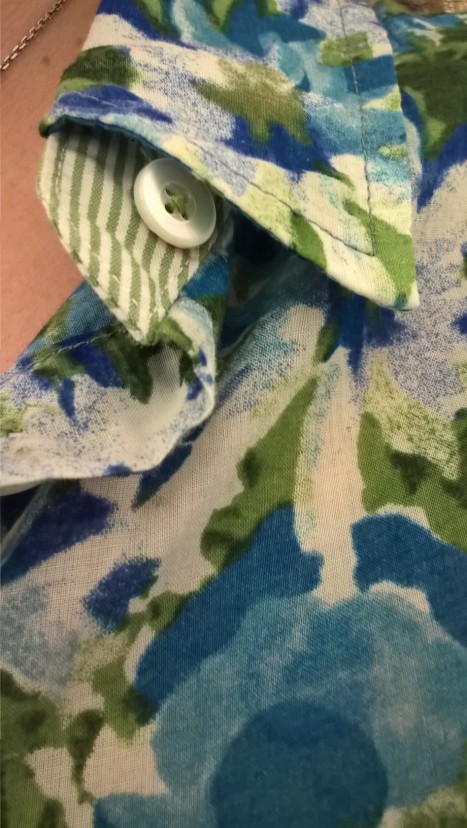 I'm also looking for a soft-structured jacket to add a more casual but fluid choice to my blazer repertoire.  This blue jacket, with its little moto snap at the neck, looked like the product of a dalliance between a lady-who-lunches and a biker. I loved the idea of that mix, but in reality, the snap just distracted me from the shirt underneath and looked weird buttoned up.
Plus it fell victim to a problem I regularly have with blazers – it flares out too much below the waist.  I think I need slightly longer (or better cut) jackets to make this not so pointy-looking.  But as I put it back on the rack, I shed a little tear because where you can you find blazers in this gorgeous color that don't date from 1985??
That's it for July/August thrift finds.  What do you think of my finds and my rejects?  What have you thrifted lately?  Scroll down to comment!