Hello, Thrifters. I've got some news to share: we're moving to Boston!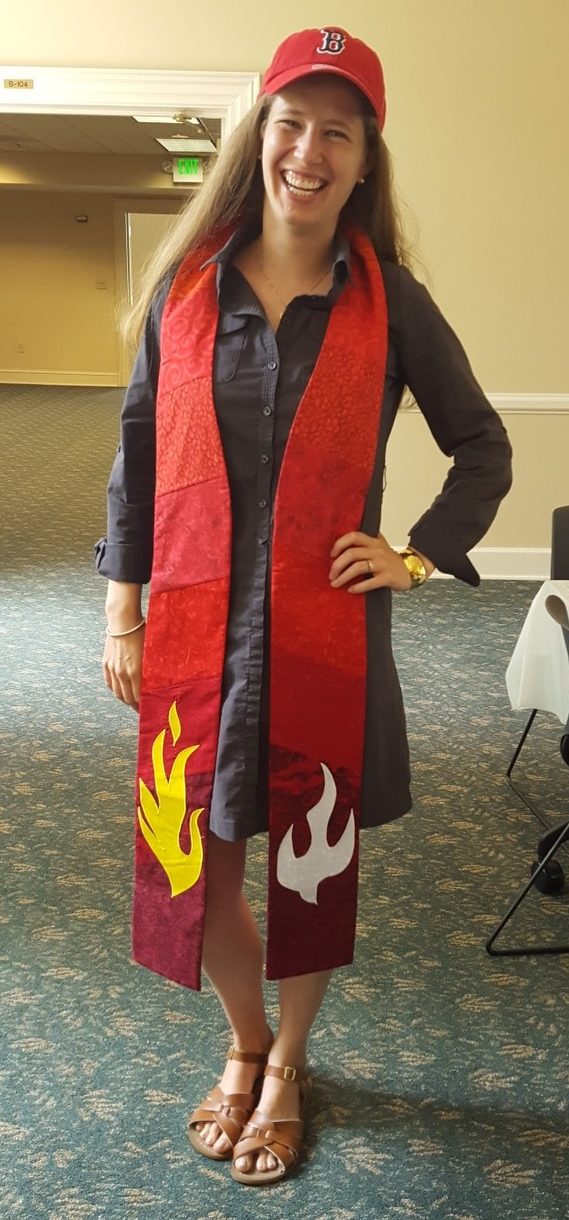 I am appropriately garbed for both preaching and baseball. Dress, Merona; sandals, Saltwaters (retail); bracelet, Monet; Red Sox hat, '47 (gift); stole, Stitchin' Time (gift).
I have taken a call as the pastor of a church in the Boston area and I am really excited for this new adventure. I am also really sad to leave Atlanta, which has been our home for the entirety of our lives as a married couple and then as a 3-person-family, and where we have many dear friends and favorite places to eat/hike/hang out.
This news explains the hiatus I've been on: interviews, finishing up my former job, getting ready to move, and other life things (like totaling my car…sigh) have been getting in the way of regular blogging. I have been glad to be able to take a break and grateful for your patience while I've done so. I'm looking forward to resuming blogging but can't say when that will be as we still need to move and I need to settle into my new calling.  However, there are many good thrift stores in the Boston area (the interview team took me to one without even knowing I thrift – yes I've found my people) and I know it won't be long before I start exploring them.
I do have at least one outfit post in the pipeline from last week, but my current mix of ratty painting t-shirts and running shorts are probably not going to create good content. If you all are interested in what I'm thrifting to stage our current home, let me know and I'll see what I can do.
In the meantime, I hope you are thoroughly enjoying these last few weeks of summer (northern hemisphere folks at least!) and I'd love to hear your suggestions for incorporating Red Sox gear into my wardrobe on a regular basis.
Cheers,
Leah