As part of the Summer 10×10 remix (hosted by UnFancy and Style Bee), I'm attempting to post what I've been wearing each day as I live out of my suitcase on back-to-back family reunions. What's a 10×10 remix? 10 pieces of clothing, 10 outfits, 10 days. What you count as an item is up to you (I'm not counting shoes, workout gear, outerwear) since the point isn't following strict rules – it's using limitations to spark creativity.
Day 9: Goodbye Lake Champlain, Hello New Hampshire
Here was my outfit for driving 4 hours from Vermont to The Granite State, where we stopped over for a night before flying home:
My 5-year-old cousin made that twist braid – didn't she do a great job?  I can never get those to stay.
Shirt: Gap – thrifted
Shorts: Bill Blass – thrifted
Hat: unlabeled – thrifted
Crossbody bag: Marco Avané – thrifted
Cuff bracelet: Monet – thrifted
Sandals: Saltwater by Hoy – retail
I think this can now be called my official travel shirt. I always wear it on airplanes (and apparently in cars) because it's lightweight yet longish-sleeved, so it does well with shifts in temperature as AC goes on/off, working up a sweat as you run through terminals, etc.  Both top and shorts have some give to them which makes sitting for long periods more comfortable.
Details: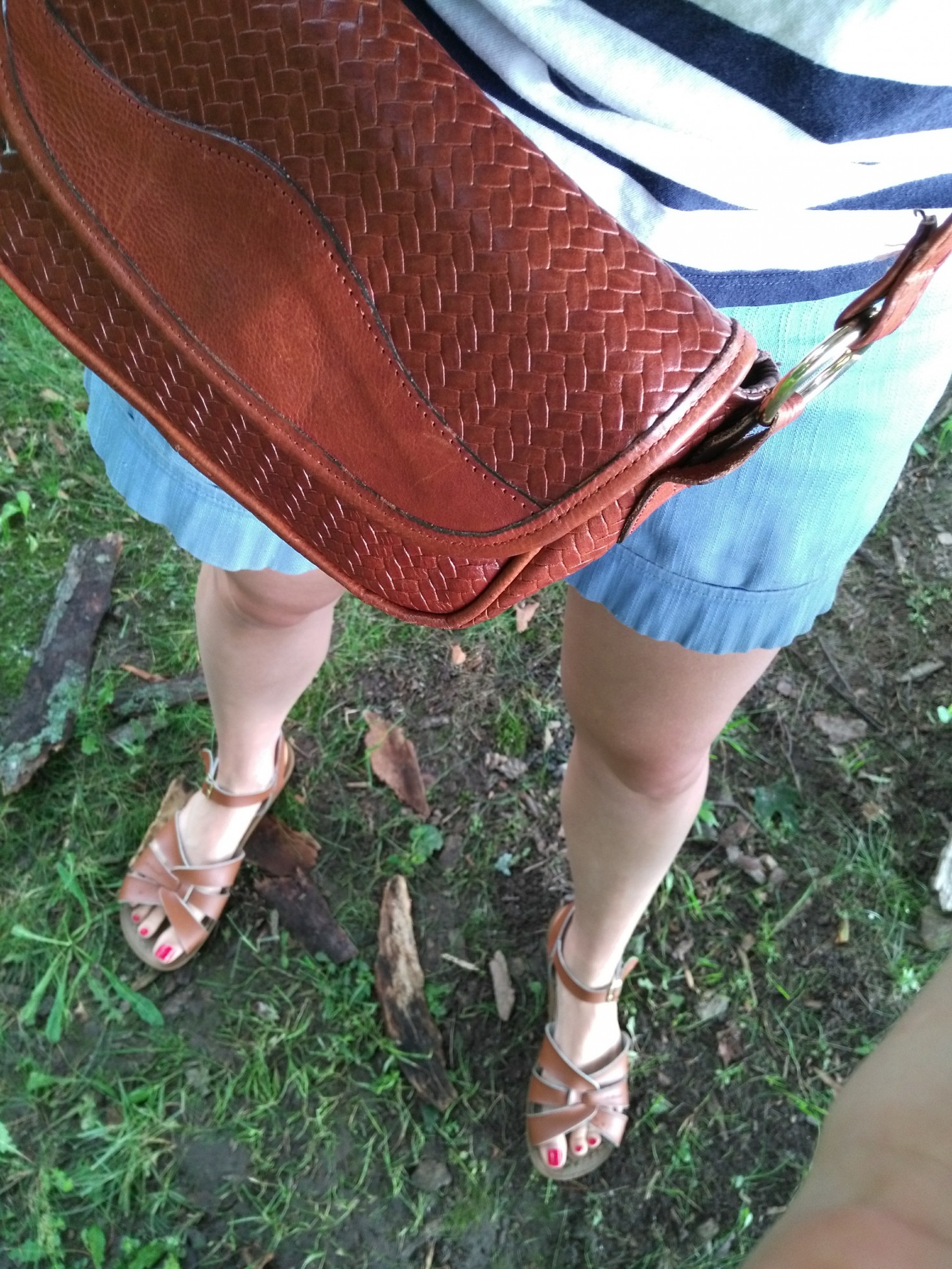 Once we got to New Hampshire my spouse and I busted out the workout gear and went for a run in the rolling hills dotted with farms. It was absolutely gorgeous – flowers everywhere, blue sky, cows, lusciously painted old farm houses, fresh air… Since we often visit in the winter, I forget how beautiful New England is in the summer.
What's your go-to travel wardrobe? Scroll down to share!