I've been looking for a pair of sneakers to replace my beloved brown and coral Pumas.  They were thrifted practically brand new at a Salvation Army store about 5 years ago and I have worn the crap* out of 'em–the paint's coming off the leather, the stitching's coming out of the suede, and it is time to retire them.
I happened upon these beauts by City Sneaks (a Payless brand) in a Goodwill a few months ago with not one, but two pairs of laces attached–white and fuchsia.  My first reaction was that the laces looked like garish Minnie Mouse bows and they had to go; only then could the shoes could become a casual, fuller-coverage alternative to the sandals I live in during the summer.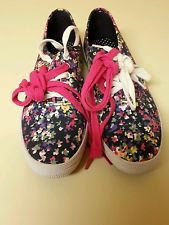 LACES EXPLOSION.
I've since seen the exact same pair on a lady walking around our neighborhood with the laces in and had my instincts confirmed; with laces a-bobbing they look decidedly mom-core*, like this: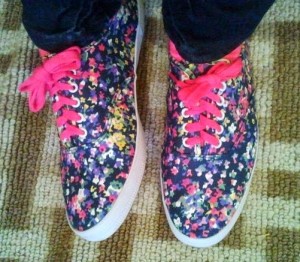 Here is how City Sneaks images them: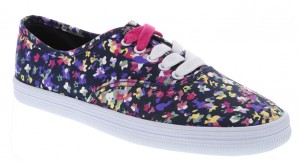 I admit this looks chic but I have no idea how you'd get the laces–two pairs, no less!–to do this and still have room for your feet.  Which is the point.  Of shoes.
So I just went on ahead and took the laces completely out, which–along with tossing them in the washer & dryer–has freshened up the sneaks considerably.  They're a lot less mom-core now and a lot more in line with the sneakers-are-chic epidemic that's taken over fashion bloggers and Parisiennes.  I happily wear them to work with red or white pants, as below: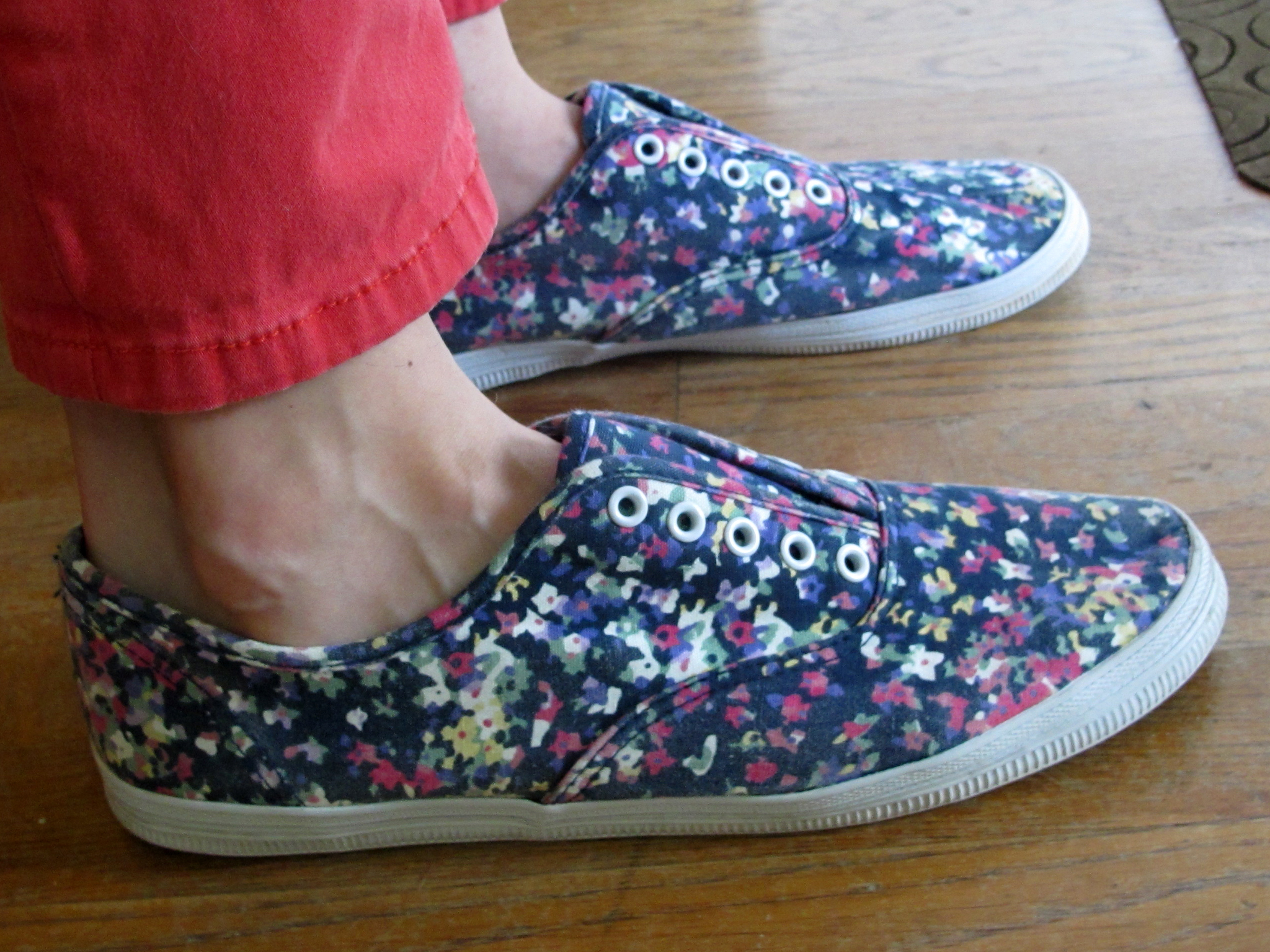 I don't think of myself as being directly influenced by the style blogs I read–I'd never, say, see a particular dress or a bag on a blog and think "I have to buy that!" (also I really can't buy that by thrifting…).  But when I thought to myself, "Low-rise floral sneaks with no laces?  Cool!" I realized that my asthetic is definitely shaped by the images I'm drawn to online.  In that sense blogs are also responsible for one of my favorite silhouettes–slim-ish pants with a boxy/loose top–as well as my cautious flirtation with neutrals.  Seeing people over and over again pull off a certain look is a powerful suggestion to your subconscious–which I guess is how fashion marketing works, or how fashion in general works.
What do you think of the floral sneaks–yay or nay?  Laces or no?  Socks or naked feet?
And how does what you see online (or in print) influence what you wear in real life?
*Sorry Mom.
**Mom-core: a particularly mom-ish manifestation of normcore.