One reason you might hesitate to thrift is the worry that you're going to look dated. I mean, if everyone is donating their worn-out (or never-worn, sitting in the back of the closet for years) stuff, aren't thrift stores just full of clothes that are out of style?
Short answer: nope. And there are a couple of reasons why – both negative and positive.
First up, the sad trombone: fast fashion has made retail clothing so cheap it's become disposable. Consumers can afford to buy a pair of kick flare jeans – that's trendy speak for cropped & flared jeans that make you look like you had an overnight growth spurt ca. 2000 – decide they don't like them, and donate them two weeks later. Then you find them new with tags or barely worn at the thrift store while they're still on sale at the retailer. Not great for the planet or for workers who aren't paid a living wage to make the clothes; but if you happen to like a current style, it's a way you can give those items a new life instead of sending them straight to the landfill.
Behold, new with tags J. Crew light-blue-and-white striped button down. This style was making the style blogger rounds this past fall, and I thrifted mine just a week after I saw it on Instagram: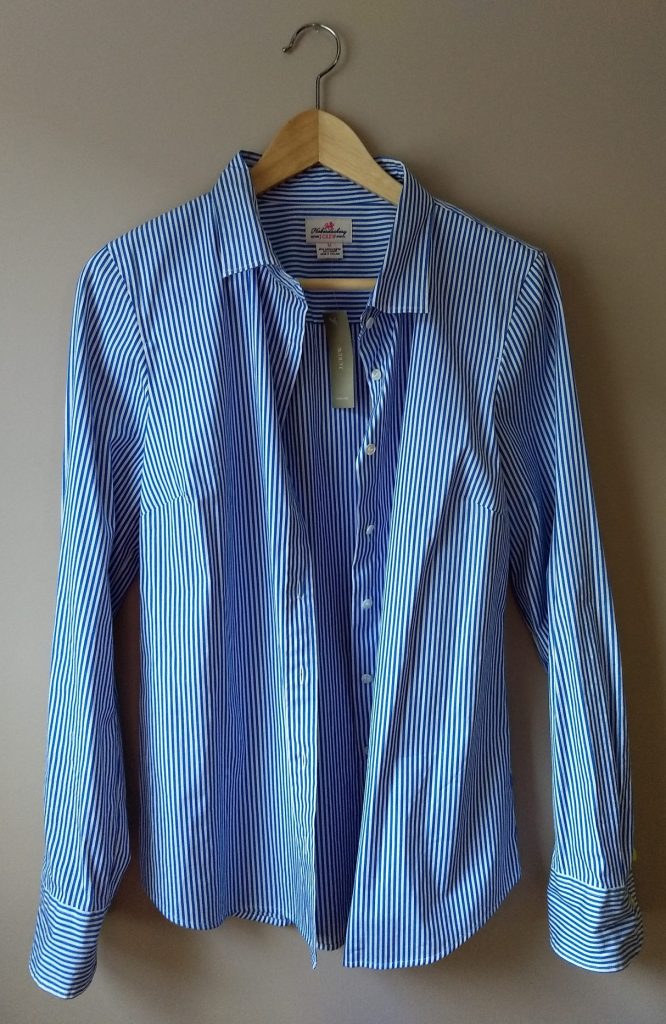 Poshmark and eBay are great for this – I saw this floral midi dress in Target, stalked it on eBay, and found it a month or so later, in time to wear in the warm-weather portion of my pregnancy: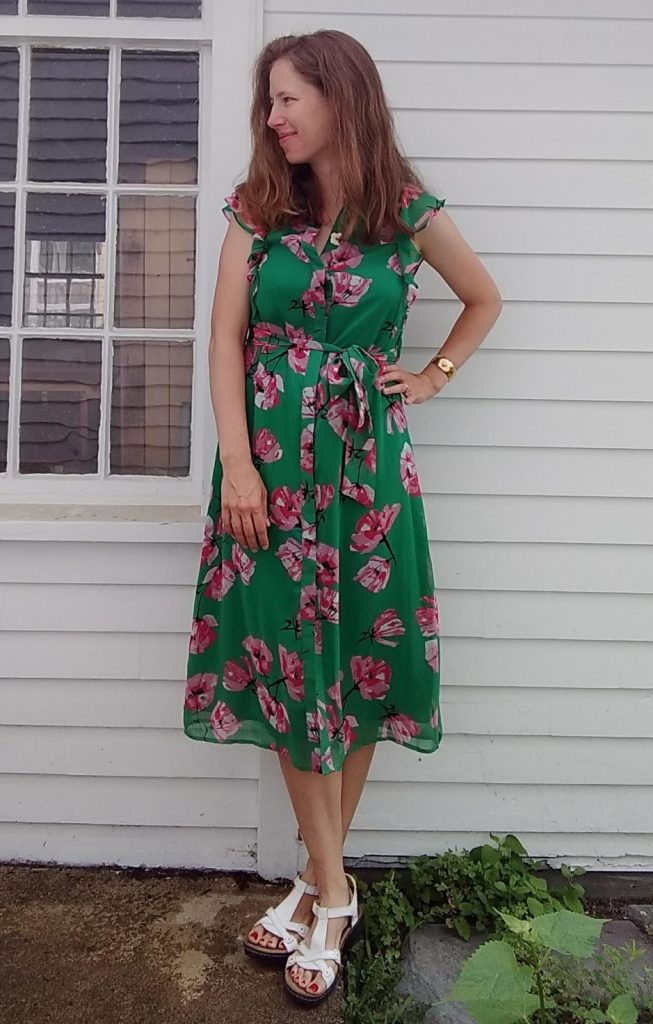 Second, on a happier note: everything old is new again, so if you are thrilled to see spaghetti straps and choker necklaces make a comeback, head to the thrift store and see what 90s (or older) treasures have recently made there way to the sales floor. Your vintage finds will look on trend but also unique, because you're not buying the mass market current version.
I give you the oversized blazer trend, in a unique vintage pinstripe style instead of the houndstooth or glen plaid I see everywhere: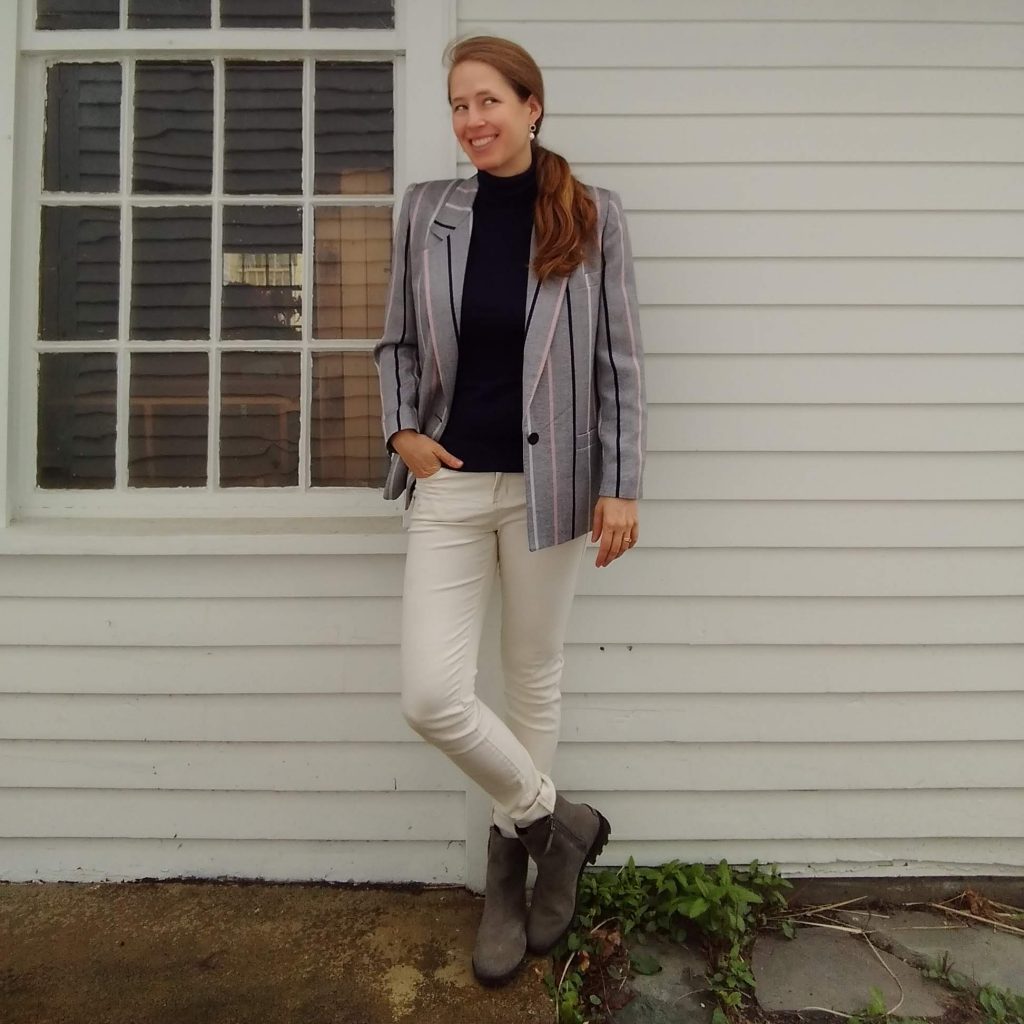 And the wide-stripe shirt trend, still for sale online at J. Crew: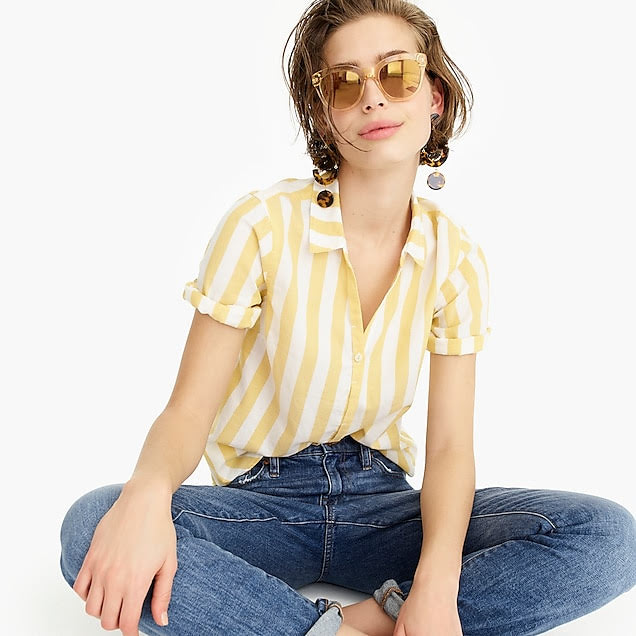 which I first saw styled (and fell in love with) on Frances Ayme:
View this post on Instagram
My 100% cotton vintage version has long sleeves; I could keep it that way for cooler weather or decide to chop the sleeves for a hot weather look: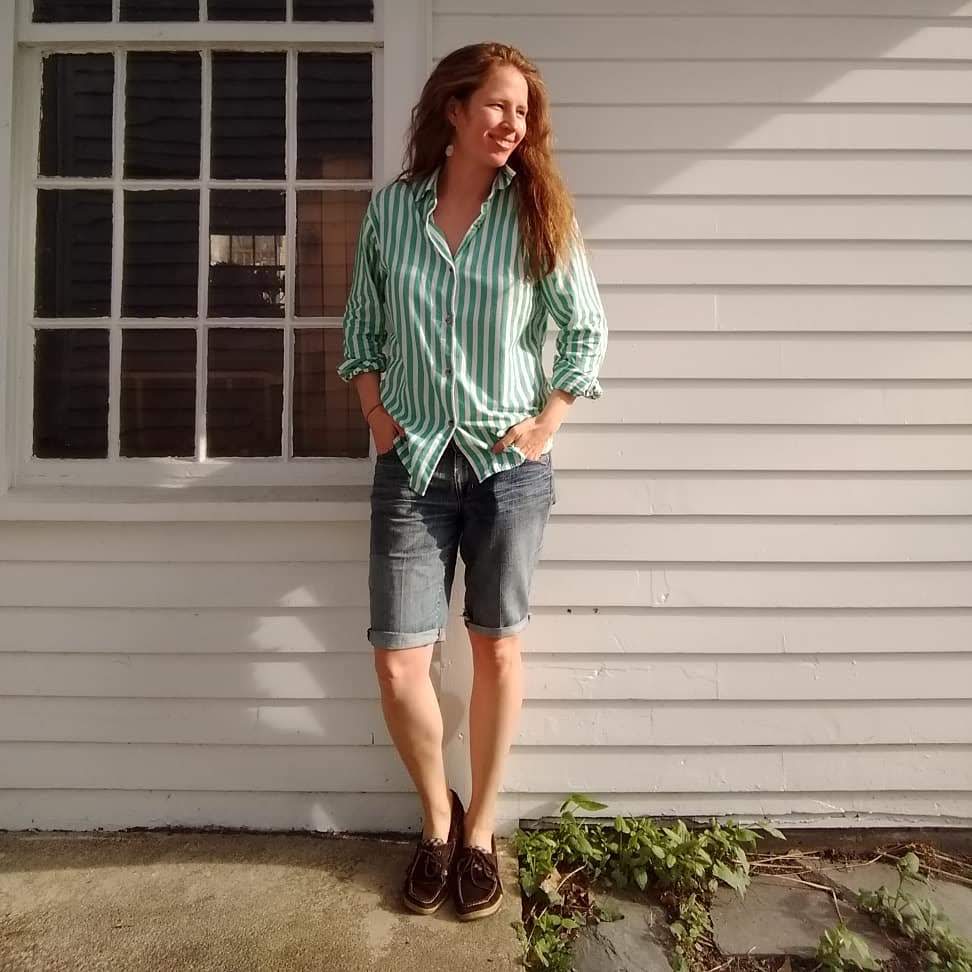 There's also always the option to DIY a current trend out of a thrift store find. It wouldn't be hard to take a pair of scissors to some seriously flared jeans and make your own kick flares, for example, or, if you have sewing skills, to turn a giant muumuu into an off-the-shoulder maxi dress.
What current trends have you thrifted? Were they new-with-tags, or vintage-turned-trend?