Thrifting is often great for finding basics – a striped tee, a blend-into-the-background pair of jeans, a coat for when it's cold and you just need something. In other words, the pieces that fill a hole in your wardrobe without standing out by a mile.
But sometimes, you find a star – an item that adds a signature feel to your style and gives your whole closet more depth and personality.
The first piece like this I can remember finding? A vintage houndstooth fedora I spotted at a small antiques mall in my grandmother's hometown back when I was in high school. Fedoras have since taken a backseat for me style-wise; I gifted the one in question to a dear friend who has a substantial fedora collection, but have saved two others that belonged to my grandpa:
View this post on Instagram
Like that first checked fedora, thrifted signature pieces usually catch me by surprise. They feel like something I never knew I always needed, pieces that find me instead of me looking for them. That's at least in part because a signature piece is a bit outside your usual style wheelhouse, like something you would regularly wear but with amplified swagger or boldness: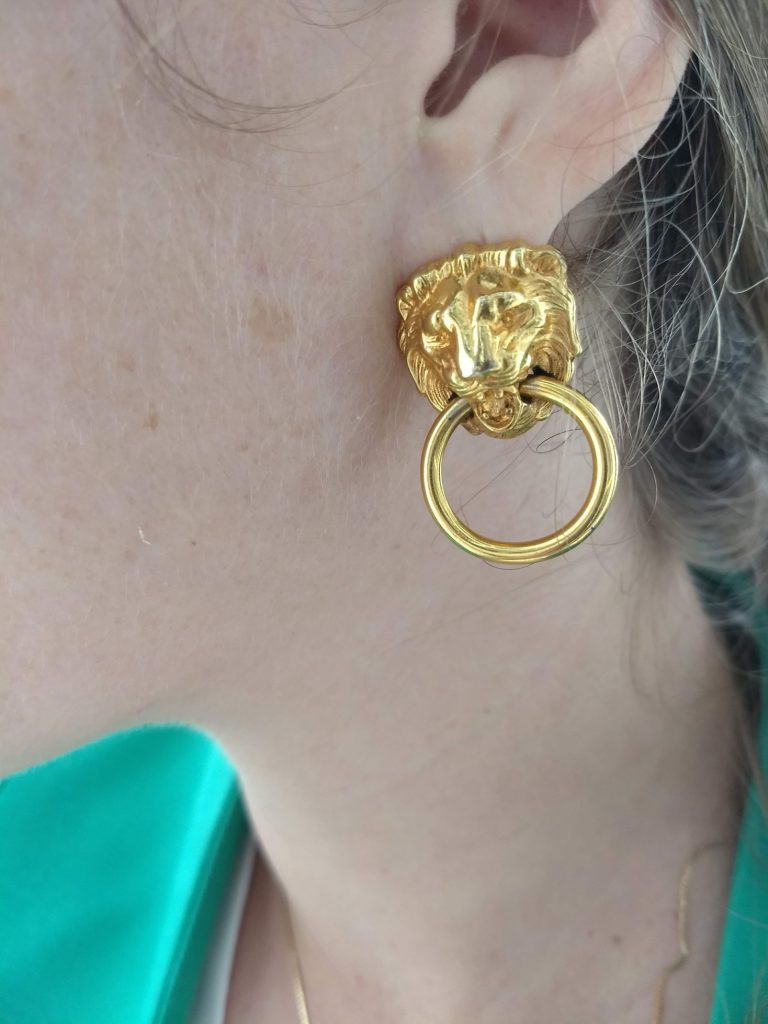 Have I rocked big, colorful earrings in my mid-20s? Yes. Have I since migrated to subtler, classic gold styles? Yes. Did that stop me from mixing my current gold aesthetic with giant lion's head door knockers? No.
Signature thrift finds are also often good quality. Cheap pieces with added personality just end up seeming tacky, while high-quality statement items somehow get away with more. They tend to look on-purpose rather than try-hard, flimsy, or kitschy.
For example, I should've left this polyester number on the rack; the poor quality fabric made it look less fun-and-funky and more disappointing-flea-market find (you know, the kind of flea market that turns out to be all junky imported fast fashion instead of vintage finds):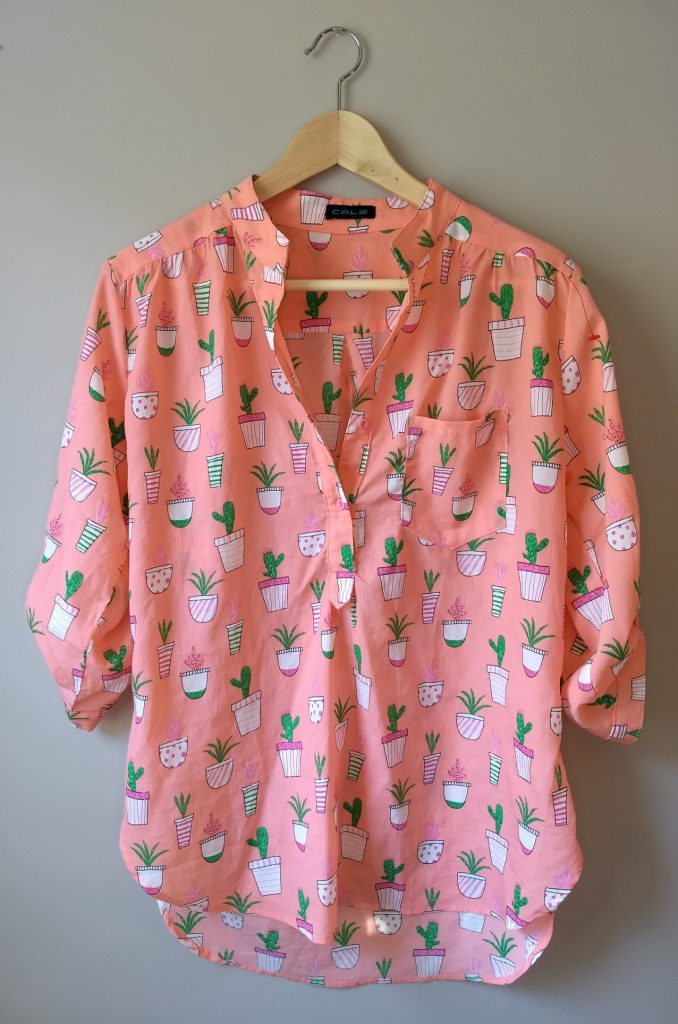 Speaking of vintage, vintage numbers (like the aforementioned fedora) are a good bet for signature pieces because they often combine both quality and that feeling of something extra; the right find stands out from current trends without feeling costume-y.
If you've been tempted to rock vintage but aren't sure how to strike that balance, google "how to wear vintage" and read up on suggested strategies. Most advice cautions against head-to-toe vintage, arguing for one accent piece mixed in with more modern staples. I'll add that while heading to a vintage-focused consignment shop can be a fun time warp, being surrounded by period pieces can make it hard to imagine how to combine them with your own wardrobe, and prices are often sky high. My best vintage finds have been mixed in among the racks at thrift stores: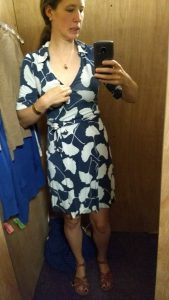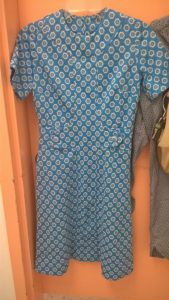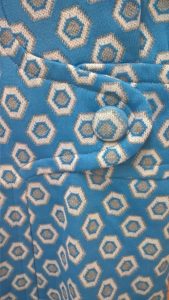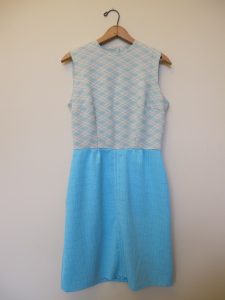 Oh hi, Diane von Furstenberg silk wrap dress for $15; I SO wish this handmade hexagonal vintage number had fit; a handmade gem I made mine.
Last but not least, if you usually find yourself gravitating more towards solid colors, a print is a surefire way to add signature oomph to your lineup. A blazer, a pair of pants, or a pair of shoes in a print will elevate your look; you can play with the relative amount of color, boldness vs. subtlety, and real estate occupied by the piece to determine how much you want to turn up the volume. (And if your signature print experiment turns out to be a dud, you're only out thrift prices instead of consignment or retail.)
If you're new to prints and a bit hesitant to try them out, try a pair of glen plaid pants to add depth to an outfit without screaming at passersby, or use bolder snake print or leopard in small doses (like a belt or shoes) to add pizzazz without overwhelming: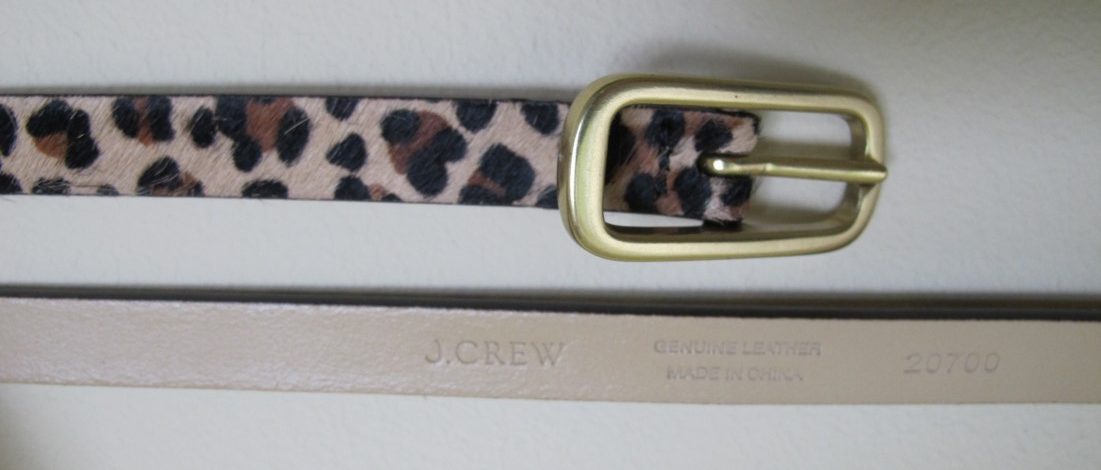 From my belt capsule wardrobe.
Although these were a gift, not thrifted, I'm going to include them because they are probably my ultimate signature piece, adding something subtle yet unexpected to every outfit: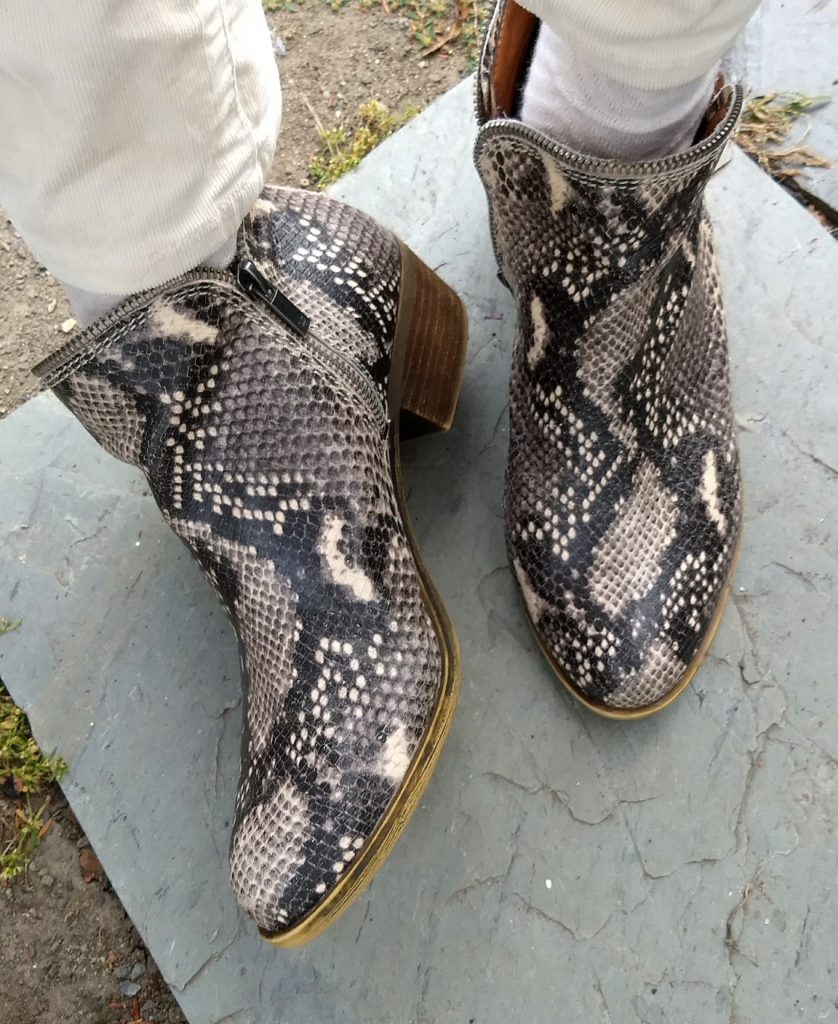 I wear them to church so often my kid calls them my "church shoes" and was convinced it was Sunday when I put them on this morning. If that's not signature, I don't know what is.
And to end, I'll share the blazer that "found" me last week while thrifting for a nursing-friendly cardigan: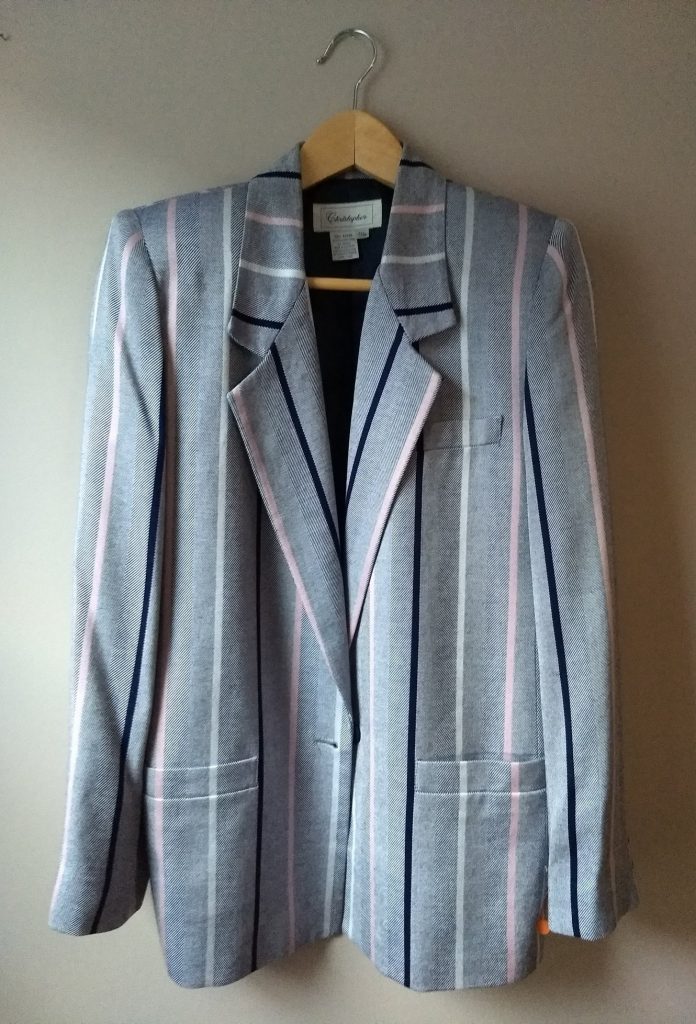 It's got everything: subtle plaid-like stripes and herringbone, vintage (I'm guessing 80s) quality, and just the right price ($7) to try out the oversized blazer trend once this baby is out and about.
What are your signature pieces and what makes such a piece "signature" in your eyes? Have you had any luck thrifting said pieces?