This past weekend we again relied on Spirit Airlines to spirit us–ahem–away to Chicago for a friend's wedding.  I covered Spirit's luggage policy here—in short, you pay for any luggage beyond a personal item, baby gear, and/or medical equipment. As you might guess from the title of this blog, I am le thrifty, and so was determined to fit all my accoutrement for the weekend into my "personal item" (which yes, is a tote bag—a bit bigger than your traditional purse-like personal item.  The spouse packed in a backpack).
Take a peek below to see what went into my "personal item" for a weekend that involved a wedding, church, and lounging around my parents' house.  (It was also supposed to involve running, but turns out fall arrived in Chicago this weekend in the form of cold mist, gray skies, and crashing waves on Lake Michigan and, well, staying inside to eat waffles and drink tea was much more appealing.)  All items thrifted unless otherwise noted.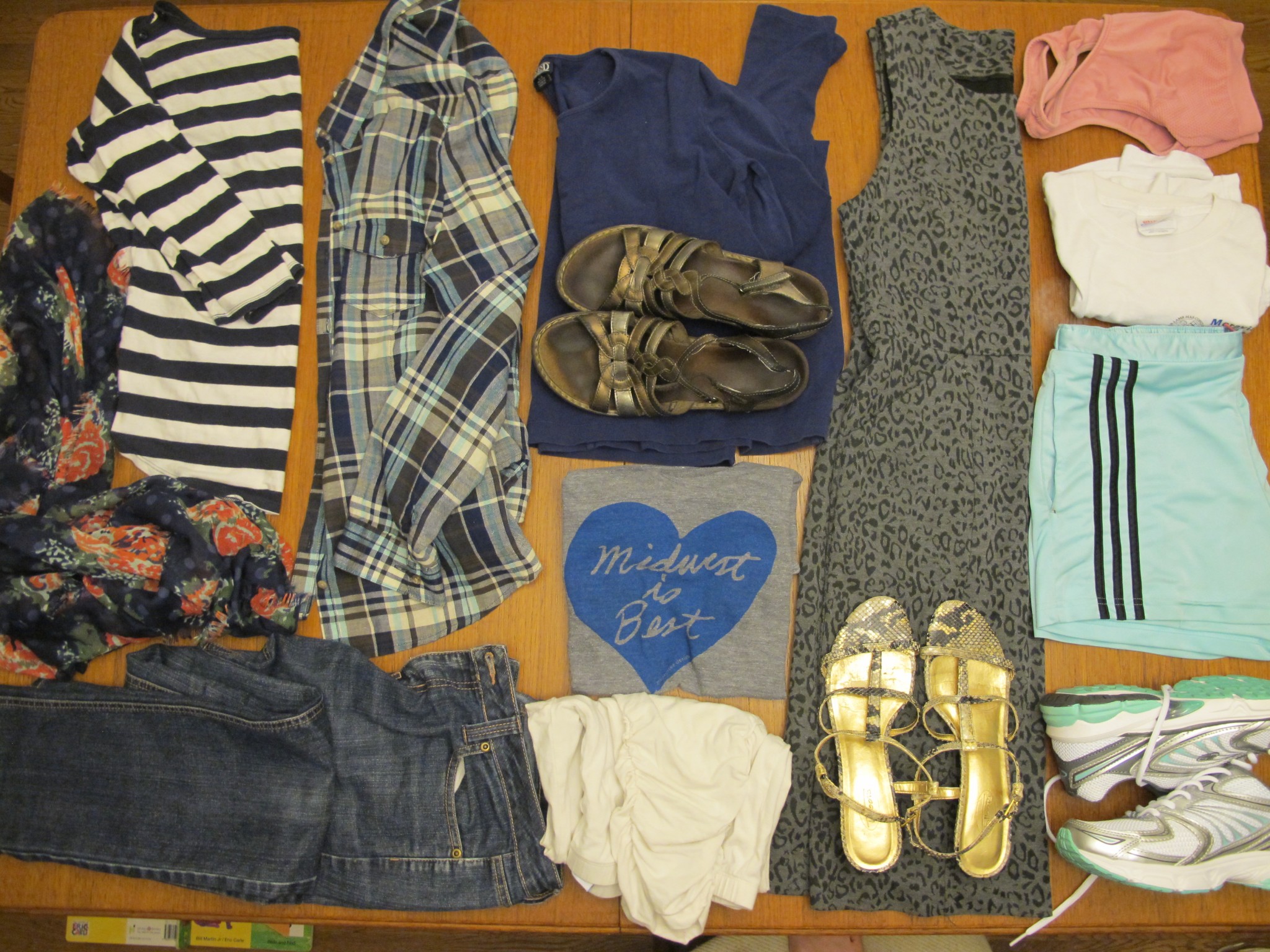 From upper left: Target scarf (gift—thanks Ma!); Gap striped tee; teenPlo plaid shirt; Land's End blue dress; Clark's sandals (gift); George leopard print dress; sports bra; running tee; Adidas shorts; running shoes (bought new); Talbots gold and python heels; Midwest is Best tee by Megan Lee Designs (gift); cream ruched leggings by Piper and Blue; Forever 21 jeans.
Closeup on those awesome shoes, thrifted last week because I have minimal special event shoes.  Bonus: they were the regular shoe amount at Goodwill—under $6.  Double bonus: they were suuuuper comfy. Triple bonus: snake skin + metallics = Leah's accessory heaven.
To maximize space:
I brought one pair of pants and basically re-wore my travel outfit, knowing that no one would see me or care if I duplicated it.
I brought knit dresses that rolled up easily.  The leopard print shift was thick enough not to wrinkle; the Land's End blue dress just hung in the bathroom while I showered to release minor wrinklage.
Low-heel special occasion shoes packed almost flat in the side of my bag and were extra comfy. Seriously, first time out, wearing for 12 hours—no blisters, pain, nada.
Re-wore my travel shoes during the weekend.
With our short turnaround, I didn't plan on doing laundry, so I brought dress #2 (blue Land's End) in case of extreme sweatiness generated on wedding dance floor.  But it turns out that despite much dancing, the temperature of the reception venue was perfectly calibrated to ensure minimum perspiration, and so I could have easily, in retrospect, lost the second dress and worn the first over again to church the next morning. (Ugh sooooo early to get up in time for that…and we didn't even go to the after party!)
Also, it dawned on me—very late in this whole going-home-to-see-the-parents routine, since I've been doing it since college—that I could LEAVE a set of workout gear and a night shirt AT MY PARENTS' HOUSE to save room/$$/muscle aches.  DUH.  I claimed a t-shirt my mom wasn't using for future sleeping apparel and I'll thrift an extra pair of shorts, a running shirt, and a sports bra for my next visit.
Here's how I wore what went in the bag:
Travel wardrobe from ATL to CHI: scarves are easy on/offs for security line and to adjust to varying temps while in line, on plane, or waiting outside for your vehicle:
Church on Sunday–comfortable and warm (thank you leggings!), good coverage for sitting on floor during children's sermon. (Leggings doubled as loungewear Saturday AM and would've tripled as legwear for running if I had made it into my running shoes.) Same scarf worked well for covering food stains from coffee hour and/or Chicago style deep dish pizza:
Return trip: if it ain't broke, why fix it?  I did add an extra layer, though, for maximum printiness!
And the wedding guest outfit–please excuse heinous lighting.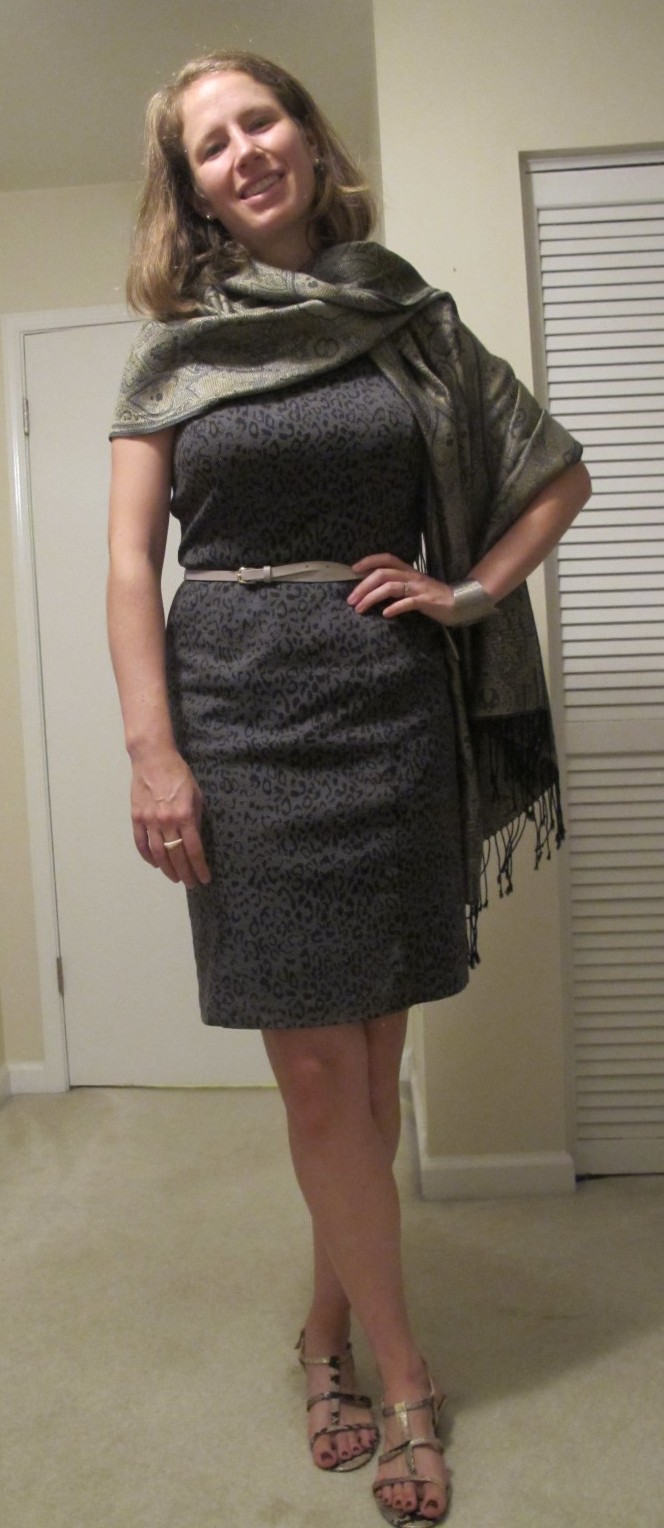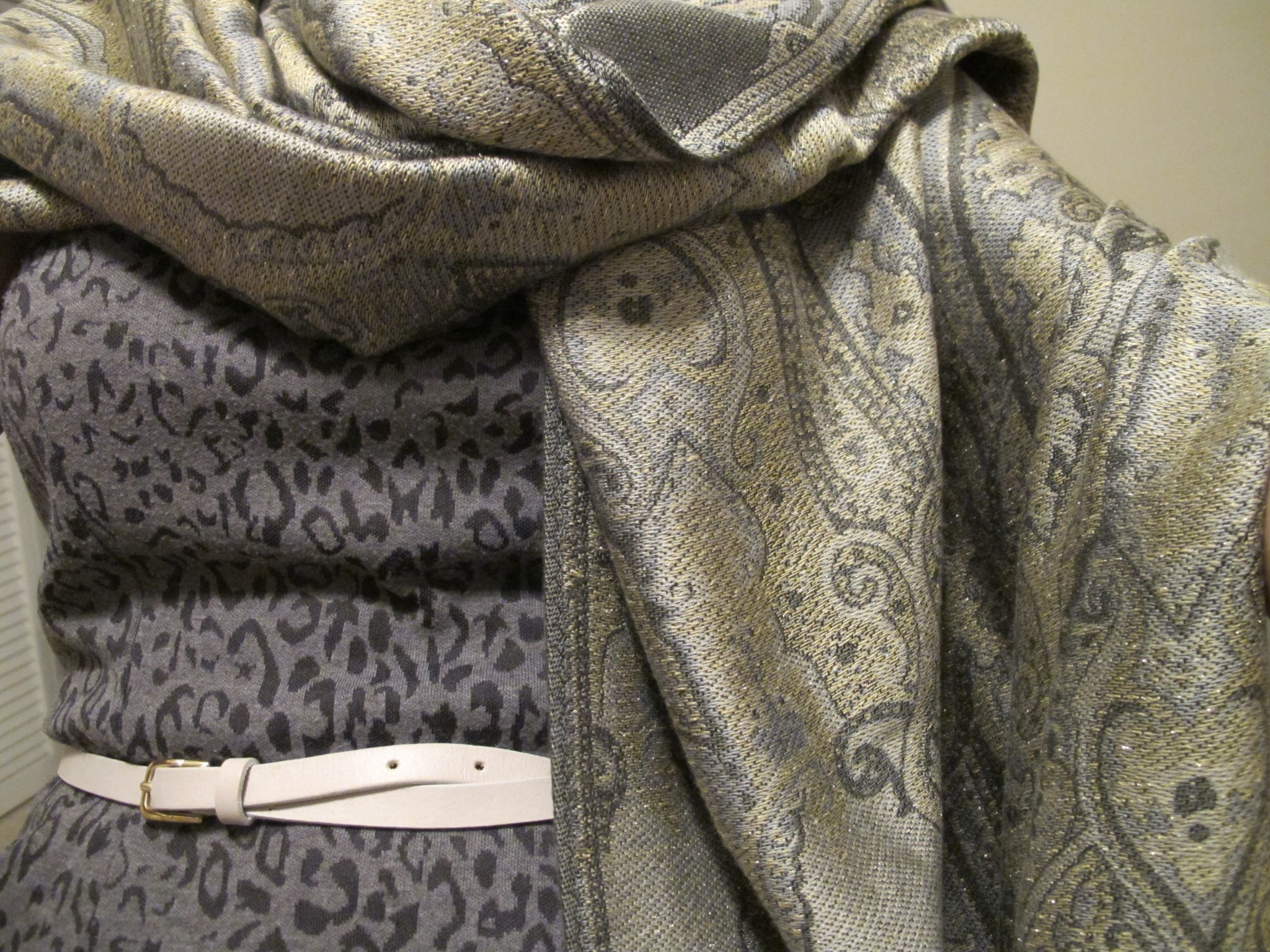 Sweet thrifted J. Crew belt.  Fits naturally at the hips; I punched an extra hole in it to wear around the waist.
With accessories (and toenail polish) provided by my mother's closet.  Here's a closeup of the DELICIOUS scarf she gave me (!!!) (those who actually attended the wedding know that I ended up wearing her equally delicious, but much thicker leopard print ruana which kept me warm during outdoor cocktails amidst aforementioned grumpy weather.  Classy alternative to a coat in such circumstances):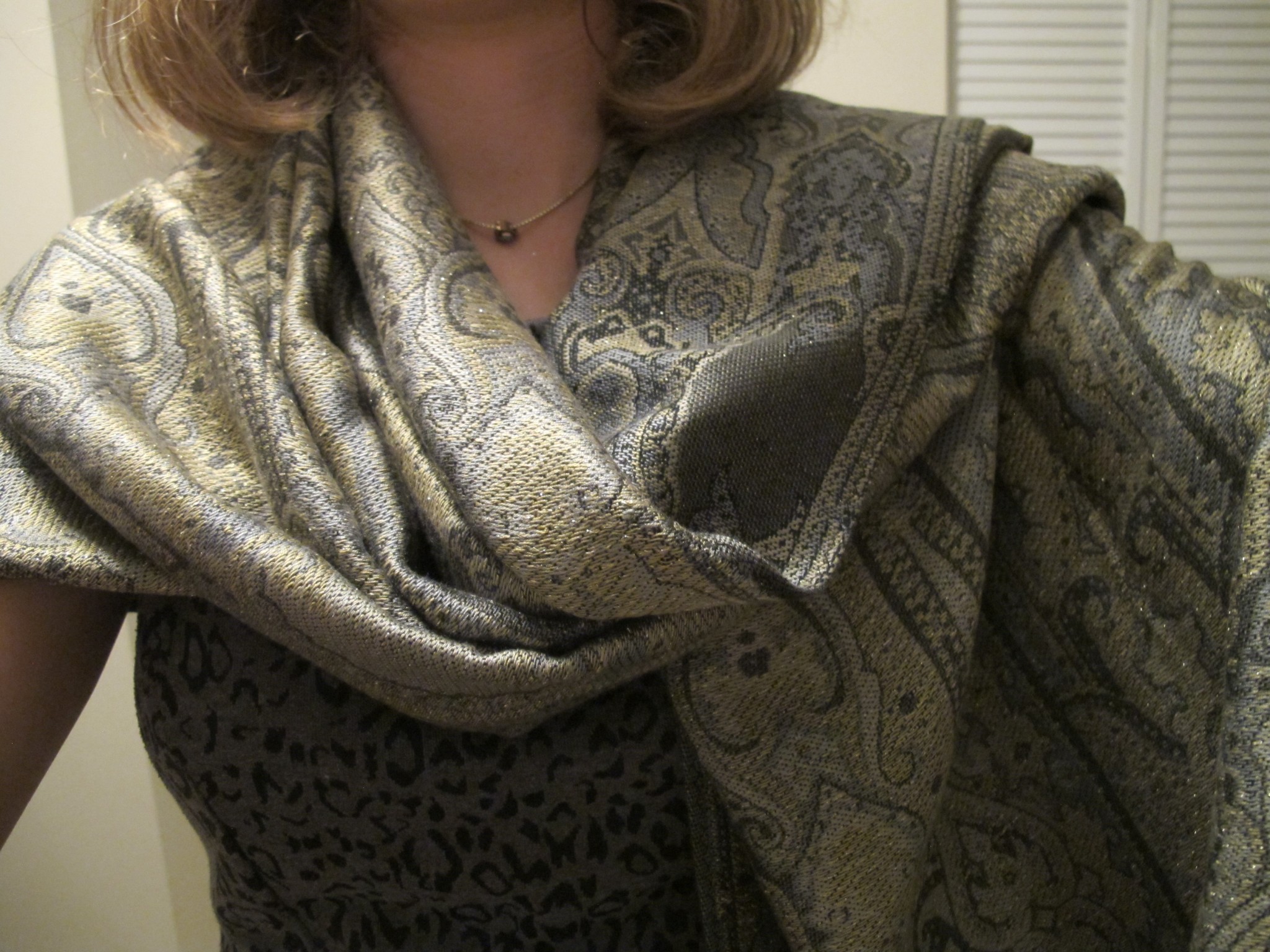 And the lovely bag she lent me, ca. 1960-something:
(It is a great space-saving idea to borrow from one's relatives and/or friends if one is visiting someone one knows well enough to raid said host's closet.)
What are your tips for slimming down your travel wardrobe so you can maximize your baggage allowance without compromising style?  Any tricks for reusing/layering/making the most out of a small wardrobe, travel or otherwise?  Scroll down to comment!