We spent Labor Day in Americus, Georgia, traipsing around various intriguing and delicious establishments: Cafe Campesino, a fair trade coffee shop & roastery where the founder gave us a tour–and where I had a luscious coconut cream pie smoothie; Client First Insurance, our host's business focusing on getting folks affordable health care coverage no matter their income level (call him if you live in Georgia!); nearby Kinnewbrew Co. Southern clothing emporium where manager Jody treated us to conversation and camarederie despite the fact that his Dawgs were playing on TV; lunch at Sweet Georgia Baking Co., where my arteries clogged on the sumptuous pimentno cheese on focaccia and my sweetbuds sang with the cous cous salad; the home bases of Habitat for Humanity and the Fuller Center for Housing, stalwarts of the international affordable housing movement, which were both birthed out of the work of Millard Fuller & Clarence Jordan at Koinonia Farm, an intentional Christian agricultural community famous for "Shipping the Nuts out of Georgia!" when the KKK boycotted their integrated workforce in the 1940s and 50s.  Also on the docket: punch bowl margaritas and sopapillas at The 1800 to celebrate a birthday; Sunday school with former President Carter; peanut butter ice cream in Plains, Georgia; and the Plains Inn, a gorgeous B&B style hotel where Jimmy & Rosalyn Carter picked out the decor for rooms dating from each decade from the 1920s to the 1980s.  I highly recommend a visit if you are ever in middle Georgia.  And no, this post was not sponsored by the Sumter County Tourism Board–I just had that good of a time!
What to wear for such a varied itinerary, plus a few runs and a dip in the pool?  And working with limited packing/car space?
I took a page from Party of Onesie and packed mostly one-pieces to cut down on fuss and on packing space.  This is a super-easy way to simplify your wardrobe, although it's probably best done with a washing machine nearby if you think your one-pieces will get dirty (aka you have a toddler, or are traveling with a dog, or plan to make art, etc. etc.).  Here's what got me through the weekend, laundry facilities not included.
J. Crew striped dress:
Red striped Sharagano dress:
And the infamous yellow romper:
You may recognize the dress my friend Caitlin is wearing from my summer wardrobe rehab.  I love this picture because it's a great illustration of the idea that parting with clothes you kind of like, or that you think you should hold onto for any number of reasons (it's practical, my mom gave it to me, it's in good shape…), can actually help you pass those clothes on to someone who really LOVES them.  Caitlin dug this dress so hard she changed right out of what she was wearing and put it on for the rest of the day!  Talk about a win-win situation.
Bathing suit and running clothes were as such:
All packed in here, along with the kiddo's clothes: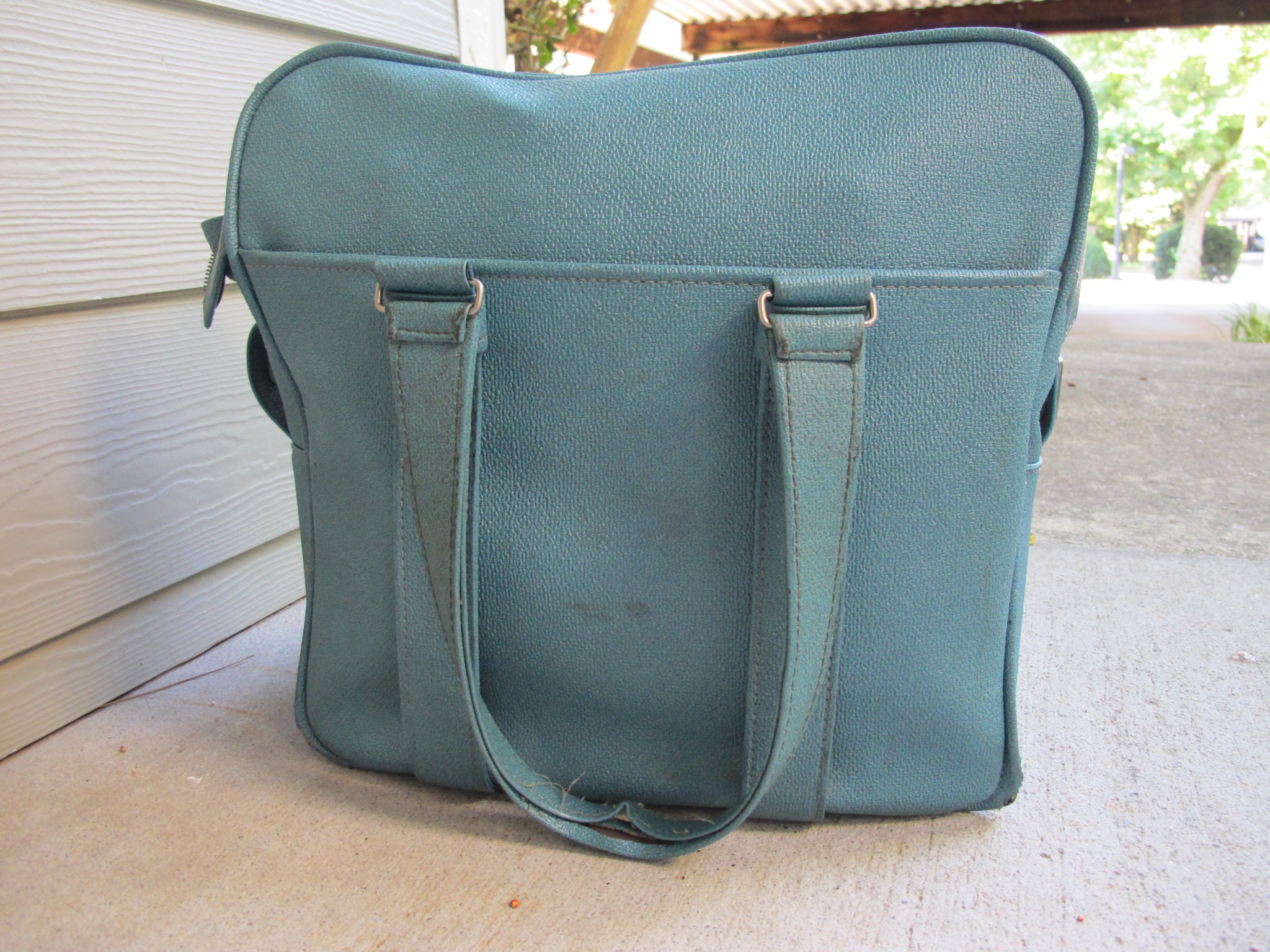 I also had a pair of shorts and a shirt, but if I had just stuck with the coffee-stained red striped dress for the rest of Sunday, I woulda been fiiiiine.  So, an almost-all-one-piece weekend.  Although technically the bathing suit was a 2 piece, and I definitely didn't run in a leotard.  But close.
Would ever pack all one-pieces, or all dresses, for a trip?  Do you need variety in your packing life, or do you just stick with what works?  Scroll down to comment!