We went to the Raleigh/Durham area a few weekends ago for a friend's wedding. It was a long weekend involving everything from a wiffle ball tournament at beautiful Umstead State Park (complete with Yogi Berra/Abraham Lincoln custom-made t-shirts) to, obviously, a wedding, at the lovely and delicious Caffé Luna. The rehearsal dinner was at Sitti – tasty Lebanese food. We also ate at Lilly's pizza (good beer, pizza was fine but I think I'd pick a different flavor next time) and at Elmo's Diner for brunch where the huevos rancheros hit the spot. The locals love Elmo's so the lines were long but moved quickly.
We didn't have time for a Durham Bulls game (which we have enjoyed in the past) or to hit up the Marbles Children's Museum (only $5 a pop!) but they're both on the list for next time.
Here's what I wore: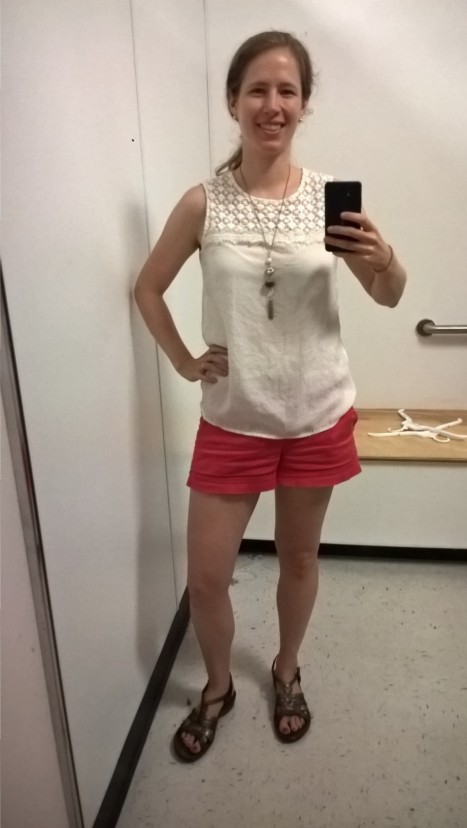 Yes this is a Goodwill dressing room – I continue to be unimpressed with North Carolina Goodwills in terms of cleanliness (my legs are hiding a Bojangles cup and other trash someone left in there) and selection – I think I took maybe one picture of a so-so find. But maybe I'm just spoiled by the Goodwill of North Georgia?  

Also, those same red shorts with this top: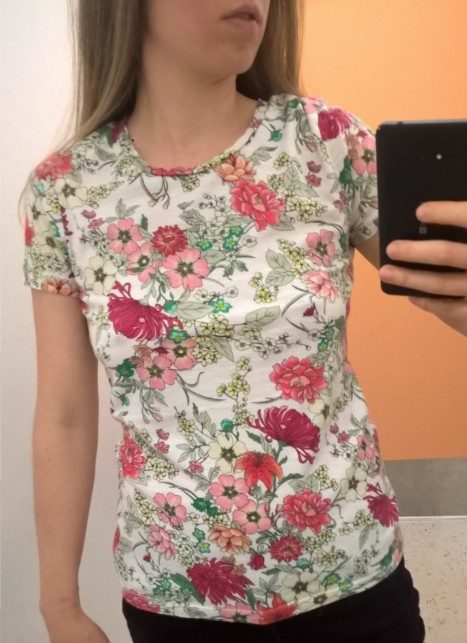 Travel uniform: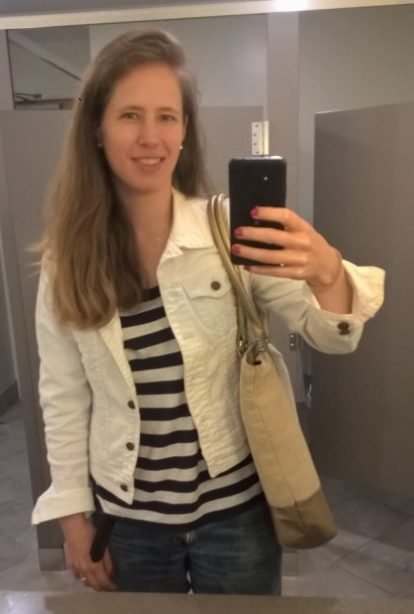 The full (poorly lit) shot: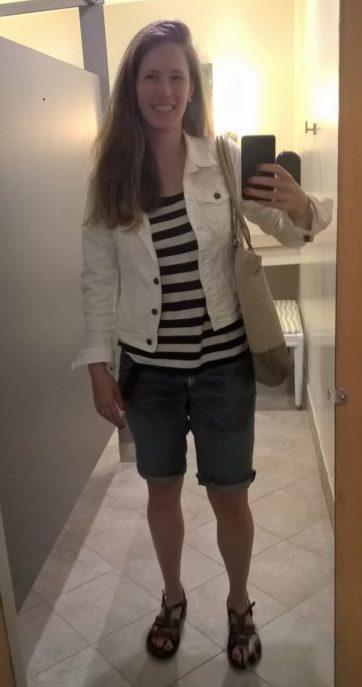 Attire for the rehearsal dinner & wedding, only I wore that same white denim jacket as above as my top layer: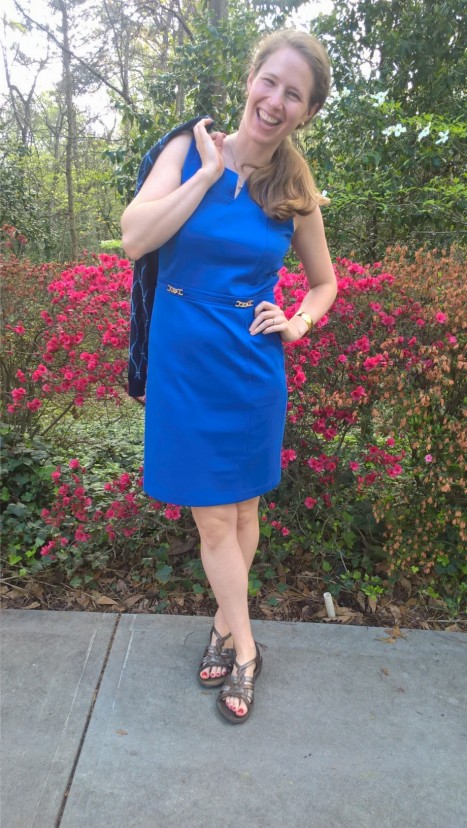 Running attire:


Nothing like a run around Duke's beautiful campus to put you in a good mood – even in the rain!
How did my wardrobe work? Turns out, not that well! I broke my own rule for creating travel wardrobes and forgot to check the weather. Well – I did check the weather, but I did so two days out, and by the time we were ready to leave the forecast had taken a major dip temp-wise and rain was predicted for two of the days (thankfully not the day of the wiffle ball tourney).  So I was pretty darn wet and cold for a portion of the weekend.
Also, I packed an extra dress I did not end up wearing because it felt too summery for a rainy wedding day:

[Full thrift disclosure: you may recognize that as a dress I'd marked for giveaway oh…almost two years ago!  But I just couldn't part with it – I love the colors and the bodice and the fuller skirt is a nice summery addition to my army of sheath dresses.  I have since stuck it in my "festive occasions" wardrobe (I just made up that term…) and it's been worn for Easter twice and, as you now know, it's on my wedding attire roster.]
Also also, I should have had the foresight to realize that my preschool-aged flower girl would want me to walk with her down the aisle and opted for a jacket/blazer in a more formal fabric than white denim.  I don't think it ruined anyone's wedding (especially since the groomsmen – and my kid! – were wearing Chuck Taylor's), but I would've felt a little dressier.
Live and learn, friends, live and learn.
What do you think of my travel wardrobe?  Have you been to Raleigh/Durham?  If so, what do you recommend for the next time we head that way?