Last week I spotted Nicole of The Spirited Thrifter wearing this striped maxi dress and thought it was perfection on her. I commented that it made me want to wear a maxi dress even though I never wear them and don't even own one.
Ah, the maxi dress: I love it on other people but am not a fan of the empire waist and spaghetti straps look on me, a combo integral to oh-so-many maxis. (This is why I loved Nicole's dress – it had neither.) Or how hot they can be on the bottom during summer or chilly on top in the fall.  Also, is it just me or does "maxi" always makes you think of maxi pads and that diaper-like feel? Yech.
Anyway, the thrift gods must have been laughing at me, because I had forgotten that I do, in fact, own a floor-length dress* which I did, ironically, end up wearing this past weekend to church: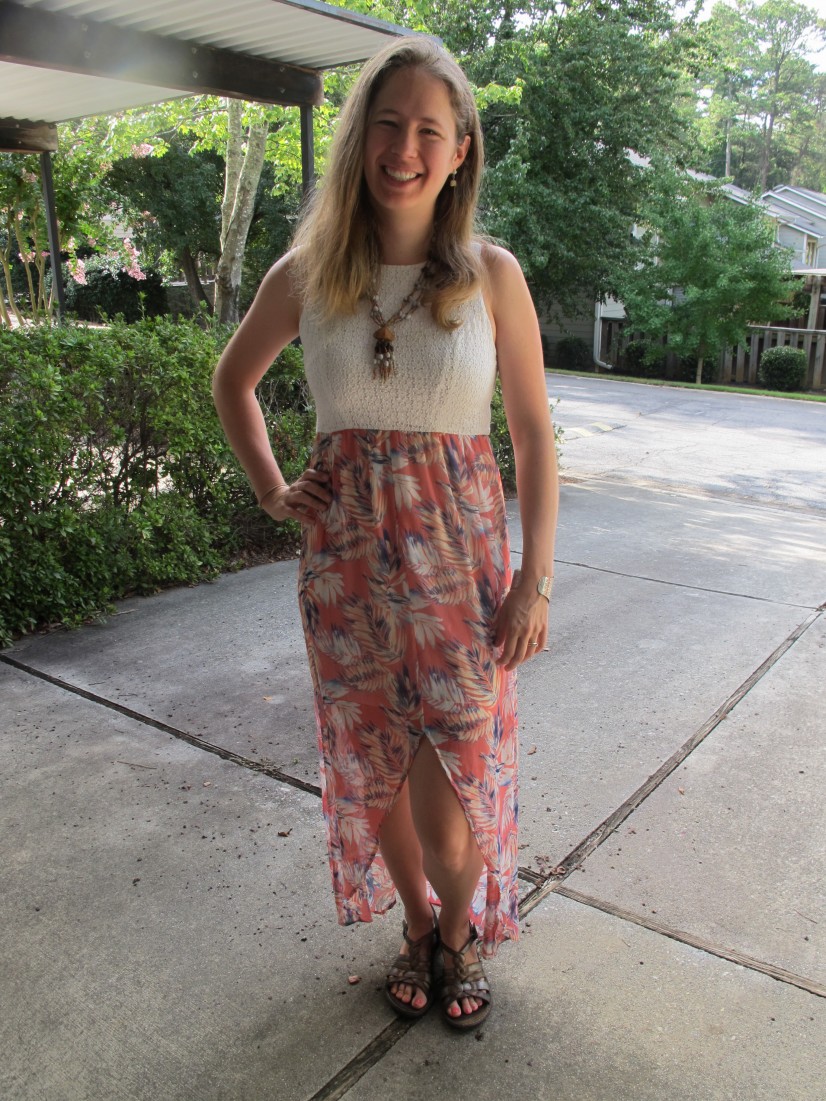 When you realize you left your ponytail holder on one wrist and left your cuff backwards on the other wrist…
I bought it on a thrifting trip to fill in some holes in Caitlin's closet while I was ostensibly aciting as a style consultant, not shopping for myself. But when this number didn't work out for Caitlin, I asked if I could try it on, and lol and behold, it fit like a glove.
Or, as my toddler said, "you wearin' a bra and a dress, Mama." This bodice is definitely more fitted/structured than most of my clothes but I think it (along with the split skirt) helps attenuate the empire waist I abhor: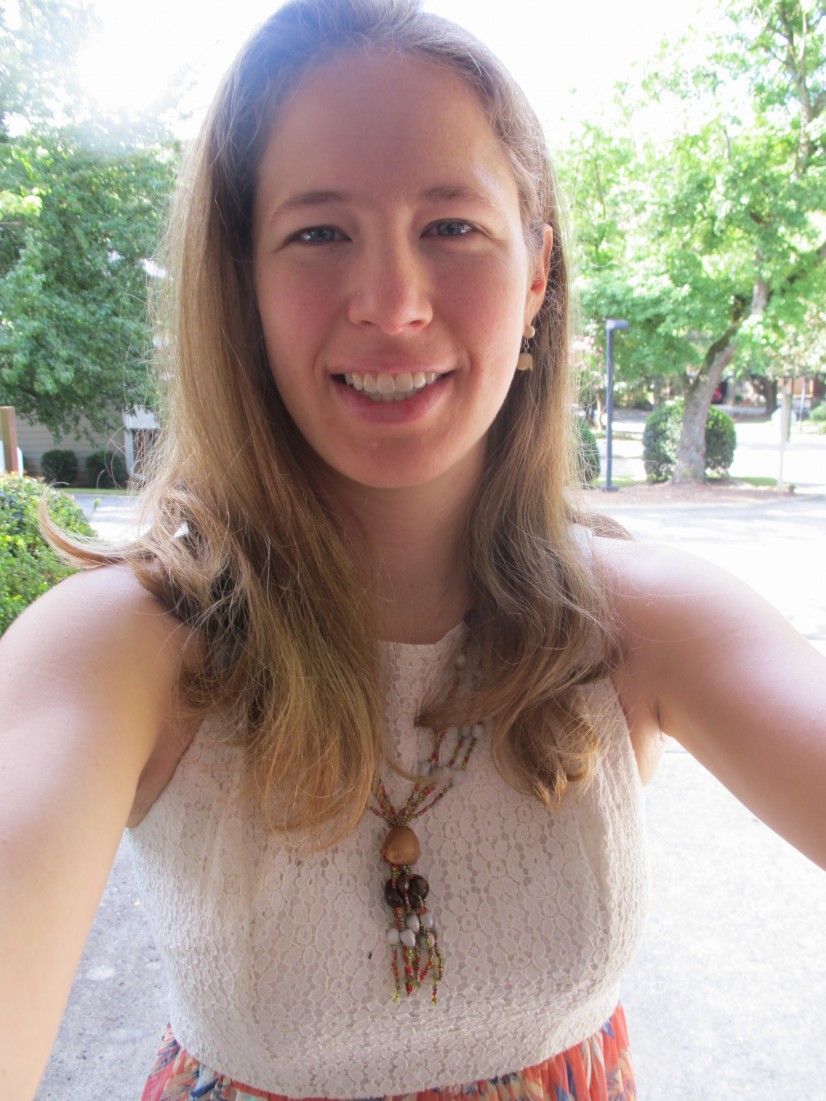 Close up of one of my favorite necklaces, a Ugandan piece my mama bought me at an auction for ChildrenUp: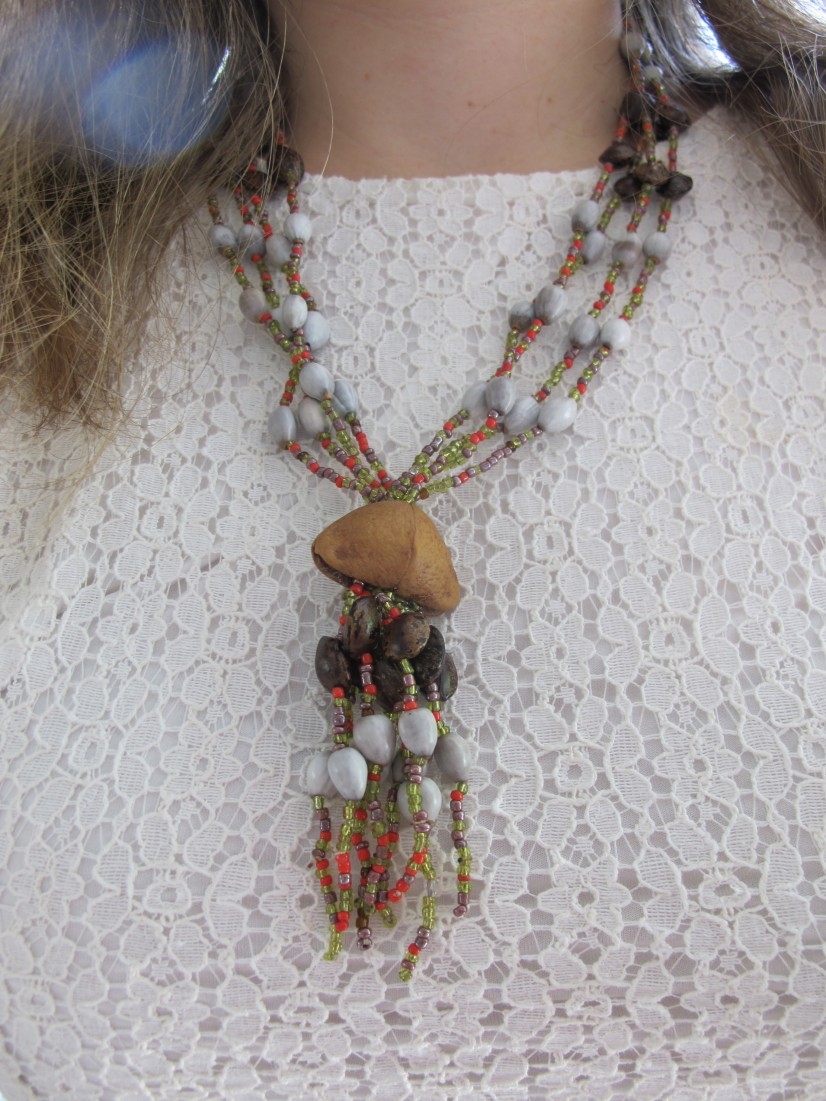 I was first sucked in by this gorgeous print – I love bold tropical patterns and the colors in this couldn't be a more exact representation of my core summer palette: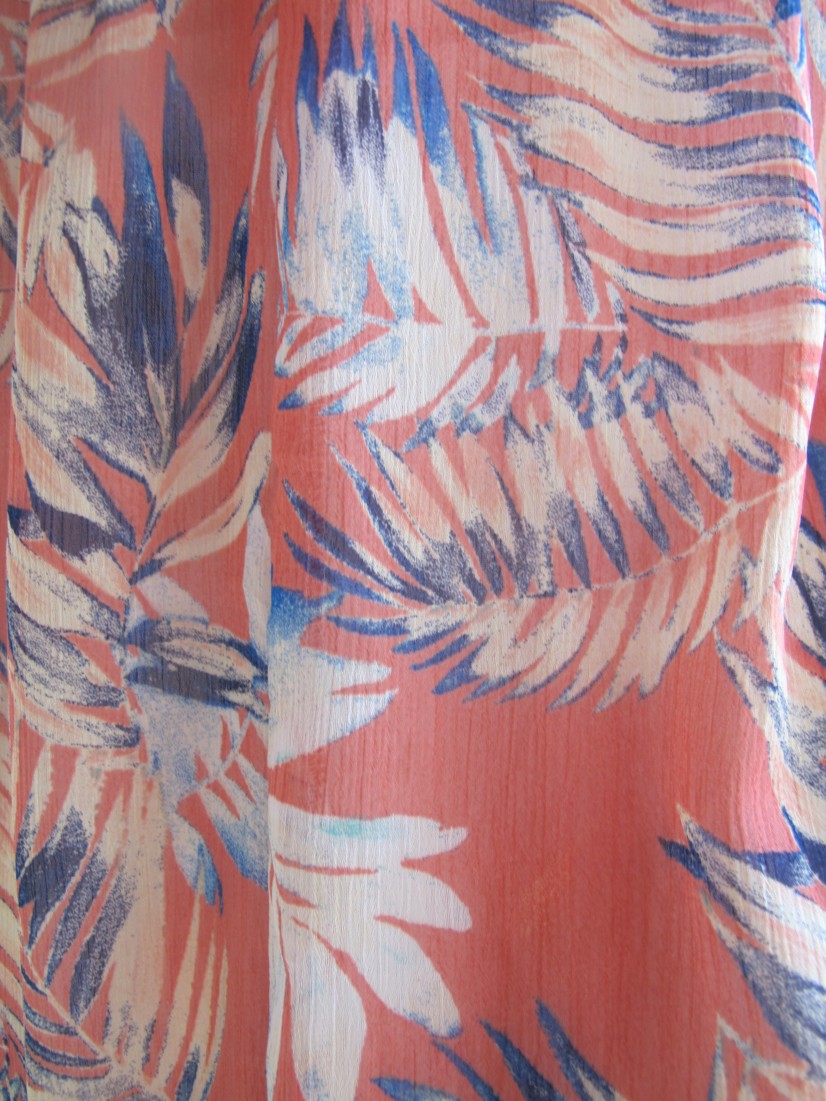 I also loved the slit up the front and the partial lining of the skirt, which made it cool and easy to move in while keeping important bits covered as I sat/crouched on the floor with my kid. Plus the lusciously cool breeze today made me feel like a romantic heroine on the beach/moors evein whilst kicking a deflated soccer ball around a balding field with my kid before church. If that ain't a testament to the power of clothes, I don't know what is.
I didn't bring my camera to church so you'll just have to imagine this (only instead of an open back, imagine a funky exposed zipper up the back of the bodice, which I forgot to capture):
How do you feel about maxi dresses, Thrifters?  And how, in particular, do you feel about this one?  Scroll down to comment!
*Technically I own two if you count this one which I have yet to wear in public.  If only it had sleeves like Nicole's…