I had to go to the mall a few weeks ago to get an existing gift card balance updated for a wedding present.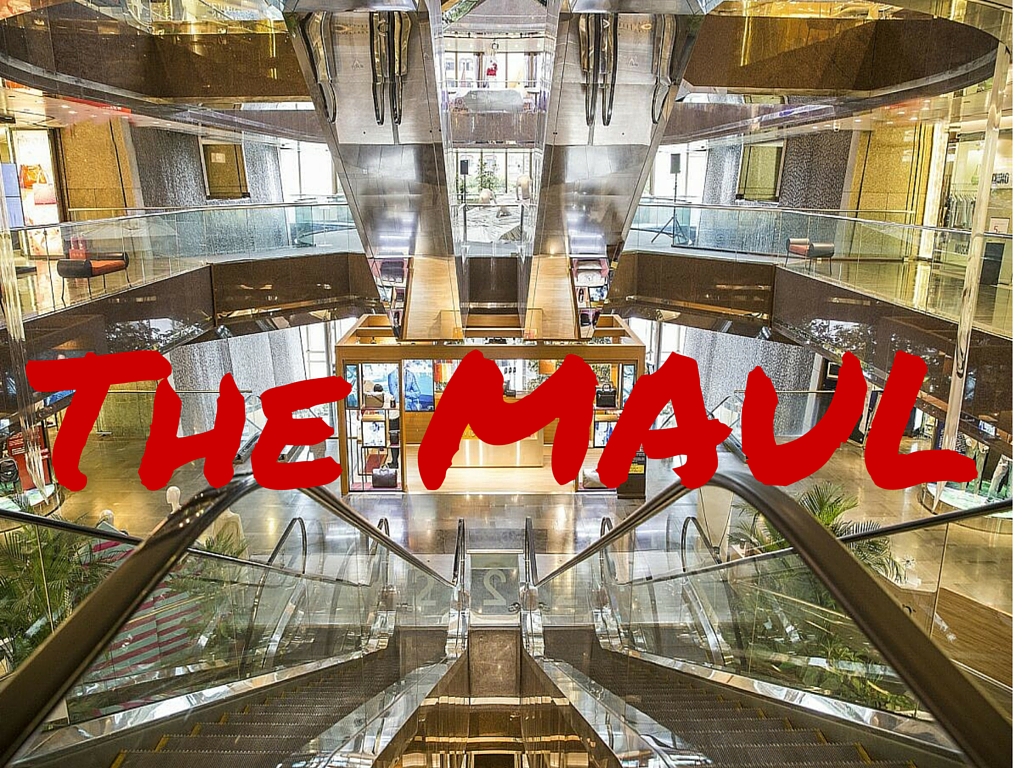 Disorienting much?  Image source
Yes, I am tacky enough to use the balance on gift cards we haven't touched in years towards a wedding gift; but no, I am not tacky enough to send the self-same card that's been stuck in a drawer in our house all those same years.
You know the ones…they stare accusingly at you every time you open said drawer, asking why you haven't used them yet.  Your half-hearted rejoinder goes something like, "Well, the store is so far away," "There's not much money on you anyway," "We never used the last thing we bought from this store," or "I could use you to buy online but the cost of shipping will use up half your balance!"
My solution?
Figure out the next person getting married/welcoming a kid into their family/graduating/anniversarying/birthdaying who would love something from said store and use the balance on the card towards a new gift card for them.
Most stores will issue you a brand new card at no cost; but most will also require you to travel to the brick and mortar store.  So your minimalist heart that wants all unused items to find a good home can rejoice, but your lazy/eco-friendly/hate-to-do-errands heart will cry "Wanh-wannnnnh" at the thought of that extra trip.  Just combine it with lunch or a trip to the nearest thrift store to justify it.  :D
Anyway, this is how I ended up at the Maul.  Borrowed from a blog post I read years ago (sorry, can't remember which!), Maul is spelled that way because it is an assault on your senses, wallet, and sense of material well-being.  So many sounds/people/marketing visuals/consumer choices can overwhelm those of us who are used to shopping in a slow-paced thrift store with only the sweet sounds of Marvin Gaye and "Merchandise coming to the floor" announcements to serenade us.
But I was struck by something – as I walked past store window after store window, glancing at this season's newest offerings, I was completely disinterested.
For someone who never shops retail, not walking into a mall store is not that surprising.  But for someone who loves style and regularly buys thrifted versions of the brands showcased at this particular maul, I was surprised that I was not drawn to any of the clothes on display.
Many looked like repeats/nothing new from the last time I was in a maul…which was a long time ago.  I'm thinking madras shorts for men, polo dresses for women (seriously?), zip hoodies at Nike, some pretty darn nondescript white dresses at Loft …nothing terribly impressive.  I thought at the very least I'd get some fresh style inspiration from *new* clothes, but it kind of felt like I was back at American Eagle Outfitters in the early 90s before they were cool.
The experience was a little surreal, but also satisfying because it reminded me that I know my style well enough to not be drawn to whatever marketers tell me is "hot" right now.  I guess when you have to come up with a new line each and every season, you're bound to run out of inspiration and recycle some things; your customers will have seen so much turnover in the intervening seasons they'll feel like it IS fresh.
Luckily for you and me, thrift stores take care of that problem lickety split – madras shorts and polo dresses have consistently been for sale there since they were first trendy, so they ain't foolin' anyone.  By contrast, things that really *do* feel original stick out – items made by hand or by independent designers; vintage that hasn't been revived on a massive scale yet; funky designs originally purchased in another country where the style is still somewhat different (I regularly see items from Korea, India, France, England).
What are your thoughts on the Maul?  And on reusing gift cards?  Feel free to call me tacky, I can handle it. :)