As I've been retooling my off-season wardrobe, I've been tempted to double down on the one sweater I kept from this past winter's wardrobe – my snow leopard print beauty:
Here is some photo evidence of my apparent obsession (and/or sartorial laziness) regarding animal print:

It's navy/cream; by Gap.
Aaaaand I almost picked another one up at the thrift store yesterday.  Aaaaand I'm always trying on blouses and long-sleeved shirts with leopard print…. Gah.
Because if a cozy animal print sweater works once, it'll work twice (or three times!), right?
Not necessarily.
Having a silk blouse you love in multiple colors, for example, is a great way to vary your look.  But if you aren't Emanuelle Alt and completely committed to a signature look, you don't need 5 similar black blazers or 15 versions of grey skinny jeans. (Let's be real – Emanuelle probably has 20 blazers and 30 skinnies.  And looks incredible in all of them.)  
You may not even need 2.
In a world where style choices are pretty much endless and it can take a long time to figure out what works, it can be  tempting to buy repeats of the same successful outfit.  Buying quasi-duplicate (or even just relatively similar) pieces is comfortable, safe, and easy.  But will you really wear a sliiiightly different pair of grey jeans as often as you do the first pair you fell in love with?
Chances are, not likely.
And if you're striving to create a curated wardrobe using a limited amount of items you love to wear, why waste the chance to introduce critical variety into your repertoire by loading your closet up with similar looks?
Keeping the leopard print sweater above is not only going to read similarly (ahem…boringly) in my style lineup, it's also going to eat up valuable wardrobe real estate that could be used to liven things up with a fresh color, cut, or pattern.
To illustrate my point, here are the four sweaters I've recently thrifted to expand my winter playbook after saying goodbye to the Gap leopard print: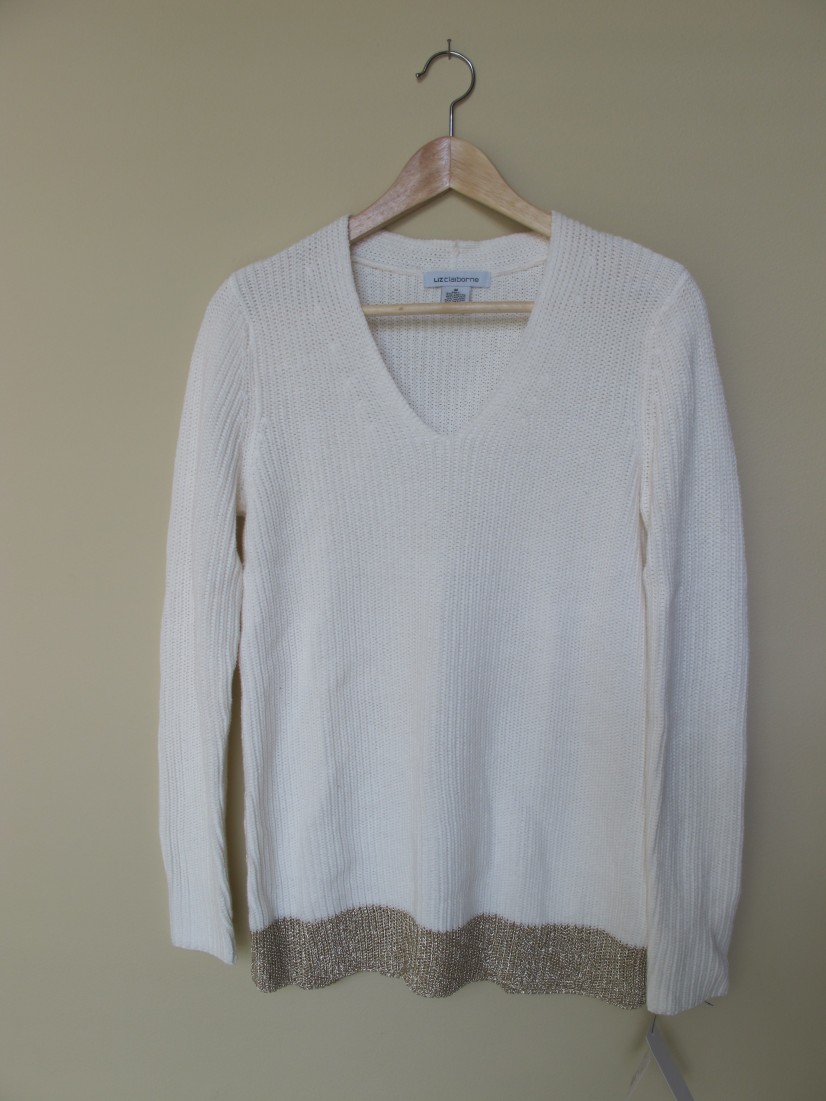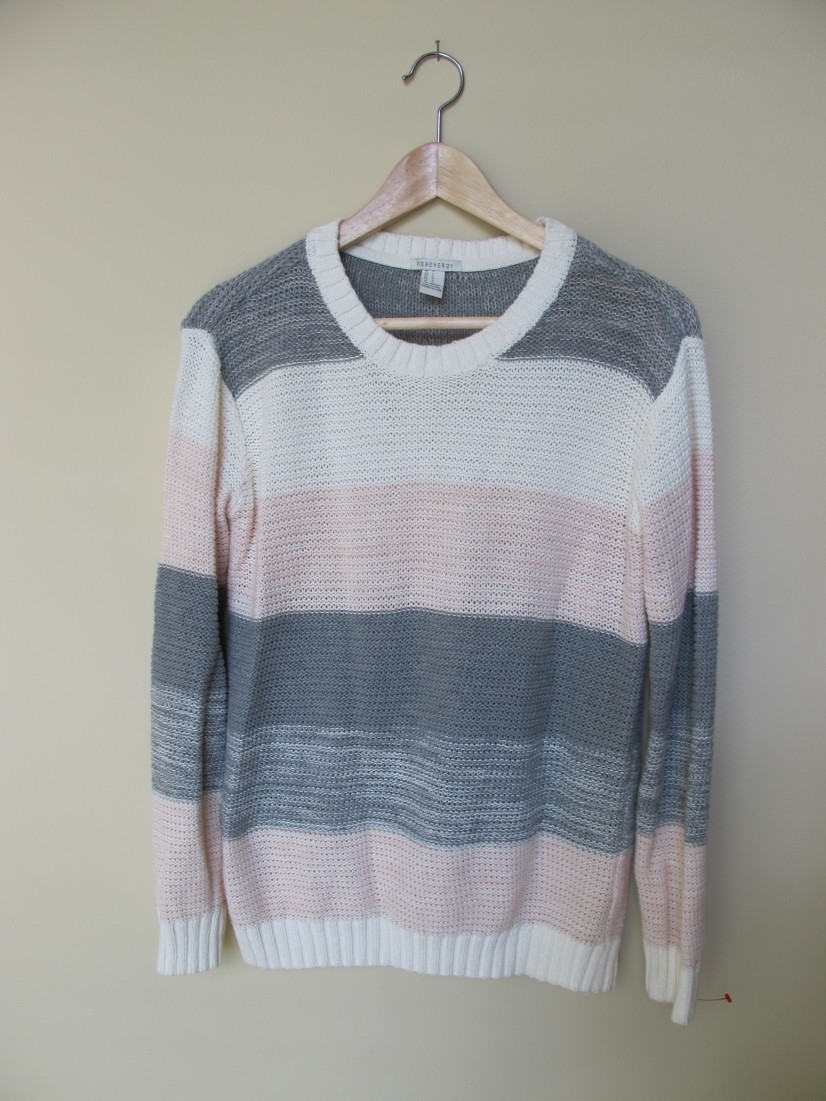 Blue deconstructed sweater by Mossimo – SO soft and snuggly inside, yet drapes more professionally than expected; a little more grey than in this photo
White and gold sweater by Liz Claiborne, new with tags –  this is the first Liz Claiborne piece I've found that has fit me – my body type is not their target demographic, which may explain why it gives me some cuuurves!
Grey/pink/white striped sweater by Forever 21 – the white and grey will go with my winter pants (grey, white, and navy – to be revealed at a later date) and the pink perks it up a bit.  Nice fit and the crew neckline isn't as abrupt as some
Oversize blue stripe sweater by Liz Claiborne (the one on the LEFT in the pic) – it is SO soft (100% cotton) and the colors Just. Make. Me. Happy.  I guess I'm a Liz C. convert now, at least in the sweater department. I *think* it's going to style well with my new slimmer winter pant silhouette and some dressy jewelry to keep it from feeling too casual/sloppy, but I'm honestly not sure how I'll feel about it.  (This is the peril of restyling an off-season wardrobe. LINK)  Fingers crossed!
(Quick story: I spotted this sweater almost a month ago at the thrift store and thought it was lovely but two sizes bigger than I normally wear, so I didn't even try it on and instead started looking for a similar knit/color combo in something my size.  Then last week it (but not its green twin – someone snapped that up) peeked out at me from the same sweater rack and I said "to hell with it" and tried it on and fell in love.)
In these new (to me) picks, you can see echoes of the same general palette as the white/grey snow leopard sweater I love, but there are also new colors (blue, pink, gold) and new silhouettes (a little boxy in the blue; v-neck curvy in the white/gold one; oversized in the blue stripe) that add variety and versatility to the sweater + slim pants vibe I'm trying to rock.
Now that I've found more diverse sweater territory to inhabit, I feel like I'm getting more bang for my buck style-wise.  Pairing each of these sweaters (and the snow leopard print one) with the 3 winter pants I've selected will give me a much greater range of looks than 2 or 3 animal prints plus those same pants would.
As you can tell from my opener, I still have to remind myself "NO" whenever I see a leopard print sweater…AND, now, whenever I see a pink or gold/white combo, since it seems like my brain naturally attunes itself to home in on what works (see initial problem above).  I may be having tiny regrets about a French Connection gold/cream windowpane number I passed over…but I'm staying strong!
If you have a silhouette or color palette that works for you, by all means, stick with it.  But think about how you can introduce variety within those parameters so that everything you own doesn't feel the same.
'Cause unless you are Matilda Kahl, sameness is the sure route to sartorial boredom – which leads, eventually, to dissatisfaction, that most contentedness-sucking, wallet-emptying of emotions.
Where have you fallen prey to "I'll buy just one more black dress, this is so cute…"?  How did you break the habit?  Or are you happy to wear very similar pieces all the time?  Scroll down to share!
PS Would y'all be interested in a sneak peek of my newly restyled winter pant selection, too?  I can imagine that you Northern Hemispherites might be sick of seeing winter clothes during these hot summer months, but you Southern Hemisphereans might be happy to see clothes that work for you now, so let me know!
(also, does anyone know the proper demonym for hemispheres? #wordnerdalert)