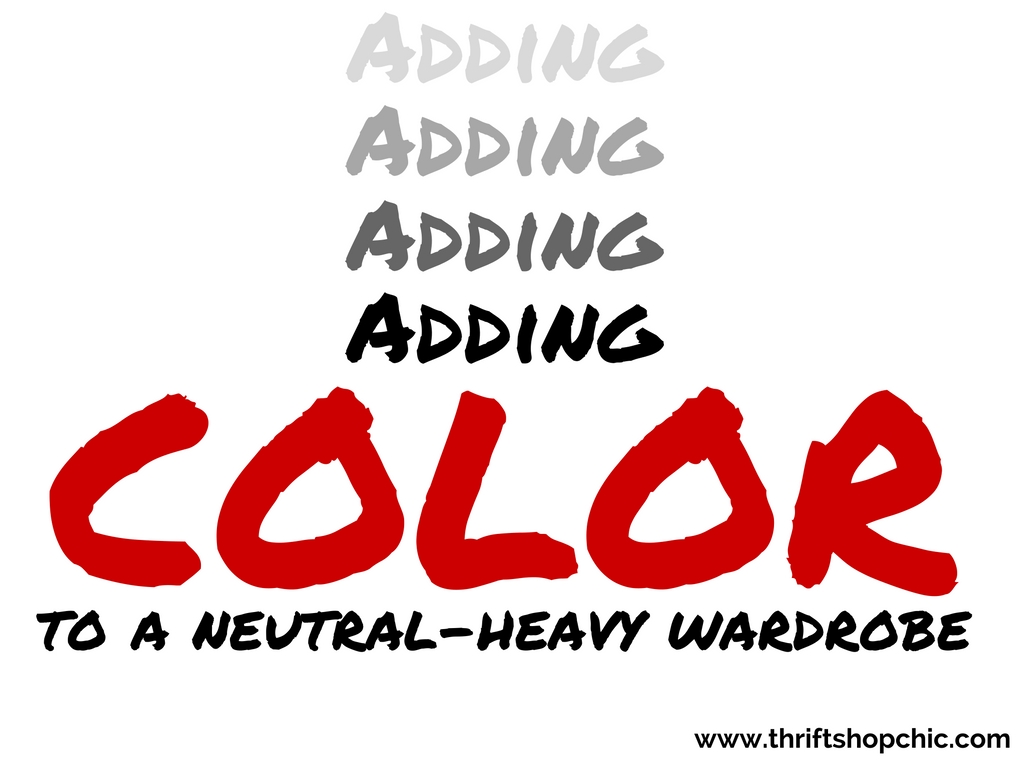 My summer wardrobe has lots of corals, tomato reds, teals, and a dash of cerulean that liven up some neutral pants and dresses.  My winter wardrobe, though?  It's a pretty stark assemblage of creams, greys, and navies with a tiny touch of blush pink and gold.  I have an open closet and staring at all those neutral cold weather clothes lined up every time I passed was starting to make me feel a little too Ice Queen.
My first thought was to get some red shoes to warm things up.  Because red shoes are SASSY.  They are bold and fun and insouciant and they completely change the tenor of a wardrobe.  And red – either a solid bright red or a darker oxblood variant – would be the perfect winter version of the corals and tomatoes so prominent in my summer closet.
Well, shoes are a bit harder to thrift than other things, partly because our feet come in so many different sizes and partly because I personally have AAA narrow feet and need an arch.  So it's a rare affair to find thrifted shoes that fit and are comfy, and ankle boots (the style I had in mind) are even harder to come by – as a still-current trend they haven't really made it to the thrift sales floor en masse yet. (These Sam Edelman suede beauties aside.  I'm still sad they were too big for me.)
I thought for awhile about buying a new pair retail, which is how I have gotten a few pairs of my shoes – either as gifts or bought with my own hard cash – because I care that much about having comfortable, well-shod feet.
But then I started thinking there had to be a cheaper, more environmentally friendly way to bring some color into my wardrobe.  I realized I already owned nail polish in oxblood that I LOVE and could easily sport on days when I'm feeling too neutral.  I also already had a scarf in the neighborhood of cranberry and with some gold and coral accents that would make it interesting and translatable to other parts of my wardrobe.  So far I hadn't spent a cent and my closet already had more life!
I was still hoping for an actual piece of clothing, though, so I thought about thrifting for a turtleneck or thin sweater in burgundy/cranberry/oxblood.  But I was a little wary of wearing the color near my face since it's pretty robust for my skin tone.
Then I nabbed the Talbots catalogue that comes to my boss at work and spent my lunch flipping through it for inspiration.  (I feel like Talbots is about half twee and half dead ringer for my style…so this little habit is a half-guilty pleasure.)  The color and texture of this "rum raisin" skirt fell in the dead ringer category and I made a mental note that that hue would work as a great "red" for fall/winter.
Lo and behold, the very next Saturday I had a chance to go to my local Goodwill and flip through the pants racks for something similar.  I found American Eagle Outfitters jeggings (great fit, too casual for work), Talbots cords in a spectacular flame red-orange (my size but didn't fit and too intense), and some Style & Co. cords in a slightly redder, less purple cast of "rum raisin."  They were a size larger than my normal and marked "P," but something told me to try them on anyway.
They fit!  Well, they fit in the waist and had a nice high rise, although a belt may be necessary; but they are too short in the leg for my normal taste.  HOWEVER they are the perfect length for wearing with ankle boots without having to cuff/tuck/overlap: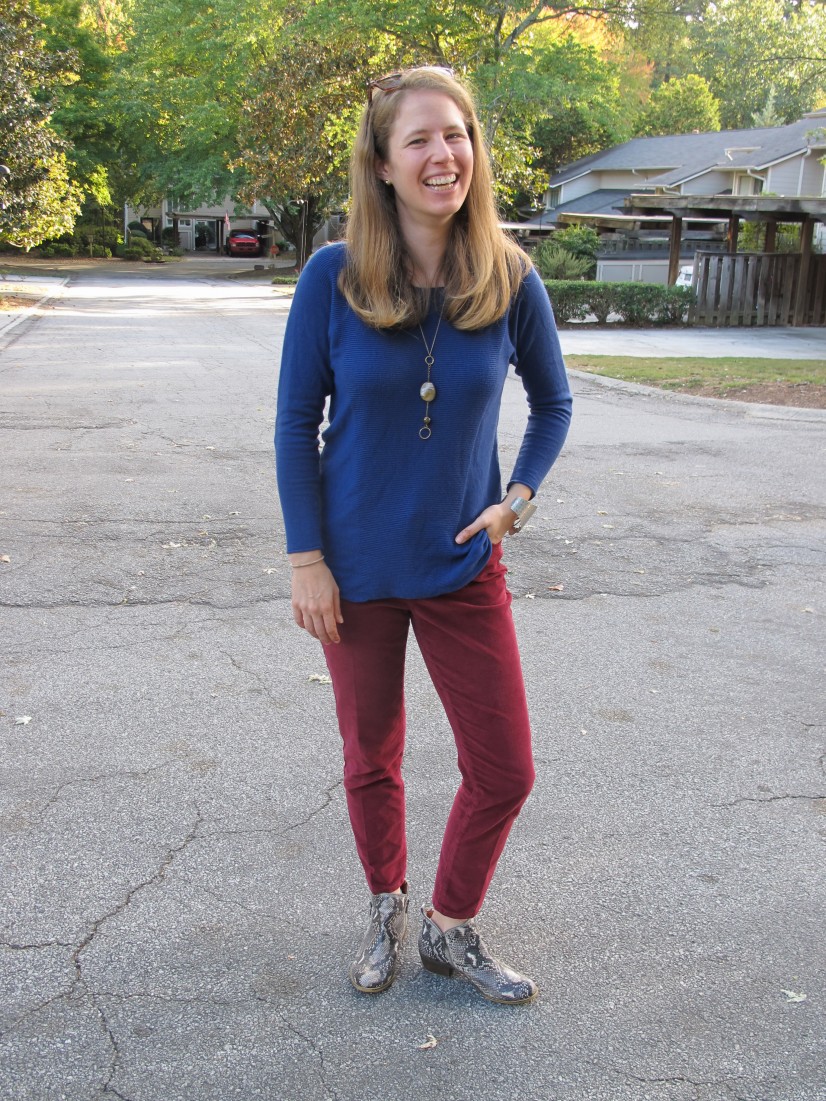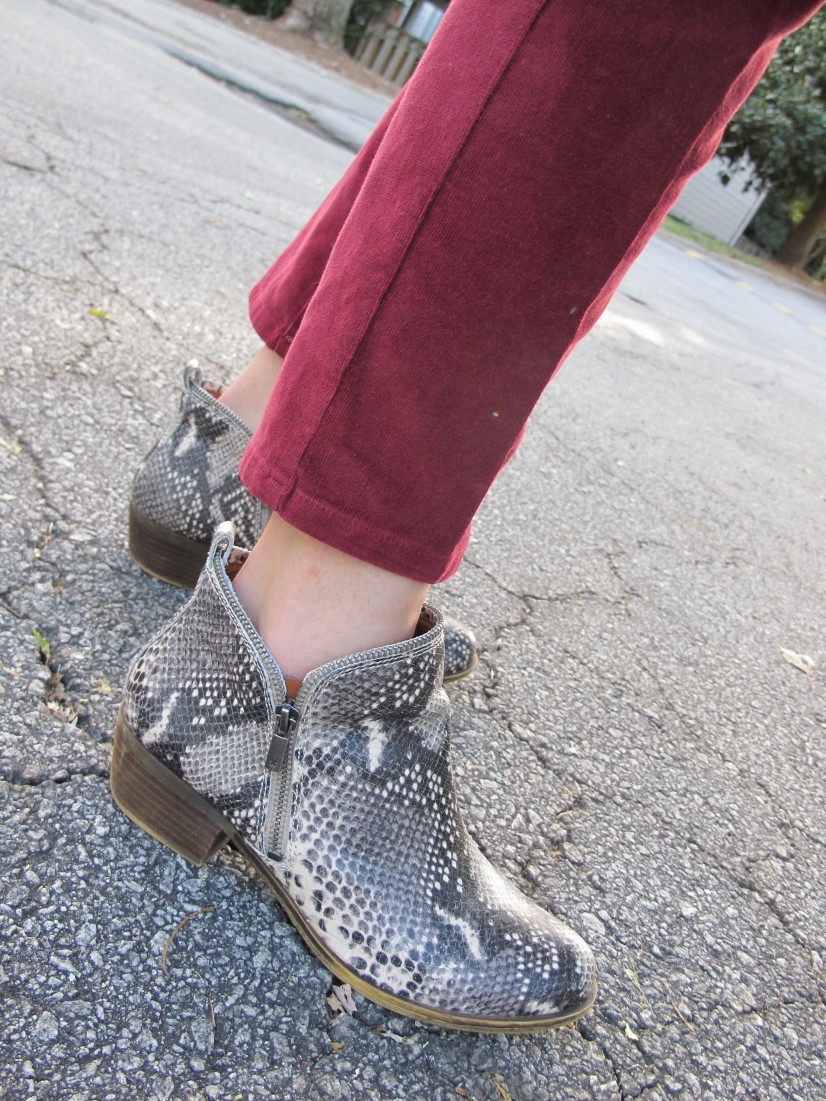 I also picked up this Joan Vass top which is a perfect fit for my wardrobe for reasons I'll write about next week.  This outfit would have read a lot more neutral/monochrome with grey pants or cream pants, but instead the red changes things up completely.  It's able to bring a little fall to those green green trees you see in the background…10 days into October.  Not complaining though!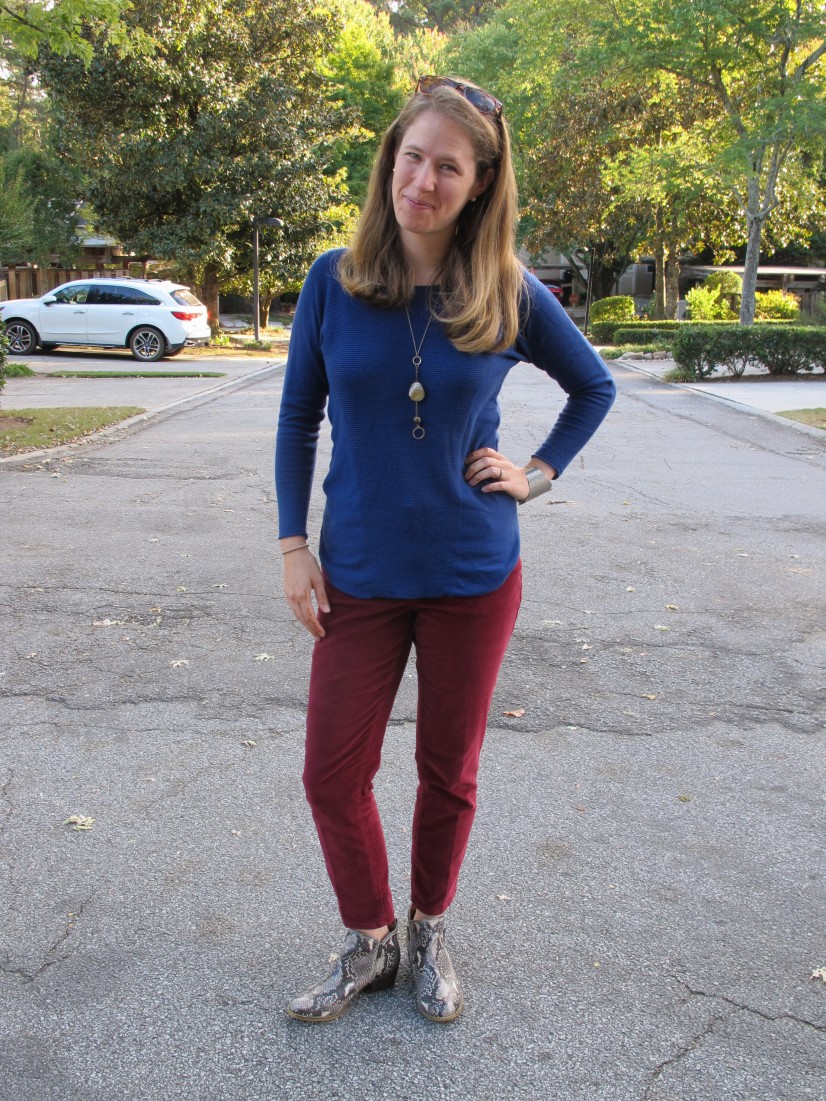 Giving the photographer that "quit making me do weird facial expressions" look.
The split hem draws attention to the two colors playing off each other: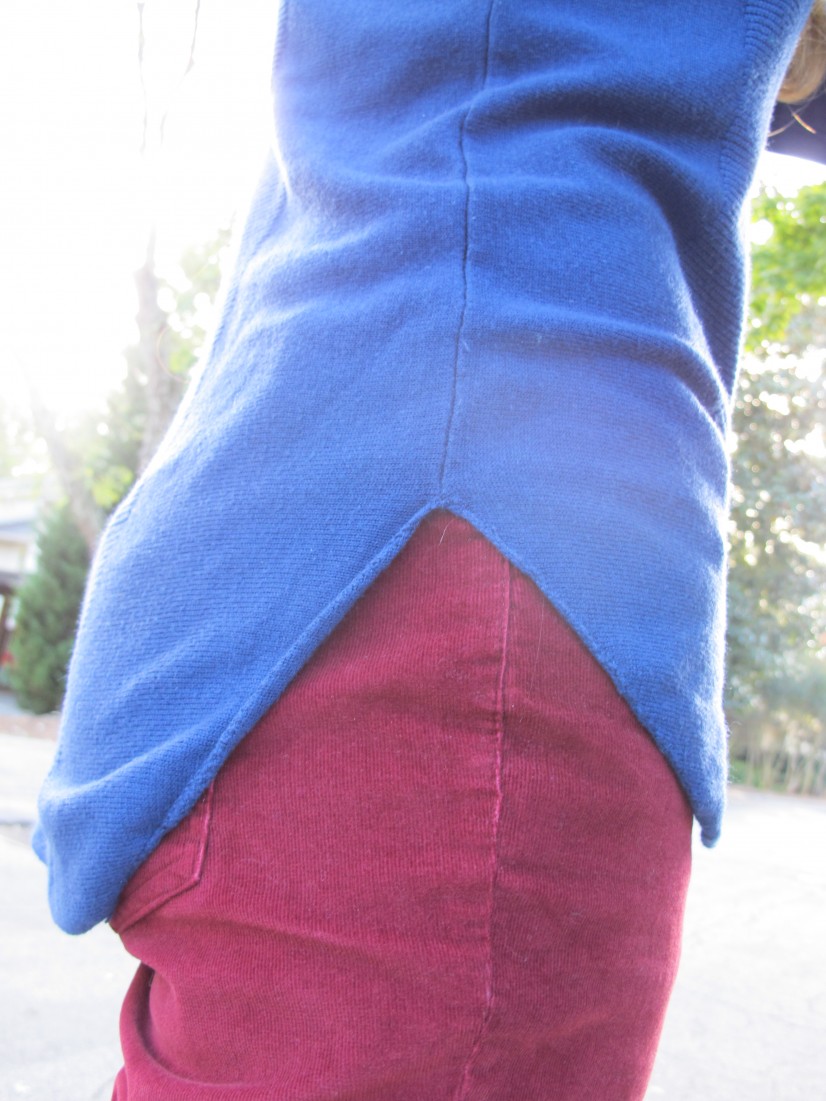 Which I gotta do whenever I can since even my necklaces are neutral: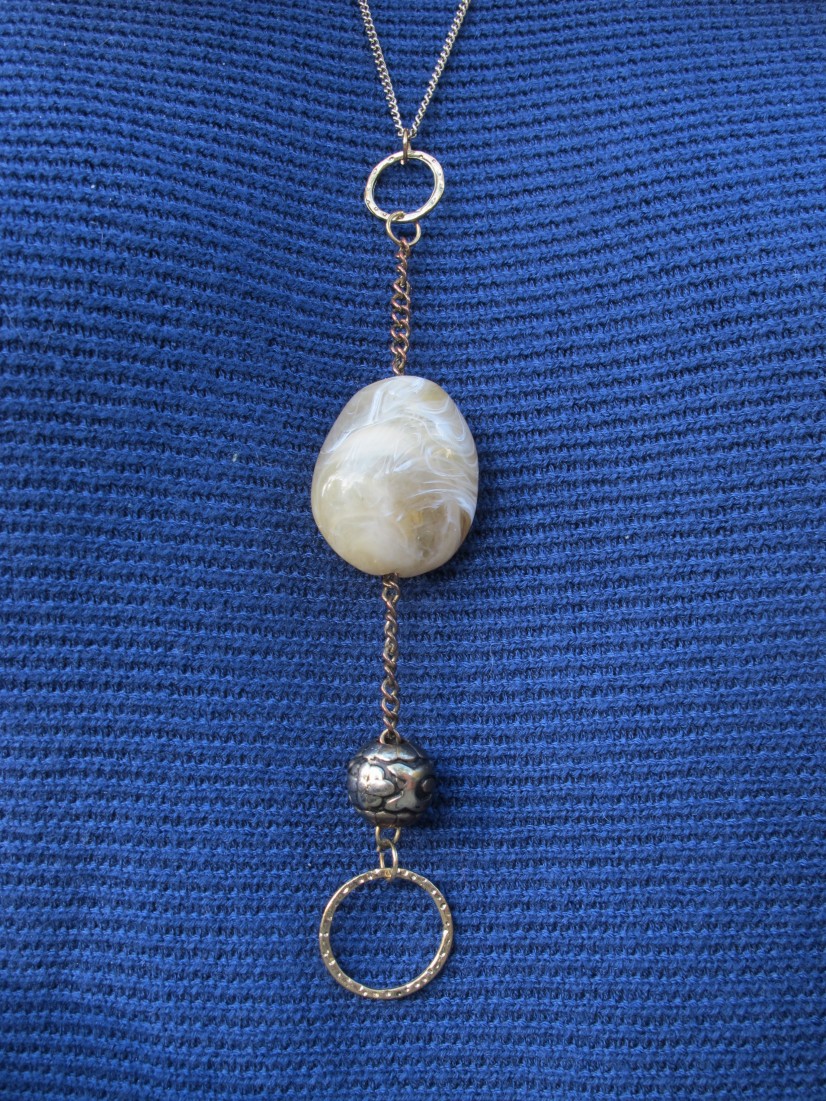 Top: Joan Vass Studio, thrifted
Pants: Style & Co., thrifted
Ankle boots: Lucky Brand, Christmas gift
Necklace: DIY from thrifted parts
That's the saga of adding some color to my neutral-heavy winter wardrobe – and for now, I think it's enough.  I can't wait to pair these pants with almost infinite top/cardigan combinations since they will all work together.  I'm looking forward to painting the nails when it gets well and truly cold – that color's a little dramatic for fall.  And I'm excited to try that scarf out with my white sheath dress – or what else?  Scroll down with suggestions!
If you'd like some more ideas about adding color to your neutral closet, check out this series (link goes to the oldest in the series) and this series (link goes to the newest post in series) over at The Vivienne Files.  I hope my post convinces you that you don't need to go out and buy a bunch of stuff (thrifted or not) to enliven your wardrobe; Janice's visual magic might help you envision how one or two pieces could make what you already have really pop.
If you have a neutral-heavy wardrobe, do you ever feel the desire for some COLOR?  If so, how do you mix it in?