Last Saturday I finally got to visit Chalice Thrift at the First Christian Church in Decatur. (Church nerd note: they're Disciples of Christ, which is the cousin to my denomination, and they do really rad justice and service work with the proceeds from the thrift store.)
They've been closed the last 3 times I've been by, so I was thrilled to have a look inside.  Plus they had Danish butter cookies and lemonade for all, and Danish butter cookies are the way to my heart (especially the kind with crystallized sugar on top).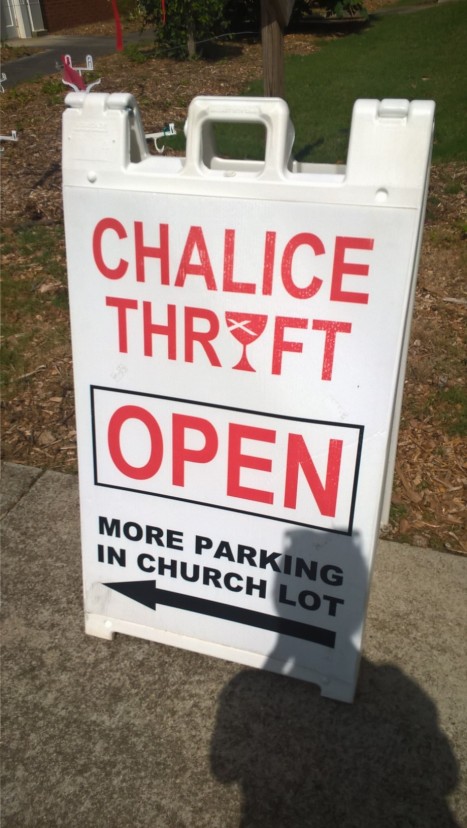 Victory is mine.
They also grow blackberries which made my child happy (well, that and the cookies. And their lovely clean bathroom they let her use):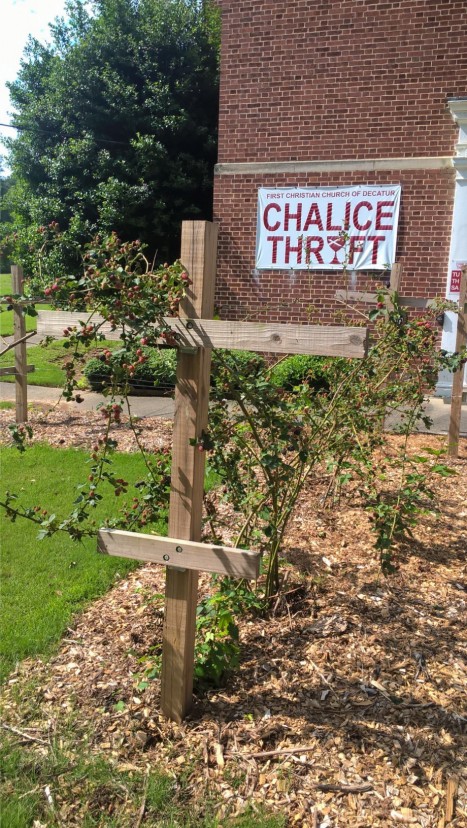 Inside the shop was set up like a boutique, with different rooms for women's, men's, kids, housewares, books (a veritable library!), etc.: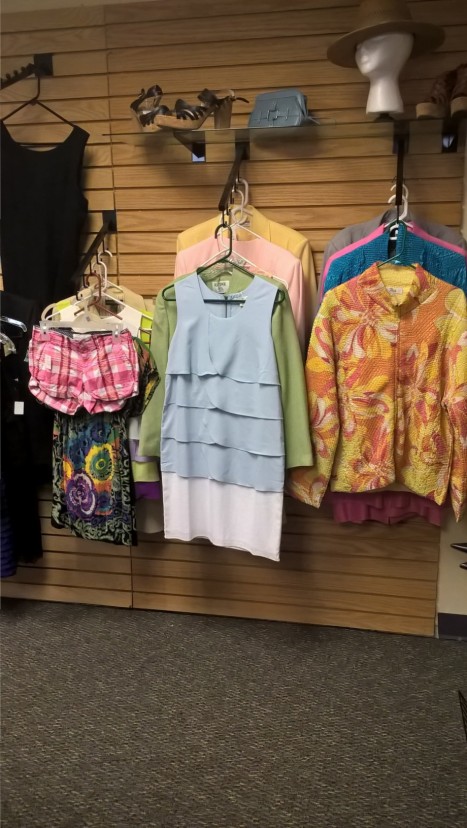 I wanted to get back to park time* with my family, so I made a pretty quick sweep. (*Atlantans with small people should check out the Decatur Toy Park. Sponsored by this same church, it's basically a fenced-in park filled with larger-sized toys, particularly wheeled ones, donated for all to use. There are also swings, small slides, and a mini free library, and it's across the street from the thrift store. It's also just down the block from Dancing Goats if your toddler woke you up earlier than nature intended and you need some coffee. Win-win.)
During my sweep, this vintage earring/bracelet combo immediately caught my eye: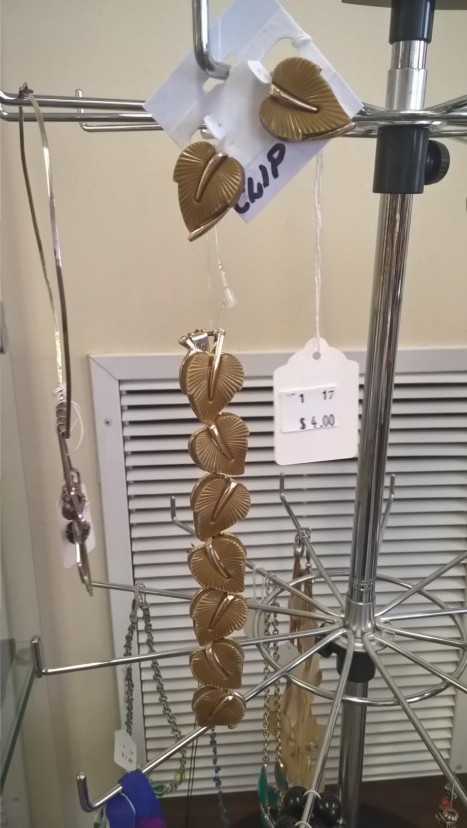 I've long been a fan of vintage costume jewelry for the sheer chutzpah it brings to an outfit. My grandma had a lot of great pieces I've enjoyed wearing over the years, although I've scaled back from wearing complete earring/necklace matching sets in the same outfit.
So I wasn't sure what I would do with this set, particularly since I prefer cuff bracelets to linked ones. But I couldn't resist the palm frond motif or the golden color, halfway between taupe and caramel, that would go with so much of my wardrobe. It felt like a fresh, subtle take on the palm frond trend that's been going strong the last year or two: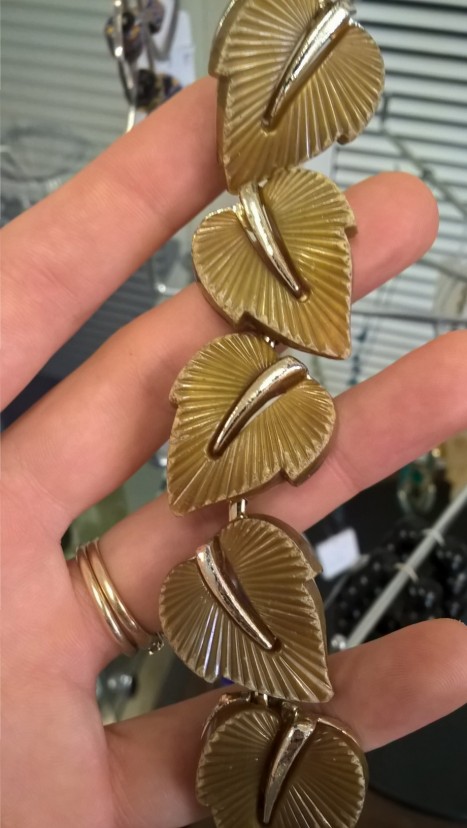 Mmm, that vintage patina…
I bought it without a plan and wondered if I'd basically just donated $4 to Chalice Thrift (not a bad thing, but I like to spend thrift money on things I'll actually, you know, wear.)
Later that day it occurred to me that I could make this bracelet into a necklace by removing the clasp on one side and attaching chain to both ends.  A quick perusal of my miscellaneous jewelry-making bits confirmed that I didn't have enough chain (or the right color) for what I had in mind.
So it was time for a trip to the Goodwill to hunt for parts. (We also took the opportunity to teach our daughter how to wisely spend her birthday money; $8 goes a long way in the kids' section of a thrift store. I'm proud to say that after playing with a bunch of cheap toys she bought one book and kept the rest of her moolah for another day/charity donation.)
In the jewelry section I found this number: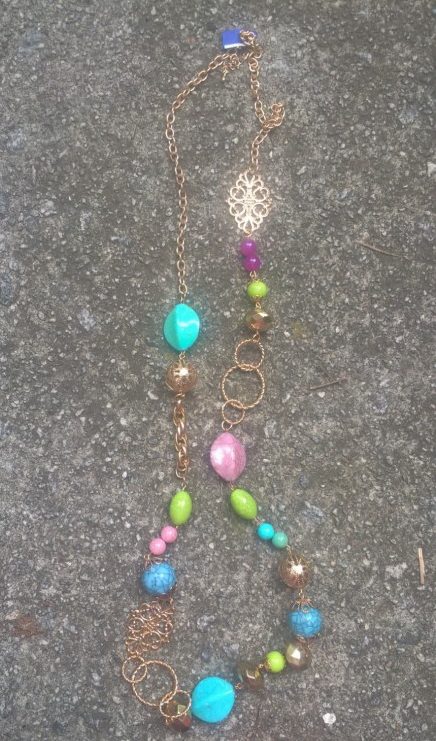 (My friend pointed out that I could've gone to Michael's and maybe spent less buying new chain, but I'd rather buy secondhand and experience the thrill of the hunt. Plus this was only $4 and I'm getting a lot of other beads/jewelry bits out of it, including some to make earrings for this same friend. Win-win again!)
Using jewelry pliers I took out the chain sections, including the short braided section (on the left middle in the photo above), and left the lobster claw clasp where it was.  I attached the braided chain to one side of the single chain, then took two of the necklace's jump rings (small metal circles used to connect chain to beads/hang pendants) and used them to attach the chain pieces to the bars at either end of the former bracelet. You can see the jump rings and the braided chain section up close here: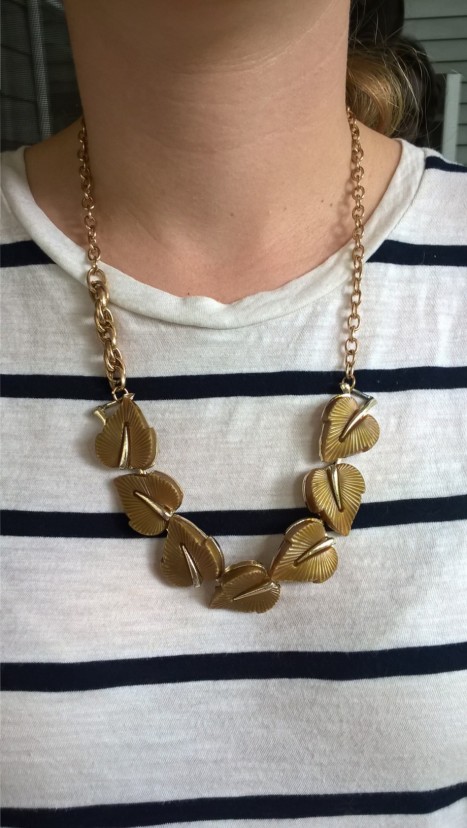 I like how the braided part adds a little asymmetrical interest.
This shot gives a better sense of where the necklace falls – I can adjust the length from almost choker down to this "bib" size simply by attaching the lobster claw to any of the chain links: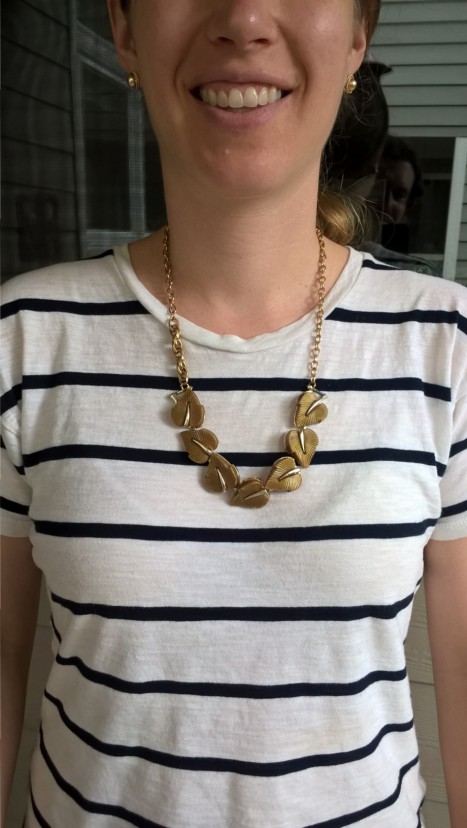 Here's another few shots of my new necklace in action from Instagram – when I make "new" jewelry I'm excited about, I tend to wear the heck out of it:
What do y'all think of my $8 vintage bracelet makeover?  Have you Atlantans ever visited Chalice Thrift?  Scroll down to comment!