Last Friday I posted this romper as my upcoming weekend outfit: so comfortable, so cool in the heat.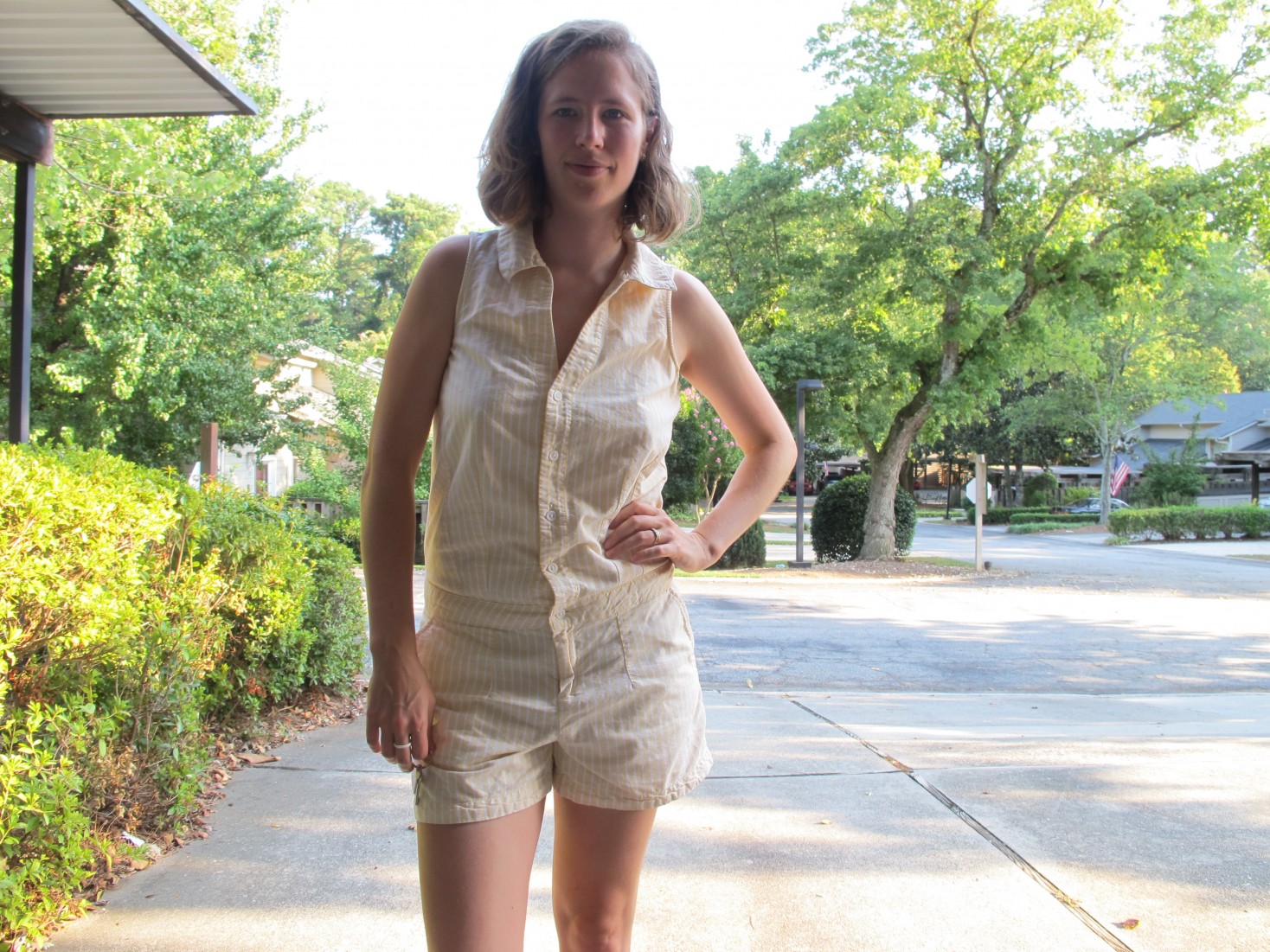 I posted it on my personal Facebook page with the intro: "I need you to weigh in on the romper/playsuit debate–practical weekend wear or just too much trouble for bathroom breaks?"  I was curious how people felt about this somewhat peculiar garment.
Well, I got what I asked for!
A friend whose opinion I respect first entered the fray with the idea that rompers are a way to infantilize women in a culture already bent on relegating women to the sidelines.  It had never occurred to me that inspiration for this "playsuit"–though maybe that particular term should've clued me in–came from the one-piece outfits babies and toddlers wear to allow them freedom of movement and simplicity in dressing (though not in diaper changing…but I digress).
Mind blown.  Was I unintentionally reinforcing the paradigm that women are to be, as the childhood behavioral paradigm of yore says, seen and not heard?  That our voices don't really count and that when we do speak we can be ignored as not serious, not important?  That is the last thing I want to do.
But then another friend, whose opinion I also respect, chimed in and said that she found rompers (or at least the one in the post) to be "free and easy, " with "no binding anything"–which immediately made me think of the most binding garment ever invented: the corset, designed to accentuate a woman's waist to the point of anatomical impossibility and internal damage, all for the male gaze.  Second wave feminism famously fought to liberate women from girdles and highly structured brassieres, the corset's descendants.  So a garment whose primary characteristic is that it's free and easy, totally non-binding, to me sounds like a stab in the eye to any effort to circumscribe women through fashion.
Then yet ANOTHER friend whose opinion I also respect (and who challenges me to think critically about these issues all the time–it is awesome to have a friend like that) said that she is a grown-ass woman and if she wants to wear a romper with a bib and a diaper she's going to do it and damn anyone, man or otherwise, who tries to infantilize her.
Whew.
This all begs the question, of course, of whether women's fashion, in itself, is a construct inherently designed to appeal to the male gaze and whether it can be reclaimed as a means of feminist/womanist self-expression.  I'm going to argue the second while keeping an eye on the detrimental influence of the first–and reserve the right to adapt and refine my opinion as I learn more about the complex interplay of gender politics and fashion.
What's your take–is fashion a pro-woman creative aesthetic or a woman-dominating bid for patriarchal power?  Somewhere in between?  Do you even CARE?
Here's some good food for thought to get ya started or help you dig deeper: a self-describe "dyke's" take on why she loves fashion and how she thinks it communicates to people of different genders.
Scroll down to join the conversation!