On Tuesday I showed you my recently thrifted tops for fall.  One of those pieces is a "tribal" top from Xhilaration, meaning it features a print drawing from the art of some sort of tribal culture, often indigenous to the Americas or Africa.  (This phenomenon also happens with Indian, Polynesian, and Asian cultures, although I haven't seen those labeled "tribal"—I'm thinking henna as decoration, fish hook necklaces and puka shells, Chinese character tattoos…unfortunately the list is pretty long.)
In the case of my shirt, we're talking about a riff on a Navajo pattern: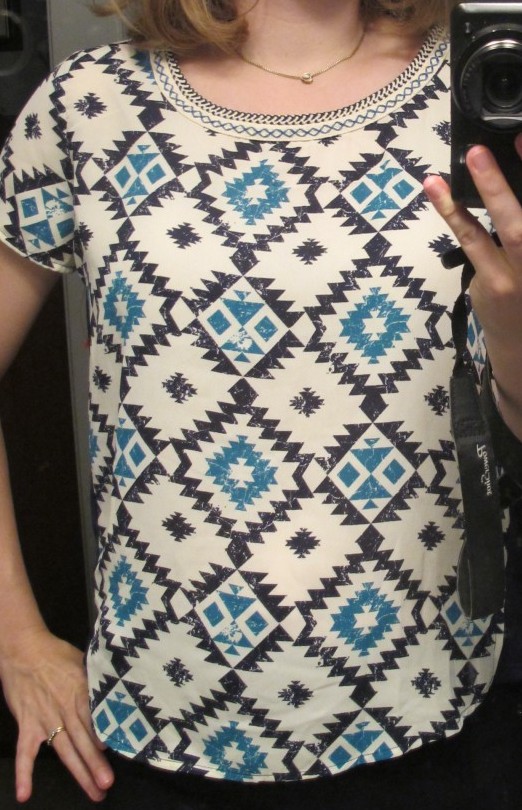 Similar patterns are easy to find on the Internet:
Laramie Blake wears a biil, a traditional woven dress.  Source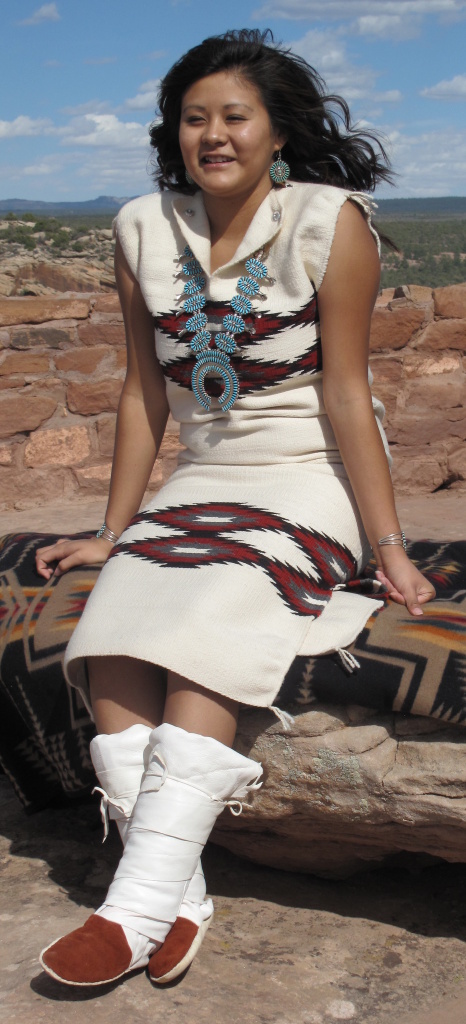 Anita Bekay with her prize-winning rug from 2012.  Source
Alice Roy in front of a rug she wove.  Source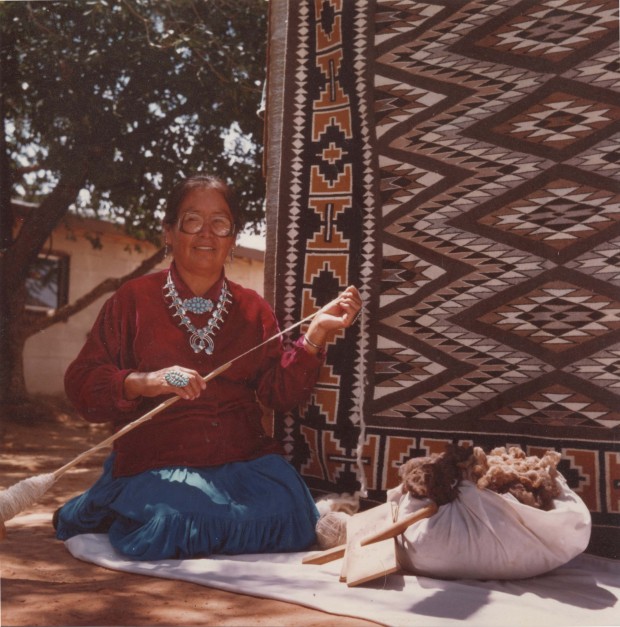 You can google "Navajo weaving" and see a bunch more of these style that look even closer to my shirt, but I chose pictures with the women who create and wear this pattern to make a point: patterns like this mean something in their original context; they weren't created in a vacuum but instead are tied to the lives, beliefs, and values of real people—real people who are at best obscured by such representations and at worst oppressed by the culture that appropriates them.
What's cultural appropriation, you say?  So glad you asked!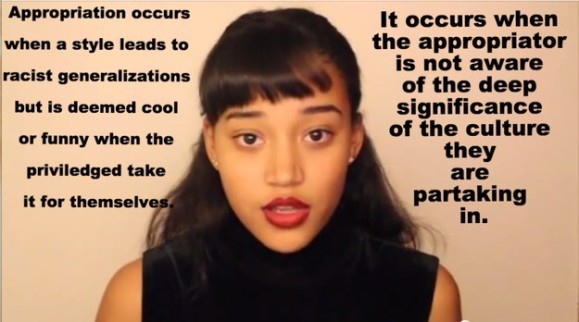 Thanks Amandla!
I am growing in my understanding of cultural appropriation by White people of Black culture, and thanks to a badass high school history teacher, I've been aware for even longer of the crippling, centuries-long oppression facing Native peoples in the US and how their images and artifacts have been used to turn a profit without their permission.  (Thanks Ms. Davis!)
In other words, there's a reason you'll never see me do the "Tomahawk Chop" even though I live in Atlanta.
But, to be honest, I had never realized how very directly connected the fun, funky "tribal" patterns at Target (or in my case at the thrift store) are to the appropriation of Native cultures.  In fact, I was waiting for just the right "tribal" print to make it through to the thrift racks so that I could make it my own.  Ahem.
Thank God for the Internet, because a guest column on a style blog I read highlighted some particularly egregious examples of high fashion cultural appropriation, and a light bulb went off: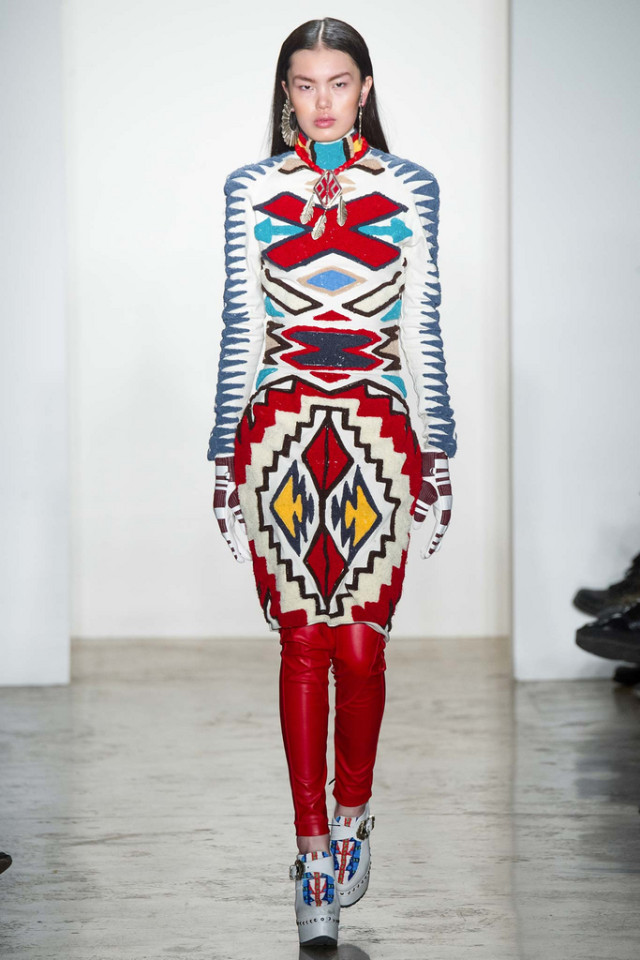 From KTZ.  Source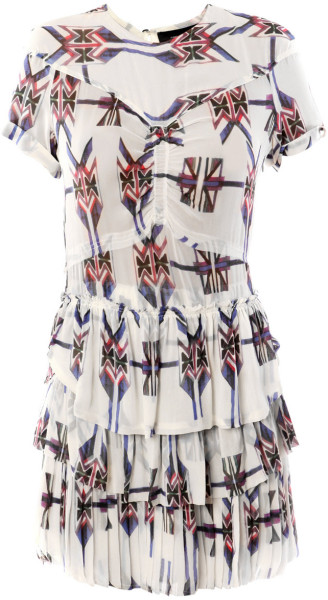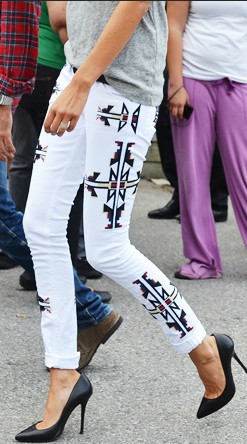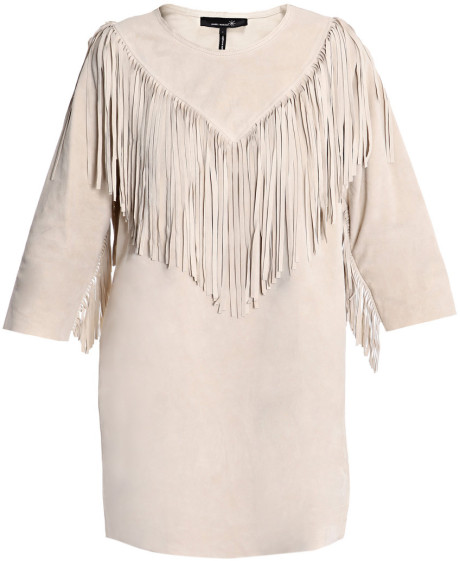 From Isabel Marant.  Source.  Source.  Source.
Hits a little too close to home in the "let's dress up as Indians!" department.
That first post led me to Native Appropriations, where Dr. Adrienne Keene wrote about the appropriation of Native imagery by non-Native couture fashion, including an instance where a designer blatantly copied from a dress by Northern Cheyenne/Crow artist Bethany Yellowtail with no credit attributed and with no understanding of the spiritual or social significance of the images used without permission: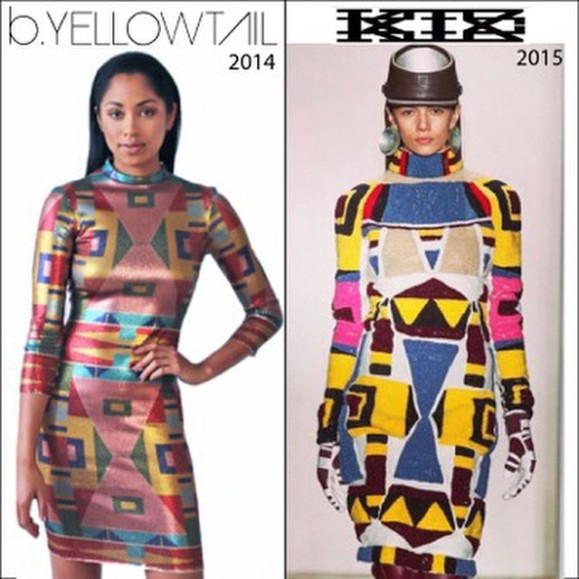 Different color scheme; same shapes, cut, and general pattern.
Maybe you don't see a direct enough resemblance here to merit outrage; after all, there is "nothing new" under the sun and all fashion is basically a riff on what's come before, right?  Just like pop drawing on hip hop, right?
It's true that art forms of all kinds are always borrowing from, drawing off of, others' creativity.  But to me it comes down to a power difference.
When those of us who have more power in this society make something our own that has its origins in the creativity of a group with less power, that group is never in a position to control how their art, fashion, music, etc. is used.

It becomes a monologue instead of a conversation, and a monologue borrowed without permission at that (one might say stolen or cribbed or plagiarized), a piece performed as one's own without recognition of, or respect for, the place it came from.  (See: Iggy Azalea.)
As Dr. Keene suggested, non-Native designers can work with Native designers to produce original content for their fashion lines, highlighting that collaboration and the origins of the imagery they use.  But few, if any, ever do.
I can choose to support designers like Bethany Yellowtail (and others mentioned below) and continue to do my homework on issues facing Native peoples and the brutal history of violence and betrayal perpetrated by my country that led to those issues.  A B. Yellowtail dress doesn't come with an asterisk explaining my outfit's provenance to the average passerby, though.  All they see is a fun, funky "tribal" print making me look hip and chic; no one learns that Native designers are doing amazing things (unless they compliment me on my awesome outfit and I get the chance to tell them). No one is challenged to acknowledge that the rip-off mass fashion patterns that look so similar to what I'm wearing came from somewhere, a "somewhere" that is rarely celebrated or even represented in the dominant culture in a positive way.
And that's not so chic.
I'll be skipping the fast fashion "tribal" prints from here on out, and I'd love your thoughts on wearing the work of indigenous/non-White designers who draw inspiration from their cultural traditions – particularly if you identify as belonging to one of those cultures.
—
Resources:
More of Bethany Yellowtail's goregous work
Beyond Buckskin: supporting Native designers through resources, artist profiles, a shop, and a roundup of Native-designed brands—thanks Stephanie!
8th Generation, the first Native company to make wool blankets—they're incredible, check them out!
Just a taste of the oppression of indigenous peoples in the US
Ankara (West African wax-resist fabric)
Kenji Yoshino's similar argument re: wearing ivory
Interesting article on Pendleton's collaboration with Native communities–when does it veer into cultural appropriation?
(Please leave more resources in the comments!)