I mentioned in a recent post that I had been making room for new thrift finds by chucking some things that weren't getting worn.  Since we all love a good closet clean out, I figured I'd give you the run down.
First up: Coral Loft dress.  This baby got a lot of high fives on Instagram (below), but it gapped in the shoulder blade area, the fabric was stiff and draped more like an A-line than a sheath, and it cut under the armpits just a bit.  I didn't thrill to put it on and that's all that matters.  I'll keep an eye out for a true sheath in a similar color since it looked so great with my blue patterned cardigan and with my fresh white denim jacket.
Next: when something is so right on paper…  My two-toned striped tee by Madewell.  This had it all: colors in my color palette, an exposed zipper on the back, my favorite sleeve length.  I thought I would wear the heck out of this, but I've only reached for it once (pictured below).  Why?  It was a little too casual for work and a little too fitted for the weekend.  And it was two different tones of blue in a wardrobe that already had a lot of blue in it.  I don't need to be THAT monochrome.
Two textured tees from last year – one of which I wore a lot but which just feels too frilly for my style (blush lace overlay tee by Loft) and one which felt like something I should wear on dates, not to work (sheer polkadot sweetheart tee by H&M):
I was on the fence about both of these but then realized they weren't getting worn and someone else would find JOY in them instead of me holding on to them in lukewarm fashion.  Passed 'em on to a friend (more on how to do that here.)
Old jeans: I wrote about this here.  I realize the below silhouette fits the on trend "boyfriend jeans" look, but although I like that look, I don't have a particular interest in creating it on myself…maybe because I've spent the last several years wearing these jeans and it doesn't feel fresh to me anymore.  I *might* keep these for things like Habitat for Humanity work days or hiking in cool weather, but I could probably just as easily go buy a "new" pair of Dickies at the Goodwill that have a higher rise and thus involve less risk of crack.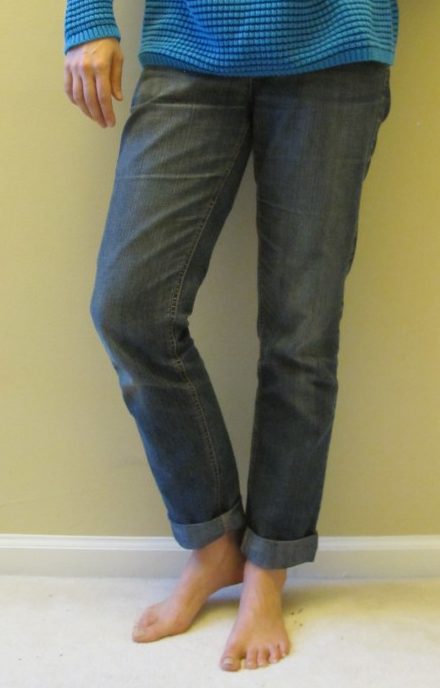 Palm print maxi dress: I was ambivalent about this even the one time I wore it and have not worn it since.  If I could magically have made that sheer palm print into a top (without paying the tailor a fortune), I would've.  But instead I left it intact for someone to find it who will fall for it just as hard but who will actually wear it.  (And spotted it back on the rack at the Goodwill!)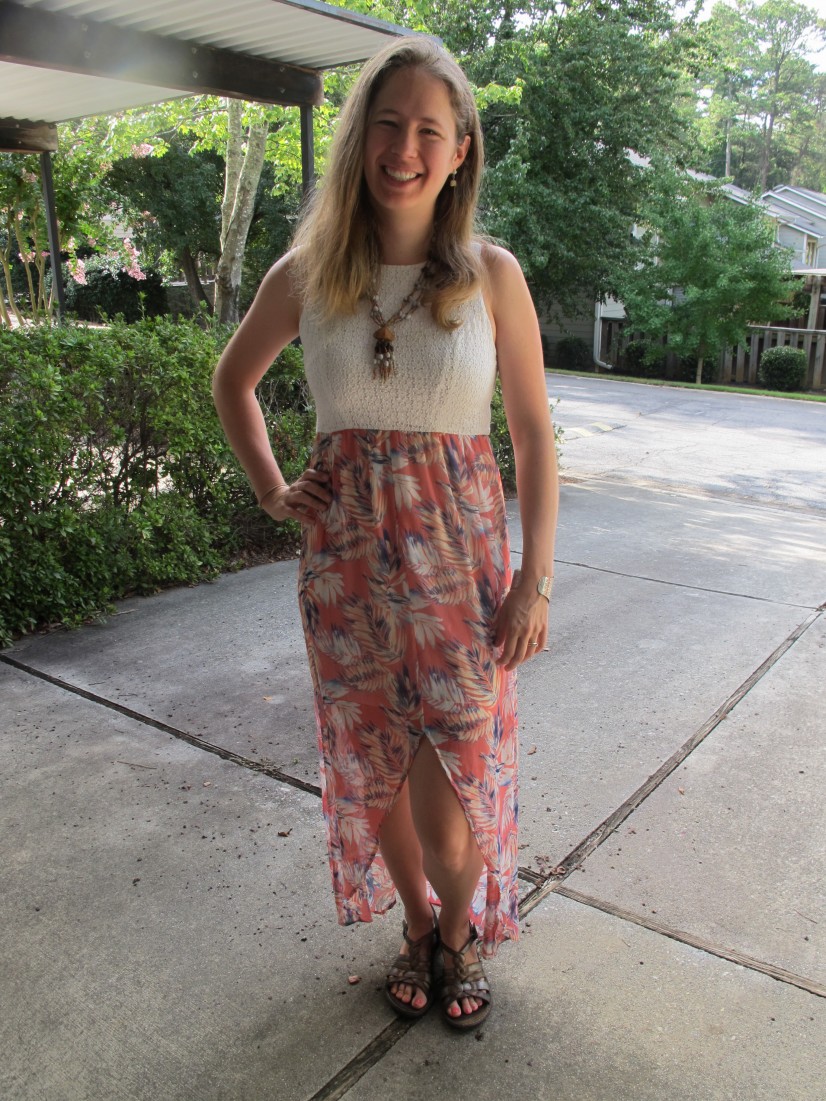 Camel blazer: as I posted here, I ditched this puppy in favor of two statement blazers (one of which is the same brand/style but a better size and more visually interesting).  Haven't missed it yet.
What have you cleaned out lately?