When was the last time you called your denim "blue jeans"?  
I mentioned here that after many faithful years my Forever 21 jeans were wearing out and I was looking for a thrift upgrade.  The other week I had a chance to thrift; after a quick browse-through for other items on my thrift list came up empty, I decided I had time to devote to an initial round of denim hunting.
The search for jeans can be overwhelming even when you're shopping retail.  My approach to searching racks and racks of secondhand choices while maintaining my sanity involves keeping in mind two things:
It will likely take multiple visits to find a winner.
Priorities – what features (fit, wash, cut, fabric, brand, etc.) are most important to me?
In this particular search, my priorities were the feel and the wash – I wanted something supple and thick in a darker, richer blue than my current pair.  Color is a quick visual differentiator, so I looked first for the right hue.  Next, with a brief touch I could tell whether a pair I'd spotted in the right color met my "feel" requirement. Only then did I check to see if the size/cut was right.  If you care about pockets, this is also a good time to check whether the pockets are heinous.  (One disadvantage to this method was that I sometimes got excited about a pair only to find it was capri.)
Next: given that sizes vary between brands – and within brands between seasons! – I pulled anything that was my size or one size bigger/smaller.  (It helps here to know what your waist size in inches – e.g. 29/30/31 instead of 8/10/12 – since many brands now size this way.)  I was also flexible about cut, given that I've had success getting a wider leg tailored to a slimmer cut.  (If you don't want to pay for tailoring and have access to a sewing machine, Thriftanista in the City has good tutorials on DIYing a hem or a altering a pant leg at home.)
Here's what I took to the dressing room:
Pair #1 by Not Your Daughter's Jeans: too short for pants that are supposed to get me through cold weather. Also I was least impressed with this fabric – fell short of my expectations for NYDJ given rave reviews I had read on retail style blogs.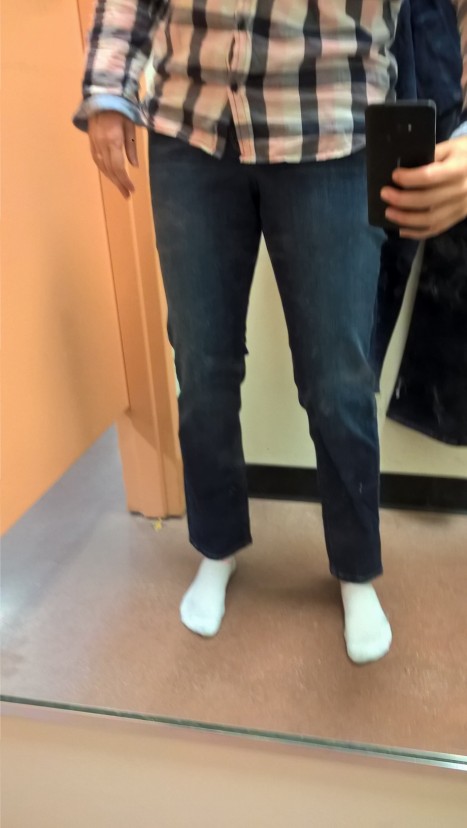 Pair #2 by J. Brand: too skinny to even get all the way up mah legs.  I so detest pants you have to literally peel off.  (I have seen this pricey and popular brand several times at the thrift store but have yet to find success with them.)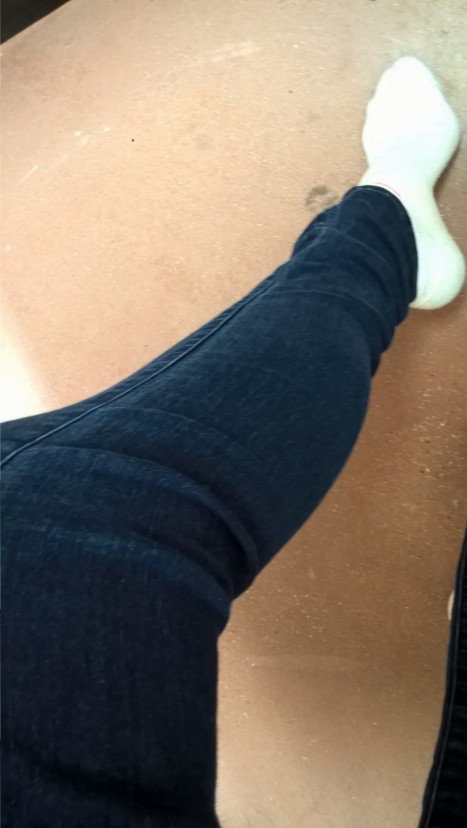 Pair #3 by Banana Republic: great cut but didn't button.  Wanh wannnnh.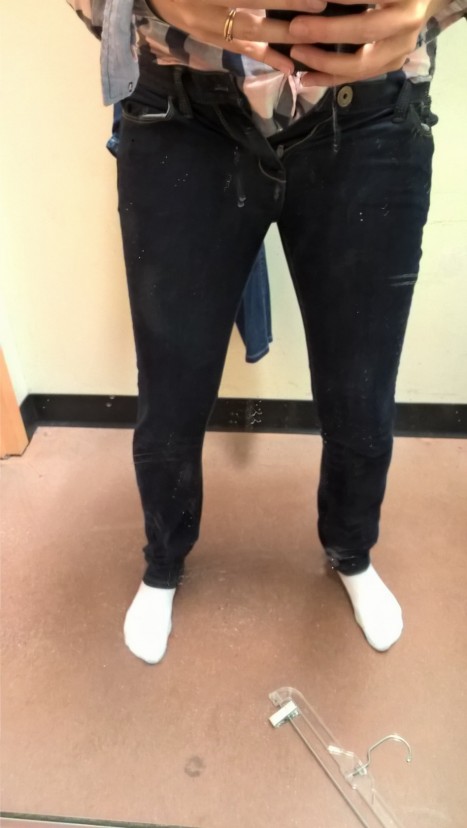 Pair #4 by Banana Republic: same brand AND SIZE as the previous number, and yet they fit perfectly in the waist.  As you can see, the pant leg is just a little more flare than your average bootcut; not my preferred cut.  But it checks off my priorities: the feel is luscious and the color is a gorgeous deep blue with stitching in a great contrasting rust color.  Bonus: the length is already just right, as evidenced by the break.
Per rule #1 above, I fully expected to leave the thrift store with nothing other than more information about what I would look for next time.  But given my priorities, these last ones were winners.  I haven't decided yet if I'll get them tailored; unexpectedly, the wider leg feels like a fresh option to call on amidst a wardrobe of slim fit pants.
Here's how they look next to my old F21 pair: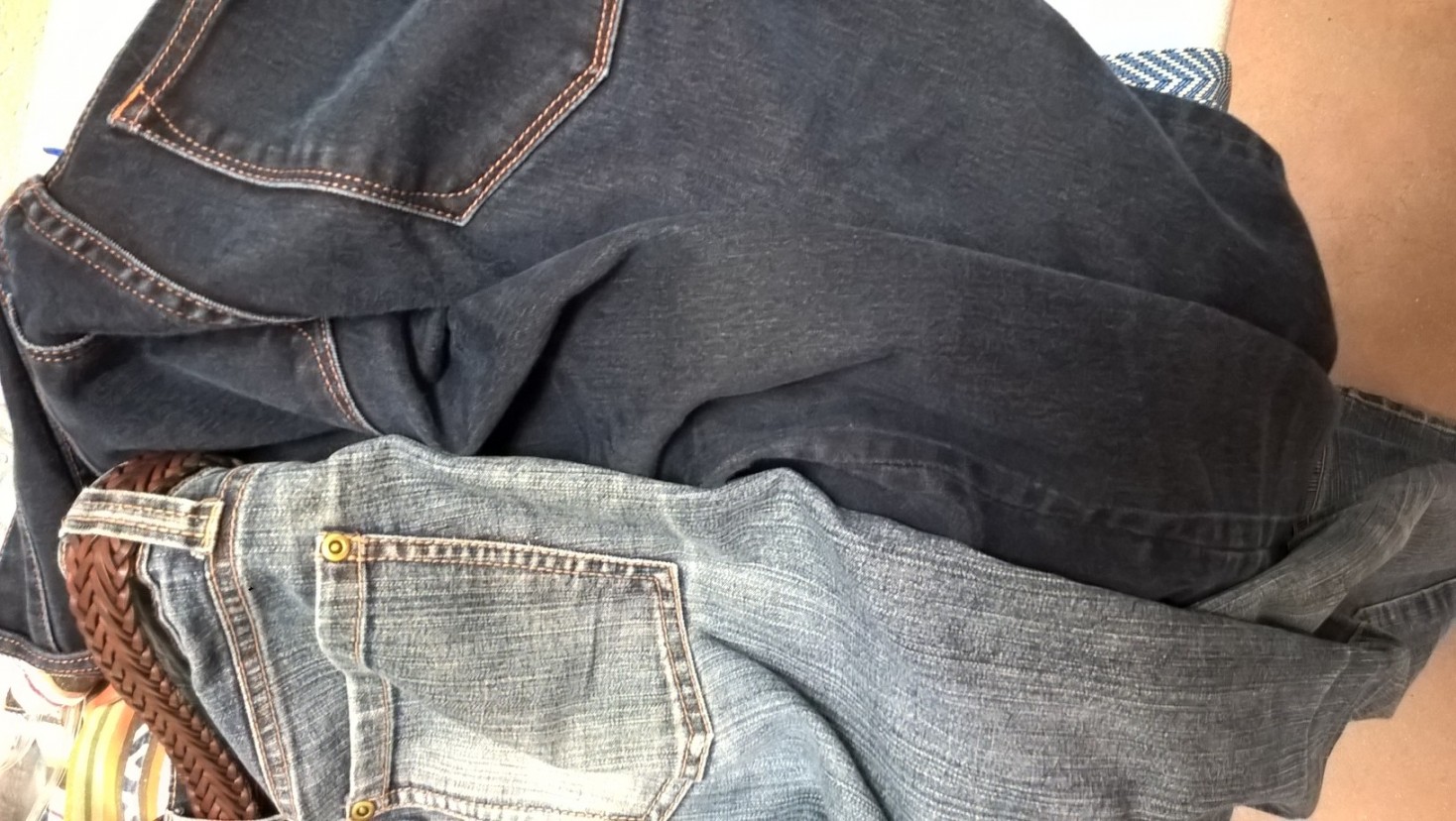 And next to my newly thrifted Pumas LINK – great match in color:
What do y'all think of the pair I picked?   What do you prioritize when shopping for jeans (thrifted or otherwise)?  Any tips for thrifting for denim?  And most importantly, SHOULD I TAILOR THEM TO A SLIMMER CUT??    Scroll down to comment!