Let's take a little trip back in time to some February thrift finds.
First up, the rejects.
Edited – I just found two more dress pics on my phone that I somehow skipped!
Handmade blue bamboo sheath
This baby was made out of beautiful fabric in gorgeous colors and I loved the notch neckline.  Alas, it was too big: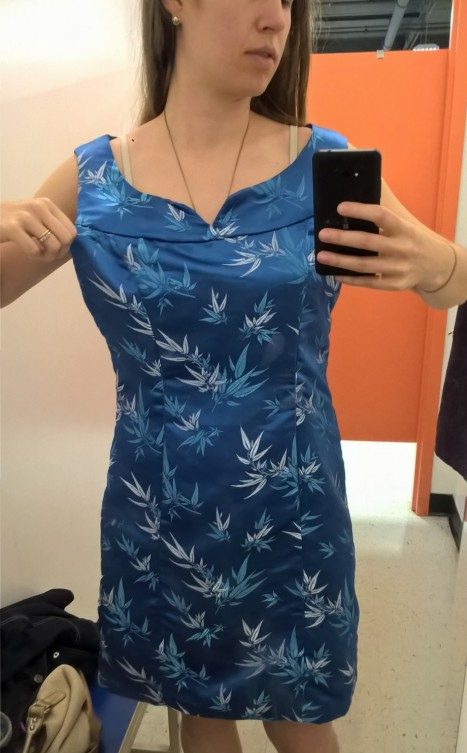 Closeup on that pattern/colors: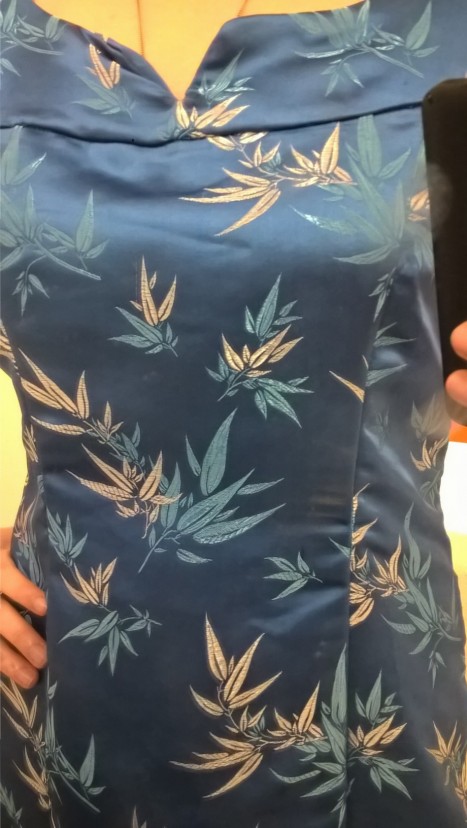 Yellow floral dress by Freaks of Go Go Spectators (since this appears to be the name of an album by the group Spiral Life, I assume this is also handmade)
I love the soft yellow and the thistles on the pattern, but it was TOO TIGHT across the hips: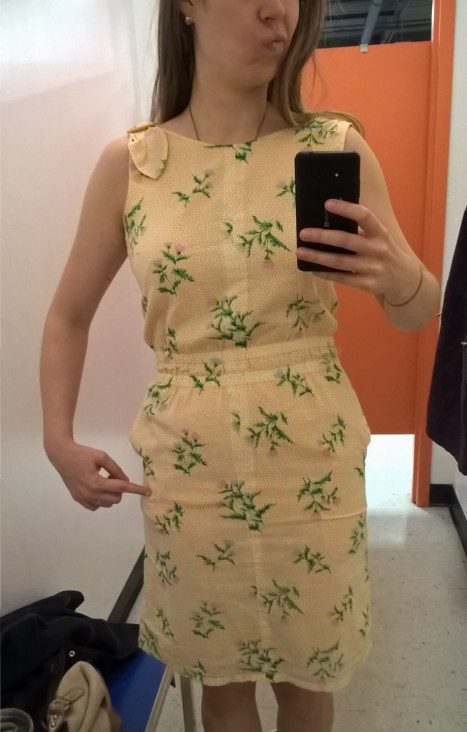 Agh, that shoulder ring detail!  I die.  So sad this didn't work.
Sweater dress by Loft
You know I love a comfy dress and a leopard print; the hem detail on this is great.  But it was pretty short…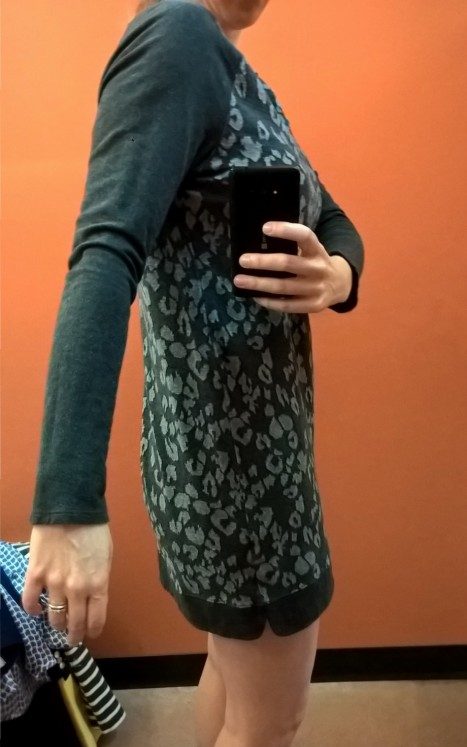 …and the fit was a little wonky near the bottom.  See how it pooches in on the righthand side?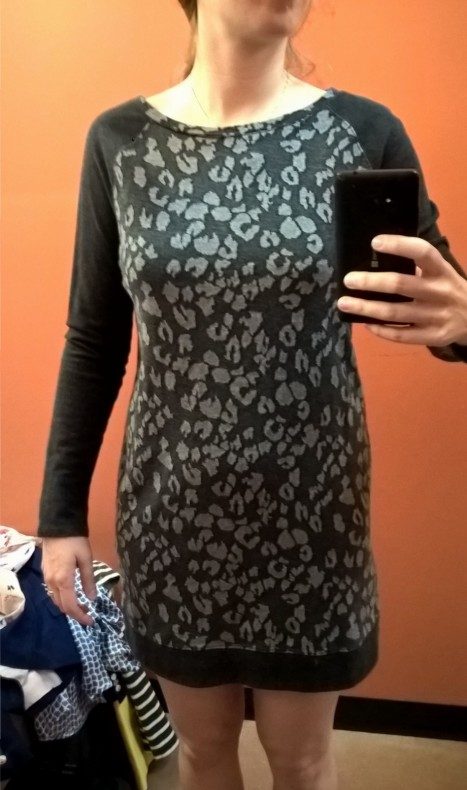 Plaid shift dress by Merona
I loved the color and the plaid on this dress but the fabric was cheap and the cut was fugly – much more muumuu than mod.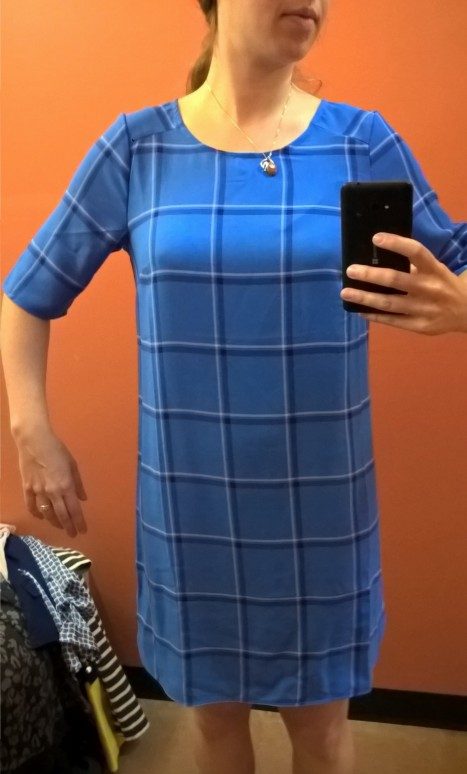 Striped/colorblock dress by Gap
This may remind you of another dress I own; so when it felt a little too baggy/summer in Maine (where I do not, alas, live), I said no thanks and gave myself a pat on the back for resisting a pattern/color combo I love but already have.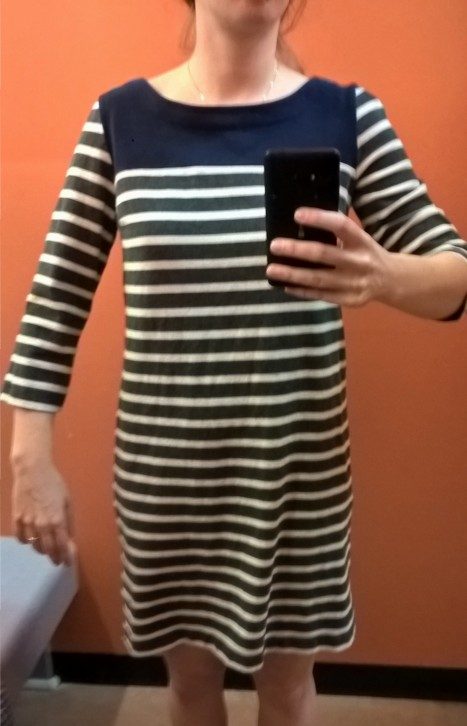 Colorblock dress, no label
I LOVED the color combo here – so bright and sunny! And I'd love to add a yellow dress to my repertoire. Plus look at how classy those pleats are and how pleasantly they symmetrize (new word?) with the darts in the bust!  Alas, the top was a smidge too tight across the chest (see the pulling?) and too big on the collarbone, and the skirt too short.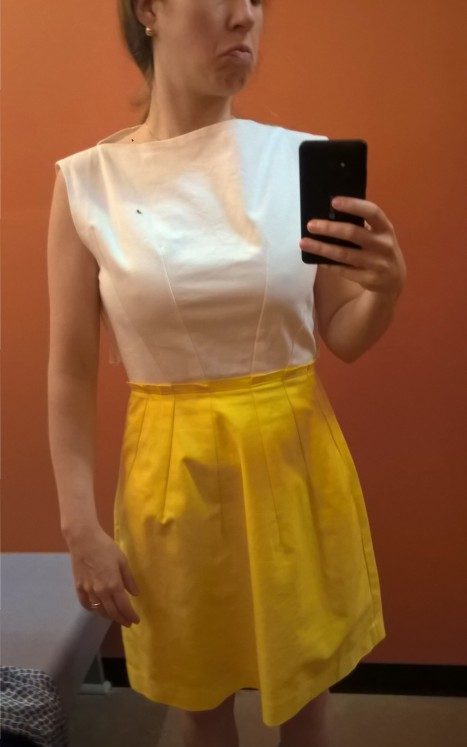 Geometric blouse by The Limited
Cheapy fabric made the lovely color (below) and the potentially chic, loose cut all wonky – see how the hem flips up at the bottom and the fabric puckers diagonally across the middle?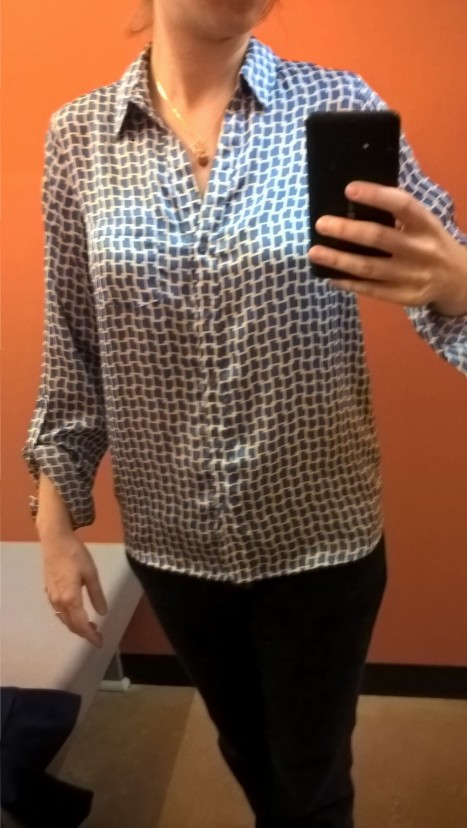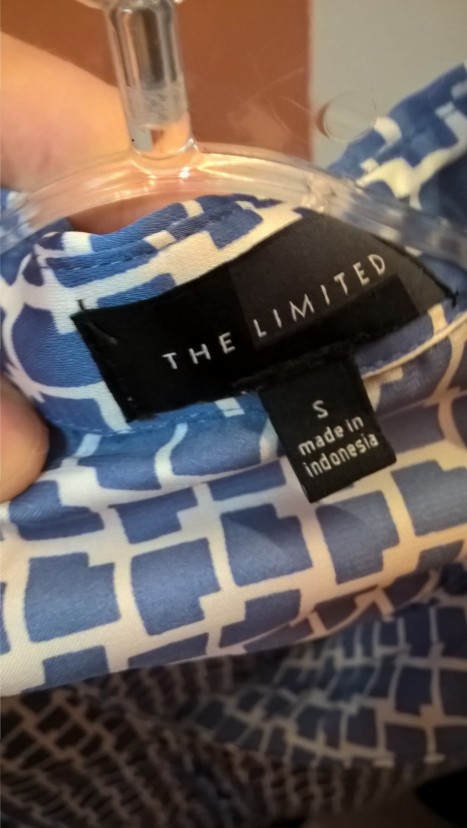 Ivory blazer
I didn't get a shot of the label on this one. It had an odd combo of modern-looking lines (check out the shawl lapel!)and vintage length and cuff details:
Striped shortsleeve blouse, Old Navy
I really wanted this to work as a flowy, chic alternative to my cotton tee of similar pattern, but it was just too big.  Boo.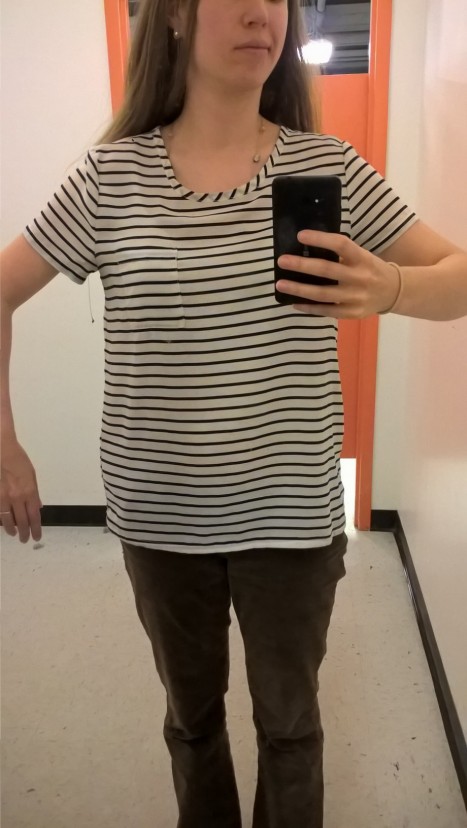 Old Navy plaid popover blouse
This shirt felt so good on – simple, comfy cotton – and has one of my favorite features – popover! Plus I loved the plaid and the colors.

From the side, though, you can see that it's pretty baggy in a not-on-purpose way.  And seeing these pics again I'm glad I didn't go for it although I was pretty sad at the time because it looks pretty darn casual which relegates it to the weekend, not work-wear territory.  I already have a couple of weekend shirts I love and I don't care who sees me wear them repeatedly so this one stayed on the rack.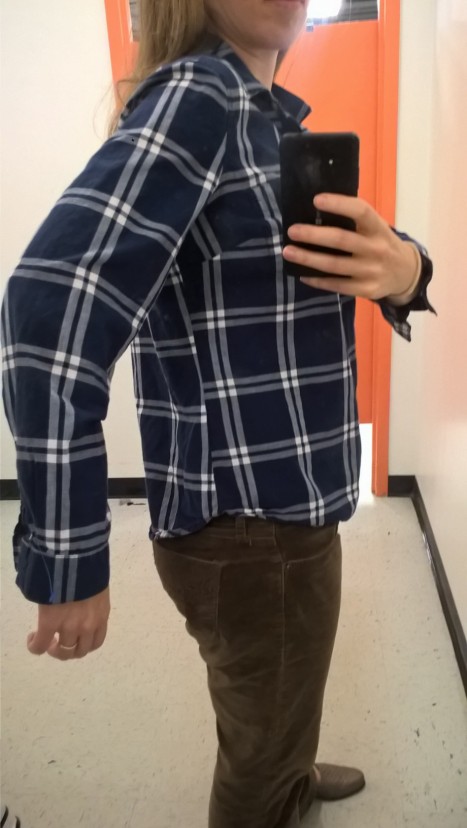 Collective Concepts blouse
I've been looking for a palm print blouse; this had the colors but NOT the pattern.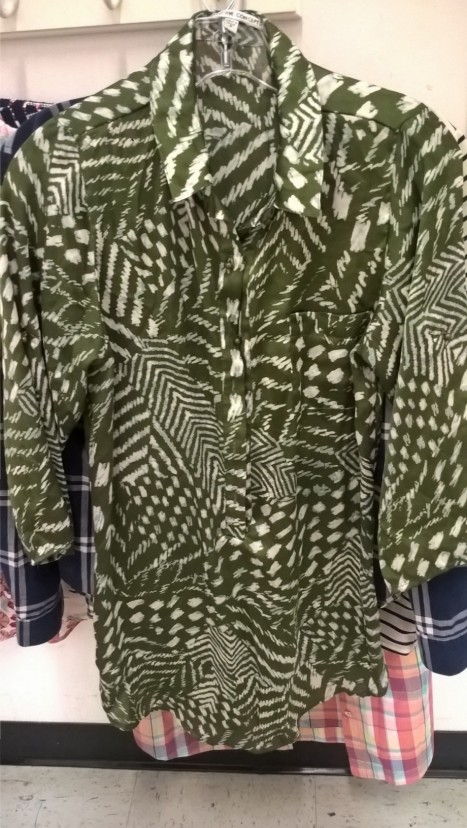 Madras plaid shirt dress by Tommy Hilfiger
Great colors, great plaid, great shirt dress!  Just too short to wear without leggings (and who wants to wear a gorgeously summery shirtdress like this with leggings?) and too blocky/baggy in key areas: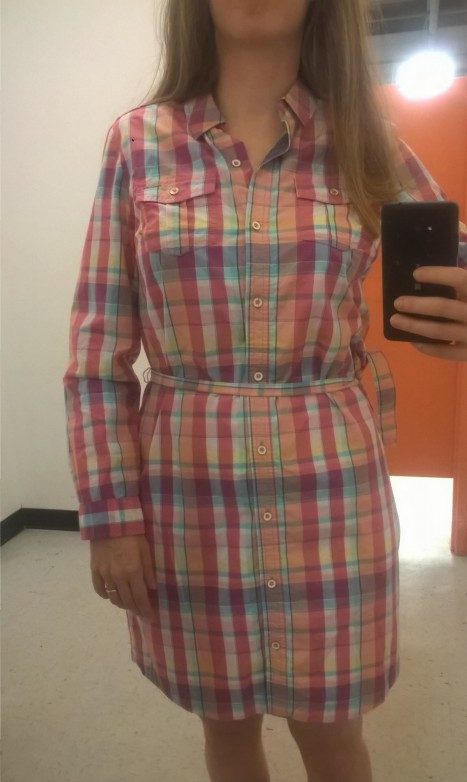 Hexagon sleeveless blouse by Gap Designed & Crafted
Love the colors in this and the pattern, and I definitely could use another sleeveless blouse in my work wardrobe.  But I could baaaarely button this sucker across the chest.  You can see that a bit here:

…and even more here in the back: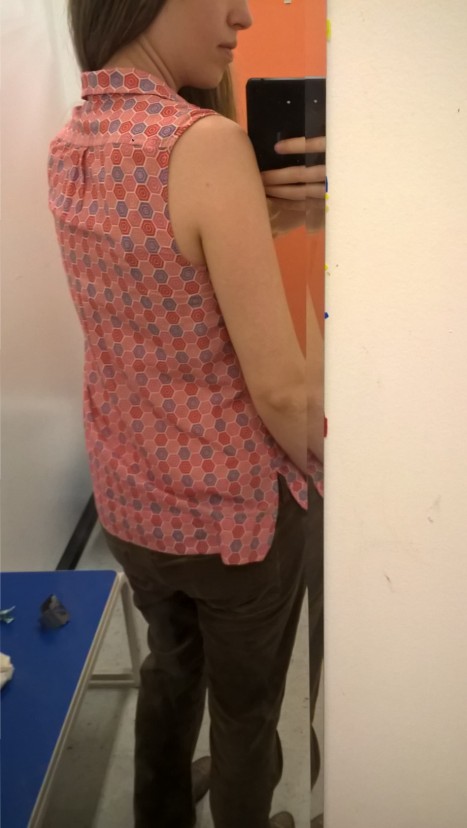 I've seen this one in the thrift store before and now know this size doesn't fit me, so I'll be on the lookout for a larger version.
Yellow ikat sleeveless blouse by Cremieux
Same story here; just too small.  But wouldn't burst of yellow look great over white pants or skirt?  Going to keep my eyes peeled for something similar…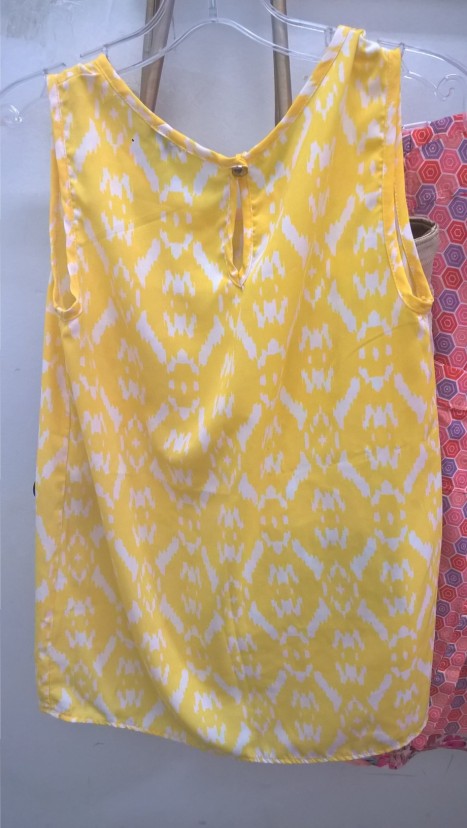 And now, time for the keepers!  We got a lot this go-round.
Orange sheath dress by Anne Klein
I found this dream of a creamsicle-colored sleeveless sheath the same day I had my coat dress epiphany. This dress is a good orange for my skin (I think? at any rate it's not a bad one) and it will be a great work dress, paired gloriously with my chrysanthemum cardigan and/or my white denim jacket (see below).
The accompanying coat dress did not, however, make the cut, due both to baggy sleeves and giving me a She-Ra chest that I have in no way merited: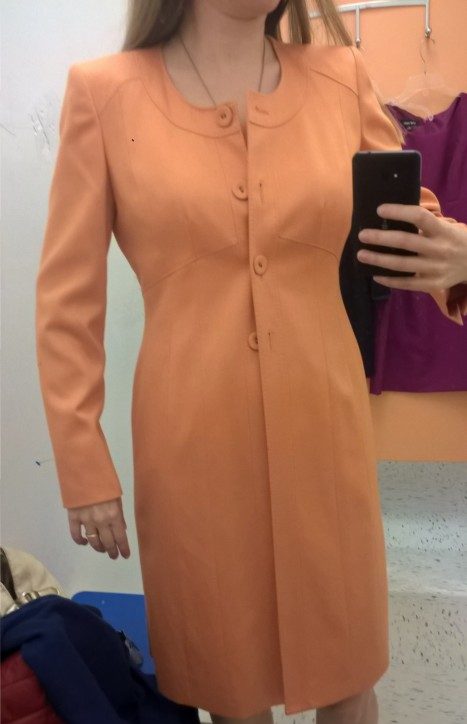 Talbots floral shortsleeve blouse
The accent colors go great with my summer wardrobe, but I'm a bit worried the background color is too close to my skin color and will wash me out.  Also, looking at the thickness and contrast of that neckline I'm not as excited about how abruptly it cuts off… We'll see how much I reach for it this summer.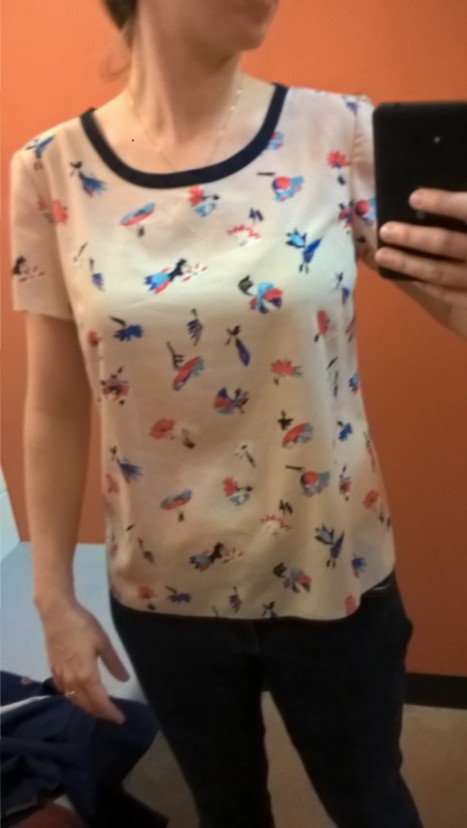 Here's a slightly more in-focus pic with one of my blue blazers before I removed its extraneous buttons: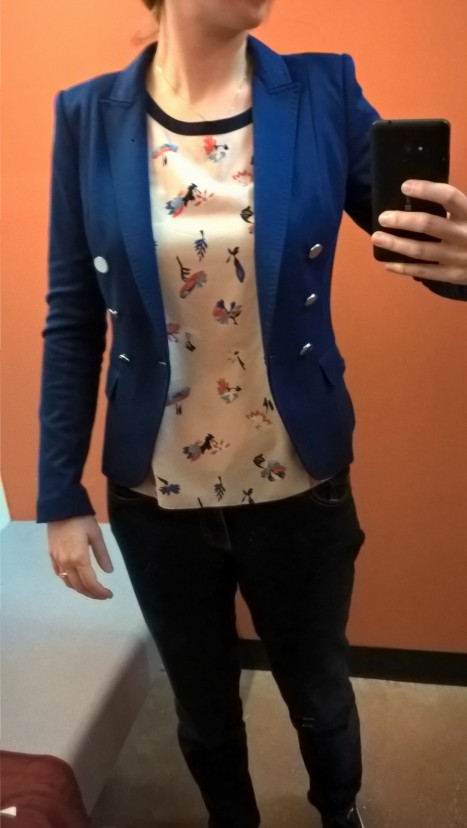 The Savile Row Co. polka dotted vest
I am wearing this as I type, which after wearing it practically 9 days straight is a good sign that I still like it a bunch (and that this sucker goes with everything!). My favorite part is the back hem (which you can't see here unfortunately) because it's curved and a bit lower than the front hem and it just makes it look more shapely and less boxy like vests are prone to do.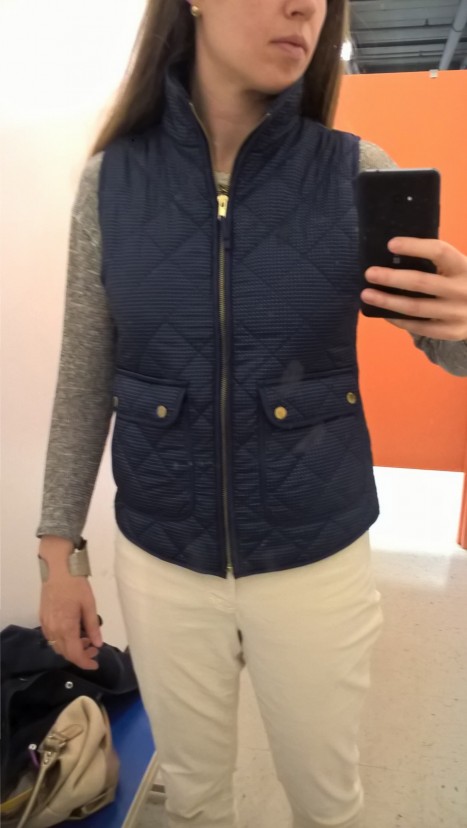 Fun2Fun geometric popover blouse
Apparently this blouse retailed for $48. I love the fit – the little pleat under the placket makes it a little flowier than other popovers – and of course the roll-tab sleeves and the open collar.  I'm not sure I love the giant geometric print, though – it just feels too blocky and big for my style.  I may play with it this season and then pass it on.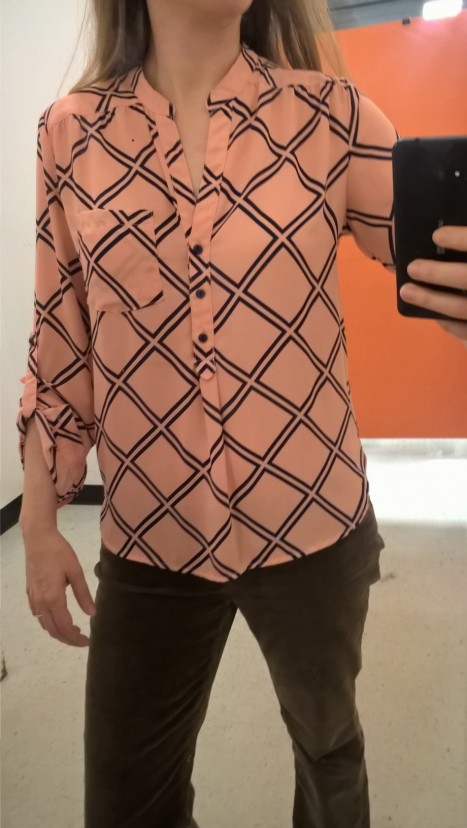 See the difference in the way it flows (and in the length) from the blue plaid popover above?
Floral blouse, label cut out
I LOVE the colors on this blouse.  The sage and moss greens, the deep reds and warmer pinks, the little pop of gold in the buttons… it straddles the line between "warm" and "cool" colors but I think I (a person with a warmer – ahem, apologies to artists, more yellow-based – skin-tone) can pull it off. Also shoulder tabs and an open collar for the win:
Nice skimming fit in the torso:

Close up on the pattern and collar: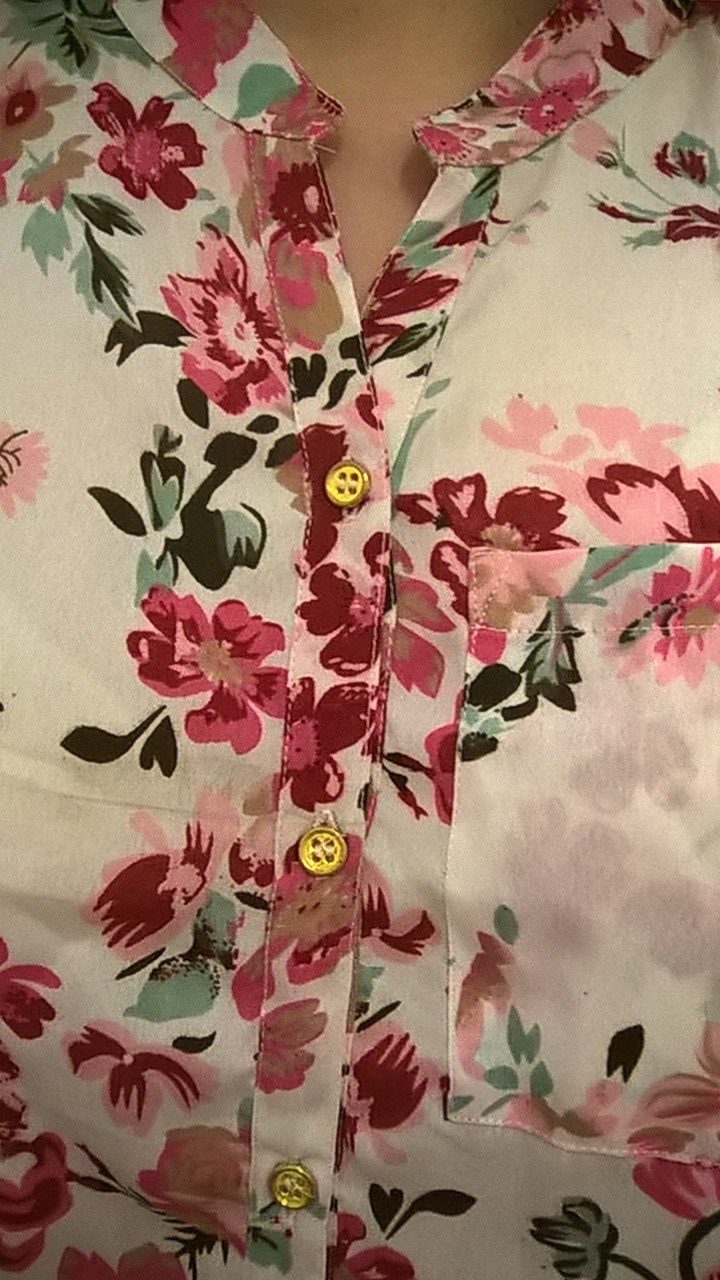 Marled grey unlined blazer by Merona
Once again Merona brings it with a great-fitting blazer.  I don't know why these work so well for me – mass-manufactured big box clothing line would not seem to be the place where you'd find great blazer cuts which are hard to do anyway – but they do.  And although it's stretchy and feels almost like a sweatshirt, the fabric is substantive enough to hold its shape minus the lining.  Win.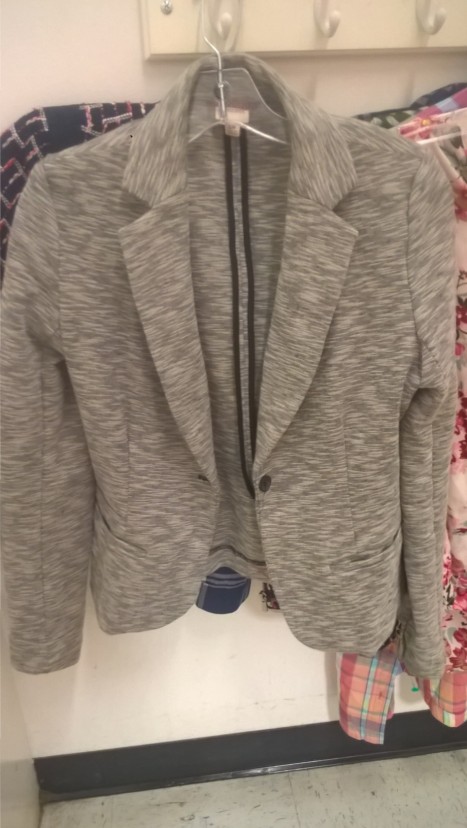 Look at that fit, in both the sleeves and the torso/bust!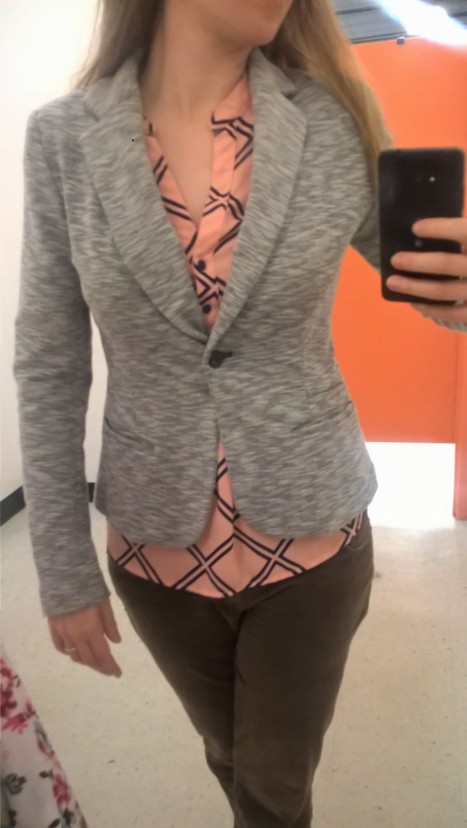 The grey is a little too light/"cool" for my taste, but I couldn't resist how perfectly it fit.
That's a wrap!  Did we notice a pattern that I said "yes" to a few things I don't love mixed in amongst with things I do?  That's part of the reason I took a step back and gave up thrifting for Lent – I was starting to relax my parameters in the rush of thrifting things that were great finds in some way, but not perfect for me and my wardrobe at this moment.
Once something is in your closet it's a lot harder to let go of. You start to justify its presence and you already feel attached to it in via "shoulds" – "I already have this, I should wear it" – even though you don't love it.  Hello Endowment Effect.
I'm hoping that this Lenten thrifting fast will not only give me more headspace for all things spiritual but will also restart my relationship with my closet and help me tap back into that feeling of finding a perfect wardrobe match instead of falling for also-rans.
What'd you think of my finds?  Do you have trouble saying "no" to something that's close but no cigar when it comes to closet love?  Scroll down to comment!