Our trip to Ireland last week was glorious – a great mix of wandering city streets in Dublin and Galway, hiking in Glendalough and the Burren, and celebrating in pubs and at the wedding of a dear friend.  But in between, of course, I made time to stop in pretty much every thrift shop ("charity shop" in that part of the world) we passed – for the first half of the week, anyway. More on that in a second.
My spouse was a willing accomplice since he was looking for a tweed sport coat.  I'm sure it didn't hurt that I soon realized there were dozens of such shops and I would have to be quick in each one if I wanted to see things like, say, Trinity College.
First up, the Dublin Flea Market, held in Newmarket Square on the last Sunday of the month (we had grand timing!).  They had indoor and outdoor stalls with everything from secondhand clothes to LPs to furniture to Guinness signs and handmade jewelry, original prints, and cactus stained glass.
Oh hi Beatles record in great shape for €10.  You can't find that stuff in the US.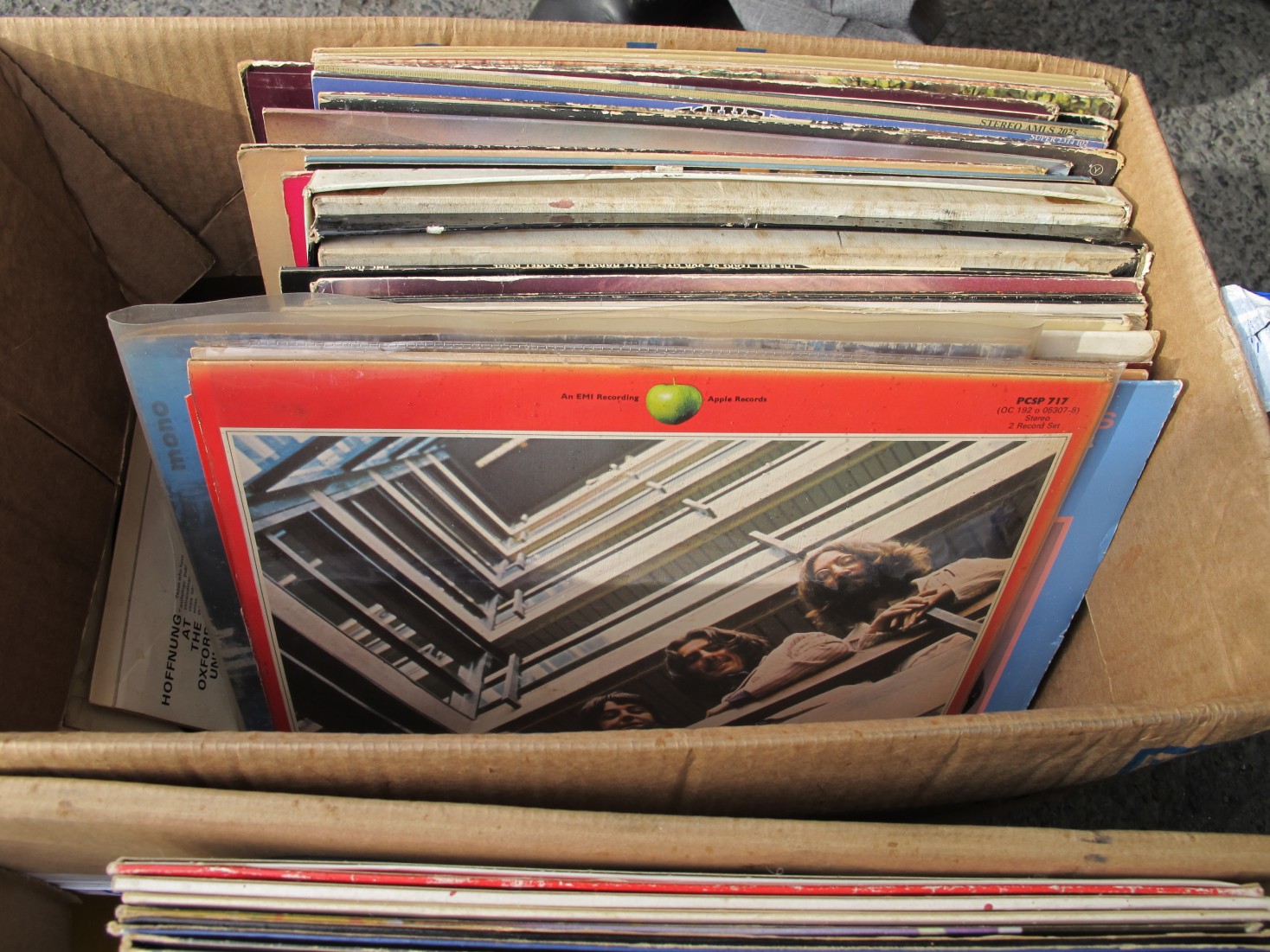 Tweed candidate…alas, too big: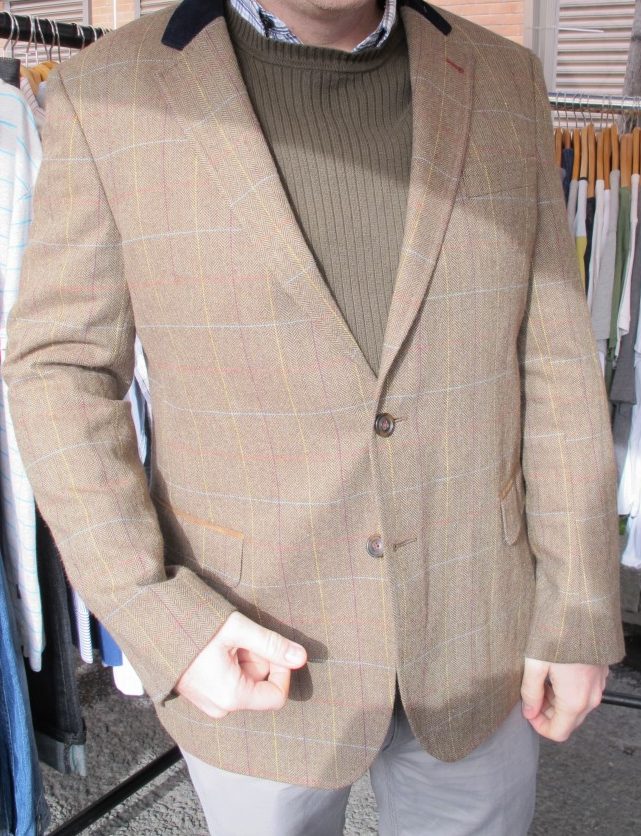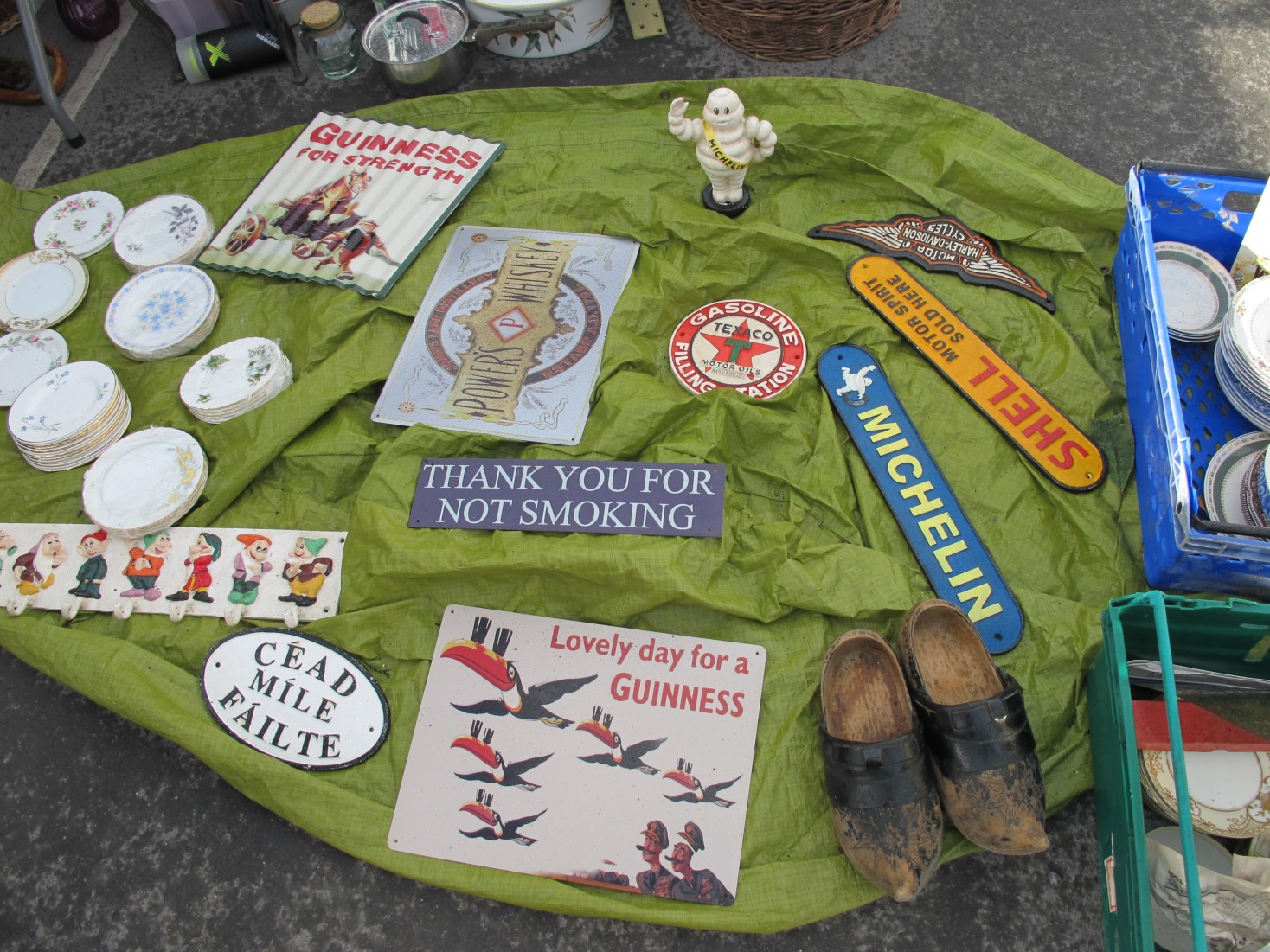 Original Dublin prints by the lovely lady below: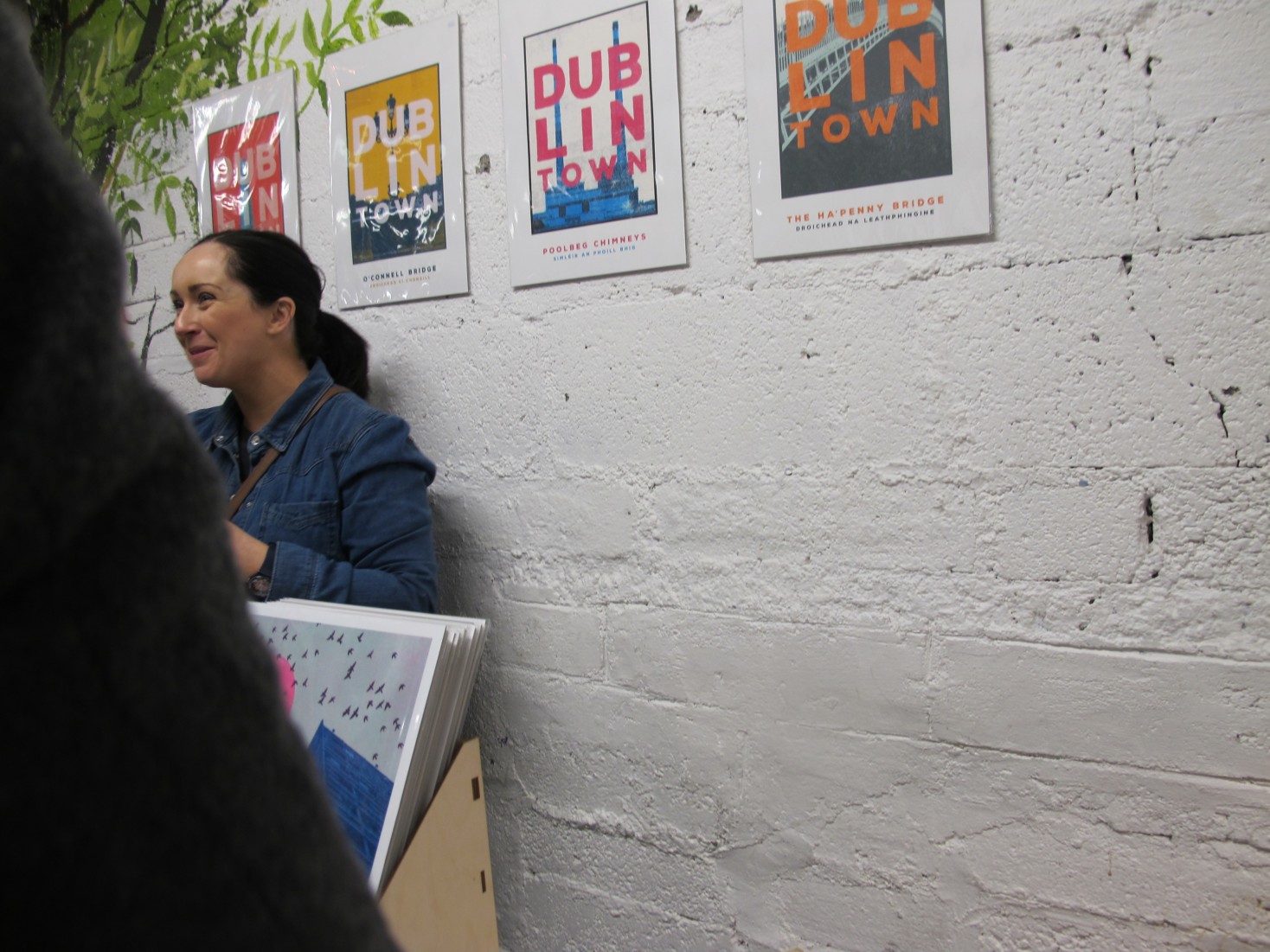 Did I mention the croissants and the falafel?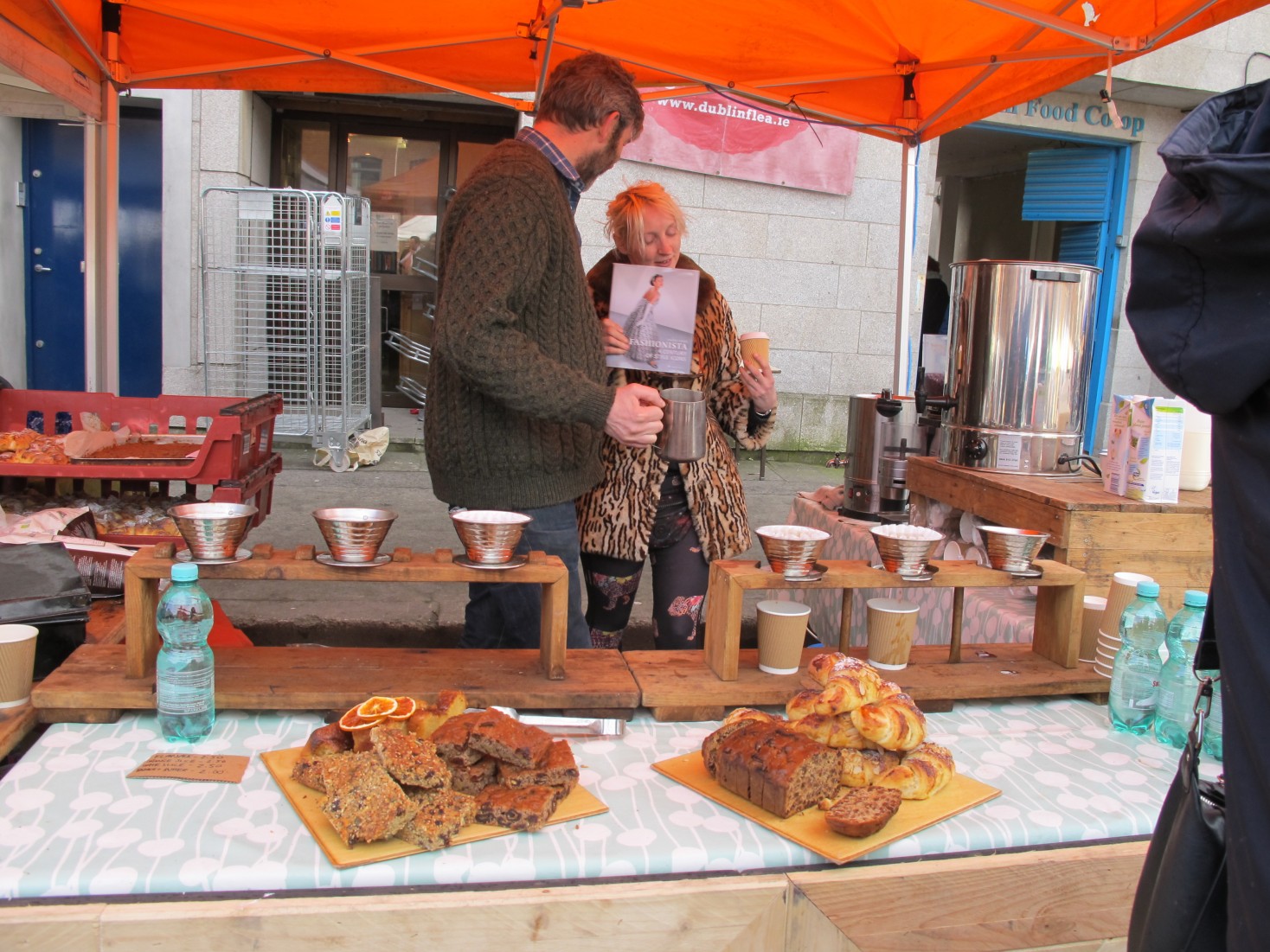 Ingenious method for brewing multiple artisanal coffees in one go.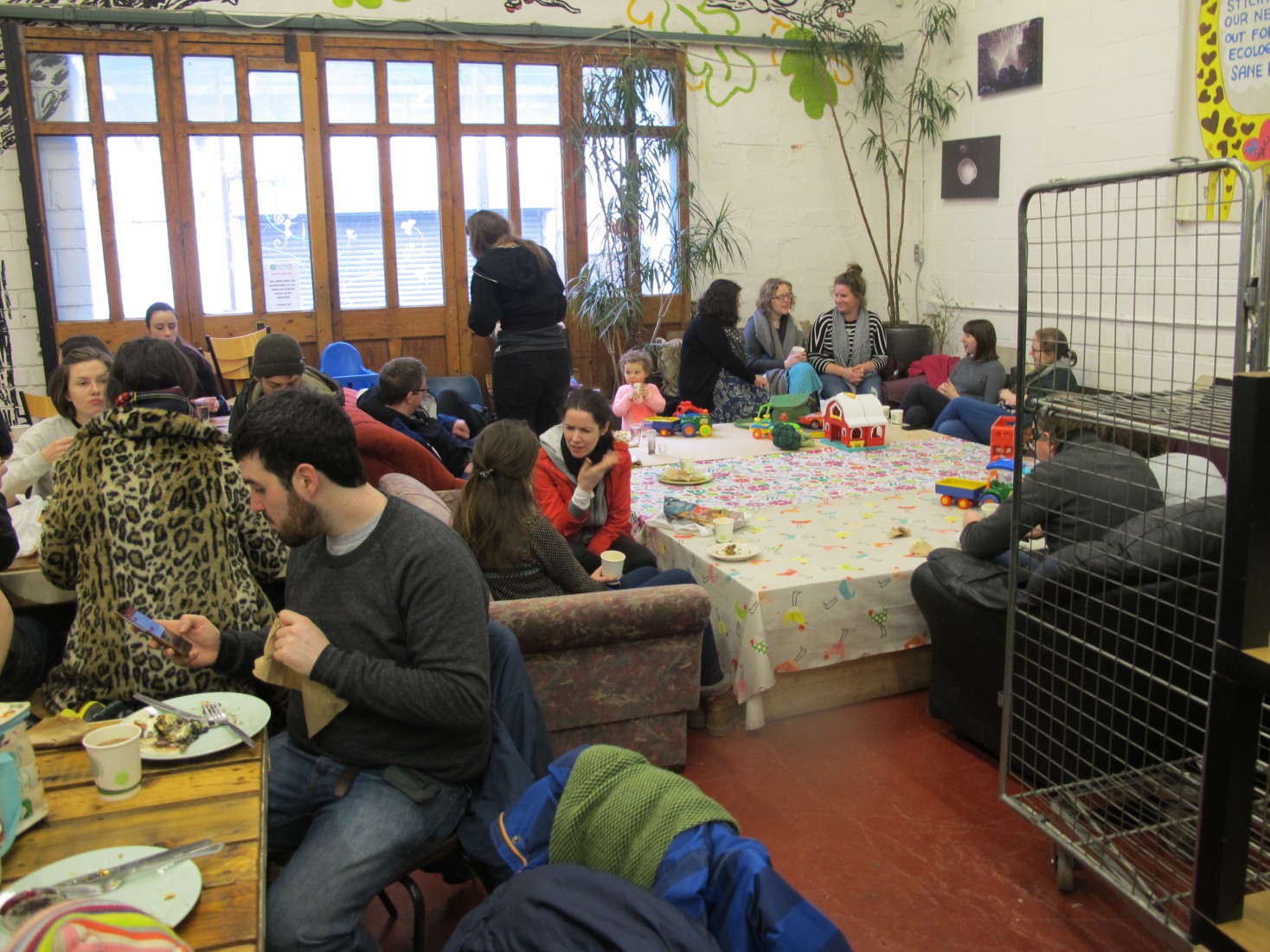 More on various Dublin flea markets here.
Bonus – the Dublin Flea Market is right next door to the Teeling Whiskey Distillery if you fancy a tour and a nip (we did; it was delicious and very informative about the distilling process and the Irish whiskey industry, including the time an entire whiskey warehouse went up in flames and the Dublin fire brigade put it out with manure):
In Dublin we also poked our heads into an Oxfam shop. (Thanks Eimear for the heads up on good streets for charity shops in Dublin.  It's very handy that they seem to all cluster together!)
First up, Vincent's, the savvy branding for a St. Vincent De Paul shop: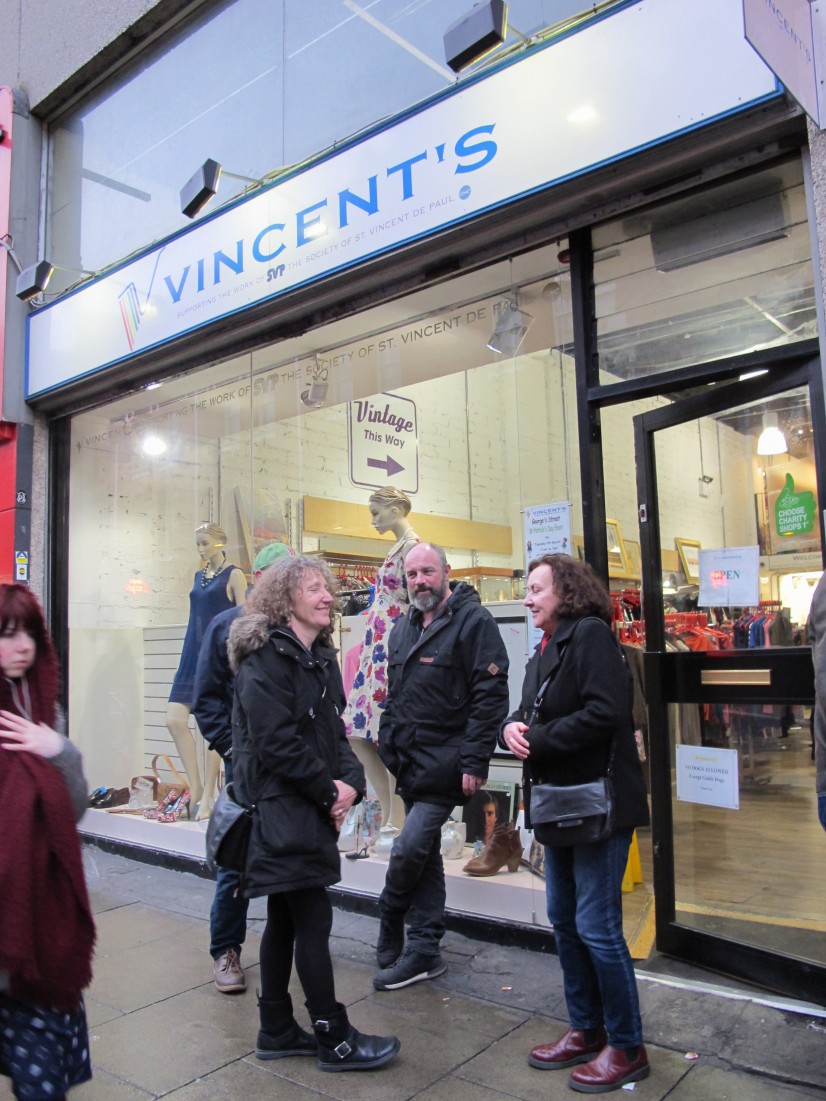 A nice blend between a Chanel-style blazer and a moto jacket: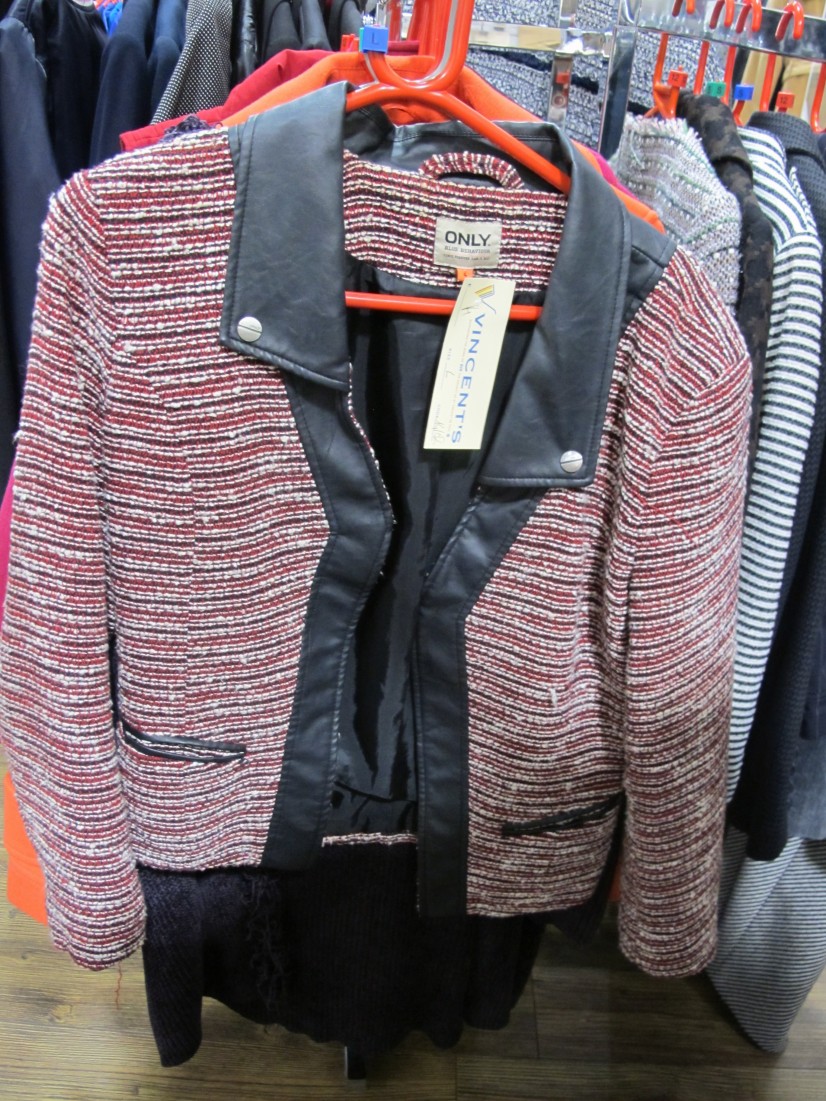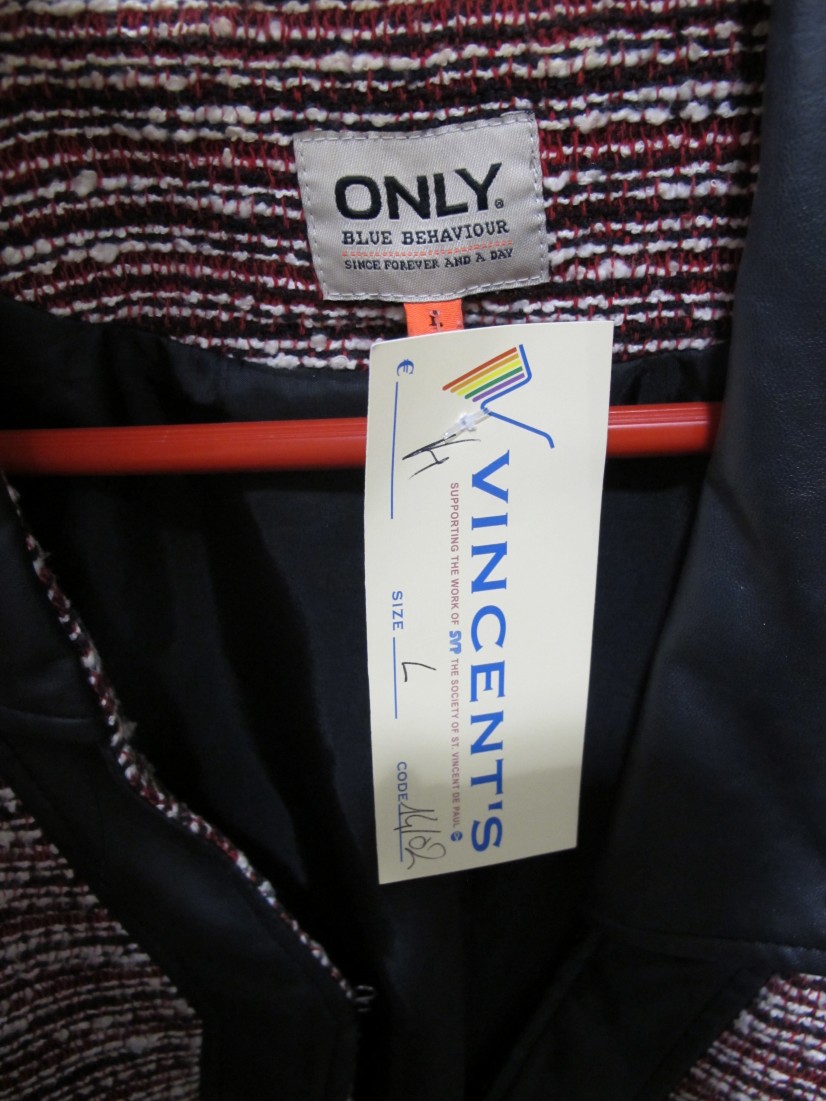 Someone please explain that brand tag to me?
RIGHT next door (so convenient), an Oxfam shop:
We walked past a few Enable Ireland shops as well but they were closed when we happened to spot them.
After those first two shops I realized I was going to have an entirely different thrift store experience from the States.  The shops were much, much smaller than your typical Goodwill or Sally; more comparable in size to family-owned small town thrift shops I've visited.  The selection was therefore much narrower, featuring mainly inexpensive brands with a few high street and vintage pieces thrown in.
My spouse and I talked about why this was with our Air BnB host.  The Spouse and I contributed hypotheses that rent for urban shop locations would be higher per square foot than a big box-size store in suburbia, and that Americans buy a TON of clothes; but when I did some research it appears that the average Irish adult spends just as much, often more, on clothing every year compared to the average American.  Scrap that idea.  Then our host Aoife (pronounce EE-fah) mentioned the climate as a common reason for lower inventory: clothes stored in Irish attics are prone to moisture damage because it's so wet.  I can see that as a reason for low vintage stock (bye, Granny's gorgeous wool coat from the 50s!) but am not sure how often this affects newer clothing stored just during the off season.  Can anyone in a wet climate weigh in?
Next stop was Galway.  Our first outing (apart from scarfing fresh fish and some Galway Hooker at Hooked – yum) involved a wander through Salthill and 2 more charity shops.
As Good as New: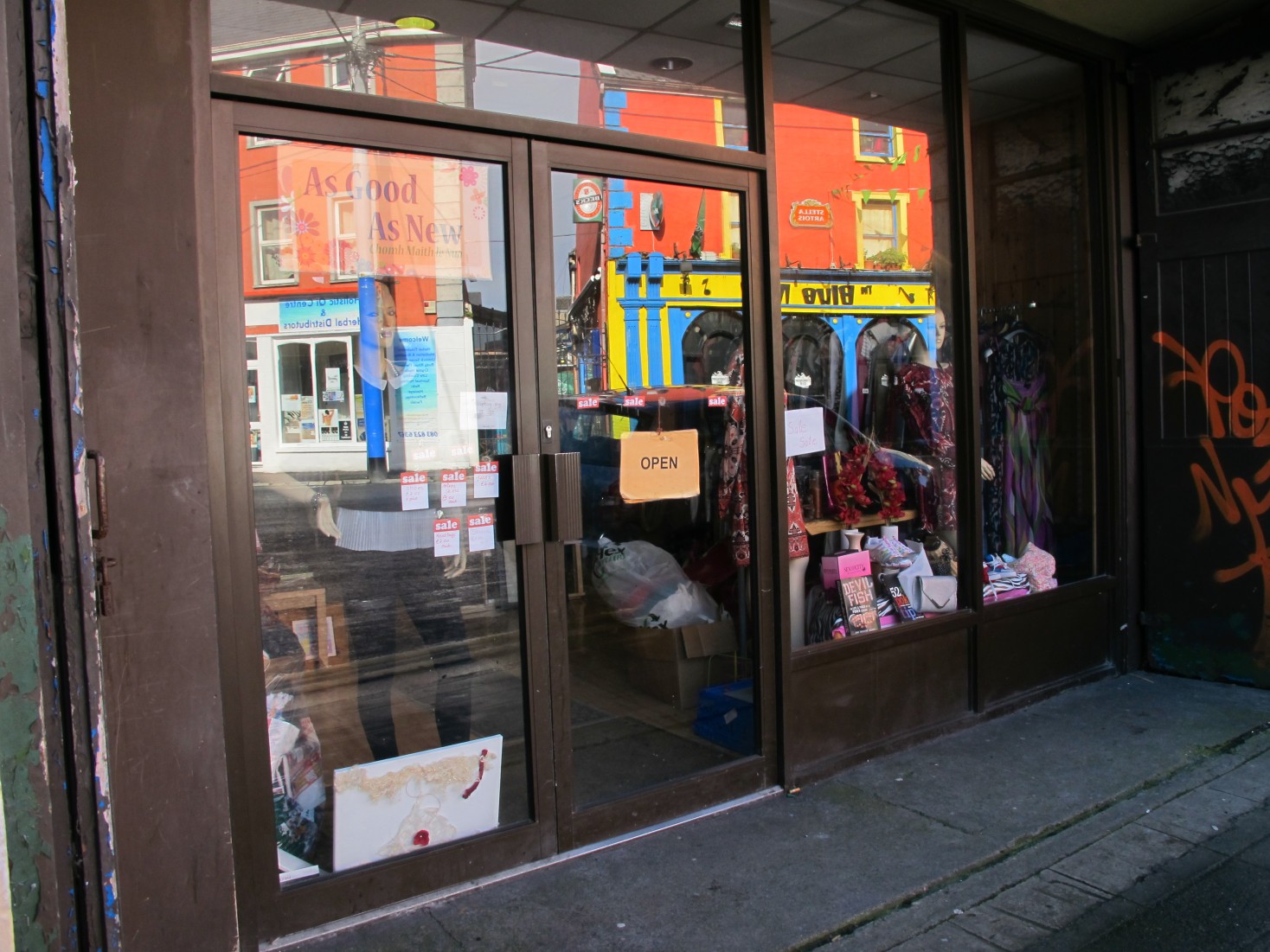 Oh Dorothy Perkins, I was dreaming of charity shops full of your sassy floral prints, but this one Chanel-esque blazer is all I found:
Lovely, but not my colors/size.
Gorta:
I almost got that hedgehog scarf but then didn't – although it was quite endearing, I decided it was a little too cute for my personal style. This brought my total thrift purchases in Ireland to a grand total of: 0.  Shock!
The Spouse, however, had forgotten his hat and figured a secondhand shop would be the perfect place to pick one up: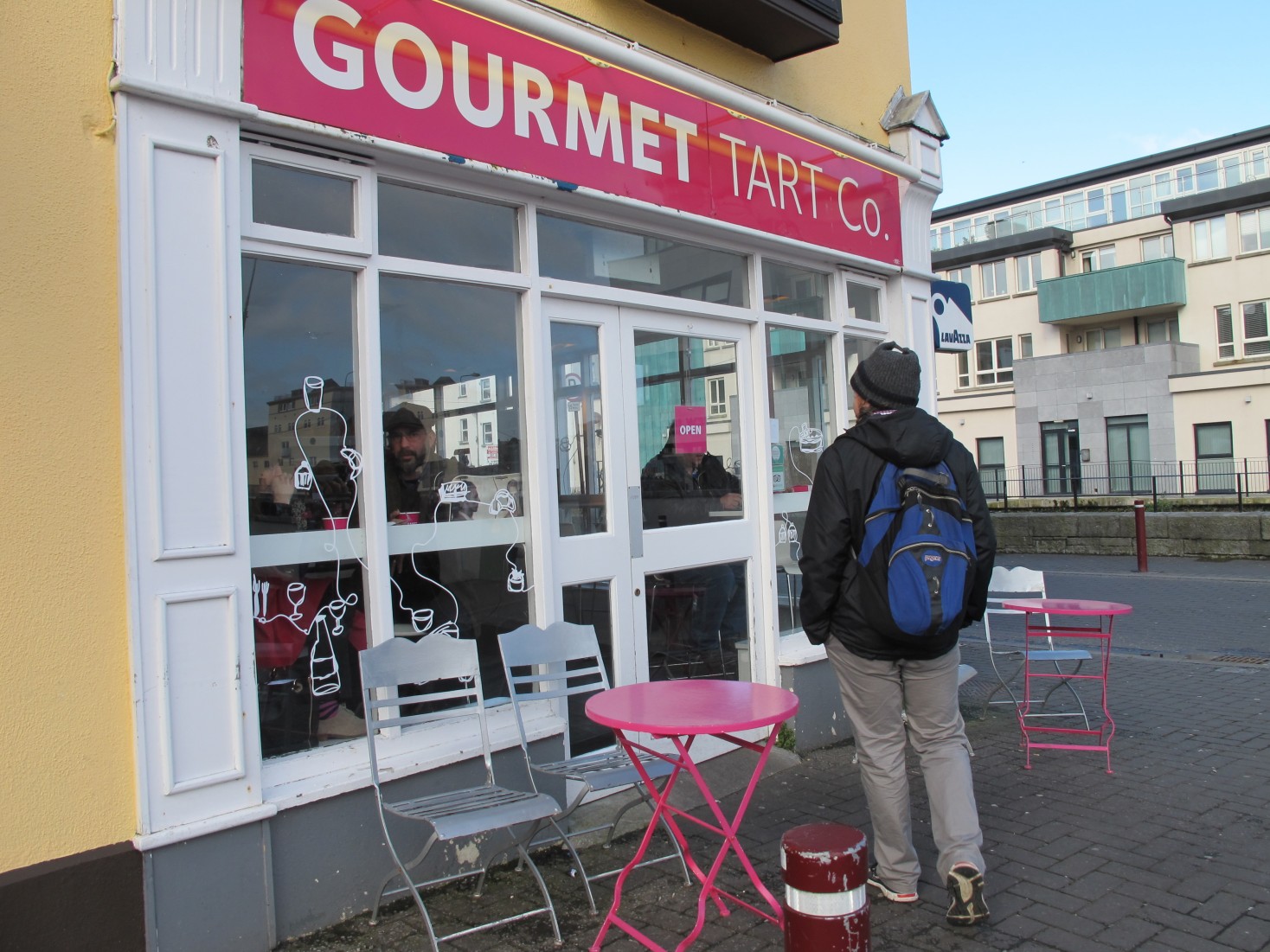 See how it sort of ties together at the top?  Subtle yet unique (or at least that's what I told him!). The Gourmet Tart Co. was lunch on our first full day in Galway.
Also in Salthill we perused a secondhand bookstore where I scored my dad some books about Irish railroads: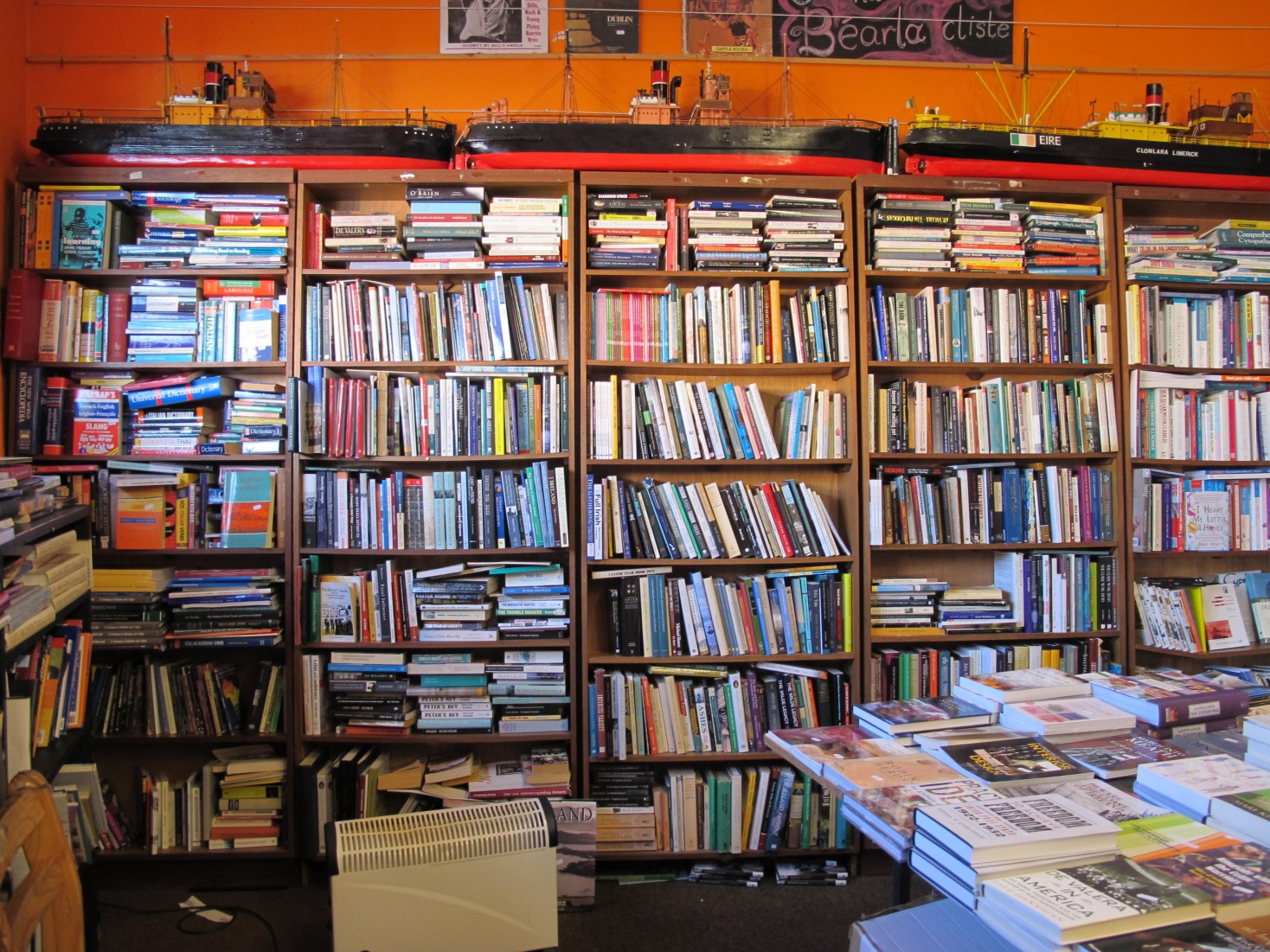 And where I failed to convince my spouse to buy either the Public Enemy or the Peter Gabriel LPs, both just €10, because he was afraid they would crack in our carry-ons on the way back home.  :(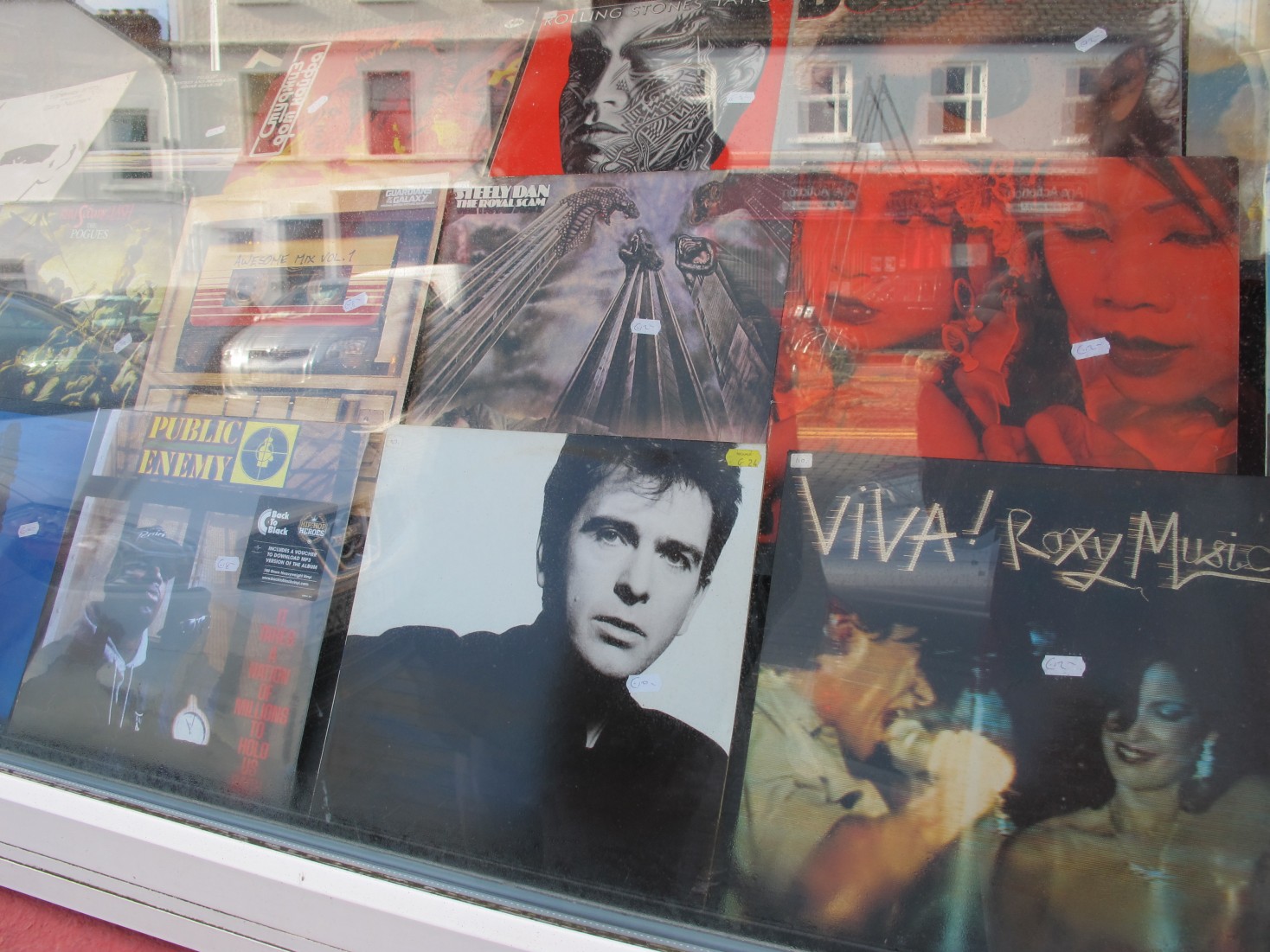 All this secondhand goodness in a charming neighborhood right next to the sea and happily dotted with pubs and traditional music: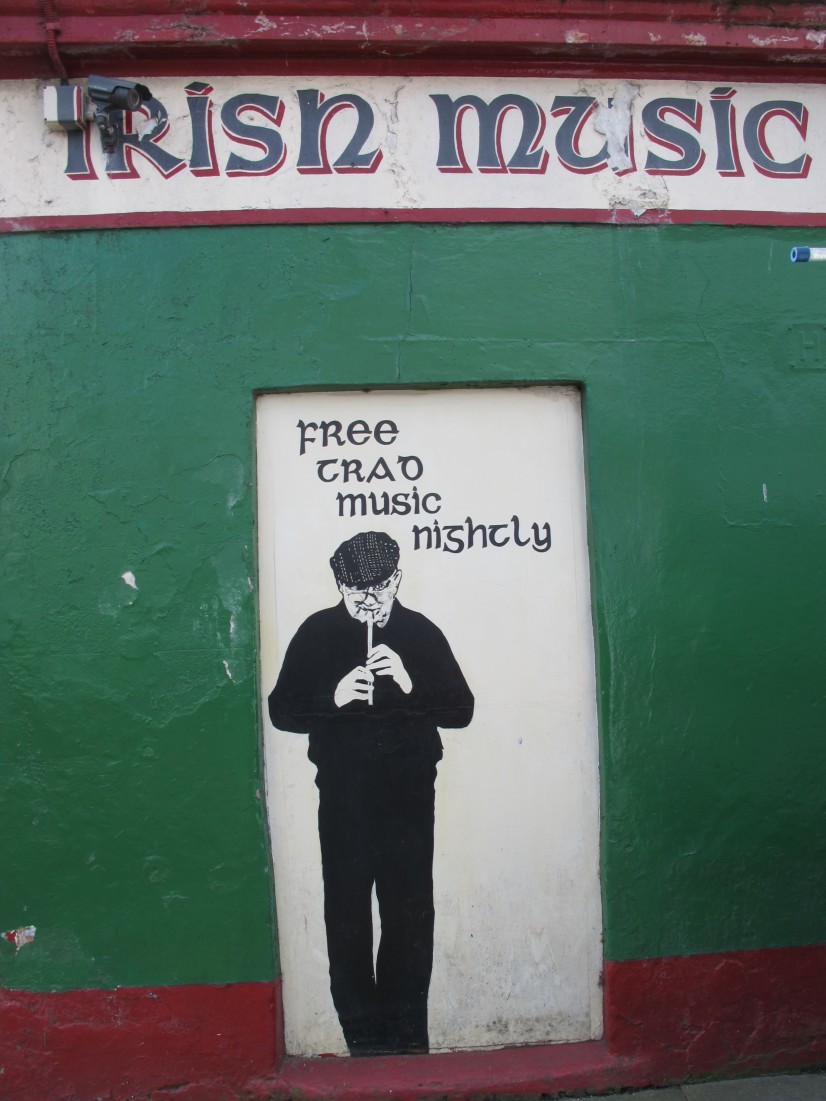 Later in the afternoon we wandered into a mall built around a medieval wall: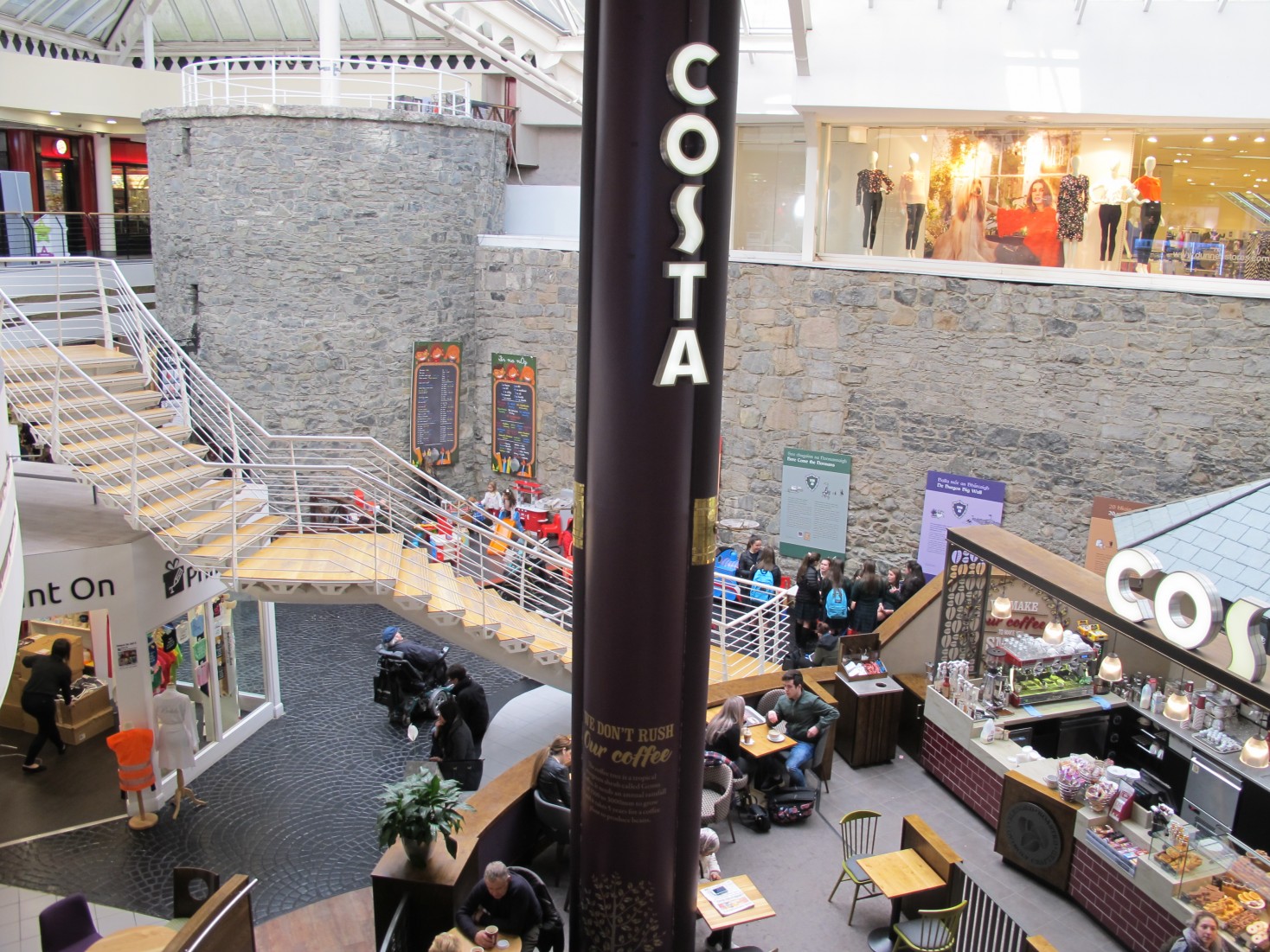 Complete with tower for sale: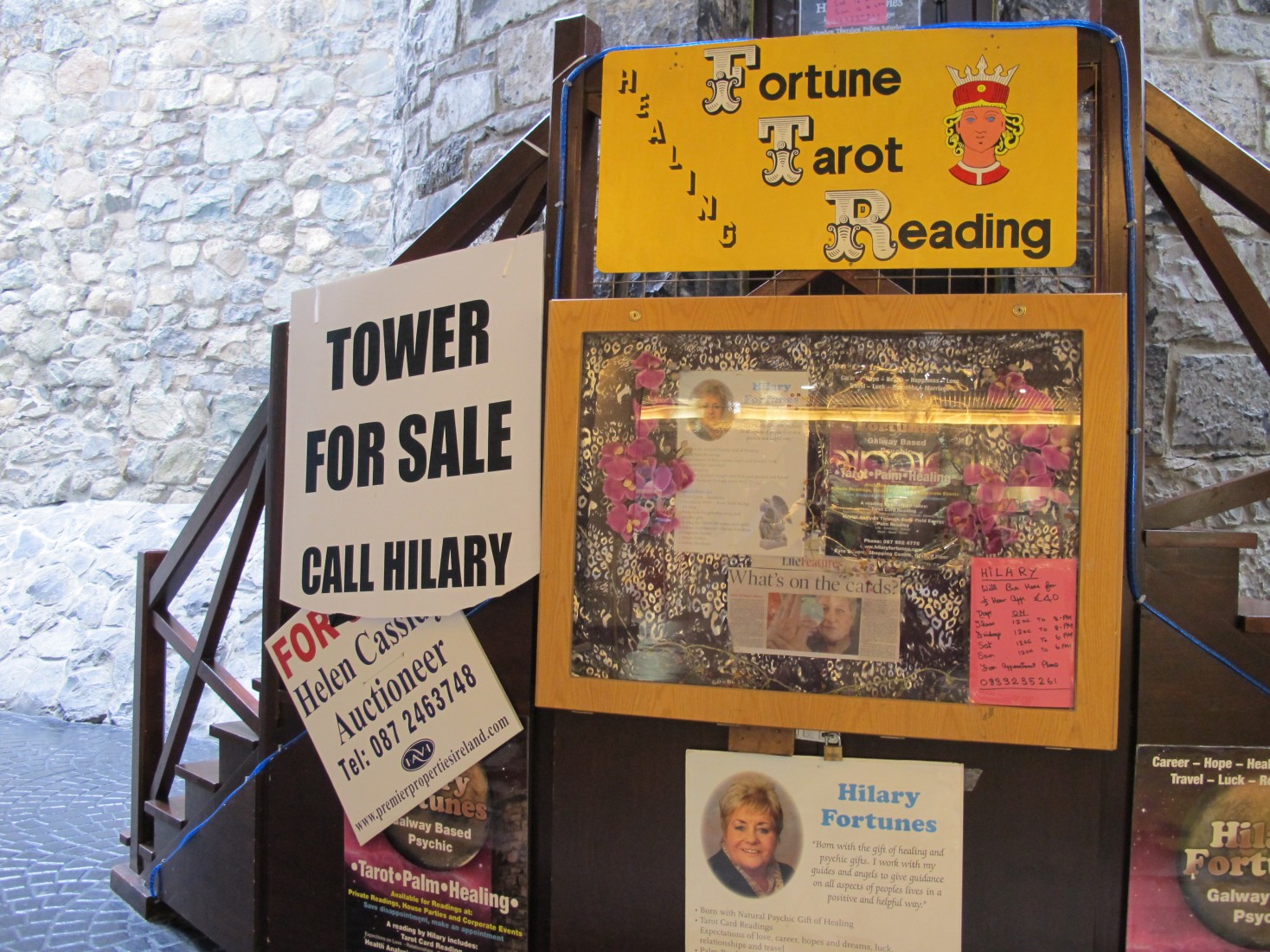 And concealing a lovely little consignment shop where I wish I'd had room in my suitcase (and wallet – it was €50) for this felted wool number: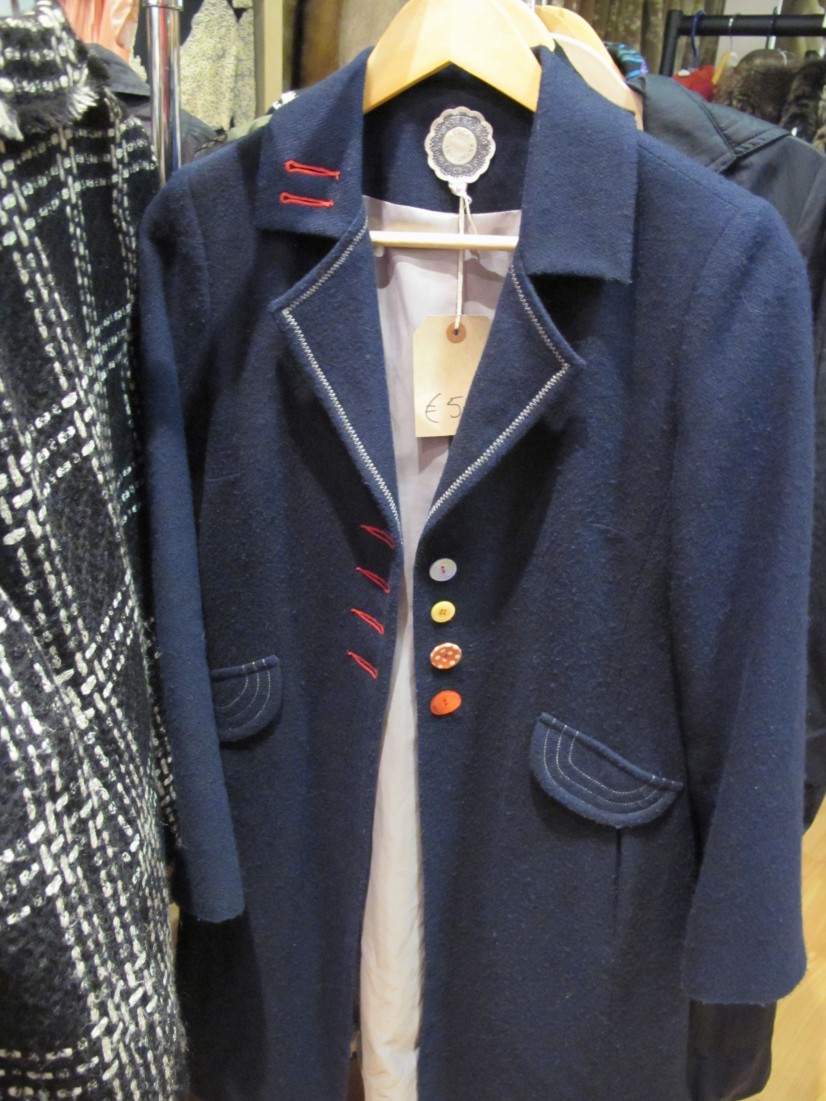 Lovely floral dresses:
Our second full day in Galway was Ash Wednesday, and as I had decided to give up clothes shopping for Lent, I determined to avert my gaze from all further charity shops encountered on our trip.  I was almost successful; still hunting for a present for my sister, I did stop into one next to the Aldi where we went grocery shopping on our last morning in Galway.  (Aldi in Ireland is magically twice the size and has 4 times the wine section of Aldi at home.)  No luck for a funky little present, though, and I managed not to even look at the clothes.  High fives.
Why did I give up thrift shopping? (For clothes for me, at any rate – clothes for my kiddo or husband or friends and books/homewares are still fair game.)  I realized I had been too often thinking of my free time in terms of how I might fit in a run to the thrift store – as opposed to a run through my neighborhood or a run after my kid as the "tickle monster."  Like a goldfish (or maybe an invasive plant?) my highly enjoyable habit had slowly grown to take over as much time as I allotted it – and sometimes more.  During Lent I want more time for spiritual habits like prayer, contemplation, reading theological and ministry-related books, and generally doing things that ground me (e.g. spending time with my family).  I knew thrifting would cut into all of that.
I also realized that although I'm rather satisfied with my current cool weather wardrobe and have MORE than enough for spring/summer, I've kept shopping. And more often than not, I kept finding something I just "couldn't" leave on the rack.  If I'm shopping with a friend or my spouse, trying to help them find the perfect secondhand find, I can be totally disinterested in clothes for me.  But if I'm just popping in by myself to check things out, I have a harder time saying no to something I really like – even if I know I already have a surfeit of clothes in my sartorial stash.
Frequent shopping is part of successful thrifting – if you don't look often, you won't find the gems.  But my wardrobe, and my inner life, can go 6 weeks without more clothes to clog them up.
No worries for all you readers, though – I have plenty of post ideas and plan to spend more time writing about how I've styled what I already have, something you all have asked for.  Also check back in the next few weeks for posts about outfits I wore in Ireland out of my carry-on suitcase; packing tips; Irish street style snaps; and, if you'd be interested, a post on our favorite (non-thrifting) things we did on our trip.
Sláinte, and for those who observe it, have a meaningful Lent!