A few weeks ago – I think it was while I was starting to put away some of the really heavy winter clothing (the lighter stuff is still around…sigh) – I realized that I had worn just a few dresses over the winter, some just once.
And although I cycled through a few different clutches of sweaters this winter, by the end I was consistently wearing…three of them.
And really only two main collared shirts under those sweaters, plus two flannels.
And basically three pairs of pants, plus one for the weekends.
And one blazer.
And I hadn't even combined them all yet in all the different ways they could go together – I kept wearing the same few combinations that were easy and I loved. So why did I have so many clothes in my closet?
That moment was a good reminder that thrifting – and the sweet prices that go along with it – can often lead to a closet full of things I love, but too full to wear them all as much as I'd like. (I suppose I could theoretically end up wearing all those clothes over several seasons…but my winter style has been distinctively different each of the last three years, so I'm not going to pretend I'm going to wear that entire drawer stuffed full of sweaters for years and years. Plus stuffed drawers – ugh, too hard to find what you want and keep it unwrinkly!)
I've pondered this before; it's a cyclical thing, and I'm okay with that. Although it IS really enjoyable to discover exactly how much I need and have the permission to love those pieces and let go of the rest.
For example, I'm happy with one blazer right now: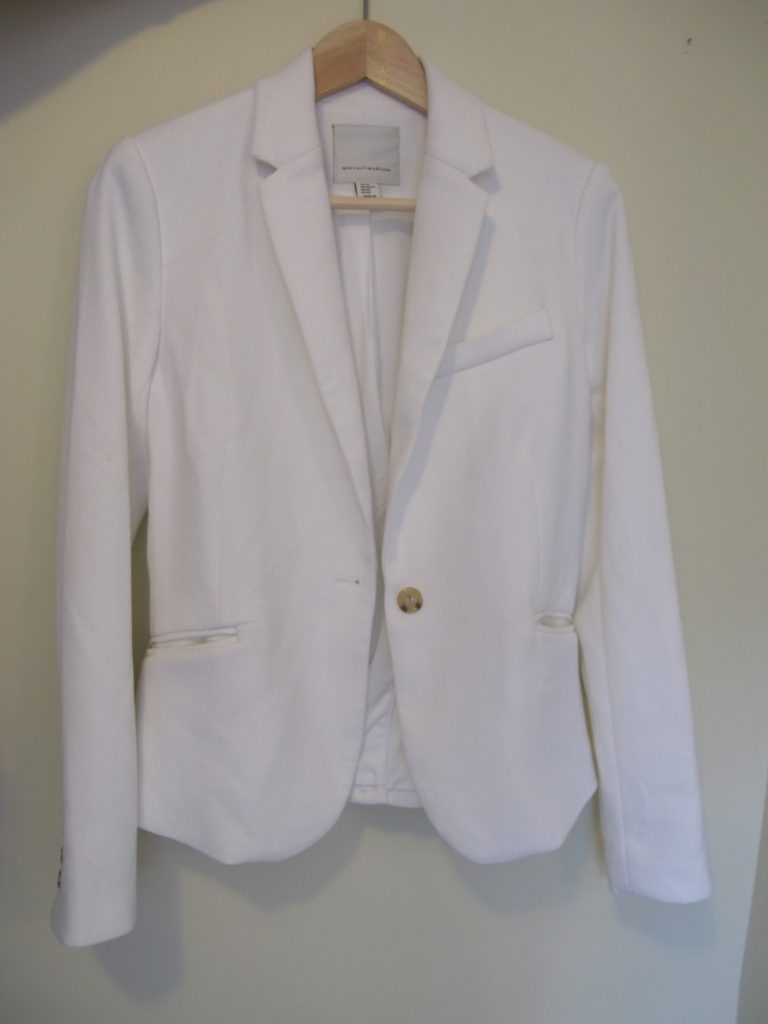 It goes with everything and is cozy on chilly New England spring days. (We'll see what I do in the warm months with the couple of lighter blazers kicking around my guestroom closet.) I've told myself I "need" more blazers in other colors for more versatility, but every time I've tried to add other blazers, they just….flop.
So I'm aiming for joyful appreciation of what's right in front of me. Contentment, if you will.
And constantly reminding myself while thrifting that I am incredibly picky about blazers I will actually wear with any regularity, so CHILL with buying them already.
Where is "enough" for various clothing categories in your closet? Do you ever go over the threshold, just to have variety? Are some categories easier to rein in than others?