Not that one ever achieves outfit perfection….or that one should even hold outfit perfection as an objective. Or that one should talk about oneself in the third person.
But I noticed that in a few of my recent favorite outfits, minor adjustments moved my look from "okay" to "spot on. So today I'm sharing a couple of tweaks to help an outfit go from good to great.
First up: my pinkish Pixie pants by Old Navy, via Poshmark.
I found my size in Tall on Poshmark, and, thinking they would offer more length than the ankle length of the classic Pixie pant, bought them. Just as I had hoped, they turned out to be a perfect match for Light Summer, and they were definitely long enough.
Turns out, though, that "Tall" – Old Navy's designation for women 5'10" and up (I'm not quite that tall) – isn't just long, it's bigger in other areas to accommodate the larger frame of tall women: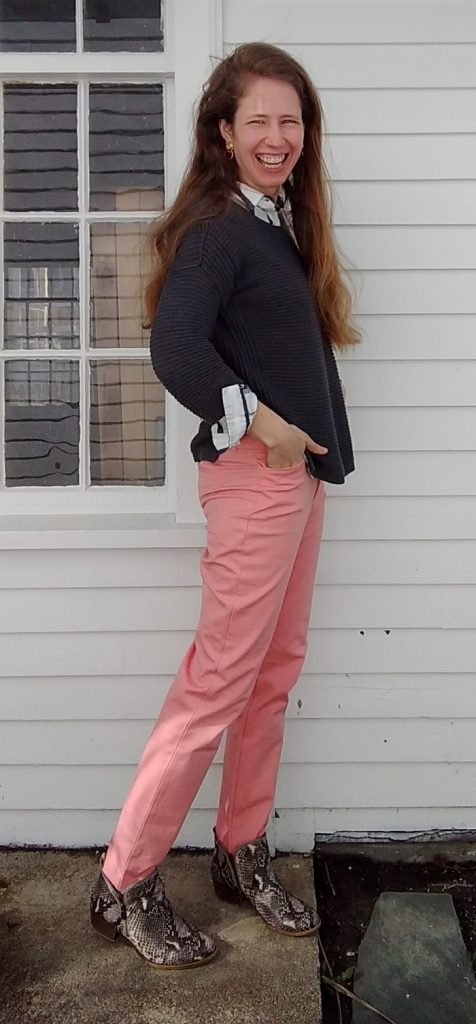 Definitely giving off a roomy vibe.
I knew I didn't want that much extra fabric clinging on me in the warm months, which is when I wanted to wear these puppies, so I went hunting for the classic-sized (aka ankle length Pixie pant in the same color, and voilà – I made one tweak in style and they fit just right: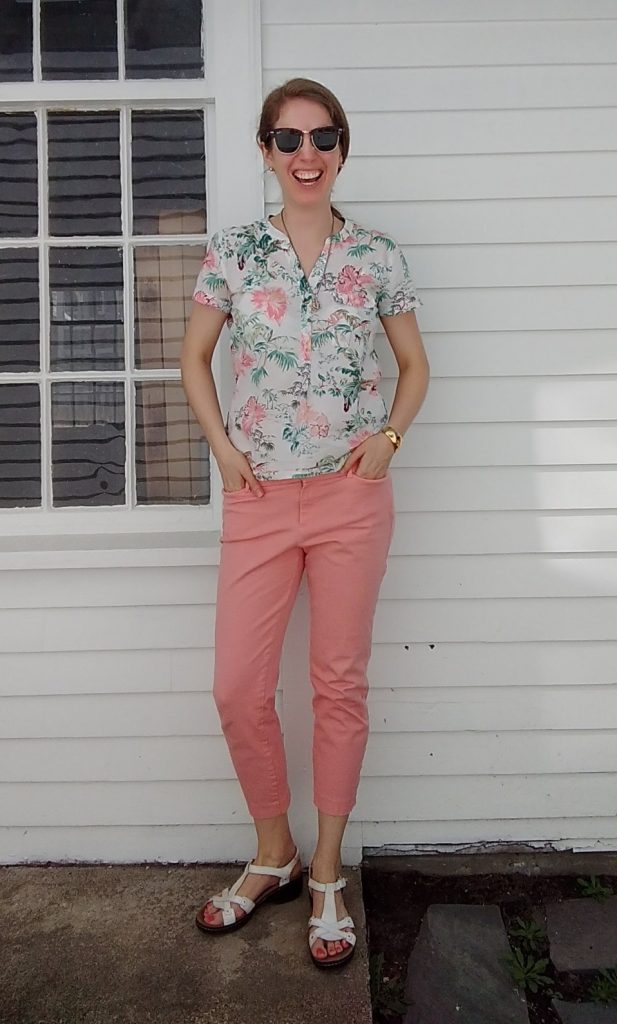 Definitely ankle-length, though. 
(Online thrifting tip: if you want to find the exact color of something you've already seen in person, look at one of the tiny tags underneath the big tag and it might tell you the specific color of the item; if not, it will usually note the season and year – e.g. "SPR 17" – which you can then use to cross-check online listings. If the color/season isn't mentioned in the listing, just message the seller and ask them to check that tiny tag and report back. That's how I confirmed this second pair was indeed "Life's a Peach," a color variously described and photographed as pink, coral, salmon, etc.)
I'm not sure yet what I'll do with the Talls – sell them on Poshmark (something I've yet to try) in order to make back some of the money I've spent there? Save them for next winter? (Leggings for those extra cold days would definitely fit under there.) What would you do?
The tropical shirt (H&M) in that last photo leads me to my next tweak: pants into cutoffs.
These yellow bootcut jeans from Forever 21 were fun as is, but I was having a hard time finding a way to wear them in the cold months. And because the denim was so floppy (read: not super high quality), they didn't have much shape down below: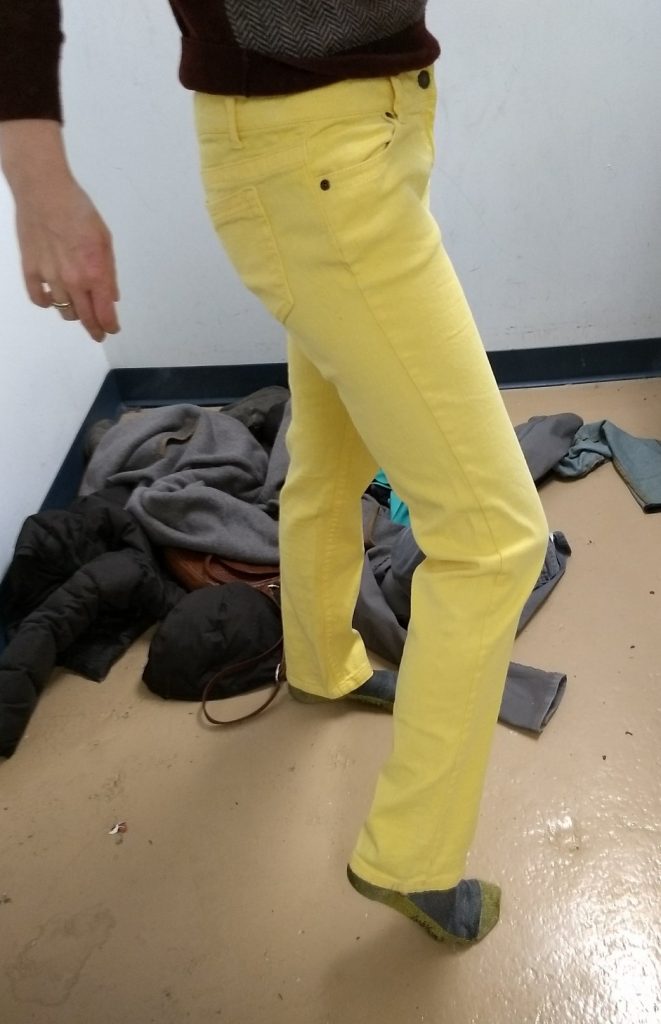 So I chopped 'em, rolled the cuffs, and wore them with that same tropical shirt when the temperature hit 80: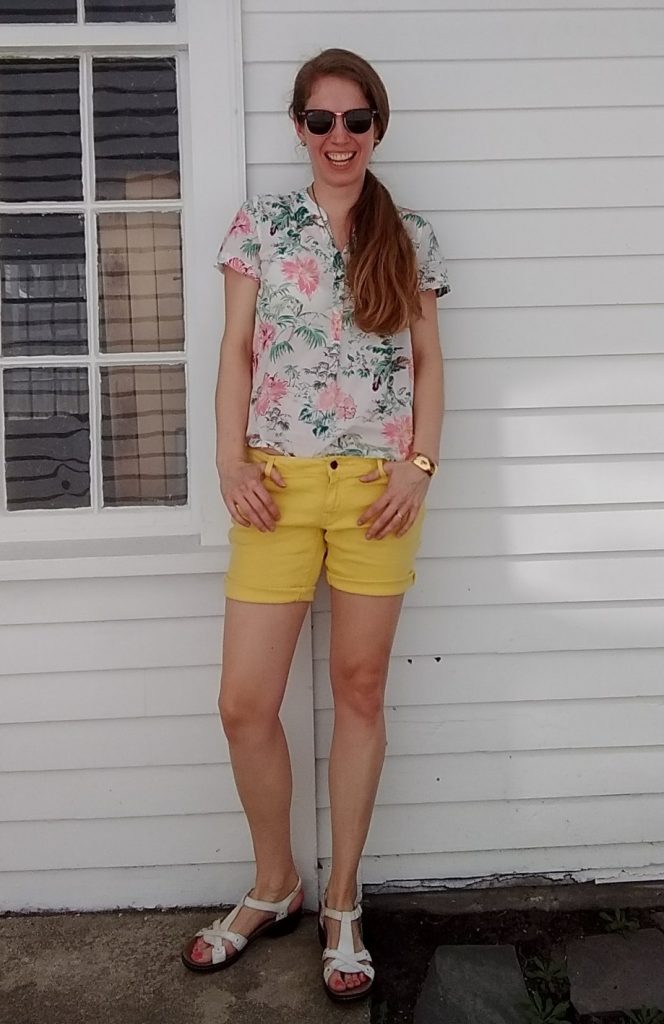 Another quick tweak was to wash the sandals in this pic with a damp cloth. Thus dingy-colored Clarks with nothing else wrong with them became gloriously white (and wearable) once again. I wonder if the person who gave them away was truly tired of them or thought they'd passed the point of no return without realizing a quick clean would have done the trick.
To check whether the dirt on a thrift shoe find is washable (in the store), dab a tiny amount of water from your water bottle onto a spare hankie or tissue and gently rub (don't do this on suede). I did this in the middle of Savers and was rewarded with the knowledge that these shoes weren't stained, merely dirty:
Last but not least, a "tweak" that really comes down to styling.
I found this Metaphor blazer at Restoration Project in a pitch-perfect Light Summer pink and in my sweet spot for blazers – long and lean lapels with a pre-scrunched sleeve for added insouciance: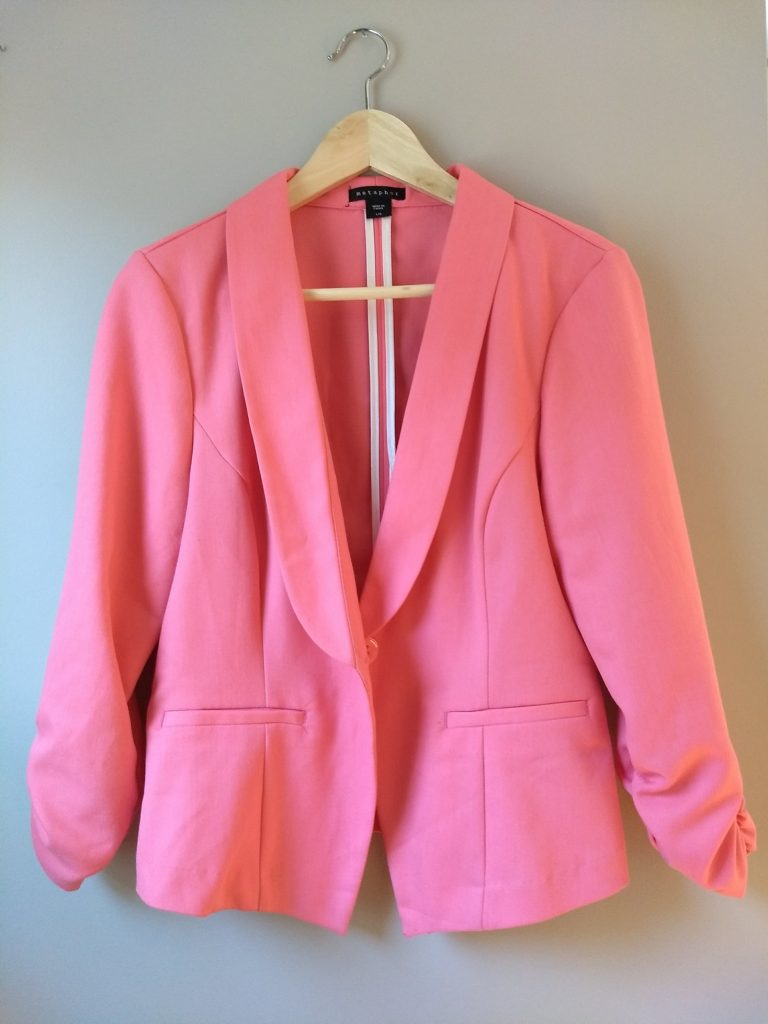 Yes, I know I just said I didn't need any more blazers, but I was silently still keeping an eye out for a pink blazer unicorn.
The only problem? It was a size (or two?) too large, at least on the tag. Over a long-sleeved shirt, it felt a bit big in the arms a bit big in the armpits: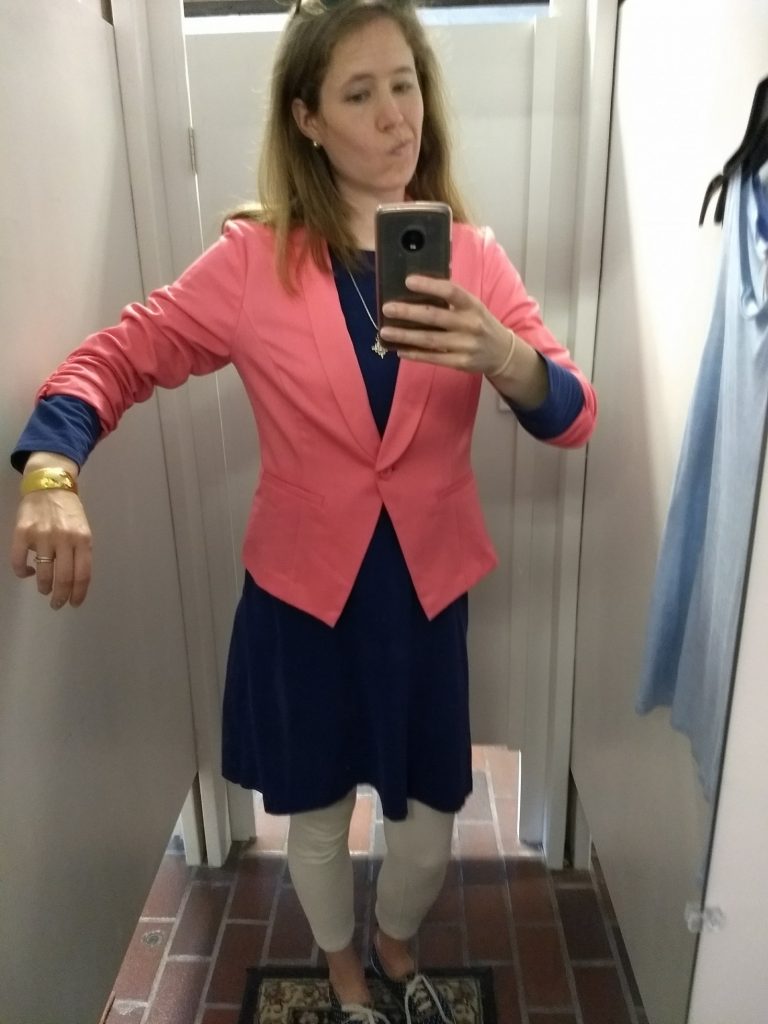 …but with armpits reined in, it actually looked pretty good on: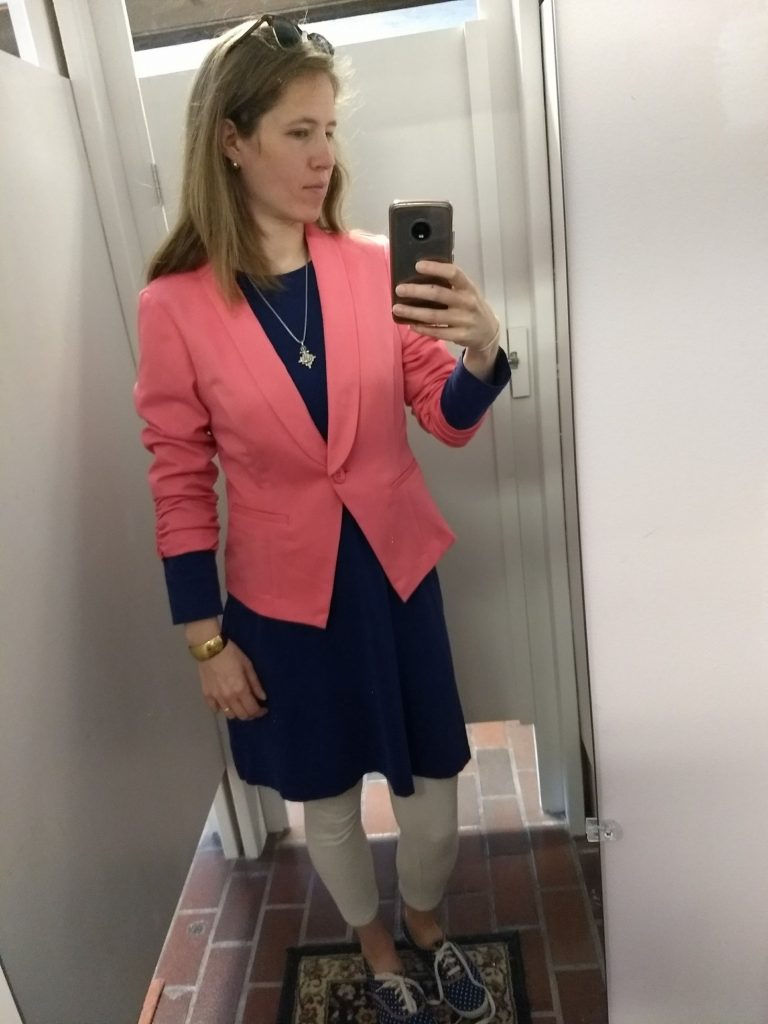 and I was so happy to find a blazer in one of "my" pinks (I had plans; see unicorn comment above) that I bought it anyway. Better a slightly oversized look than a too-tight look, yes?
Here is the execution of the first of my many plans involving this blazer, in which the simple tweak of giving the sleeves an extra couple SCRUNCHES made everything look more fitted/on purpose: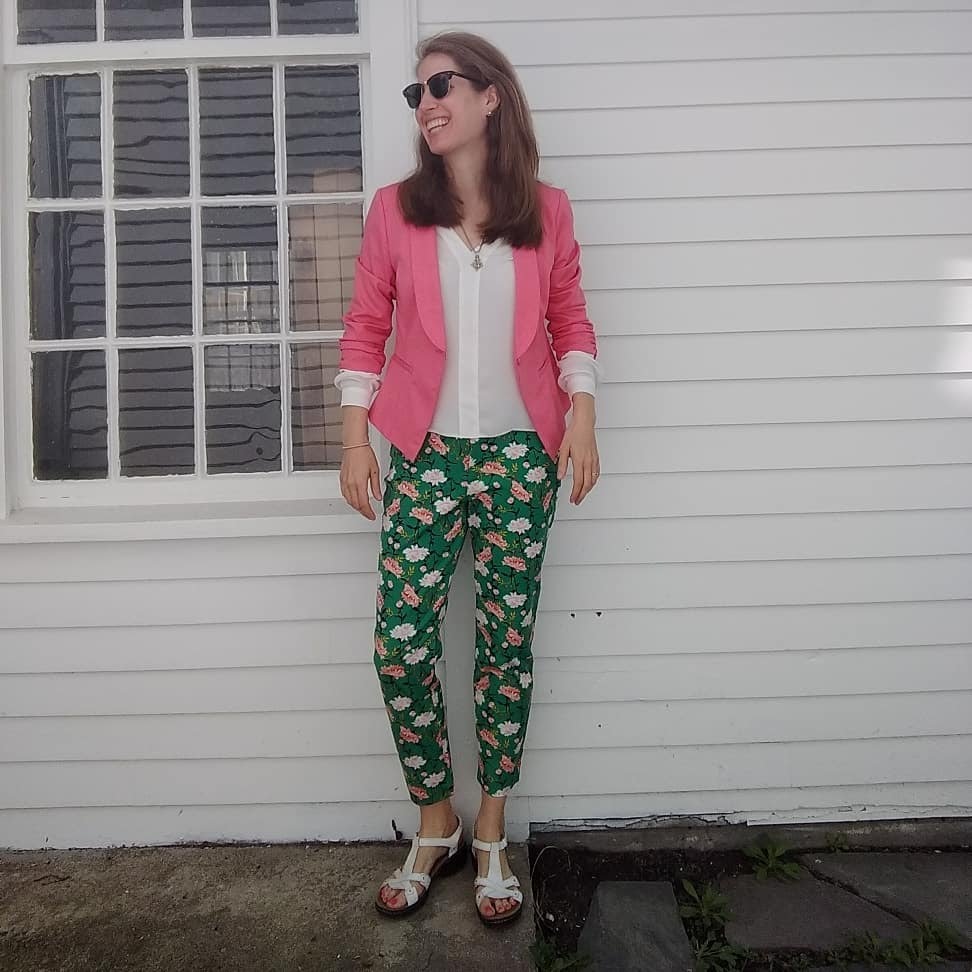 My spouse said this outfit made his head explode. I figure that means it's just right.
Conclusion: just a few small adjustments here and there can make a big difference. What are your favorite thrift tweak success stories?