This isn't really a ReBlog (although it is on Friday).  It's more of a random assortment of stuff I wanted to share with you.  I enjoy reading this kind of mishmash on other blogs and hope you enjoy it here!
First up, a couple of real-life fashionistas I've spotted in the last few weeks and wanted to share with you.
This woman at Costco was wearing several shades of "red," from pink to mulberry to purple, and pulling it off with aplomb – I think because she married so many shades.  Two might have looked off, but several made it obvious this was intentional.
Even her bag trim is mulberry!  Style note: the lighter colored shirt (blush pink or white? hard to tell) worked to balance out the intensity of the other shades.
This gentleman browsing the book section at the Goodwill had the plaid/vest combo down.  And that short scarf gave it some verve!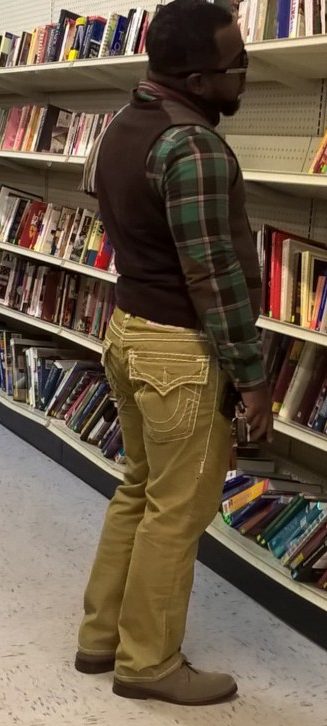 I would not have thought to pair yellow-toned cords with the deeper shades above, but it works – the light mustard leavens the heaviness of the other tones while the texture still says "cold weather."
Here's a sparkly top I couldn't resist buying that would fit in perfectly with my fantasy style (and that I will likely never wear in real life):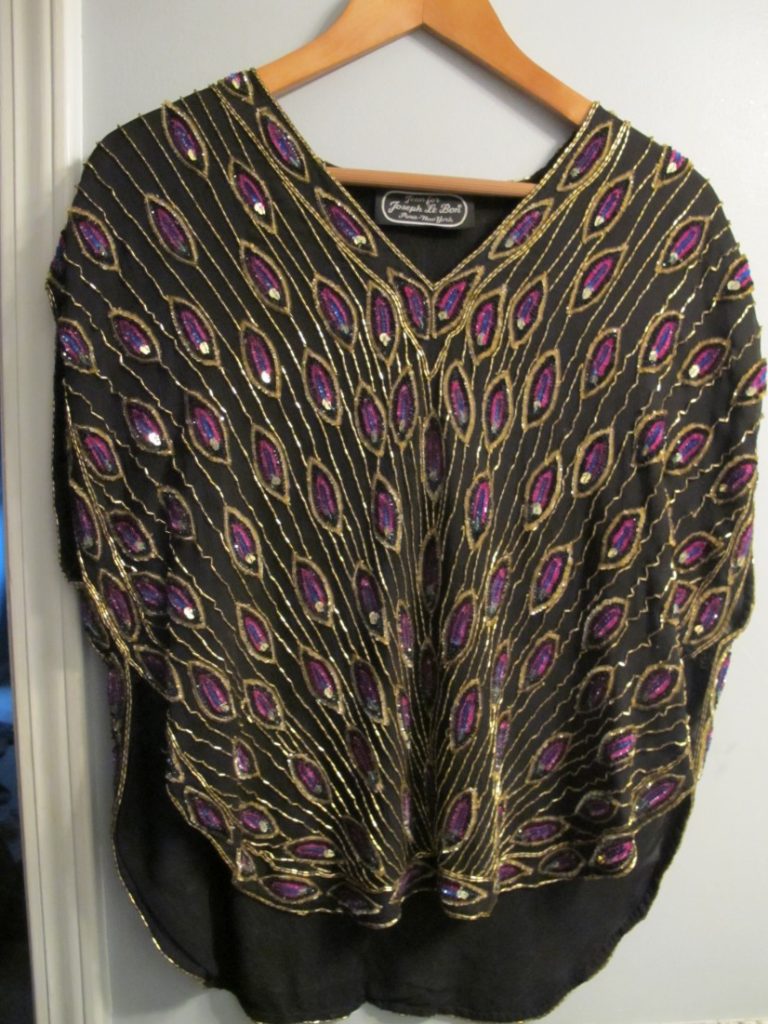 Sequined fabulousness by Jean for Joseph le Bon.
Why do I buy these things (occasionally, but still)?  I try to stick to the maxim "you don't have to own to appreciate," but sometimes I get so smitten with something that I am not successful in resisting.  I enjoy looking at it hanging in my closet for several weeks or months, maybe wear it once, and then redonate it.  I guess if the money is going to a worthy cause, it's not that bad of an occasional habit.
Here's a great piece by someone who uses thrift stores as her family's primary source of clothing out of financial necessity and has some thoughts on what folks with more resources should donate.  It made me think of our discussion on whether thrifting contributes to gentrification (part 1 and part 2).  The author echoes what I heard mentioned by several financially strapped folks and employees of thrift stores – that people with more means shopping at thrift stores means their doors can stay open for people with fewer means.
Another secondhand shopping option has just gone live: ReStitch, the online thrift store run by Goodwill of North Central Wisconsin.  They have tens of thousands of items up, so go check them out – and if you decided to buy anything, come back and let us know what you think!
Last but not least, the spouse and I are headed to Ireland next month so I can officiate a friend's wedding.  We'll be flying into Dublin and the festivities are in Co. Clare.  Any suggestions for places to see/things to do?  I've already noted addresses and opening hours of three charity shops (aka thrift stores) in Ennis (surprised?) but the only other thing on my list are the cliffs of Moher.  I need help.
PS Get excited for a travel wardrobe post before the end of February!
Have a great weekend, Thrifters!