Hey, it's Veterans Day (aka Armistice Day)!  If you'd like to honor a veteran in your life, consider donating to Justice for Vets to support life-saving and life-changing veterans treatment courts. 
This week's Friday ReBlog is really just an excuse to talk about an outfit I wore this week.  But it's my blog so I'll just go ahead and claim it.
Caroline at Un-Fancy wrote recently about how to style something new to you that's a little bit outside your style comfort zone.  Essentially, she said: pair it with other slam-dunks in your closet to help the new piece feel less out there and to help you feel more confident.
In somewhat related news, I stared at one of my favorite cardigans this week as it hung, lonely and unworn for much of the last year, in my closet.  Inspired by The Spirited Thrifter's minimalist closet game, I was weeding out my closet and it was hard to justify keeping something the colors and pattern of which I love but which never gets worn.  (Traditional cardis are hard for me to style without looking like a twinset – which is just not me.)
Then I looked up to where I keep my blazers – a space increasingly filled with statement pieces – and realized I could style my patterned cardigan like a statement blazer to make it fresh.  So I paired it with a pattern like I had done with my plaid blazer earlier in the week and the print-mixing instantly took it from staid (and a little twee?) to visually engaging:
So that's my semi-related revelation for how to mix something that doesn't really seem to be your style anymore back into your wardrobe.  What's something y'all have been keeping in your closet that doesn't really fit your current look but that could be re–styled to play along?
PS My newest accessory: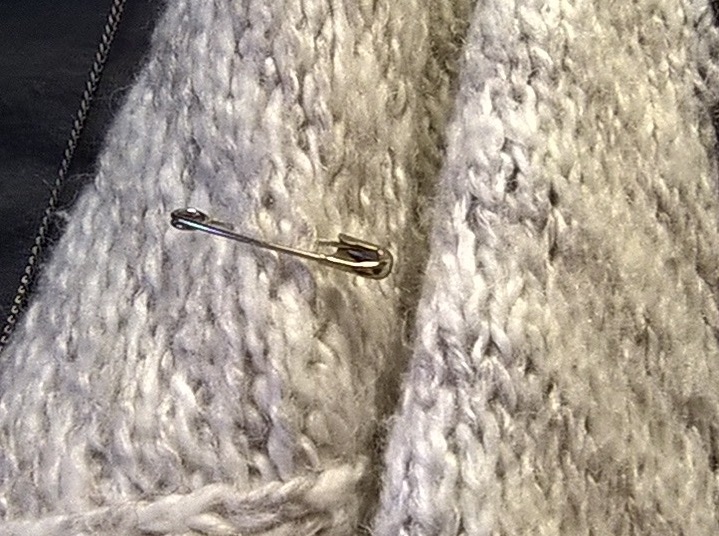 Have a great weekend, Thrifters!