This has been a rough week in America. When things get tough it can be nice to think about something fun and lighthearted like thrifting – but the last few days it's felt odd to visit a favorite site and not even see the election mentioned. So I want to acknowledge the pain and grief and division in my country. I am convinced that the way forward lies in listening to one another and in working every day for a more just and compassionate community, country, and world. That ain't easy but that's why we have each other – and thrifting, for the days when it's really hard and you just need a rack of obscene polyester jumpsuits to make you smile. Now back to regularly scheduled programming.
I first fell in love with 70s-style sneakers the year I lived in Europe during college.  The market near my apartment had all the great foodstuffs you'd imagine, but what I kept being drawn to was a table full of shoes I associated with a very European (read: nonchalant, utterly cool) style. They looked almost like soccer (football) cleats – minus the cleats of course – and they were just so different from anyt hing I'd seen on American feet in my lifetime, somehow dressed down and chic at the same time. The pair that caught my eye was a subtle gold (is it possible to be subtly gold? with shoes?) and I lusted over them for quite awhile.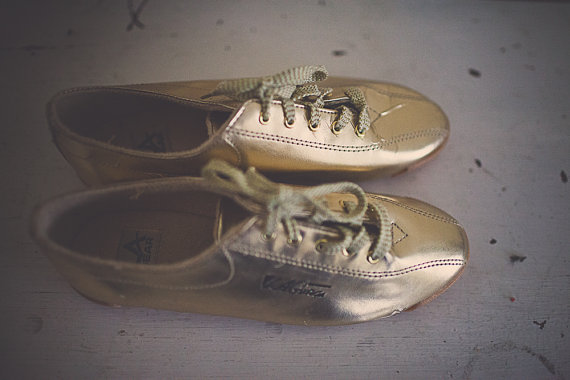 Kind of like these but with more logos/contrast happening.  Source
I never pulled the trigger on that gold pair – I was a poor student who needed to afford things like wine and Nutella. But I kept an eye out for similar styles and eventually bought a more reasonably priced pair of Pumas in a two-toned lavender that was muted enough to read like a neutral.  The rounded toe and sloping upper recalled what I had loved about the styling of the gold pair – very understated and a bit retro: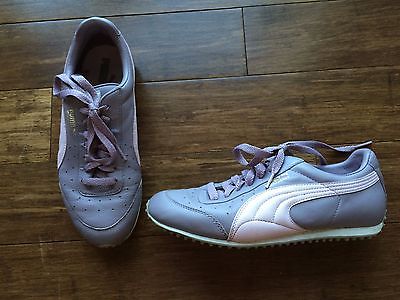 Not my personal pair, but this exact model. Love that color! Source.
When the lavenders finally gave out, I found another pair at the Salvation Army in mint condition (!) – suede chocolate brown with camel stripes and coral piping.  I wore the heck out of those things and eventually the piping started to come undone and the stripes were pretty dingy: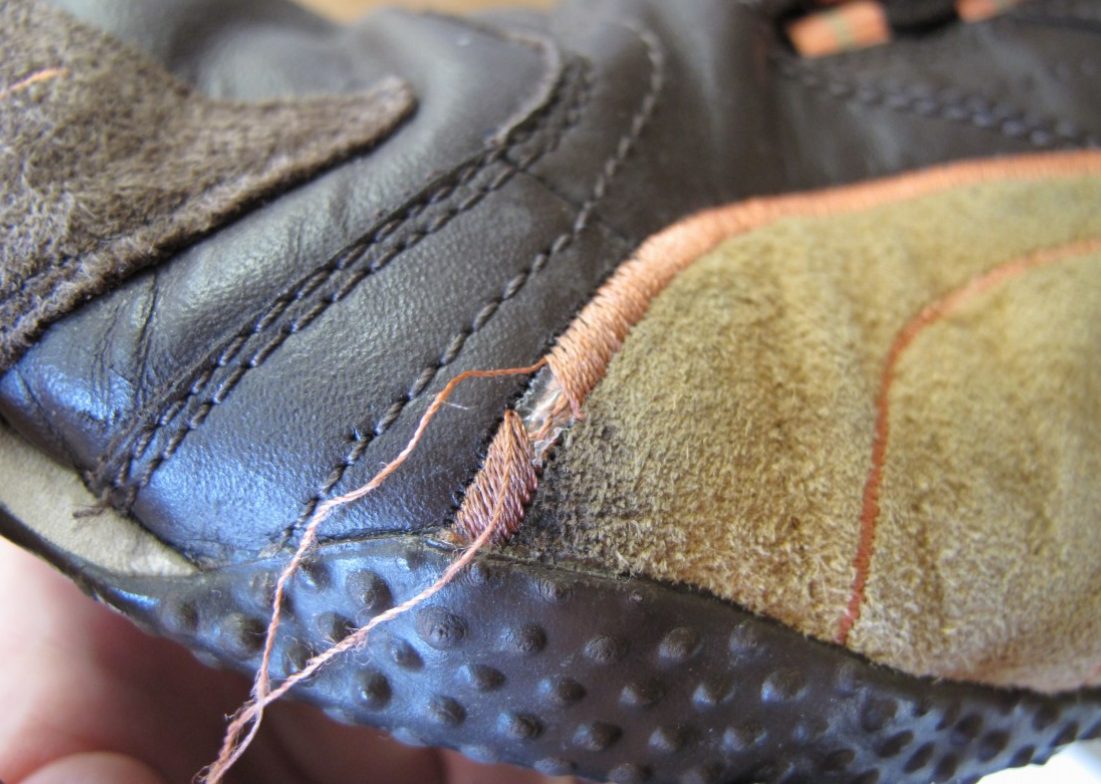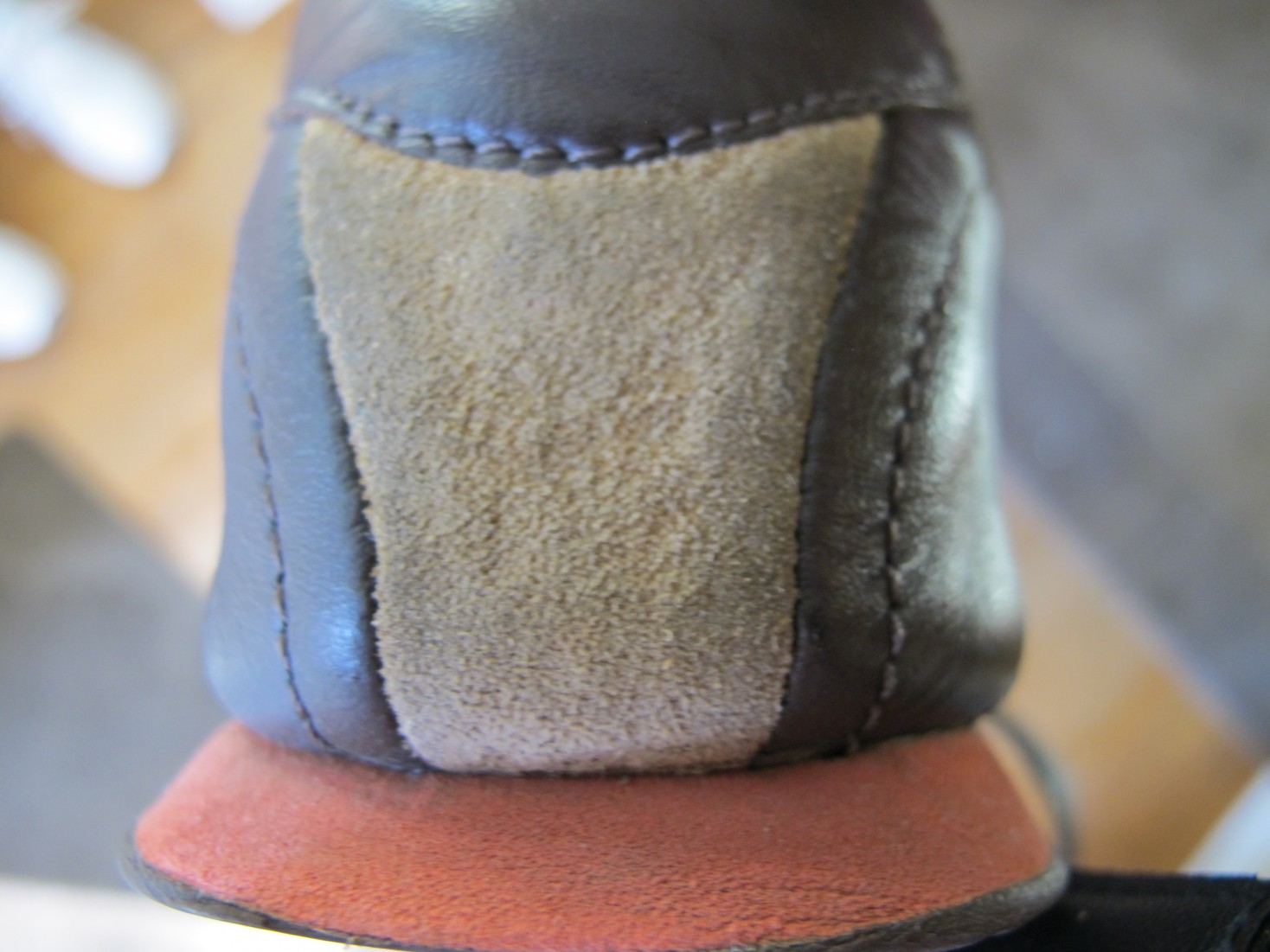 I probably would have taken this last pair to a cobbler to get cleaned/repaired, but by that point brown had transitioned completely out of my wardrobe and I wanted something that would play better with the rest of my wardrobe, so I donated them in the hopes that someone else might see their potential and fix them up.
Thus, as you may recall, I added to my thrift list a pair of cold-weather sneakers: specifically Pumas since the previous two pairs have worn well and are super comfy – hello, arch support! – and specifically grey or another neutral that would play well with my fall/winter color palette.
I looked all summer and into the fall with no success – all I found were running shoes and canvas sneaks with no cushion.  More than once I was tempted to just buy something close-ish and make do, but my inner thrift conscience reminded me that I usually regret it when I don't hold out for just the right item.
And then, lo and behold, last week I stumbled on these beauties in my size, with little wear, and featuring a color combo that couldn't have been more perfect – blue, cream, and a touch of gold:
The arch support when I put them on was like a chorus of angels singing.  They're a little wide for my narrow, narrow feet, but that's the beauty of lace-up sneaks – you can secure 'em to the narrowest of feet.
Just looking down at that little gold puma on the heel makes me happy:
What's your favorite kind of sneaker?  When have you held out for the perfect thrift find and been rewarded accordingly?  What thrift find are you currently trying to stay strong on and not give in for a lesser version?  Scroll down to share!