As you read this I will be heading out to Ireland to co-officiate my college BFF's wedding.  It's also the first time the spouse and I have ever taken a vacation together that does not involve family or friends.  Whoopie!
We'll travel light to expedite connecting flights and hauling our stuff around the country. So what's in my carry on?
Specs
First up, let's do the numbers.  We'll be gone for 8 days; right now the forecast is calling for rain (not a surprise, but blech) and highs in the high 40s/low 50s, so I'm looking at warm layers and rain-resistant outerwear.  3 out of 4 of the accommodations we'll stay in are Air BnBs with laundry facilities so I plan to wash things halfway through.  Our activities will hopefully include a day hike (weather allowing), a few morning runs, lots of walking, and a wedding.  Most things will be pretty versatile except that wedding outfit – which I might be able to turn into a nice dinner outfit, but we'll see.
In the bag
As usual, everything is thrifted unless noted otherwise.
Pants: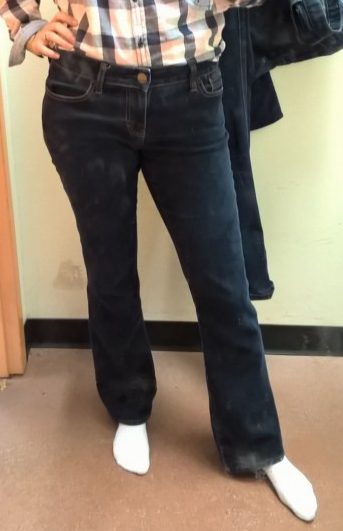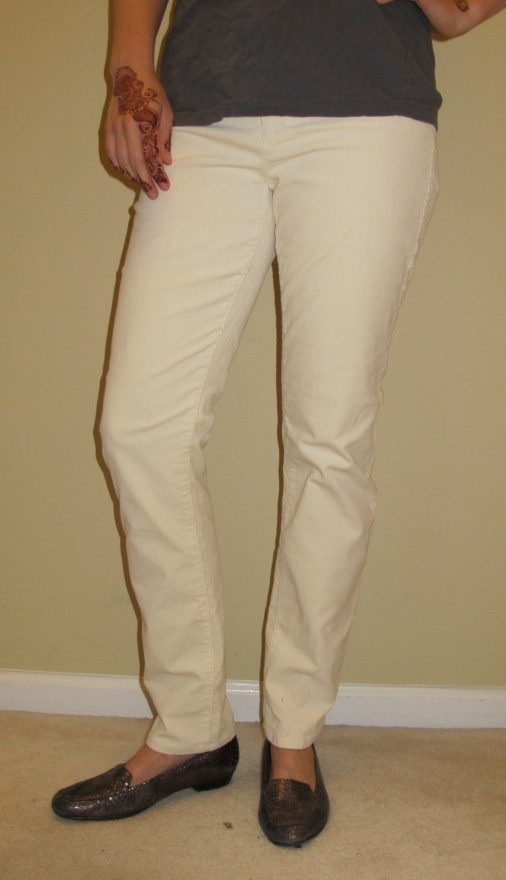 Jeans: Banana Republic; corduroy: Lauren by Ralph Lauren
Tops: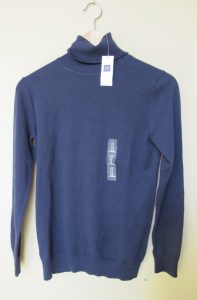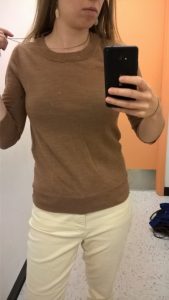 Gap; J. Crew; Loft; French Connection
Layers/outerwear:
J. Crew; Kelty (gift from my spouse lo these many years ago – image source); navy polka dot vest from Savile Row Co.; no label gloves/hat; buffalo check scarf no label (image source).
Running/hiking/sleeping/keeping my legs warm under my pants:
x2 leggings by American Apparel (responsibly made) – one in black, one in navy; gifts; source. Silk running shirt by Winter Silks; bamboo tech shirt by Tasc Performance.
Shoes
Puma for walking; Champion for running/hiking – retail; source.
Wedding outfit
The wedding colors are navy and grey, so I'm going with a floor-length navy velvet dress you may remember as a runner-up for another wedding outfit. I kept it around thinking it would be great for another formal event, and voilà, it is.
Enjoy this outfit pic in which I a) pose ridiculously b) have much shorter hair than now and c) appear to have only one foot: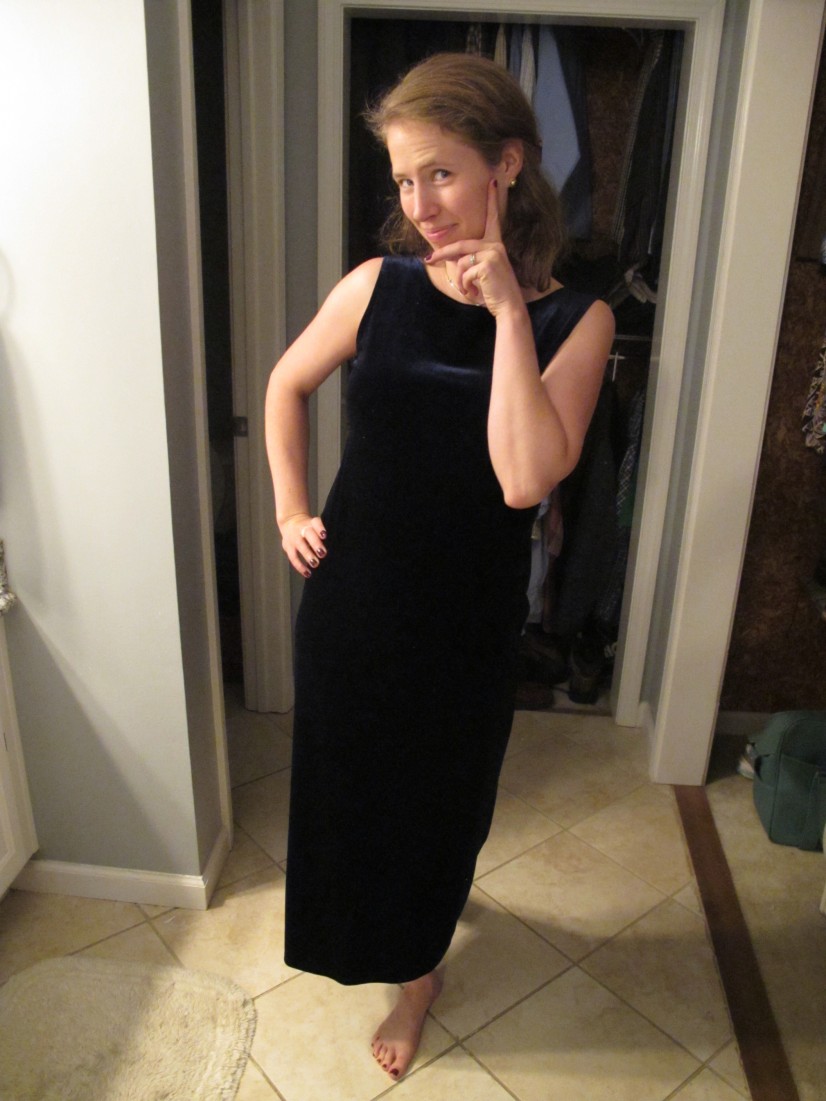 Wrap from my mama: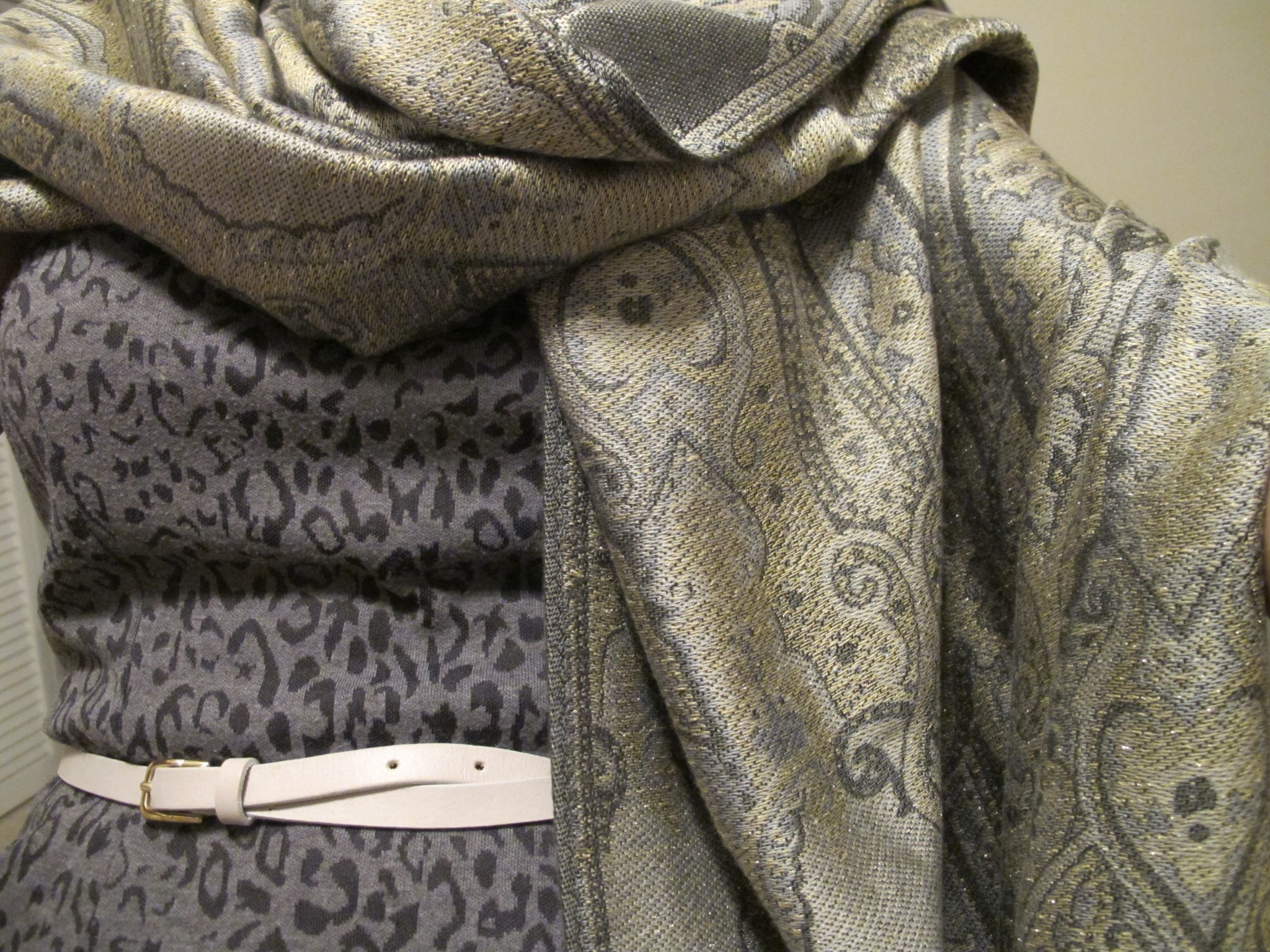 Shoes by Talbots:
All this plus underwear, socks, bras, and toiletries packed into my suitcase: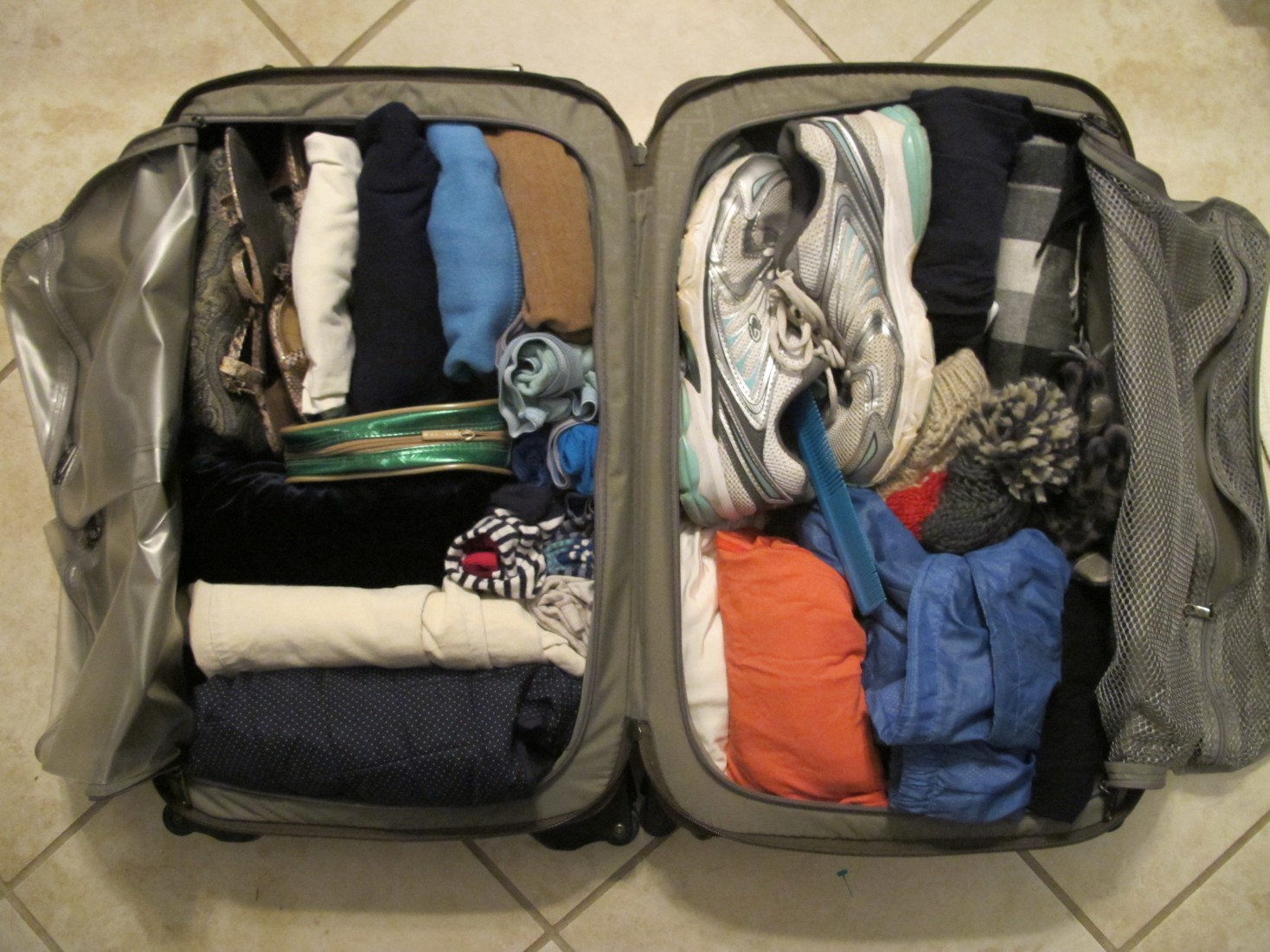 Those little Konmari bundles are deceiving – they'll squish a lot more, making enough room for a few thrift finds and some gifts for those keeping the home fires burning. (Thanks family!)
I'll report back in two weeks with any last minute changes, outfit pics, and what I wore/what stayed in the suitcase/what I wish I'd brought instead.  Wish me luck!