Somehow my thrift list has recently exploded even though I thought I had a pretty solid handle on my cold weather styling revamp.  I think it's because I've had a few style epiphanies lately about what I want for my fall/winter wardrobe.
What I'm Thrifting for Fall/Winter
Ivory puffy vest to go over my shirts when it's not cold enough for a full-on coat
Check: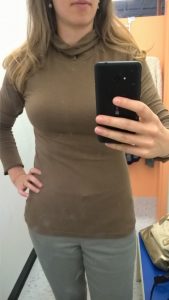 What would you call this hue??
Statement jacket thanks to this Vogue cover
Grey Pumas for casual winter shoe (I used to have mauve ones that finally fell apart and I've been looking to replace them ever since)
In the meantime I substituted these Mossimo sneaks for late summer/early fall: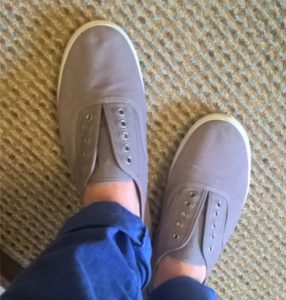 I have a feeling this might be a long thrift hunt. (Although I did recently find something in a similar texture but with neon flecks – sigh.  Neon.)
Silk/nice poly blouse in cream with tiny red polka dots – a while back I had a crappy poly version that I had thrifted and LOVED but it was scratchy and cheap and I am now holding auditions for its upgrade.
And because I believe in the long thrift and will be looking for warm weather clothes during the off season…
Stuff I'd Like to Thrift before Summer Comes Again:
Old school sleeveless denim dress like this or this (minus that weird zipper and the t-shirt underneath)
White pencil skirt like this one
I tried several on the last time I went to the Goodwill; none fit, alas, but I think the concept is solid and might be the answer to my quest for the perfect leopard print (are you tired of me linking to that yet?).
What's on your thrift list lately dear readers?  Scroll down to share!