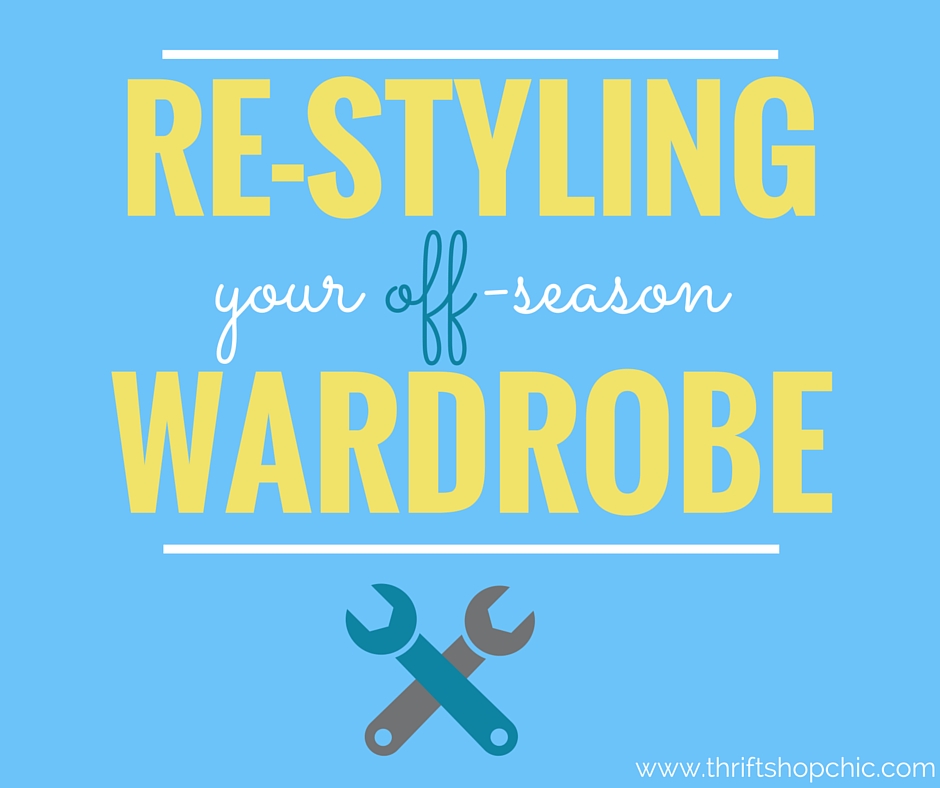 I wrote last week about why I like thrifting garments off-season: it gives me several months' breathing room to mull over my wardrobe, figure out what worked/didn't and where the holes are, and assemble what I want in the lineup for next season.
Thrift shops make this relaxed, thoughtful process possible because they have all seasons of clothing available all year 'round instead of for just 2 weeks before everything good is sold out (thanks retail stores).
Since it's almost May, that means I'm currently thinking about my winter wardrobe.  (Not that I'm not excited about spring/summer clothes…I was thrilled to break out my first short-sleeved work top and dress last week.)
This may seem counter-intuitive, but the juxtaposition actually helped me get a handle on what in my winter closet needs fixing.
See, my spring/summer wardrobe is in nickel condition.  I love the silhouettes I've found for warmer weather (sheath dresses; popover tunics, relaxed blouses, or boxy tops over straight/tapered pants) and just seeing the clothes in my closet, let alone putting them on, makes me smile.
My winter wardrobe?  Not so much.
I love the dresses and coat I found last fall.  And I finally ditched winter skirts.  But the pants + top + topper combination is just…off.
Over the last few weeks, I've been trying to diagnose the issue.  Here are some things that seem to be hitching me up:
I'm over my wide-legged pants (yes, just as they are coming back into popularity. I can't seem to sync with trends for the life of me. Whatever.  That just makes me cool, right?).  They don't keep my legs warm once the weather gets chilly….all that air circulating inside that baggy lower-third is no good.
I'm struggling to find a thick, sweater-like cardigan to layer over my thinner tops.  I had a great Banana Republic off-white version that died a few years ago, and since then I've struck out on something warm enough, neutral in color, and with a knit that doesn't distract from the rest of my ensemble.  No to this one (right length and neck, but too variegated, toggles distracting, and didn't go with grey) and no to the yeti (too short).
The shirts I typically want to wear underneath this thick cardigan topper are too patterned so they clash with the knit on the cardigan.  Plus they're not all that warm; they go better with a light cardigan for fall/spring.
I have one sweater I LOVE but no warm pants to wear it with (see above problem re: wide-legged chilly pants + taupe pants).  I have one other sweater-like top I also love, and that's it.  I can't seem to find sweaters that are the right length for the pants I have or the silhouette I want to create.  (This one didn't make the cut and this one is relegated to snuggly at-home wearing for frumpyness infractions.)
Amidst all this mulling over, it occurred to me I should probably take what works in my spring/summer wardrobe and apply it to my winter wardrobe.   And I'm going to try sticking with the color palette I love in my winter dresses—cream/navy/grey—in the rest of my winter wardrobe.  (I'm looking at you, brown tweedy Bebe trousers I love but that don't go with anything grey, or the slate blue top in that picture.)
My thought is, if it works, it works.
Thus:
I'm looking for slimmer/tapered warm winter pants, in cream and grey and maybe navy.  See What I'm Currently Thrifting for inspiration pics re: color.  (On the fence about keeping these; definitely warm enough but—hard to see in photo—they're more taupe than grey so they don't go with my grey tops/sweaters.)  Slimmer pants will also let me get more wear out of these awesome ankle boots.
I'm replacing my too short (thus only wearable under dresses) cream turtleneck with one that can be worn over pants.
Speaking of, I'm thinking of sticking to just turtlenecks as my base layer.  I might get sick of them but I know they'll go with everything, no worries about clashing with the knitted patterns in my cardigan.
Speaking of that, I'm looking for a cream or navy cardigan to go over those basic turtles. Then I'll set it off with some bold winter jewelry that can really shine against the solid turtleneck background.
And I'm going to wait 'til I find my pants before I try to find anymore sweaters, because those pants will determine how the silhouette looks.  For example, I've stayed away from oversized sweaters because I don't like how they look with wide-legged trousers; but they would look great over slim/tapered pants.
Thanks for playing along while I did the blog equivalent of thinking out loud about how to tune up my winter closet! Now I want to know what you think:
Do you thrift things off-season as well, or can you just not stand the thought of woolly sweaters and tweed pants in warm weather and vice versa?
Any suggestions for how to address the above problems?  Or maybe a diagnosis I'm missing?
Scroll down to comment!