I'm not usually one for online secondhand shopping since you can't try things on and secondhand sites either don't do returns (eBay) or else make you pay return shipping (ThredUp). But I've found online shopping to have one really good use: when you find something in a thrift store that you absolutely LOVE that's not your size but you're reasonably confident another size will fit you, get on the internets and search for it.
Granted, this works best for mass market brands and even better for big box brands like those found at Target – you have a much better chance of finding the piece in question for resale online and you are more likely to know your size in that brand.
This combination worked in my favor a few months back when I found a dress by Merona that I fell for hard but that was just too small: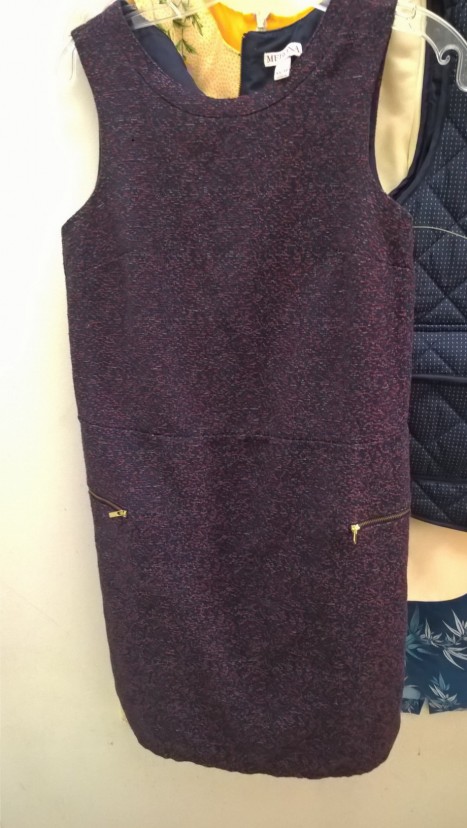 I'm not sure if this is best described as "marled" or "Donegal tweed," but I loved it. It had the texture I crave in muted red/navy, colors already in my wardrobe; it's chic enough for work; and it has zipper details (a trend I know will one day go out of style but magpie that I am, I cannot help myself):
You can tell from that last photo that I've learned to use the manufacturer's tag to search online for the same piece. (Thanks Adina J!)  Except an internet search with those digits yielded zilch.  So I started searching for the dress the old fashioned way, using keywords like "Merona," "blue dress," and "sleeveless."
After some interesting detours, I found it in two sizes that might work for me on Poshmark. I had thought that (in line with their name) they only sold higher end and designer items, but either they've lowered their standards or they've always had a wide array of price points.
I figured I should ask the sellers of the two different sizes available what their thoughts were on fit. To do this I needed to sign up (of course), but I was pleasantly surprised at how quick and easy it was using my Google account – literally one of the quickest "get back to what you were actually trying to do" experiences I've had. Once I'd typed my queries, folks responded within the hour and were friendly and helpful in their replies, which is in line with Poshmark's self-described social, active community.
A quick aside on Poshmark, for those unfamiliar with it (as I was). In the world of online secondhand shopping, it's sort of a hybrid – individual sellers post their wares like on eBay, but Poshmark provides shipping labels like ThredUp. They will also, like eBay, provide a refund/free return shipping if the item is not as advertised; but unlike ThredUp, where you are welcome to return the item if you don't like it (albeit after having paid return shipping), purchases are final.
Another eBay-like feature on Poshmark is the option to "make an offer." Offers are binding but expire in 24 hours; in other words, if the seller accepts your price, you automatically buy it. If they don't, nothing happens and you are free to purchase at their asking price.
Back to the dress. The first seller apparently hadn't worn it as she simply relayed fitting information from Target's website, but she was very prompt with her reply. (I wear different sizes in different Target brands, so that wasn't super helpful.) Since the listing had only been up for 12 hours, I figured I should buy it right away if I didn't want it to get snapped up.
So I asked myself if I was willing to spend $15 + $1 shipping on a dress that might not fit. $15 is double what I normally pay for a thrifted dress, but when it checks all the boxes and makes your heart sing, it's pretty darn reasonable.
[About that $1 shipping fee – you get $0.99 shipping on your first order, but the way they advertise it is a bit deceptive. The "limited time" offer is described as only good during your first 24 hours, so I thought it was good for any purchase made within the first day, or that I could fill up my cart with items from various sellers and get $1 shipping for each item. Nope. Because items are sold by individual sellers, each item requires separate shipping (like eBay; unlike ThredUp).  Good to know if you plan on buying something bulky on your first day that will cost more than standard shipping.]
Once I had clicked "submit order" the seller messaged me to say she'd ship within the next day – hurray!  Upon arrival I was charmed by the packaging she had chosen and her sweet thank-you note: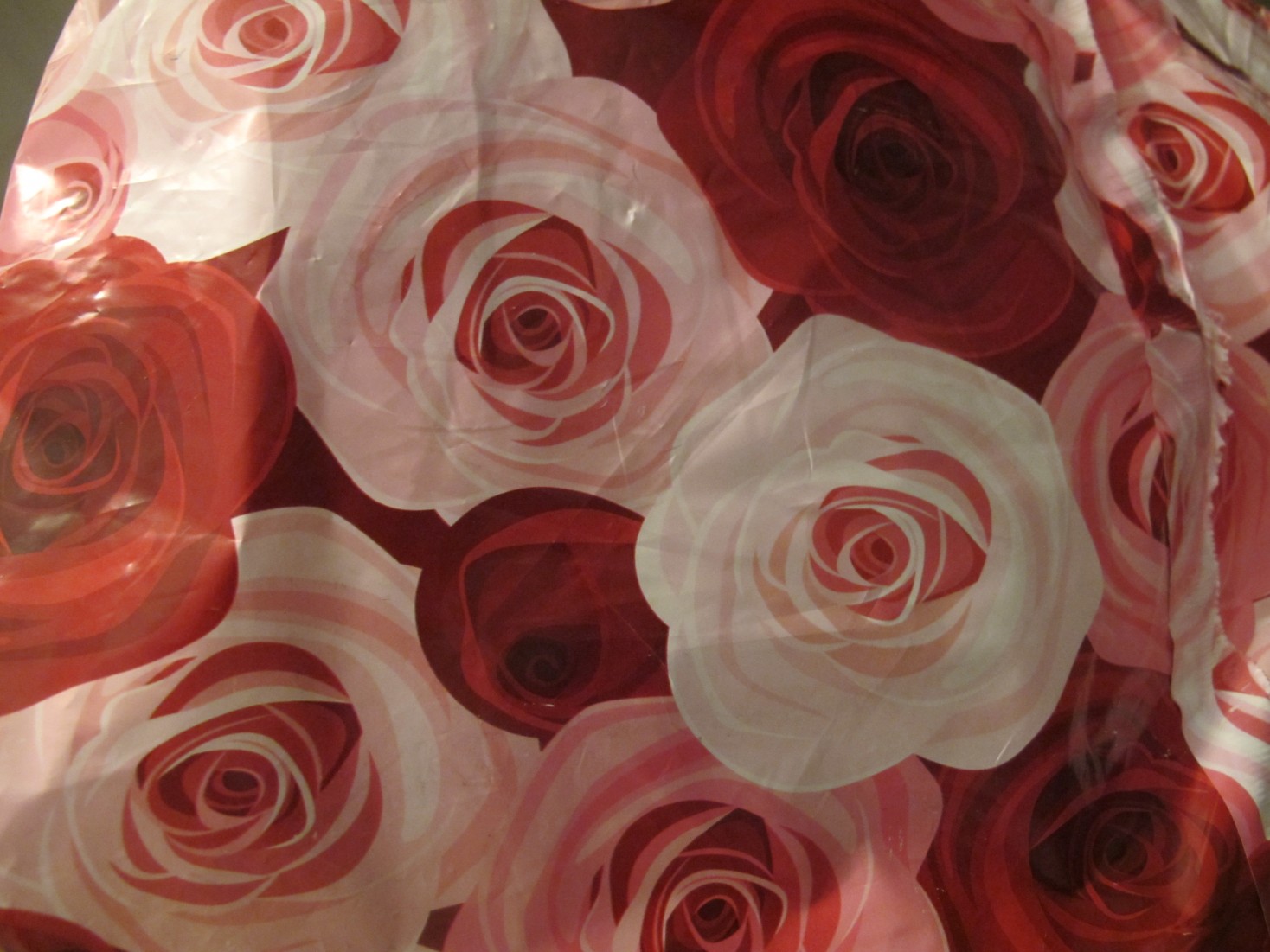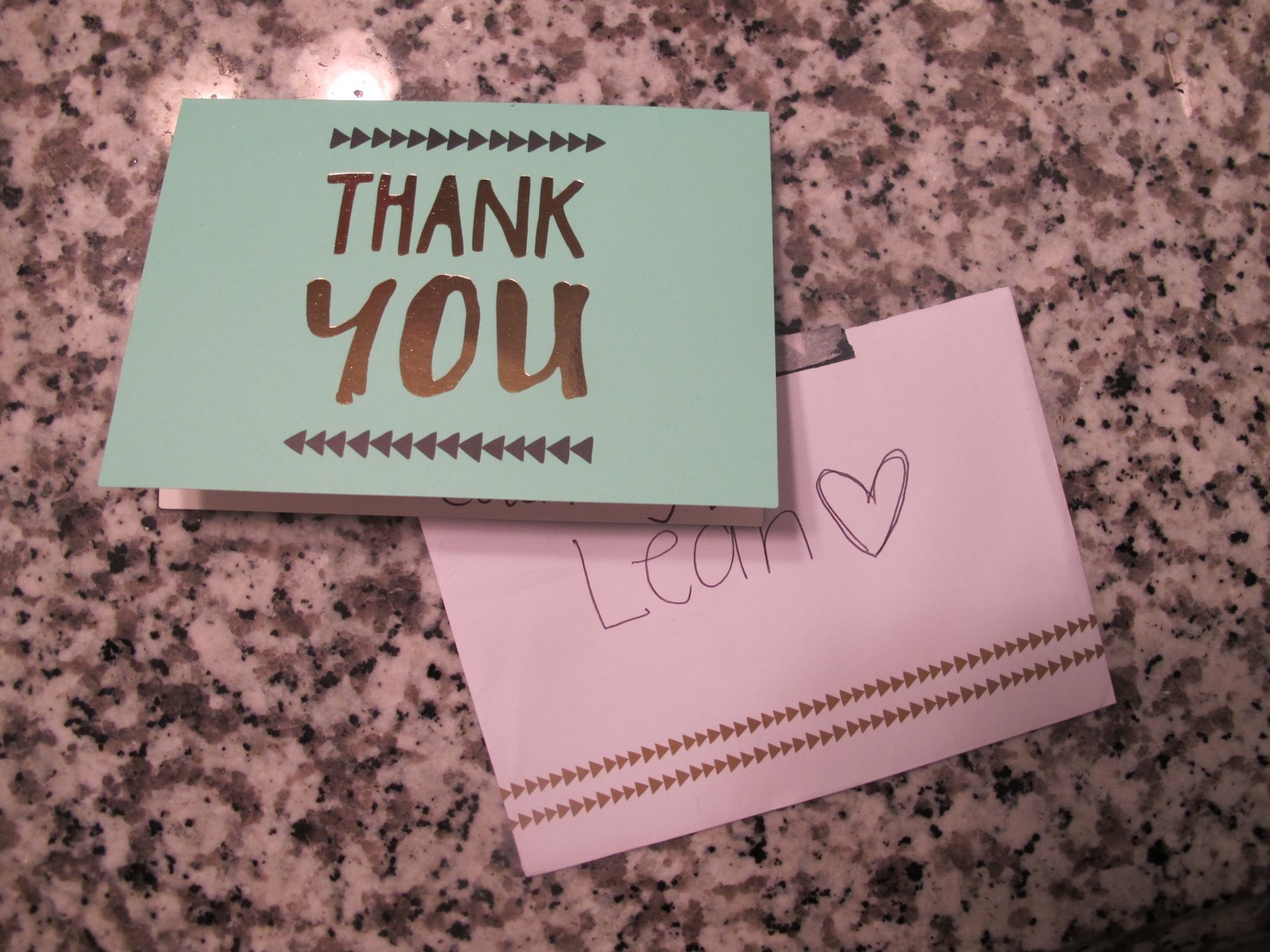 I was not charmed, however, by the fit: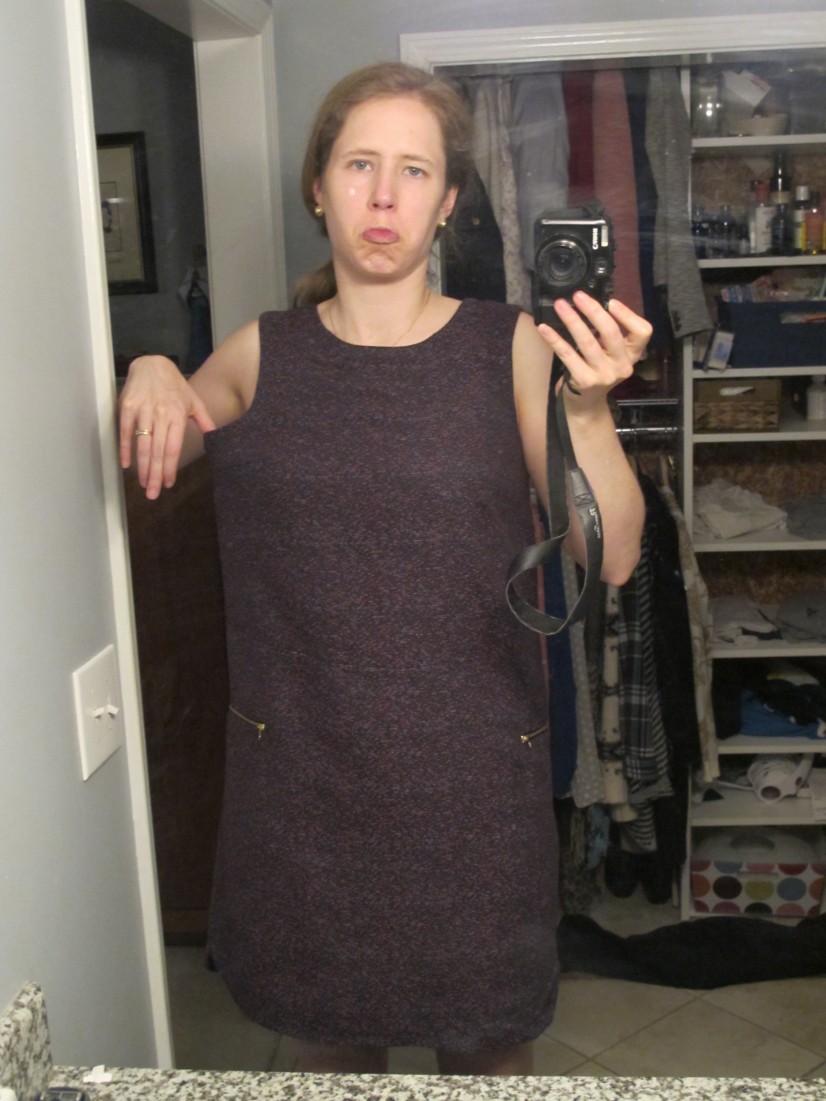 Not the seller's fault, of course, but more of a cautionary tale re: buying clothes on the internet. I could have spent another $20 or so to get the "right" size, but at that point I'd already sunk enough money into the dress and I wasn't sure the "right" size would fit well even if it didn't swamp me.
So I simply donated it back to Goodwill and considered it my $16 reminder that I don't buy clothing online unless I've tried on the exact garment – including size – elsewhere. (See this post for the first time I learned that lesson.)
I know some of you all have had better luck with online thrifting.  Do you have any tips for this jaded internet shopper?  Do any of you join me in swearing off online clothes shopping?