This is 100% classic Leah. A muted nautical palette, print-mixing, gold accents, and a "gentlewoman chic" silhouette: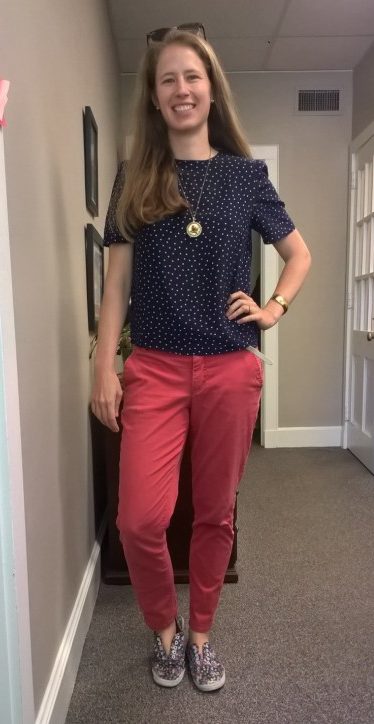 Everything thrifted but the necklace & sunglasses:
Top: vintage Jacqueline Ferrar (yes those are shoulder pads!)
Pants: Bandolino
Shoes: City Sneaks
Belt: J. Crew
Cuff bracelet: Monet
Necklace: vintage from my grandma
Sunglasses: Ray-Ban via Costco

Styling: It's funny, I don't think I've ever showcased this outfit on the blog or on Instagram, but I do wear it often – so often that I don't even have to think about the pairing. The boxy fit of this blouse plus the longer, tailored sleeves dress up the chinos nicely.  I've also done this look with dressy sandals and champagne flats, but it's summer casual at my office, so I just went all out with the floral sneaks.
Thoughts: This outfit isn't groundbreaking, but it is "me." The color palette and tailored top + casual pants just feel like no-brainers and I feel relaxed and chic at the same time.
Do you all have an outfit you wear so often it doesn't feel remarkable to you at all – yet it has enough oomph to keep you coming back? Scroll down to comment!