Hey all! Today we have a little tour of two different thrift stores in the Boston area. On Thursday I'll share some of the things I found therein for my September thrift finds post!
First up is Sister Thrift in Watertown. Sister Thrift is a small, nonprofit chain supporting the Humane Society, which is A+ in my book. I've visited two so far; they are of the "small, packed, and you never know what you will find" variety while still being well organized.
On this visit I didn't snag any clothes for myself, but I did find some great toys for my kid to spend her birthday money on, and as I mentioned earlier, some notecards, office supplies, and throw pillows.  Prices on dresses were a little higher than I'm used to ($8.50) but everything else was priced decently.
Here are some great things I found but didn't take home – pics from my old phone's crappy camera:
Chartreuse velvet blazer by J. Crew: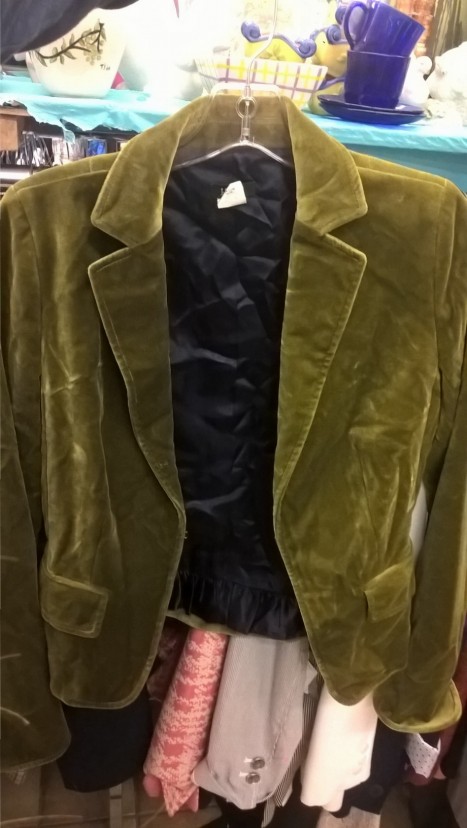 Tweed blazer by Banana Republic I would have snapped up if it had been my size: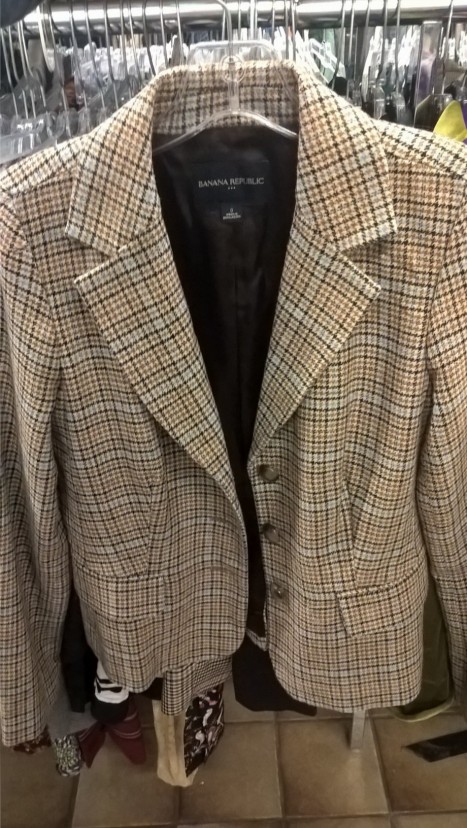 Oh hello chic Chico's jumpsuit, sz 2 (that's like a large in Chico's sizing):
Some winter coats I wish would have worked:
A puffer coat by Calvin Klein (with a broken zipper):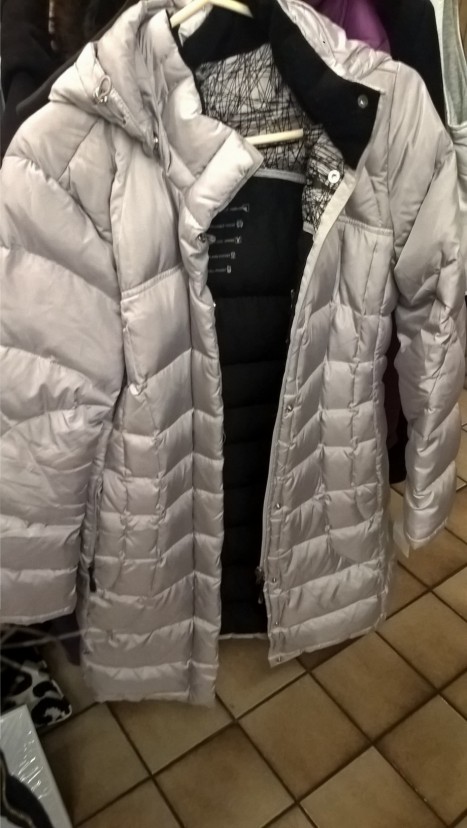 A faux fur olive green wrap coat by Jennifer Lopez which was super chic but didn't strike me as able to stand up to New England winters: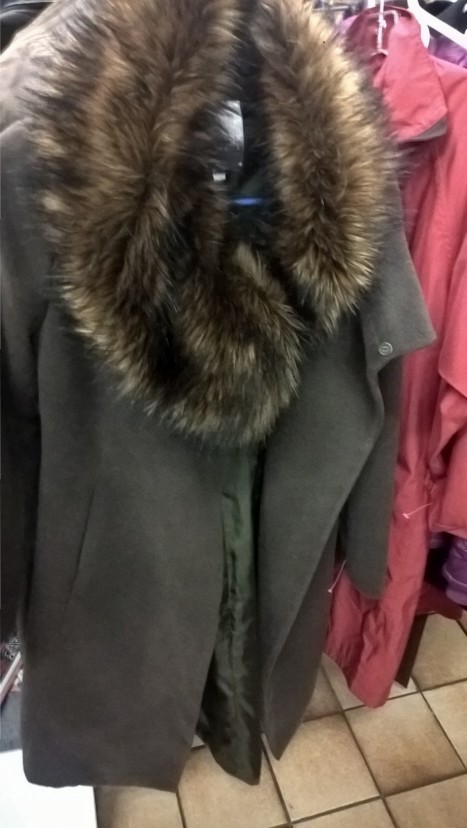 Sorry the picture is so shapeless; it's hard thrifting with a kid in tow!
Next up, Goodwill in Davis Square (Somerville). There were two floors, with women's upstairs: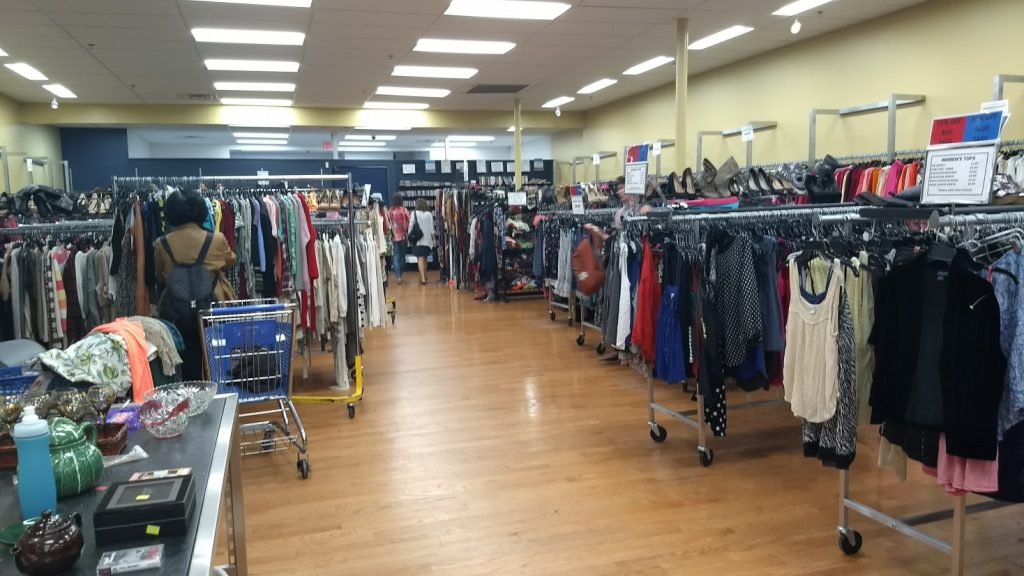 And men's, kids', and books/housewares downstairs:
The prices were reasonable (on par with Goodwill of North Georgia's before their recent price hike) and the selection was pretty good! The women's shoes were scattered across the tops of the racks which was annoying; I didn't have the time or patience to wander around checking them all.
One big upside: they do returns! I can't remember if it's 7 or 9 days, but when we ended up accidentally buying a $14 wolf costume for our kid (miscommunication for the win), it was great to be able to return it.
It was a good visit and I nabbed a few things I'll share in my September thrift finds post. Here's some of what I spotted, clothes-wise, but didn't take home.
Gumby! (and collection bins filled with Trader Joe's bags):
I shared these on Instagram the other week but for those who don't follow me there, some of my finds.
An Xhiliration blouse, size small, with a great pattern BUT SOMEONE CHOPPED OFF THE BOTTOM: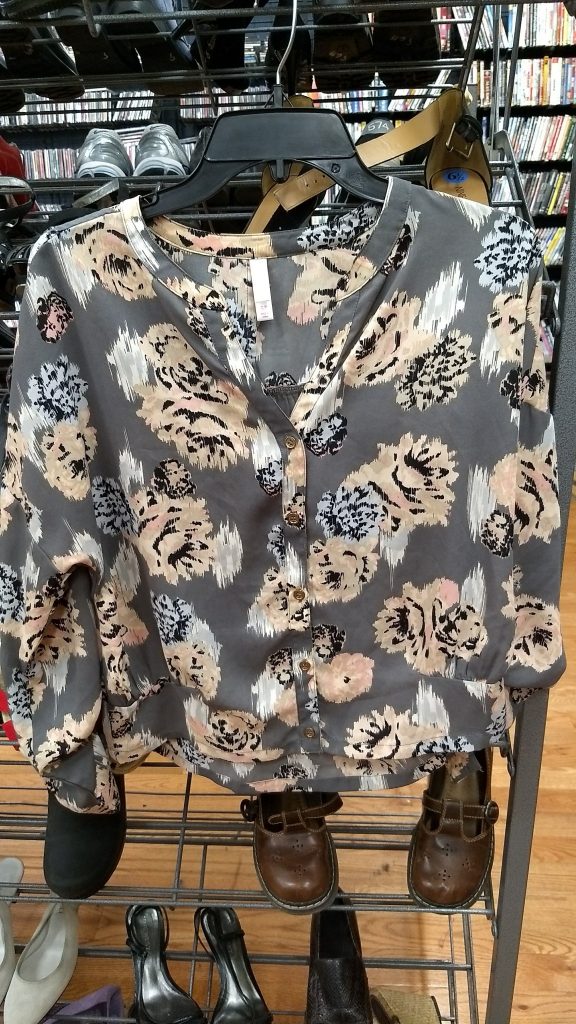 Not really, it's just cropped and I'm annoyed because otherwise it would make a great work top for someone. But short-torso'd readers, perhaps this is your dream?
Uniqlo turtleneck that was made of some kind of classy fleece: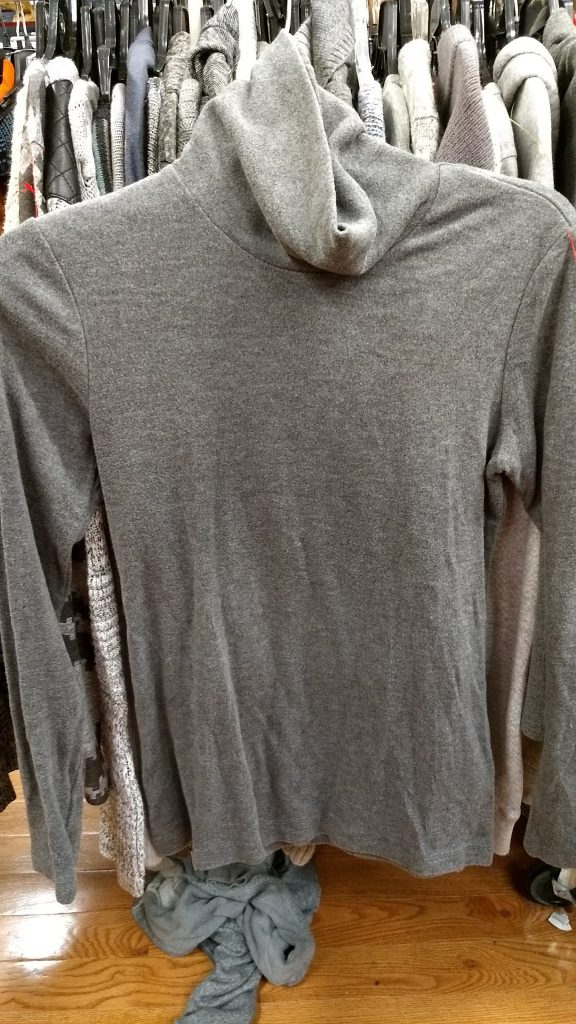 Super chic cobalt blue Kenneth Cole jacket with great shoulder and pocket details. I couldn't find this exact coat online but I imagine it retails for $100+. Love the collarless collar: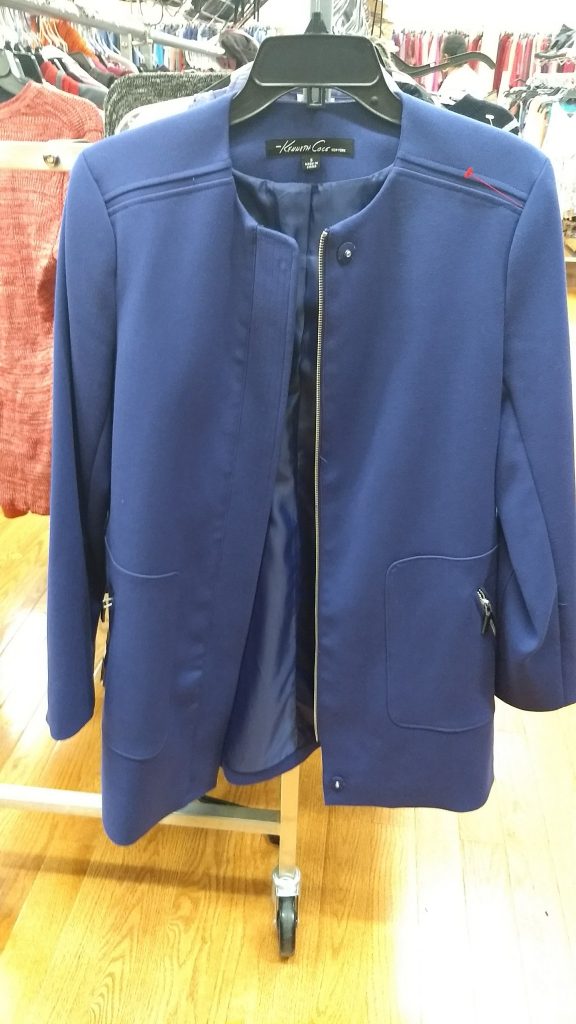 The tiniest tweed jacket, with velvet collar!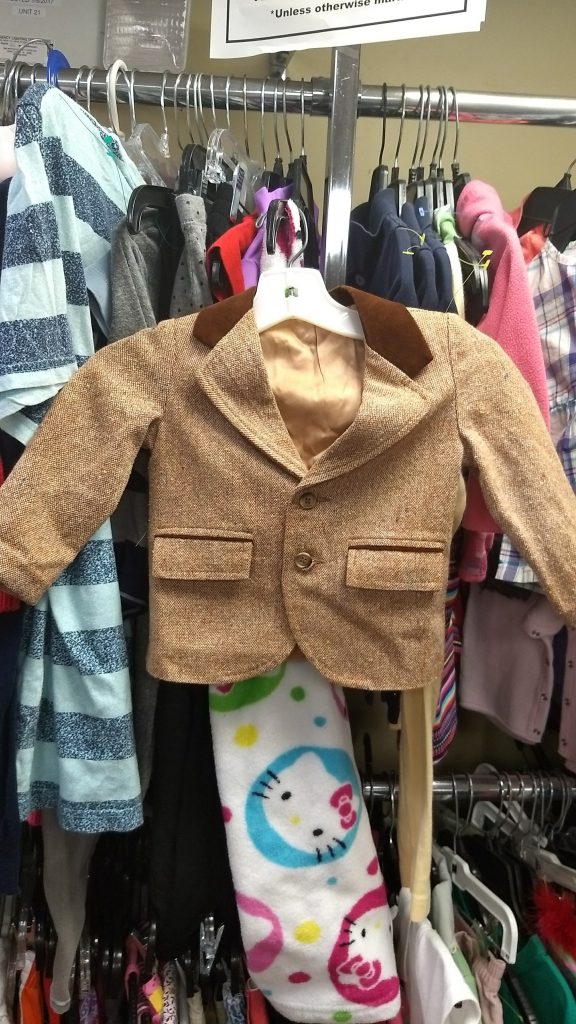 Odille (Anthropologie brand) dress in mustard: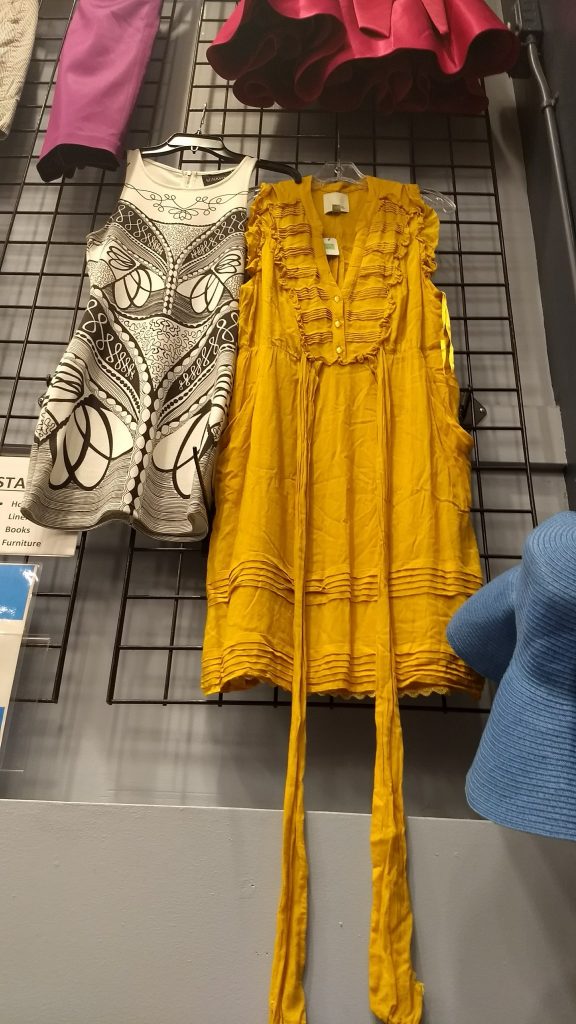 And what I wore for the excursion, as it was on the warm side:
Floral blouse: Old Navy, thrifted
Shorts: Bebe, thrifted
Sneakers: City Sneaks, thrifted
Bag: Marco Avané, thrifted
There are two more Sister Thrifts in the Boston area and two more secondhand stores in Davis Square to check out. I'll keep you posted next time I visit one!