Most of August was spent getting ready to move and then moving. But – I know you're shocked – I managed to fit some thrifting in there anyway!
Check out the decor and lamp shades I thrifted in August to help stage our house here.
And now for the clothes.
Floral cotton popover blouse by Old Navy
Y'all know me and my love for popover blouses: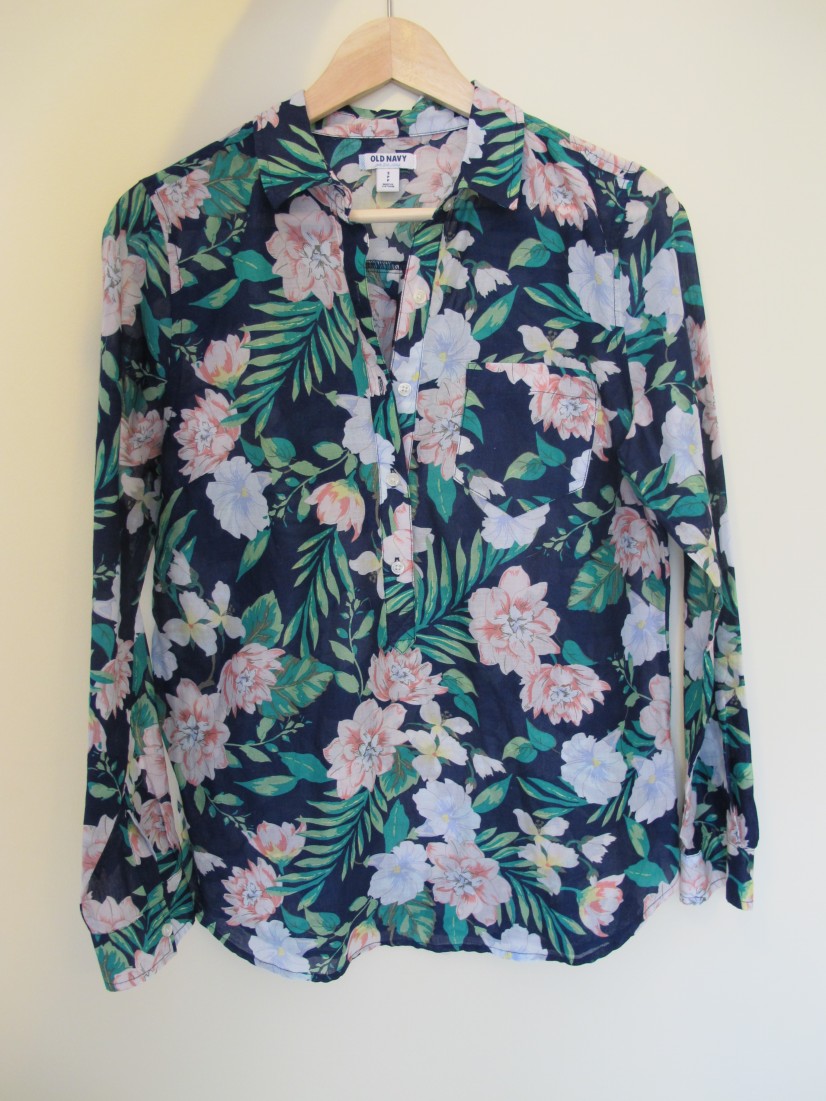 I've been looking for something with palm fronds, which has proven surprisingly tricky to find with a navy background instead of black. This one is like…a chic version of a Hawai'ian shirt. It's also beautifully lightweight for those truly hot days. I'm in.
PS For those keeping score at home, yes I did have another tropical popover in blue, which I loved, but which was a tad too tight on the chest/shoulders. Aaaaand I also had another navy floral blouse – one which was less vacation-y printwise, but with a flowy cut that just looked sloppy on me. So when the Old Navy number came along with its perfect fit, I heard the universe telling me to let go of the other two less-than-greats.
You are the weakest link(s). Goodbye:
I am pretty sad about losing that awesome tropical print/color scheme. Sigh.
Plaid cotton popover blouse by Kenar:
Another cotton popover blouse – are we detecting a pattern here (pun intended)?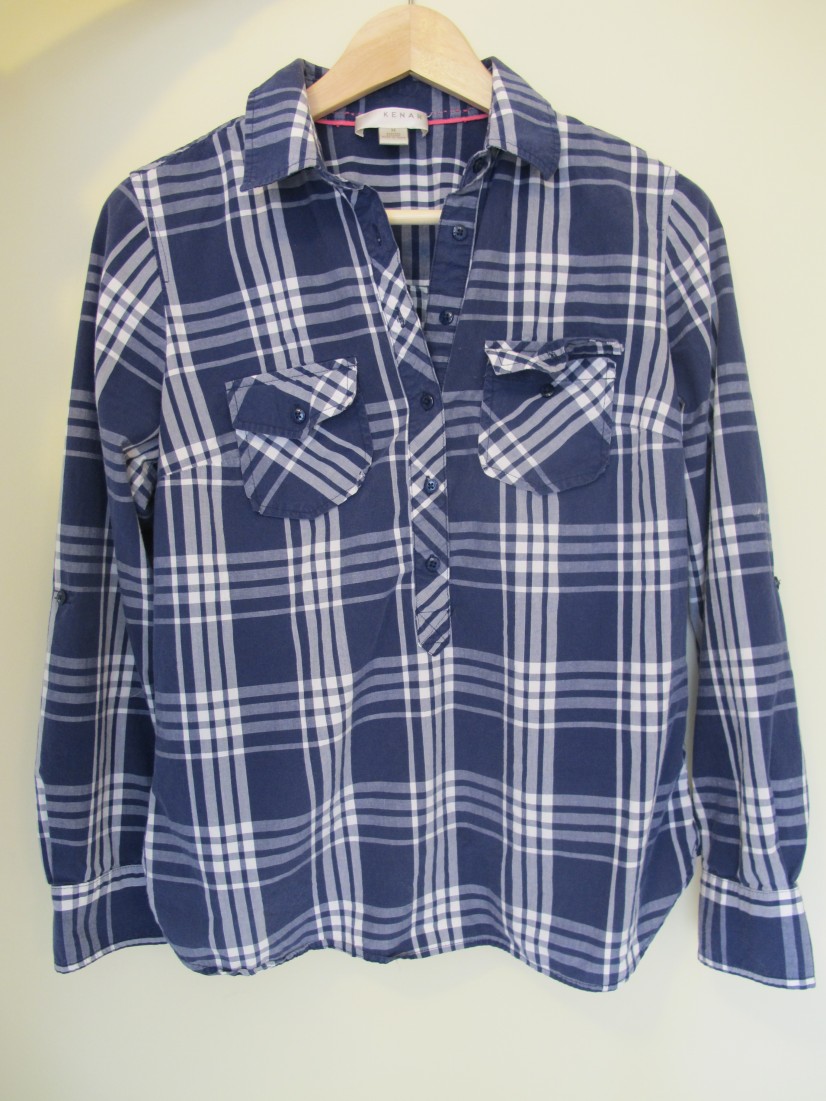 I had been pulled toward a similar white-on-blue windowpane plaid popover before, one that didn't fit so well:
Another reason for rejecting that earlier edition was that it was too casual for work and I already had a plaid weekend shirt. But since moving to the Northeast, I've found that work attire (at least in my office) is quite a bit more laid back. The good fit on the new find makes it sleek enough for work while the plaid keeps it kickin' for the weekend: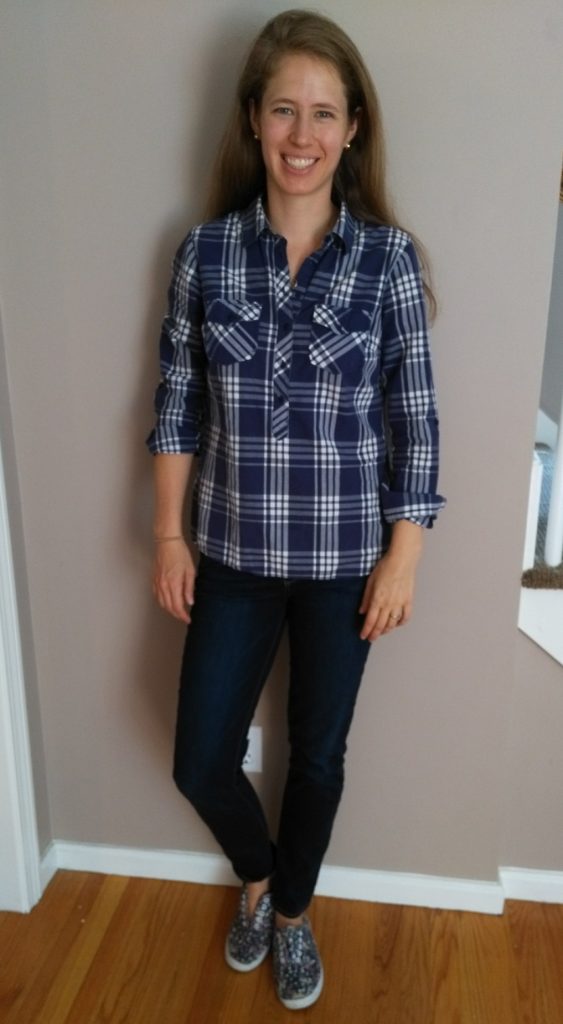 Plaid shirt: Kenar – thrifted
Jeans: Paige – thrifted
Shoes: City Sneaks – thrifted

Next up, the Paige jeans that were miraculously left waiting for me in the fitting room at the Goodwill. I'm wearing them in the picture above as well as here:
Vest: Savile Row Co. – thrifted
Shirt from my alma mater, retail
Jeans: Paige – thrifted
Shoes: City Sneaks – thrifted
Bag: Marco Avané – thrifted
Paige jeans, for those unfamiliar, are made in the USA and retail for around $200. BIG SCORE. These Skyline Skinnies were like new and fit me perfectly – no belt needed, which is a big plus in my book.  I'll just have to adjust to having a second pair of jeans in my wardrobe… but with a cold climate and a casual office I imagine they'll come in handy!
PS Yes I know skinny jeans are not really the hot new thing these days… since I tend to lag behind in trends (see: how long it took me to adopt skinnies in the first place), I'll probably be wearing cropped mom jeans in about 2-3 years. You've been warned.
Mercer & Mason white blazer, new with tags
I'm digging the long, lean lapels on this blazer and the warmth it provides on brisk early mornings/late evenings here in New England:
At no loss for blazers, I had pretty much decided I didn't need a white one until I wore my white denim jacket to a wedding and felt under-dressed. This TJ Maxx brand features decent quality fabric and the lining keeps it toasty – linings were often problematic in Atlanta for this reason but are ideal here! The slightly off-white color will go with everything without washing me out (I hope – pasty white winter skin may yet prevail).

Olive faux suede ankle boots by Leila Stone
I know these don't look terribly olive in these pictures, but they're definitely on the green side of taupe.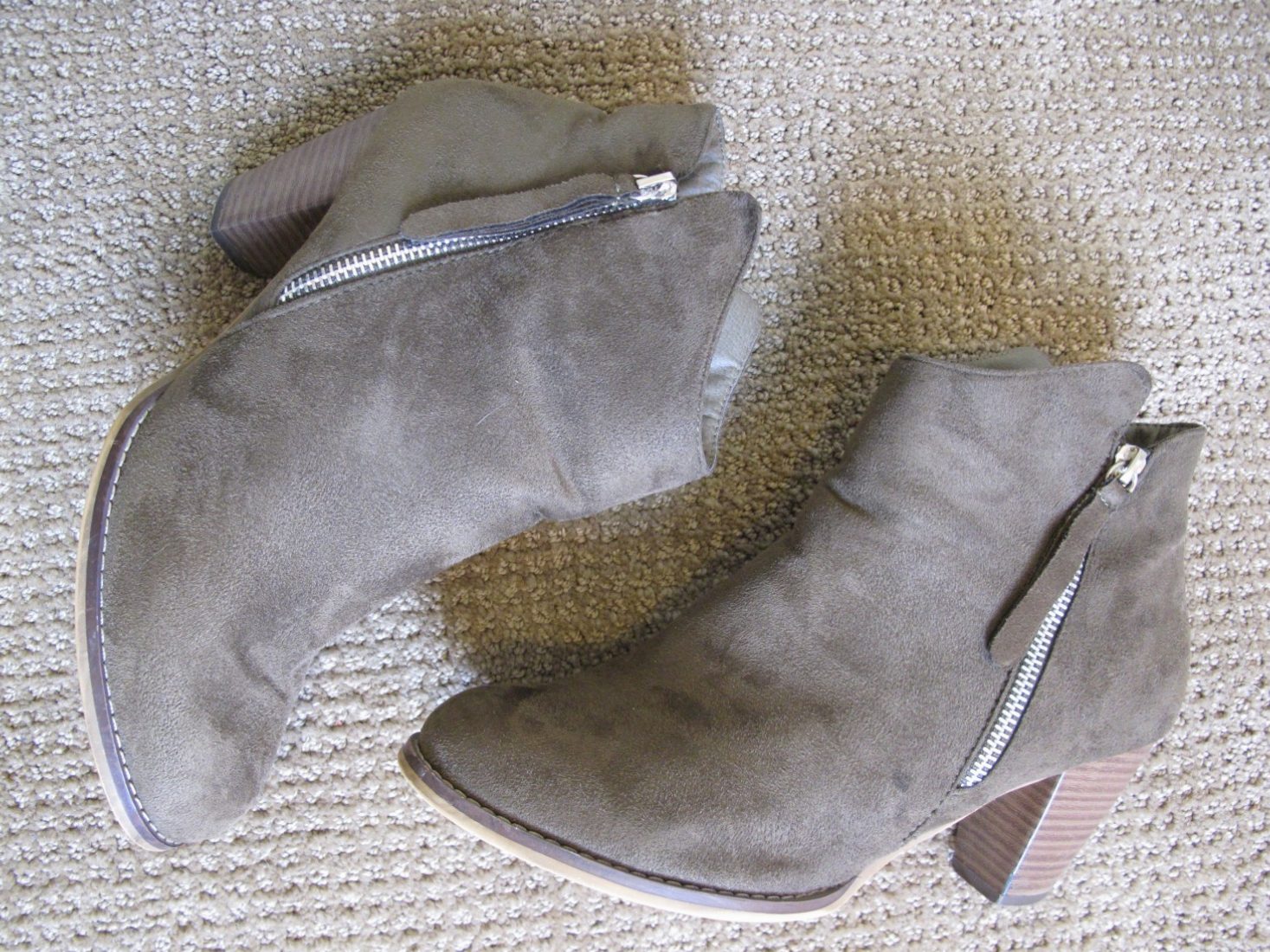 I'm calling these an impulse buy despite the fact that two or three days passed between when I first spotted them and when I bought them. I loved the subtle touch of color (it's hard to find ankle boots that aren't black/grey/brown), the asymmetrical "cuff" for lack of a better term, and the sassy little tassels on the zipper pull (although I wish the hardware was gold, but that's my inner magpie speaking). They have my favorite toe shape – halfway between pointed and round – and the wood-like heel also appealed. It plays well with my wardrobe, unlike the other common option for heels, which is black. And they're my size, hurrah!
But….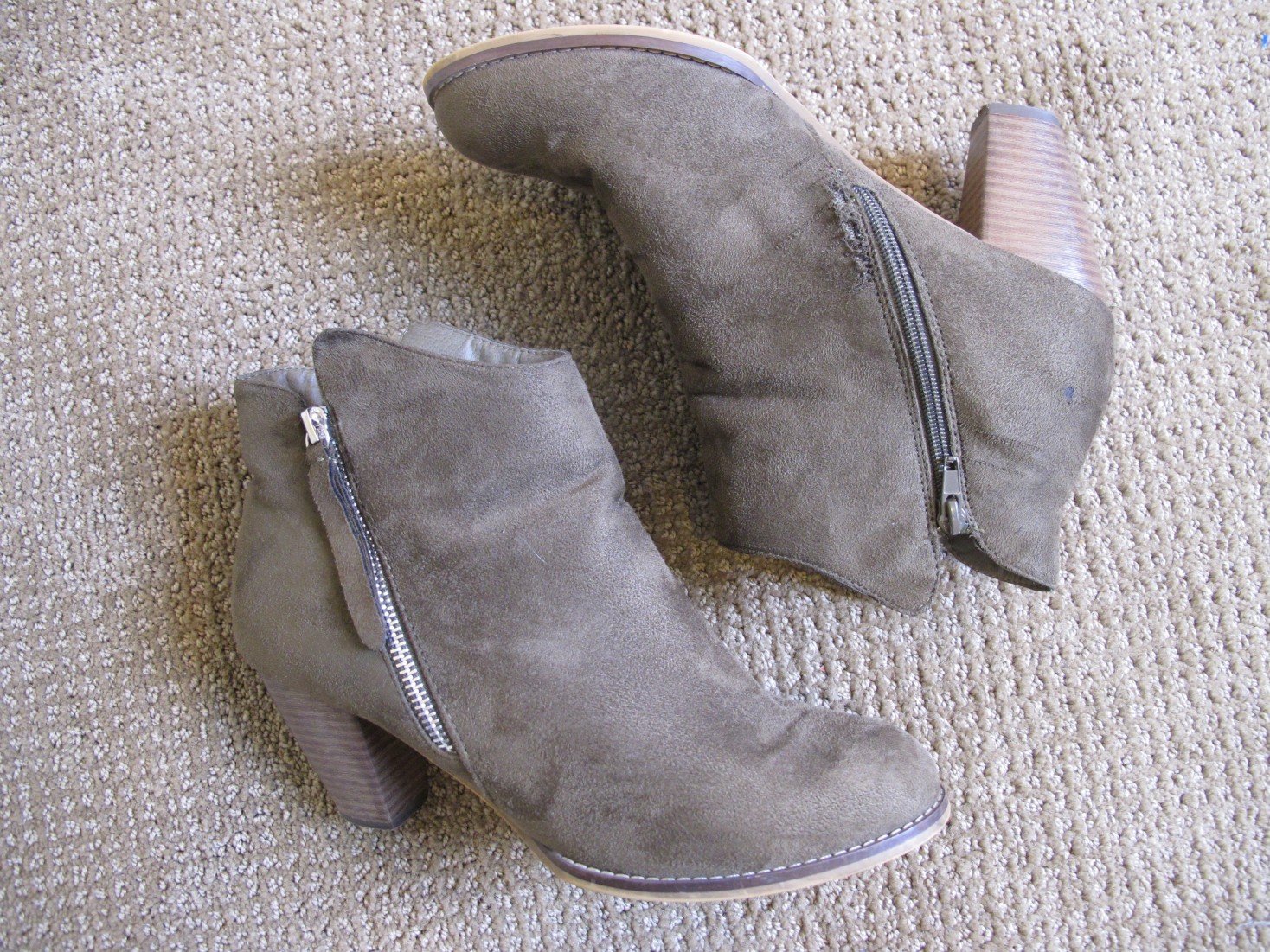 …there's a reason they had been donated to Goodwill. These shoes are faux suede, and judging by the tear in the fabric near the zipper, not high quality faux suede. Other evidence they are not well made, or else that they are very well worn, include wear spots near the toe and the heel on that same side (which luckily is the inside of the shoe, but it will still show).  And the heel is really too high for my personal comfort.
So why did I buy them? Mostly as a stop gap. As soon as I saw these, I started dreaming up all the delicious fall outfits they would complete, and I went looking online for something higher quality (and, most likely, retail). After spending an hour or two perusing different options, I realized that this was madness; I already had ankle boots I love, I was about to move and didn't need to spend $100+ on new boots, and life would go on without my having a pair of olive shoes to make all my wardrobe dreams come true.  So to stop myself from pulling the trigger on something expensive and unnecessary, I spent $6 on these and told myself I could sew up the rip, my micro commute could survive the higher heel, and they'll be fun while they last.
So now let's see if I get any use out of them or just enjoy how they look on my shelf!
Last but not least, I thrifted a file organizer for my new office and a slew of hideous yet functional Laura Ashley thank-you notes which I have liberally sprinkled amongst my wonderfully generous and thoughtful congregation. And a couple of decorative pillows I have yet to convince the spouse are aesthetically pleasing. (To be fair, he was the one who started the throw pillow conversation…)
Right??? I like them too. $17 on Etsy; jacked up to $40 retail; $4 at the thrift store. BAM.
I also thrifted a goodly fall wardrobe for the child, which I will post separately.
So, your turn. What did you thrift this past month? Have you ever bought something ridiculous and/or crappy to stop yourself from spending a lot more money on a higher quality version? Or do you have way more self-discipline than I?