While I got a lot out of reading The Life-Changing Magic of Tidying Up – including the ever-useful closet-clearing question, "does this spark joy?" – I've never properly Kondo-ed my possessions.
It's not that I'm against the idea of collecting all my clothes, or books, or kitchen gadgets, etc. in one place and holding each of them to determine how they make me feel. (I think that would be rather invigorating, actually.) It's just that I seem to accomplish tidying in waves: Hmm. The closet/bookshelf/kitchen drawer is looking a little full. Think I'll do a quick review to see how joyful I feel about all this stuff. It's analogous to the "these pants are getting a bit tight" method of weight management rather than the crash diet method.
Regular but small-scale evaluations of my stuff seem more manageable, time-wise, than Kondo's recommended "tidying marathon." And it's nice to have something to tackle when I get the "clean out and organize" itch.
But I think the real reason I like doing it this way is that it lets me work up to letting go of items with which I'm not quite ready to part. Usually this is about an image of myself, an image that's more fantasy than real life, more vanity than authenticity, more fear-of-the-future based than present-need-based: "This architectural blouse makes me look so hip on Instagram." Or "What if I need this [insert kitchen thingamabob here] some day? It's so practical!" Or "What will people think of me when they see the entire collection of Mitford novels on my bookshelf?"
In my experience, shedding those phantasms takes time. When I recently ditched the books from college that made me feel well-read (but that went largely unread), it was because I could finally embrace the fact that I'm much more likely to re-read a good mystery or a cozy, psychologically astute portrait of small-town life.
(Seriously, as a pastor, Jan Karon's Mitford novels – while occasionally a bit simplistic – and Patrick Taylor's Irish Country Doctor series are morale-boosting manuals on how to live life in service to the "takes all kinds" variety of people you find in a church and still keep your sanity and sense of humor. Prayer and whiskey both seem to help.)
I do have a picture frame conveniently placed in front of the Mitford series just in case a guest is feeling super judgmental. So maybe I still have some work to do.
But these prolonged tidying forays have taught me that Marie Kondo is spot on about at least one thing: my wardrobe/bookshelf/kitchen drawers feel the happiest when I focus on my feelings (whether I love something) rather than my thoughts (rationales for why I "should" keep an item).
Oh, and she's right about boxes for organizing. So helpful.
So since I like seeing pictures of other people's lovely, neat drawers after they've been Kondo'd, I thought I'd share my sock and underwear drawer, where I just axed two pairs of socks (donated) and two pairs of saggy underwear (textile recycling) that were still "practical" but utterly unjoyful. I also just realized I would feel mentally happier if I used one little storage box (from some storage system I bought years ago and then tried to make my spouse use for computer stuff) to give it a little structure instead of letting all the socks and underwear run together: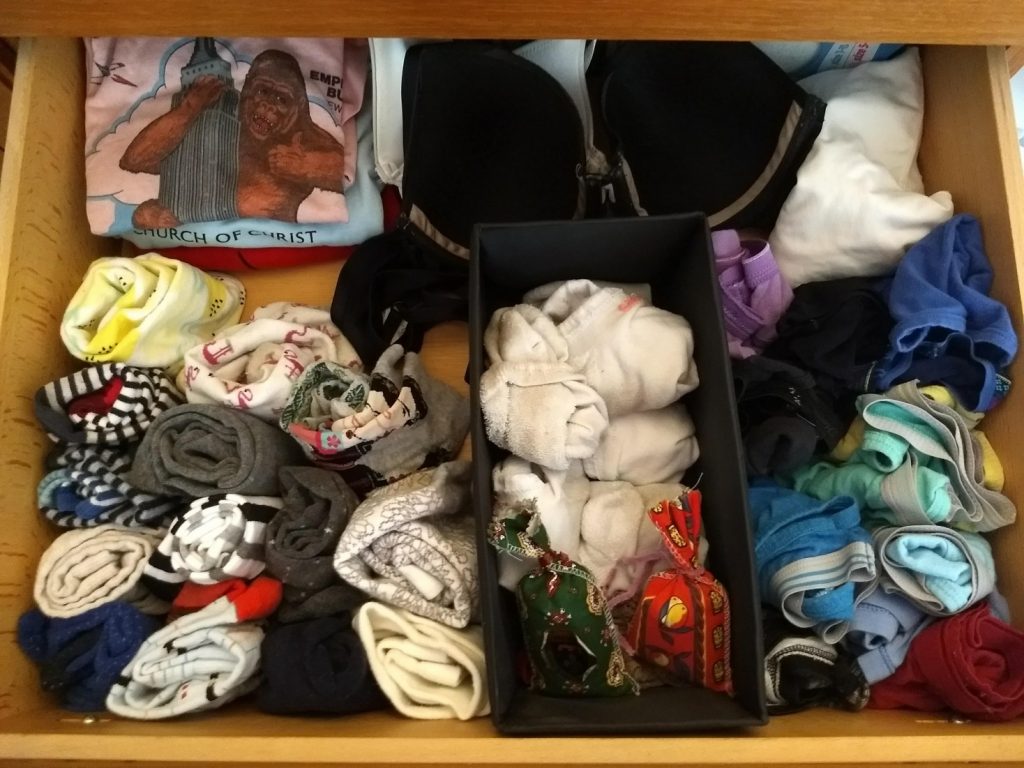 (Yes, I roll my big socks and undies Kondo-style because it's aesthetically pleasing but ball the athletic socks because I can't be bothered. I am a walking contradiction, what can I say?)
Disclaimer: if you don't count the three-pack of new underwear I picked up at a Goodwill in North Carolina, absolutely none of these clothes are thrifted, because used socks and underwear rarely make it to thrift stores and when they do, I'm not buying them. And because the sleep t-shirts are from my childhood and the bras are retail – saggy used bras that may or may not be my size are not something I thrift. (Oh, the wonders of a proper bra-fitting! High on my list once I have exited the maternity/postpartum stages.)
(Wait! I lied! The King Kong Empire State building t-shirt was a prize find from the Scituate Goodwill in college. Still use it as a sleep shirt because it's worn so wonderfully thin and comfy.)
Cute and practical but no-longer joy-sparking socks: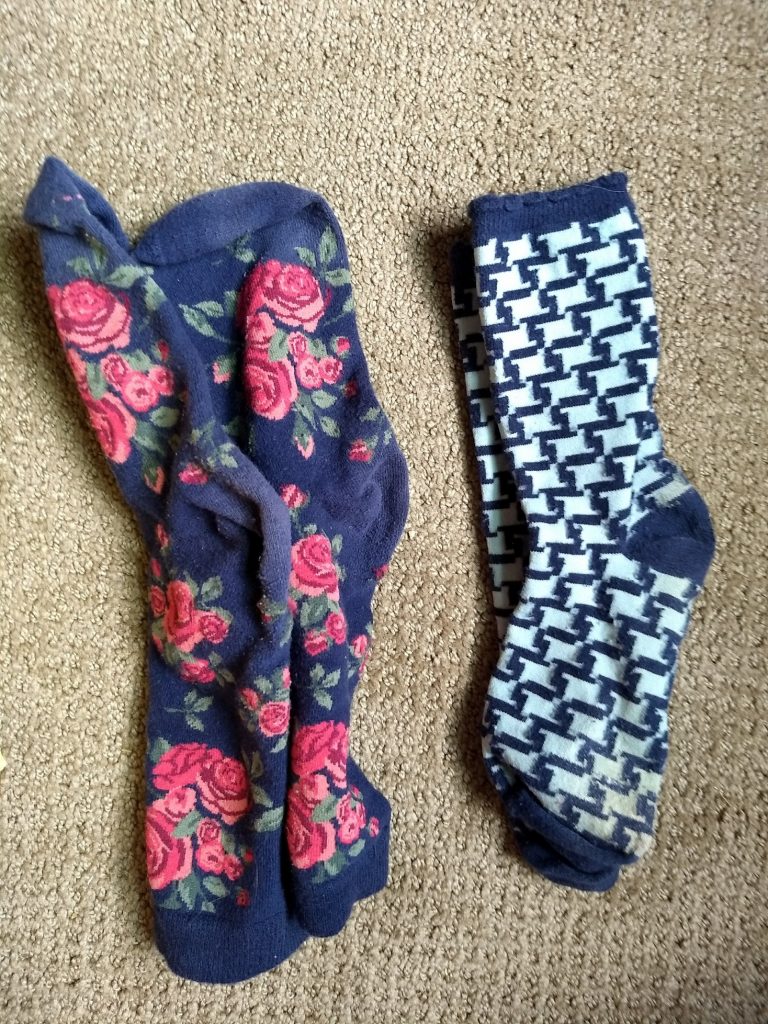 Well, that was a heftily psychological excuse to show you my sock drawer.
What's your psychological approach to tidying? Or your practical approach to organizing your sock drawer?