Reader Kathleen S was the first to dive in on my Ask Me a Question! post–thanks Kathleen!–and she wanted to know: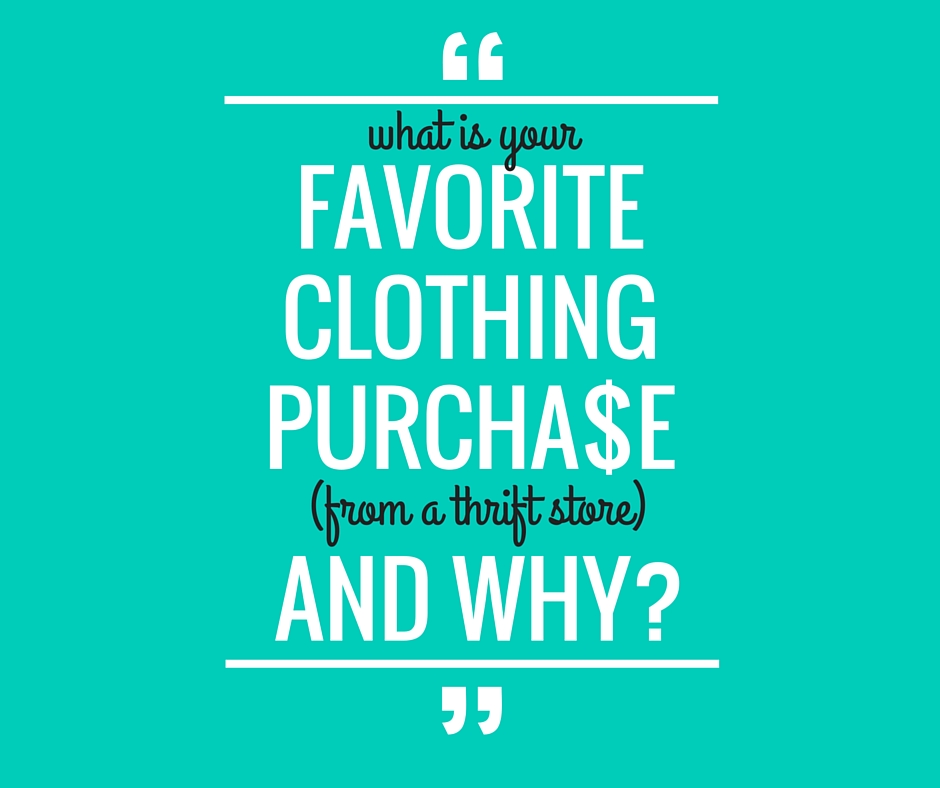 Friends.  Oh my.  This could take a loooong time to answer.
I have clothing finds that are favorites because they have worn so well and served me faithfully over the years: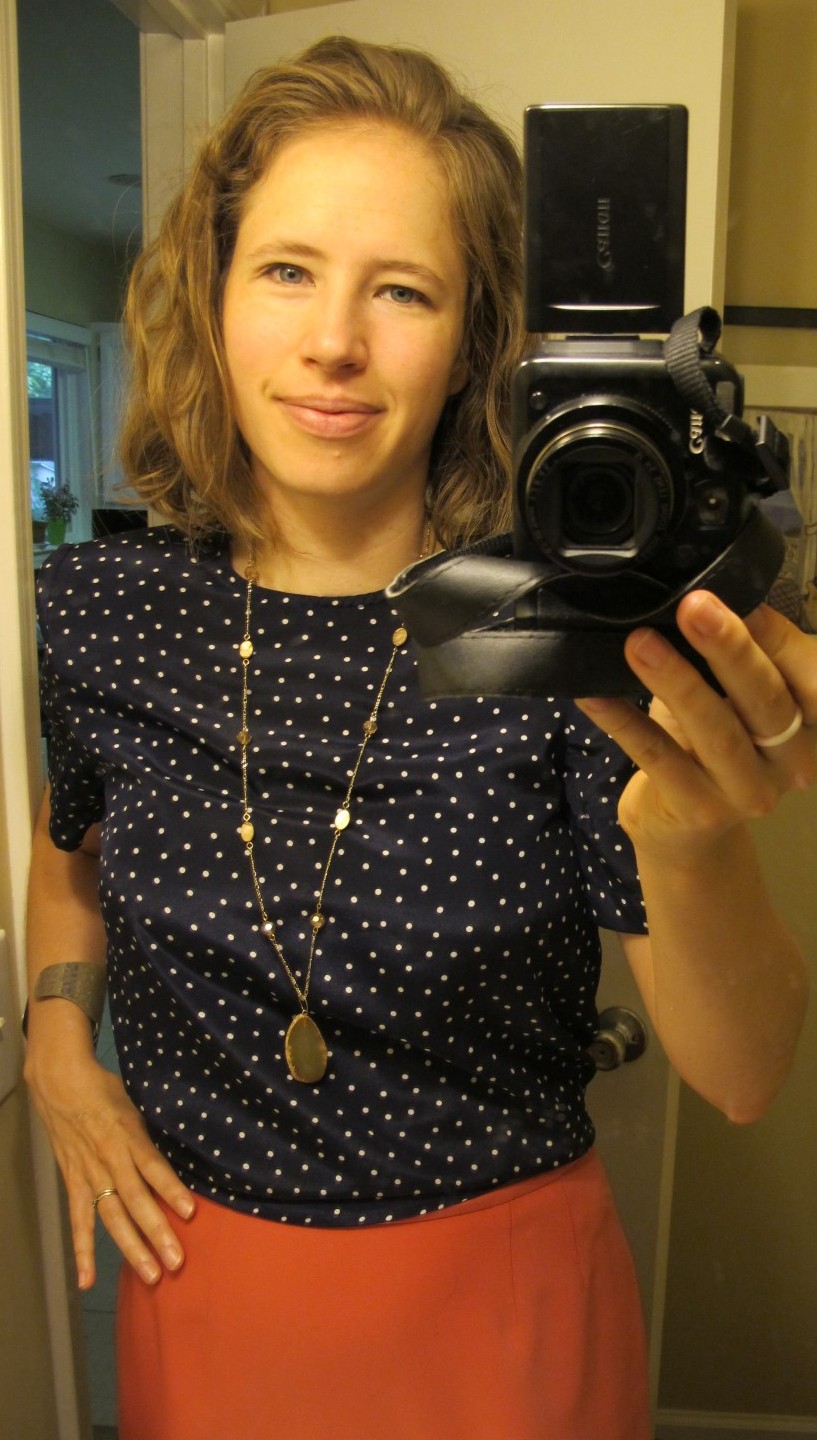 How I love thee, polka dot blouse.
I have favorites that have become a signature part of my style: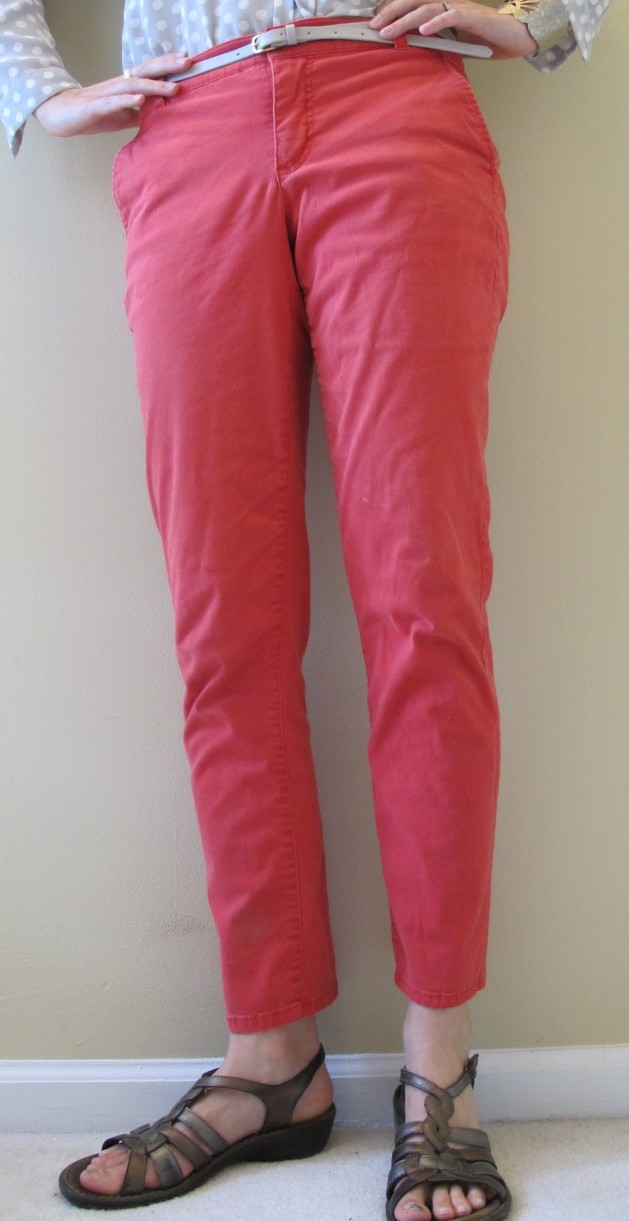 Red chinos forever.
I have favorites that were just too funky or unique not to come home with me:
Handmade vintage bakelite green sheath?  Yes please.
I have purchases that unexpectedly became favorites despite their initial "eh" or "whaaaat?!" factor: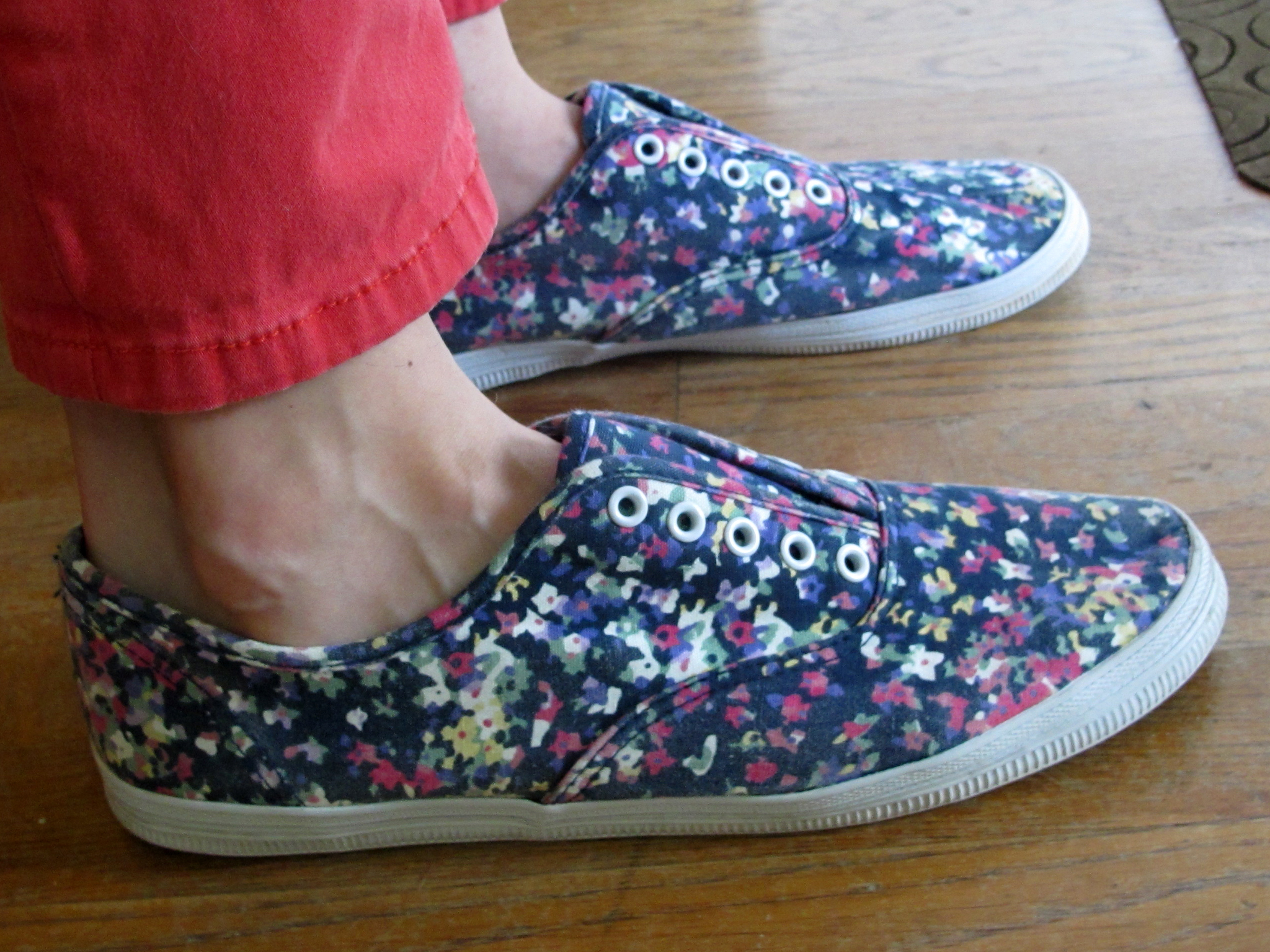 These were bought on a whim and I was a little unsure they'd stick–but they add such spunk to a surprising number of ensembles.
I have favorites that just spoke straight to my heart and I still have them even though I don't wear them all that often:


Cowboy boots with leopard print pull tabs. Rowr.  Found at a hole-in-the-garage store called Ashes to Beauty in the West End.

I have "current" favorites that have flooded my Instagram feed all summer:


This top–so much bang for the thrifted buck this summer.
I have recently thrifted favorites I can't wait to wear more when the weather gets cooler: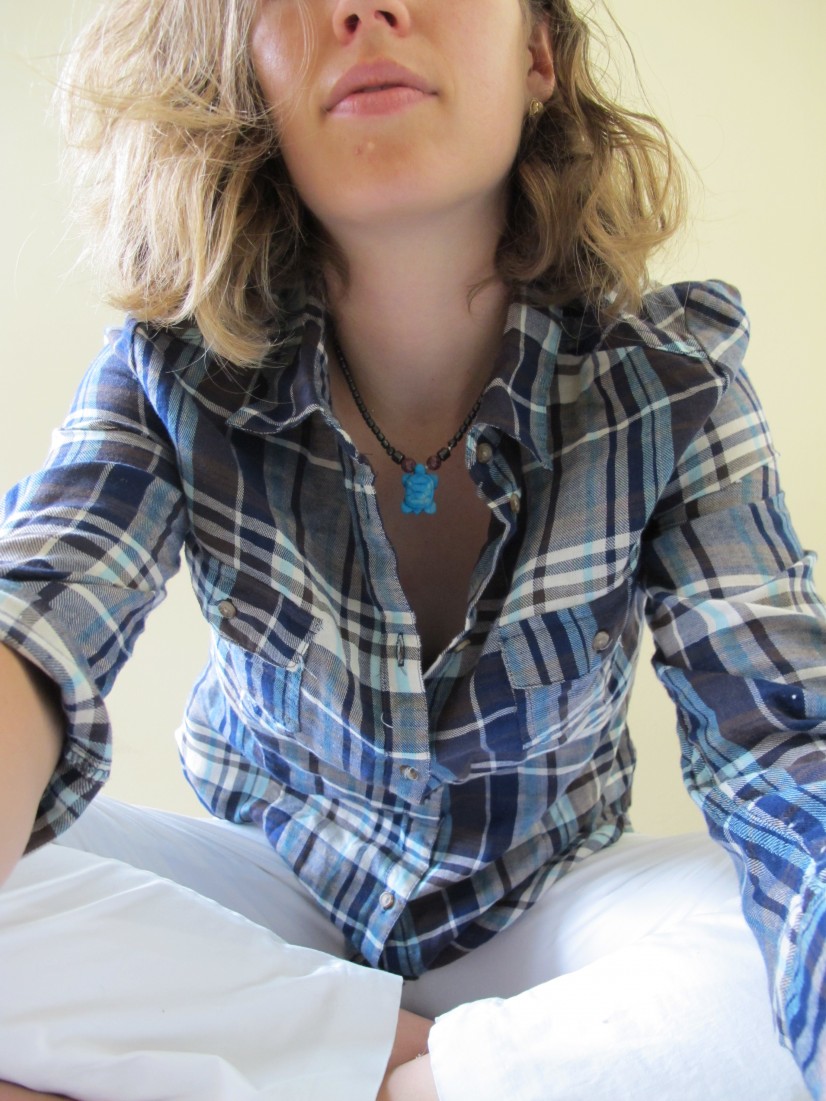 Plaid, mmm.
….you get the picture.
But to pick just one??  Difficult indeed.
I'll reveal my favorite (for the purposes of this post–shh, don't tell the others, they'll be jealous) a few lines down, but in the meantime, I want to know about YOUR favorites.  Thrift stores are full of such gems; if you all post pictures of, or even just describe, your favorites it'll do more than I as one lone thriftaholic ever could to testify to the masses that thrifting = a viable, enjoyable pastime filled with sartorial splendor (both ironic and work-appropriate).  So comment away, and illustrate as much as possible with Instagram links, or email your photos to post in an ongoing series–excuse me, CELEBRATION–of all that is thrifted clothing!  Huzzah!
Got a little carried away there.
Anyway, I give you:
Mississippi Travelers.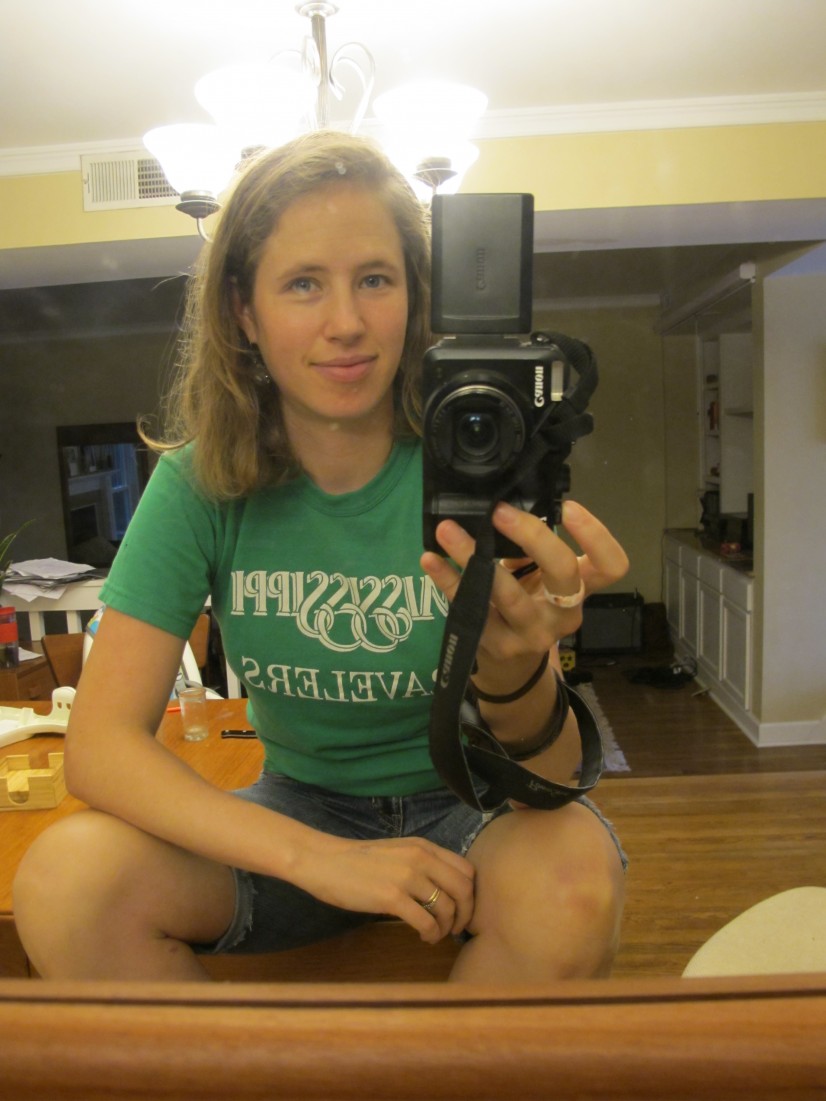 And a dirty mirror. 
I thrifted this humble, slightly-south-of-kelly-green t-shirt with a tiny hole in it while living in, you guessed it, Mississippi, doing post-Katrina clean up.  This baby was living in the t-shirt section of an America's Thrift Store–the kind where the real cheap prices outweigh the excessive use of American flags and the cheesy Christian music blaring over the loudspeakers–when it caught my eye.  I was in the beginning stages of transitioning from "thrift stores are a fun place to get funky, ironic t-shirts!" to "thrift stores are my sole source of clothing and I'm going to look fabulous in my finds from them, dammit."  This was obviously the former, but it's outlasted almost every other such shirt in my wardrobe (exception: a pink threadbare tee where King Kong proclaims "I made it to the top!" of the Empire State Building bought on an excursion to the Sciasconset, MA Goodwill in college–yes I remember these things).
Why this shirt?  It's so dang comfy, for one; so many washes have mellowed that poly-cotton blend nicely over the years.  For another, I unironically wore it to my pre-wedding brunch, with an unbuttoned, purple checked oxford over it, no less: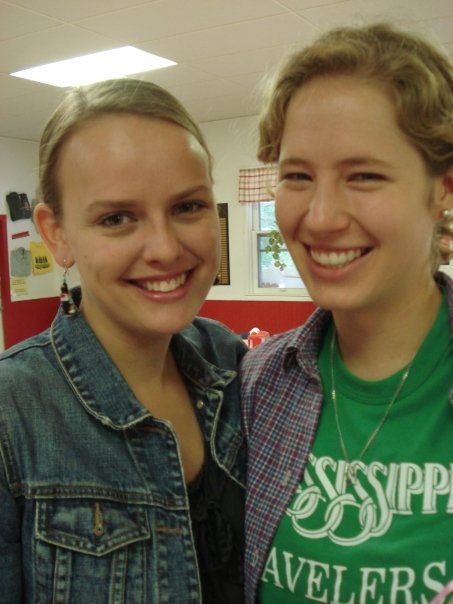 Me and the lovely Raquel of the utterly rad www.rkaink.com.  She is your WOMAN for all things website design-related.  Seriously, check her out.
But mostly, I just reach for it again and again and again to relax in at the end of a long day or to lounge around on weekends.  It adds value to function, reminding me of a great time in my life without ever making me feel constricted or scratchy, but simply just right.
Maybe not what you expected from a style blogger?
Share your favorites below!