I admit it, that title is a bit dramatic.  But since I've already used "A Tale of Two Blazers," I went with it.  Also, it's not really a cage match as I right now I plan to keep both of my new finds (below)… but depending on which I reach for more, one may eventually win a permanent place in my closet.
First, though, let's start with my revelation vis-a-vis the perfect blazer. After many false starts and fitting-room frowns, I realized that I like lapels that are long and narrow, not wide and curvy:
In general I prefer a silhouette without a lot of curve.  My blouses tend to be a little loose, not fitted, so they can fall in a straight-ish line from my shoulders to hips.  I don't do form-fitting on the bottom, either – my go-to pant is slim, not skinny. Even my sheath dresses, which do follow the form of my body, don't do much curving – because I ain't got a lotta curves.
And I already knew I didn't like jackets with too much of an hourglass shape.  So I don't know why it took me so long to figure out that a key part of my loving a blazer is having lapels that elongate my look instead of adding width/curve.  This "aha" moment made it that much easier to flip through a rack of blazers and sift out good candidates.
I got a chance to put this epiphany into action last week while thrifting for a special occasion dress. You may recall that I was not happy with my navy wool blazer of yore because it picked up every fuzzy lint ball and stray cat hair and when I washed it (THAT was dumb) it didn't reform back to the silhouette I liked.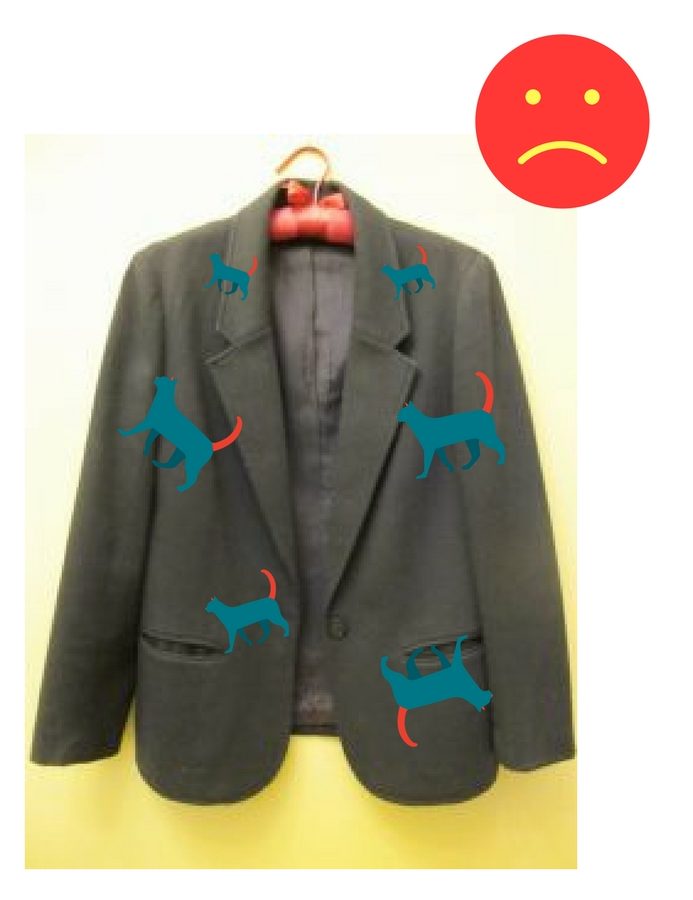 So I was on the lookout for a replacement blue blazer – and found two.
The first was this navy number by Charlotte Russe: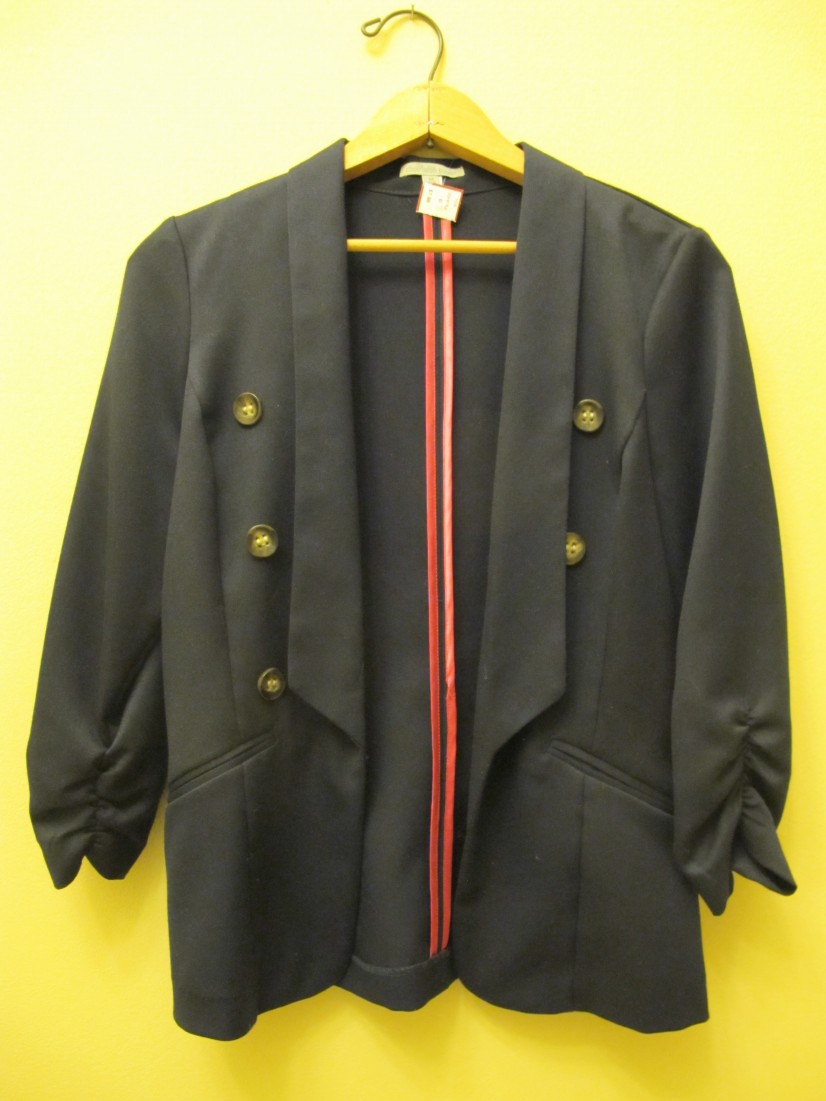 Please ignore horrid yellow lighting.
The inverted lapels are unexpected and create that long line I love.  The decorative buttons are a great detail and in a nice neutral palette, and the permanently scrunched sleeves at my favorite length mean I can look chic without having to shove them up my arms all the time.
Since Charlotte Russe is super fast fashion, I am skeptical about how this will hold up.  Surprisingly, though, it is much less rumpled than most of the unlined jackets I find in thrift stores, even from significantly higher pricepoints.   I actually like the fact that it's unlined as it makes a nice finishing layer without adding a ton of bulk/warmth, since I tend to wear blazers in spring/fall when a fully lined wool jacket in Atlanta = sweat.
The next day I found this medium blue baby by H&M: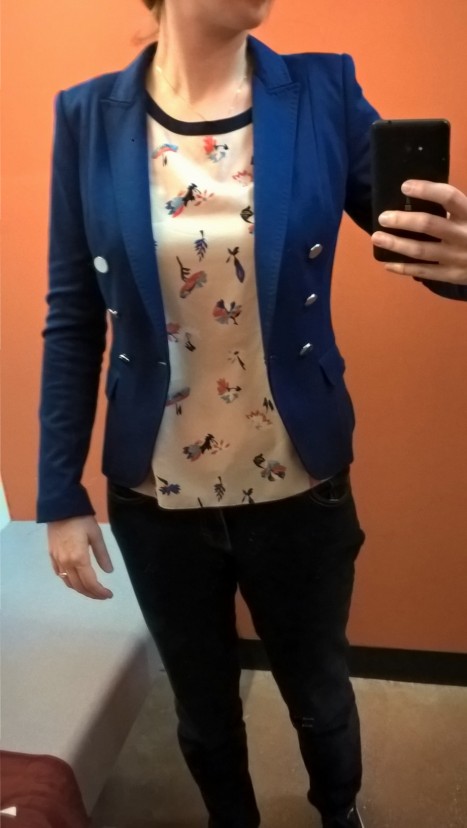 I LOVE the color – it's hard to find blue blazers that aren't navy (and often a severe shade of it).  I also love the ponte fabric and the satin-y finish on the top line of the pockets.  I'm a little iffy on the pointiness of the lapel notch and the topstitch detail, but the long/lean line is in effect and that's what I value most.  The fit also runs nicely along my torso.
I was *not* in love with the large silver buttons (I don't wear silver jewelry and the tops ones hit right at bust level), so I removed them.  You can see where they were stitched on; it's not as obvious when I'm wearing it and the ponte may bounce back over time.  I'm definitely going to sew a button back on to the only non-decorative spot in the middle; if the other spots are still noticeable in a week or two I'll find some gold/bronze buttons and resew them as well.
Obviously H&M is also fast fashion.  I've noticed that as far as blazers go, people tend to hold onto well made ones and not donate them 'til they've gone out of style (which is why you lots of blazers from the 80s and 90s at the thrift store).  Most often cuts and styles that feel more current are of the fast fashion variety because it's a lot easier to donate something that cost you $30 vs. $200.  There are occasional exceptions but I'm not holding my breath to find them.  I'll keep you updated on how these two hold up.
What do you think of my finds and my impromptu blazer surgery?  What's most important to you in a blazer or a jacket? Scroll down to comment!