I'm doing the 10×10 spring remix hosted by Un-Fancy and StyleBee. I'm using 10 pieces of clothing to create 10 different outfits, using self-imposed limitations to spark some creativity. All the details – and the clothes (all thrifted)– here.
Day 10 – the finale!
I had planned to go with my Delft-blue Chico's tunic top today to round out using each of my blouses two times, but the navy J. Crew skirt with which I had planned to pair it is out of commission (it needs its lining tacked up). Plus that top feels really summery/casual, more of a Friday or summer slow day top than a mid-week top.
What felt fresh and right again?  This puppy: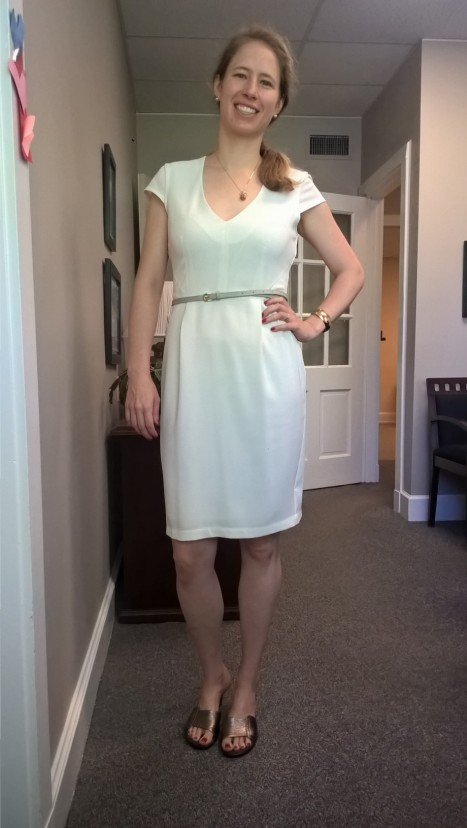 It didn't hurt that my remix has stretched into a third week (due to not working a few days last week); wearing it three times in two weeks might've been a little much.
I'll tell you a secret, though – I topped it off (or will if it gets chilly in the office) with something outside my 10×10 capsule.  Egads!
The weather is too warm for my dress coat, and the cool grey of my marled blazer didn't feel spring-y enough. I perused the rest of my blazers waiting to be put back in rotation after the 10×10; the pink/blue marled one by Cartonnier immediately spoke up and said "I'm lovely and spring-like!" Why yes, yes you are – get on over here: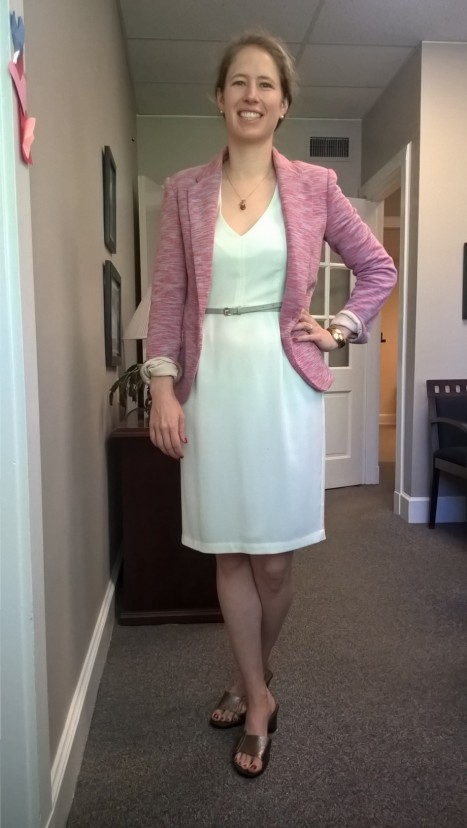 Close up on that pattern – I guess it's more of an orange-y red than a pink!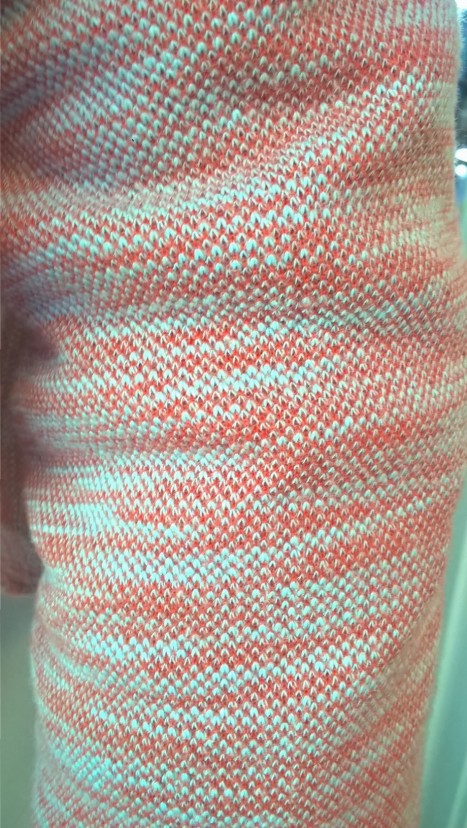 As Caroline of Un-Fancy likes to remind us, this challenge isn't about sticking to the rules for rules' sake, but learning about our wardrobes and what works/doesn't work for us.  The fact that my grey blazer didn't feel spring-y enough is definitely useful learning – a piece of information I'll save for evaluating the blazer's place in my wardrobe, since I had planned to use it as a spring/fall workhorse.
Styling: I went with my simple grey belt to keep within a palette of muted colors (yes I know my jacket is pink and blue, but they're not bright pink and blue, or even particularly saturated).
I notched another belt loop using a tack to tighten my belt up a bit – great trick for belts that fit your hips but that you'd occasionally like to use for your waist. Just make sure to make the hole starting from the finished side – the side that the world sees – so that any rough edges are out of sight.
Finally, I rolled the blazer cuffs to the bracelet length I love, both to show off my cuff bracelet and to make it feel slightly less formal.
Thoughts: This dress feels simple and stylish with its clean lines. My coworker with 20+ years' retail experience raved about it this morning before I had even added the belt; although I'm a firm believer that your own feelings on a piece are most important, it doesn't hurt to hear outside opinions! :)
I like its cream/off-white color with the blazer's muted pink/blue even though I didn't really need a second layer today – our highs are in the 80s all week.  That's spring in Atlanta for ya!
I'll be back tomorrow with what I learned from this experience.  In the meantime, scroll down to comment and tell me what you think of this outfit, whether you're a rules person or a rule-breaker/bender, and whether you'd like to see me do 2 or 3 outfit posts like this per week.  Now that I have a consistent set up (not glamorous but it works!) and a routine going, I'd be happy to do more of these if you all enjoy them!