I'm doing the 10×10 spring remix hosted by Un-Fancy and StyleBee. All this work week and next, I'll be using 10 pieces of clothing to create 10 different outfits, using self-imposed limitations to spark some creativity. All the details – and the clothes (all thrifted)– here.
Leave it to me to forget that work would be closed this past Monday (observance of Easter); I spent the first half of the day in pjs and the second half in workout clothes. And yesterday was a whirlwind of meetings, prepping for church council, and voting in a special election, so today you get TWO 10×10 outfits. Aren't you lucky? :X
Day 6
Post-vote pics at home from a very fore-shortened perspective (thanks to the Spouse for capturing photos):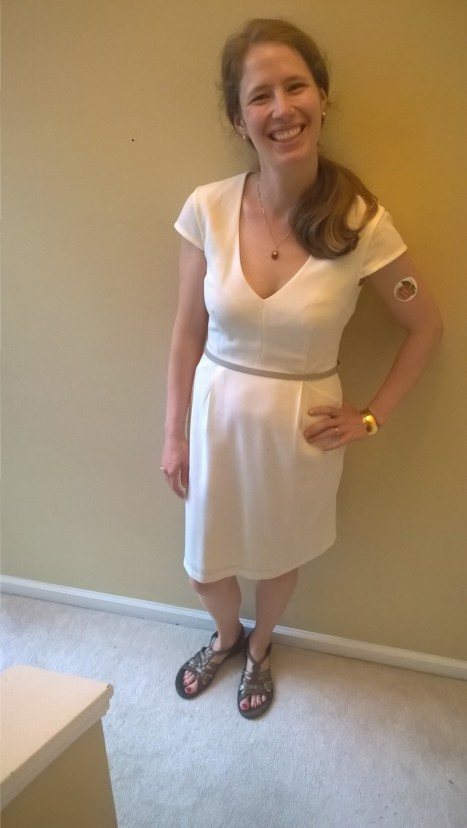 H&M dress; J. Crew belt; Monet cuff bracelet; sandals by Clarks (retail); "I'm a Georgia voter" sticker courtesy of the GA elections department (placement courtesy of my preschooler).
Styling notes: I did the same trick with my belt as last week, turning the buckle part around to the back so it didn't weigh down the belt below the waist seam. I've trimmed up a bit from running more lately; I think it may be time to put another notch in my belts so this isn't a problem the rest of the summer.
I've stuck with a relatively simple necklace here, in a length that fits the v-neck; come full-on summer I'll probably pair this with some of my bold, shorter necklaces. I could probably also pair this shorter necklace with a longer pendant, but as I'm a fan of cleaner looks that's probably a stretch.
Thoughts on this outfit: So this dress is a keeper. I love the cut, the length, and the different (for me) neckline. I'm just going to ignore the odd lining around the neck, or perhaps chalk it up to "character."
The blazer is super comfortable, like wearing a sweatshirt, and I love the silhouette as well – my ideal blazer silhouette, skimming without flaring. I'm going to wear it with my blue sheath dress as well, but if I can't convince myself it goes with my grey dress pants, I'm not sure how much additional wear I'll get out of it. Y'all know I love print mixing, but layering this pattern right on top of my patterned blouses doesn't always look right. And I want blazers that work with most of my wardrobe, not just 1 or 2 pieces. I'll probably keep it through this summer and then send it on if I don't find enough slots for it.
Day 7
Today we're back in blouse-and-pencil-skirt territory.  Huzzah!
I paired the linen/cotton "soft wash shirt" from Banana Republic with my H&M pencil skirt and the same Clarks sandals (retail) above: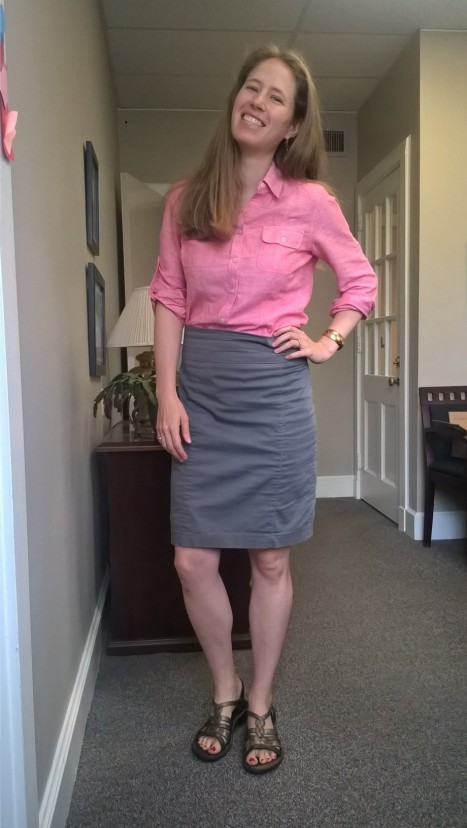 I had planned to keep the same jewelry as well, until I noticed that the (mostly) solid color blocking here felt kind of… boring. The outfit was asking for a little more interest, so I swapped out my gold studs for dangly earrings I made, and suddenly there's a bit more oomph happening: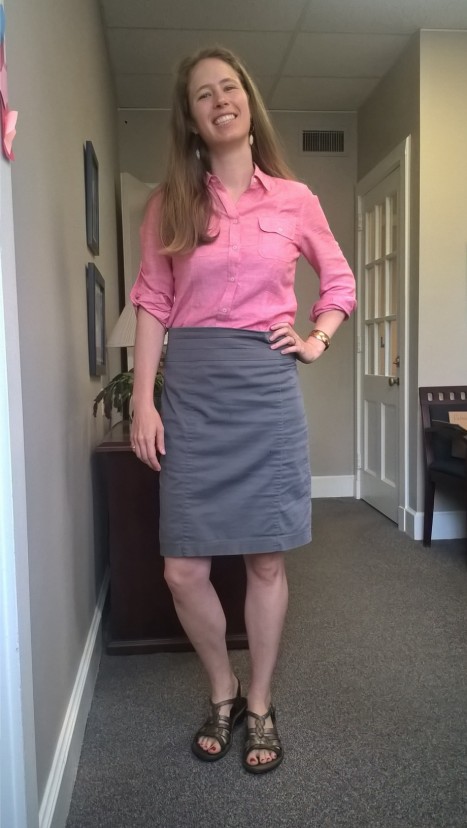 Closeup on those earrings, made from thrifted parts: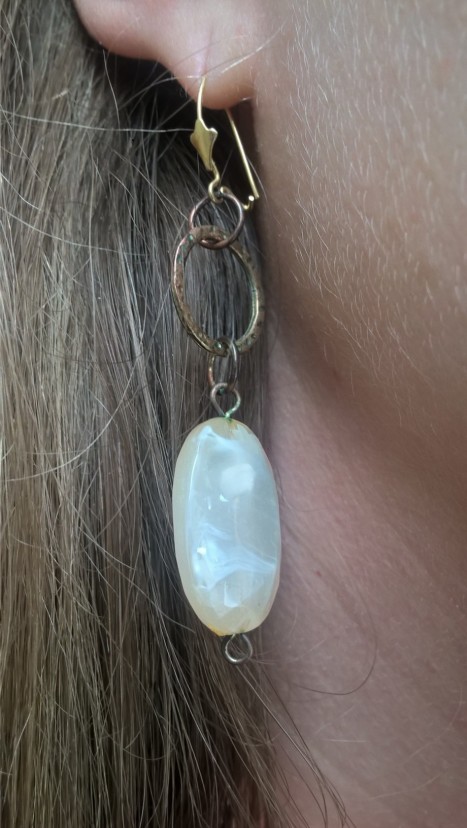 Here's the outfit in profile: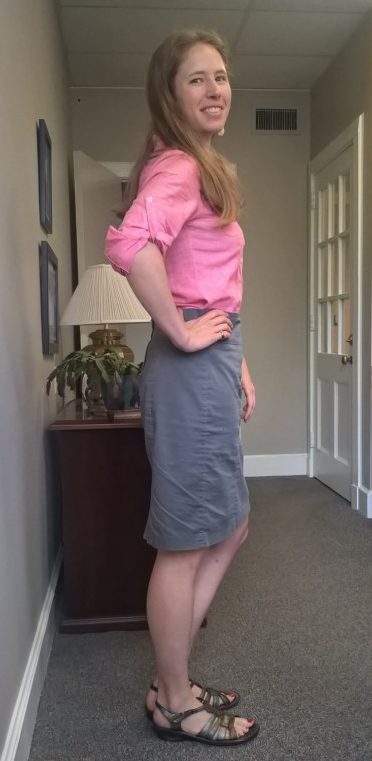 Styling notes: added some pizzazz to plain outfit with a little more "out there" jewelry; rolled those roll-tab sleeves 'cause it's gonna get warm this afternoon.
Thoughts on this outfit: blouse + pencil skirt = win. Love the earrings.
Still not sold on the shirt; it is very soft but still has more structure/stiffness than my normally silky blouses and thus doesn't lay as well when tucked in. Relatedly, the texture is a little too…hmm… rustic? for my taste. I don't hate it, it just doesn't look quite as polished paired next to something smoother. But my white skirt is also textured and this skirt is rumpled enough to pass as textured… ha.
I know I want to be able to wear it out over pants, and that would involve tailoring (either by myself – yipes – or an actual tailor), so I might just leave it as is and donate it for someone else to enjoy. When you're using two paragraphs to convince yourself about a thrift find, it may be time to let it go.
How's your 10×10 going? Whether you're doing one or not, is your spring weather throwing you curveballs fashion-wise?
I'll be away from the office this Friday and Monday as well, so look for Day 8 tomorrow and Days 9 & 10 next week.