I mentioned in my post about our move that I'd be looking for some thrifted items to stage parts of our home as we prepared it to go on the market. Our realtor advised against staging our walk-in closet, which crushed my dreams of thrifting a chic, spare, monochromatic wardrobe just for looks. But I didn't feel like I could walk away from the empty built-in shelves in the living room – a feeling that was part rational evaluation of how bare-cupboard it looked, and part creative stress relief during a rather intense moving process.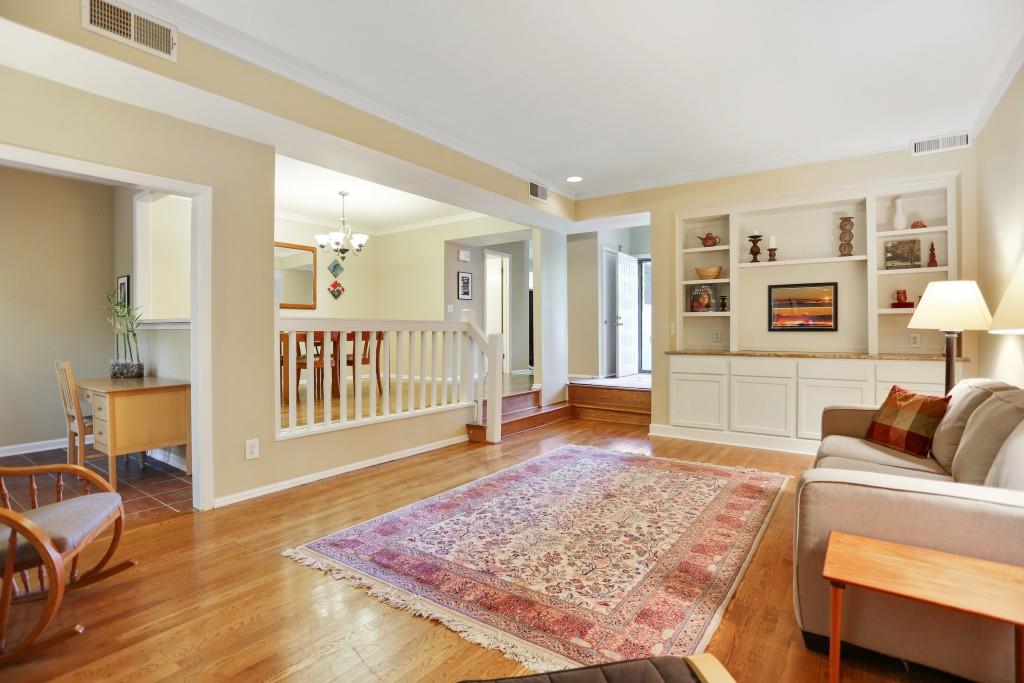 The living room with staged built-ins in the upper right
While my kitchen, office, and wardrobe are pretty heavily thrifted (that's in ascending order of thriftedness), I haven't thrifted a lot of decor before. Most of the things in our home are hand-me-downs (furniture), gifts, or items we've purchased/photos we've made on travels. My sister's an artist so we have some things she's made as well. All to say that even when I spot cute stuff in the thrift store, I rarely buy it because our home is happily full of meaningful objects we love.
Since this was a one-off fun project, though, I figured I'd give thrifting decor a try. Here's how I approached it.
Find some inspiration. I follow Queen Thrift a Lot on Instagram; she does both style and and thrifted room makeovers, the latter professionally.  You can look specifically for thrifted decor ideas like hers, or just go nuts with interiors you like on IG or Pinterest.
Pick a palette. Sticking to a color palette makes a mish-mash of thrift finds look like they're meant to be together, so that's where I started. We had already decorated the living room with colors pulled from the rug my parents had passed down to us when we moved in (thanks Mom and Dad!): light grey/taupe; a warm, muted, earthy red; white; warm wood; and some pops of black.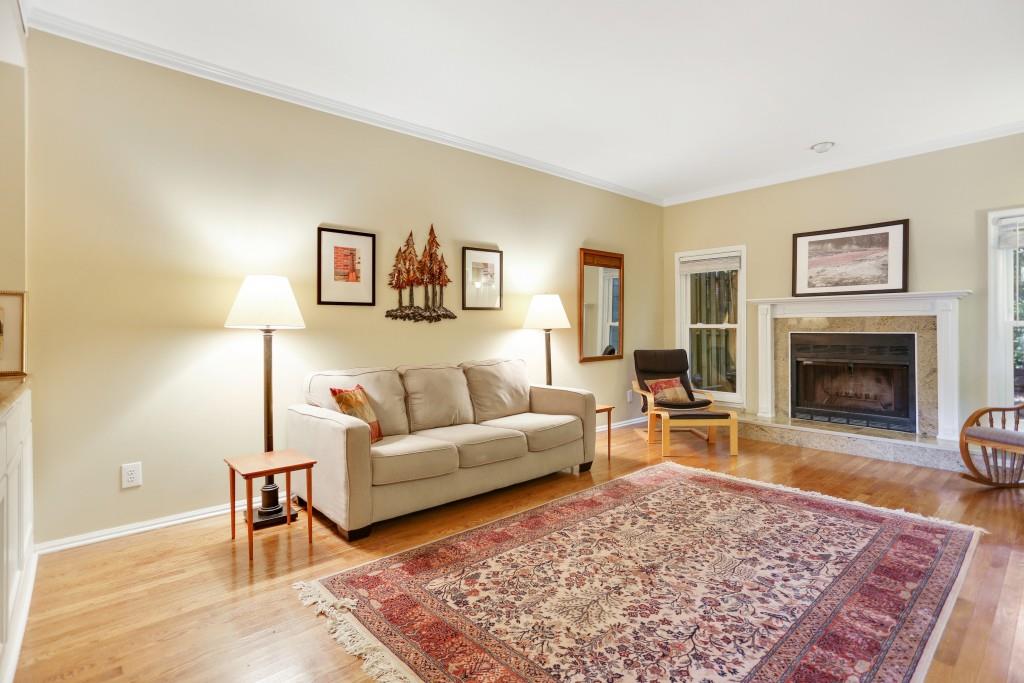 Shop your home. What do you already have that fits the bill? This may be obvious, e.g. the key pieces from which you pulled your color palette; but you may also be able to repurpose something that would otherwise be packed up.
I had set aside two coffee table books for staging since their big squareness fit the individual cubbies well. Be prepared for horrible lighting from here on out, courtesy of my cell phone (we'd already packed our camera):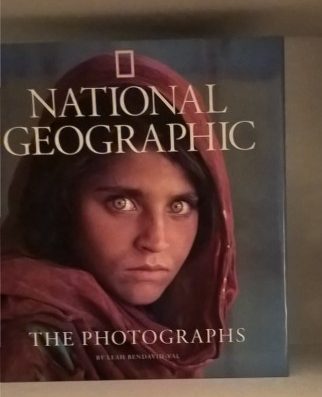 Sharbat Gula's eyes go all Emperor Palpatine thanks to poor lighting and uneven discoloration. Sorry Ms. Gula!
A fruit bowl from our kitchen that picked up the lighter wood colors: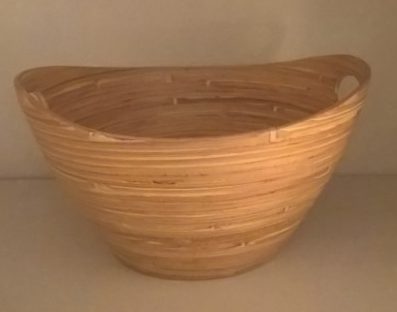 A very cool rock my sister-in-law gave my spouse… I think it's petrified wood? The colors are spot on but the photograph is horribly blurry; look for it down below next to the white vase.
Thrift with an open mind. If you're staging a room or a house, it doesn't have to be your style; it just has to look pulled together and not particularly dated. Go in looking for the color and size you need; be willing to pay a few bucks for something you won't keep forever and can redonate (ideally before you move so you don't have to pack that extra stuff!). Even with furniture, spending $50 – $300+ to get pieces that work in the space and help them feel lived in costs a lot less than paying someone to stage your home.  And if you find something you love and will keep, all the better!
Keeping that open mindset at the fore, here's what I found:
I love the minimalist palette and design on this plate; it reminds me of some desert-made art in my childhood home. Decorative plates make zero sense to me (why not eat off of it, or use the space to display something more interesting/your books?), otherwise this might have made the "keep" list.
Likewise, I could see keeping the white/buff streaked vase in another style life, but it was filled with styrofoam (why??) so back it will go. It looked great next to the petrified wood, though.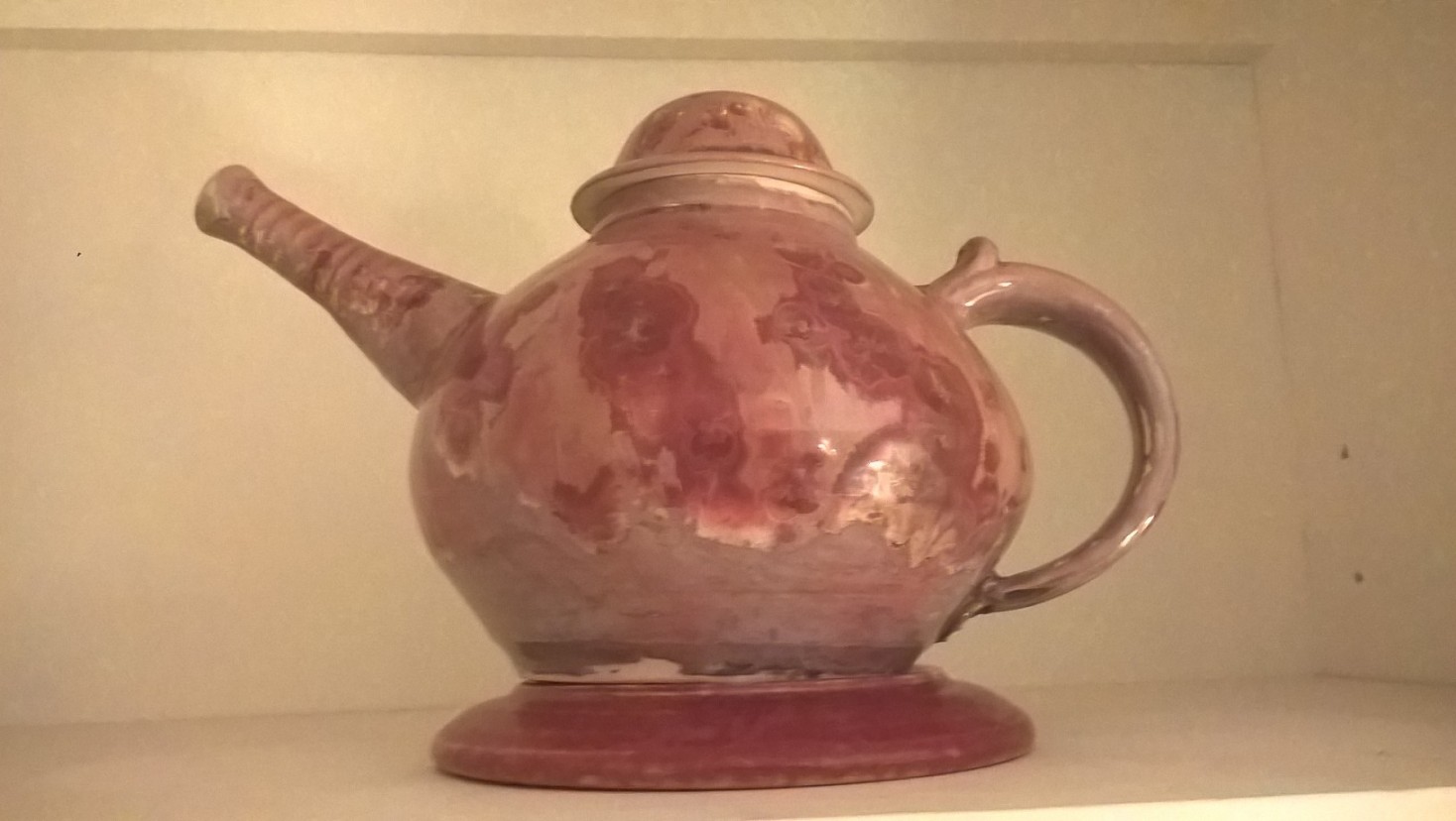 The picture does not do justice to this amazing crystalline glaze teapot. I flipped a small ceramic plate in the same color family that we already had upside down to boost it up a little higher so it was more visible from the floor. The plate will likely get donated when we clear everything out; the teapot was an unexpected coup de coeur and I've talked myself into finding a space for a teapot we'll never use (since we never use teapots and I have no idea if it's food safe).
I have no idea what the thing on the left is but it was the right color (next to it is our other coffee table book). The pineapple candle holder on the right – much more red in real life – is too baroque for my taste, but it had a matching, larger candle pedestal (below) and I figured putting them in two different spots would help tie in all the disparate pieces.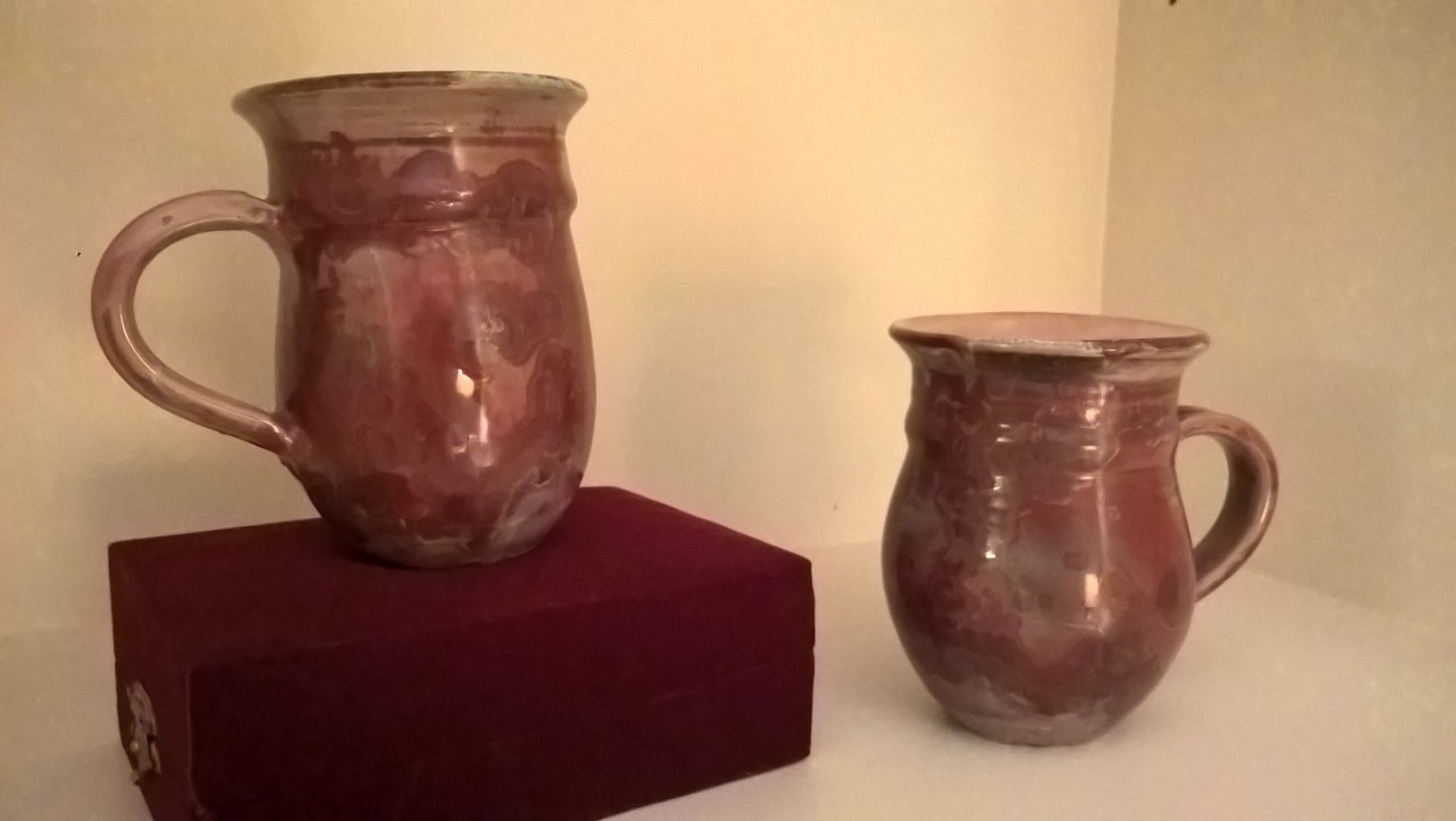 The matching mugs for the pot! Oh happy day. I used a velvet keepsake box we already had to boost one up both for a little visual interest and to take up some more vertical space since the mugs were on the short side.
The larger pineapple, another candle pedestal, and what we dubbed the Leaning Tower of Bird Cage. I have no idea what that thing is but it was the right height for the taller space in the middle.
Play with it. Don't be afraid to rearrange, sleep on it, and rearrange it again. It took me three or four tries to get to a distribution of heights and colors I liked. Pinterest/IG can be very helpful here as well in training your eye on how different colors/sizes/styles can go together.
Here's how it all looked together, with sunset photos my father-in-law took in the center: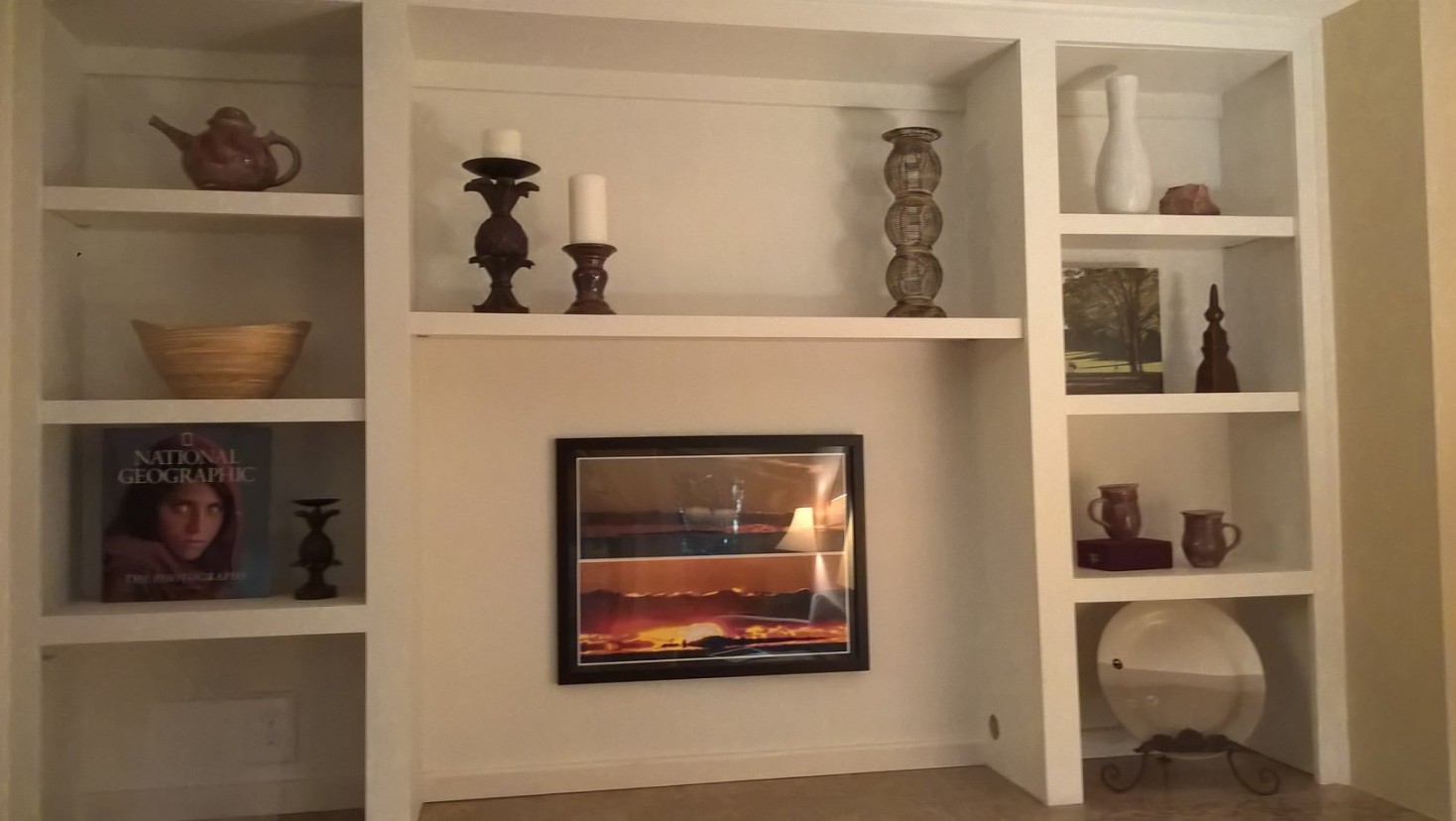 The lower left cubby was left open for real estate brochures.
Once again, from far away but with better lighting: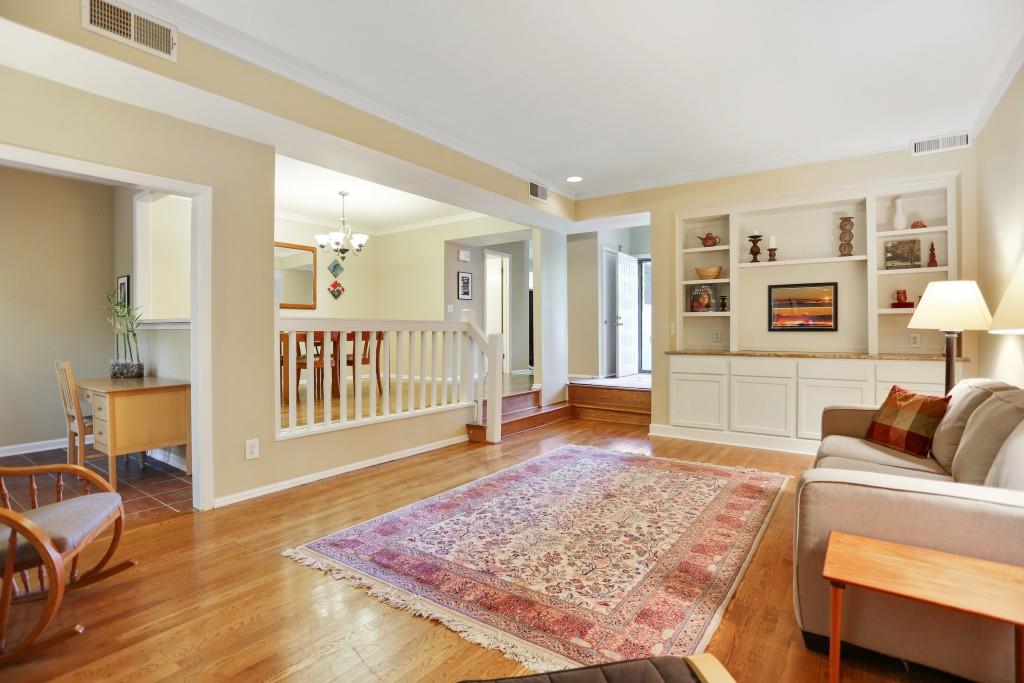 Total cost was under $40. It was a bit more than I wanted to spend, but for a project I enjoyed and a beautiful teapot/mugs I'll keep, it was worth it.
Look for extras. We thrifted neutral-colored lamp shades to replace the dark amber ones the lamps came with when friends, moving four years ago, gave us theirs (thanks Les & Lauren!). Our space needed light and for $4 a piece, new with plastic wrap still on, they did the trick very nicely: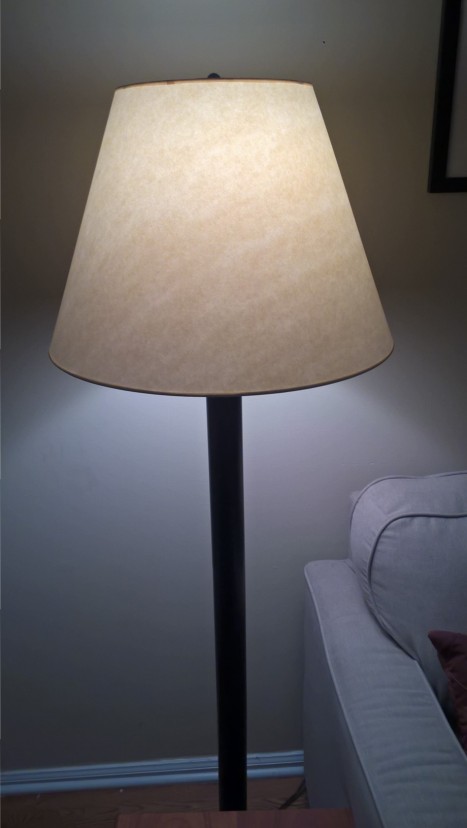 You can see them in action again below, where you'll also notice our mantelpiece art: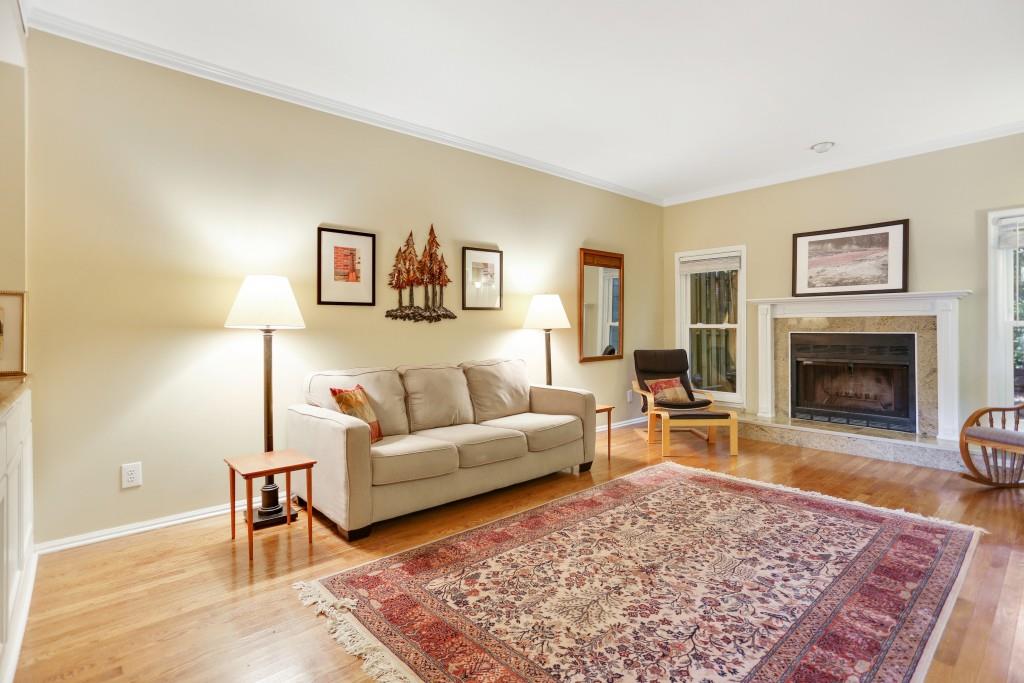 I diligently scoured my area Goodwills for art big enough to fill that space and with the right hues, but came up empty handed. So the week before our house went on the market, I picked out a photo of wildflowers I'd taken at Arabia Mountain National Heritage Area with all the colors from our living room in it, had it blown up at Costco for $10, bought a frame at IKEA for $20, and voilà, we had art we loved that played well with our staging:
Who knows if we'll keep that same print in our new space; our color scheme may very well be different. But for $10 a print I'm going to have a lot of fun choosing a replacement from among our travel photos! (PS if you are near Atlanta you should definitely visit Arabia Mountain, particularly in early spring – the wildflowers growing on bare rock are otherworldly.)
Have you ever staged your home? Did you do it yourself or pay someone to do it? Do you thrift decor/homewares? If so, what's been your favorite find? Comment to share!