I'm doing the 10×10 spring remix hosted by Un-Fancy and StyleBee. All this work week and next, I'll be using 10 pieces of clothing to create 10 different outfits, using self-imposed limitations to spark some creativity. All the details – and all the clothes – here.
So Day 1.  I paired my peach leopard print blouse by Forever 21 with my taupe skirt from H&M and topped it all off with my coat dress from Tahari by Arthur S. Levine. The slides are Bandolino and the cuff is by Monet; everything except my earrings and necklace (heirlooms) is thrifted.
Still trying to figure out my camera set up… so you get a few early-morning closeups in my bathroom and a few blurry front-facing phone camera selfies. Good times.
Sleeves worn long for chilly mornings: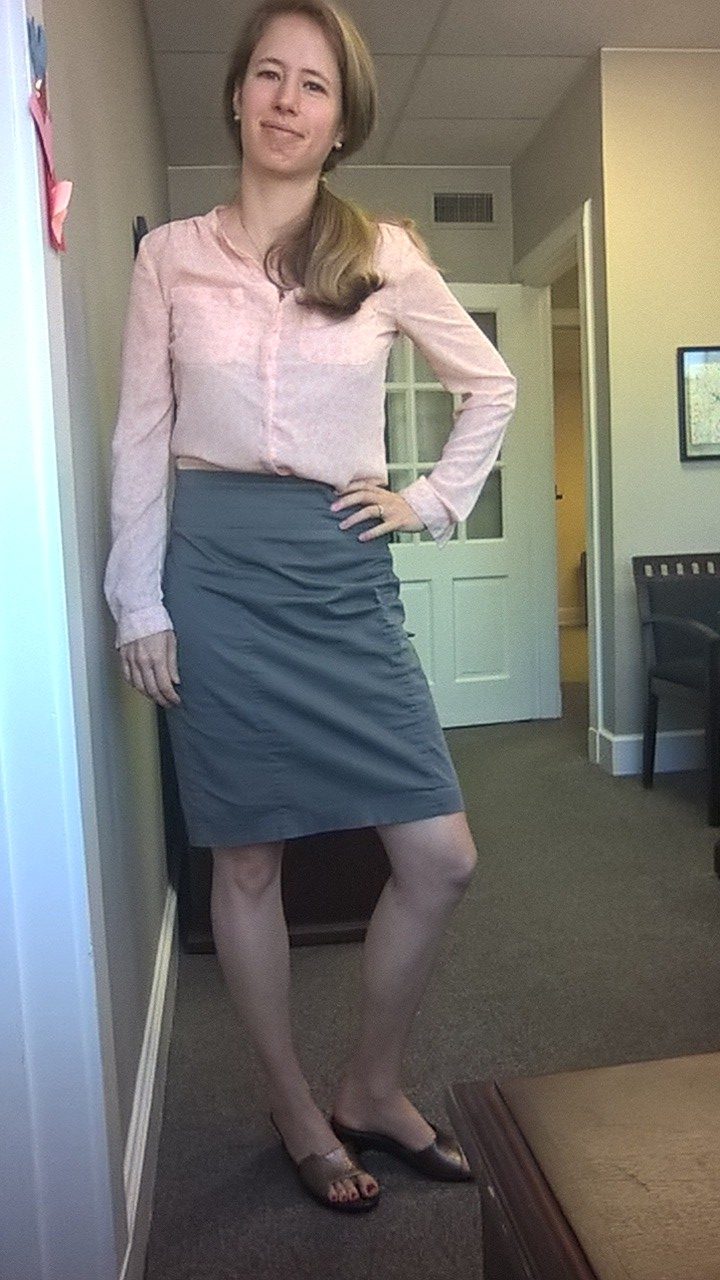 Or rolled to get to work: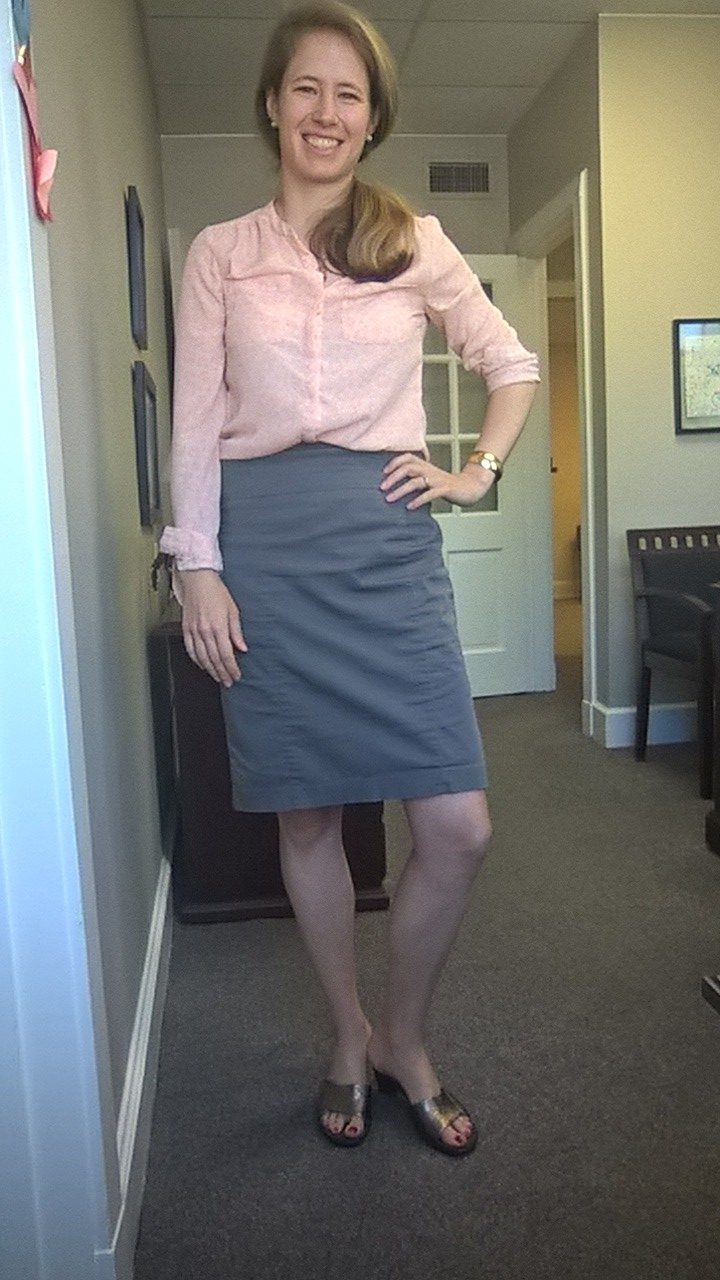 I was worried this lovely lined dress coat would be too warm for days with highs in the 80s, but man am I glad I wore it today. It was quite chilly this morning both outside and in my office when I first arrived.  Good call.  I wore the blouse sleeves long and rolled them up over the coat cuffs to bring a little pattern to the extremities of my outfit and make it all look a little more purposeful: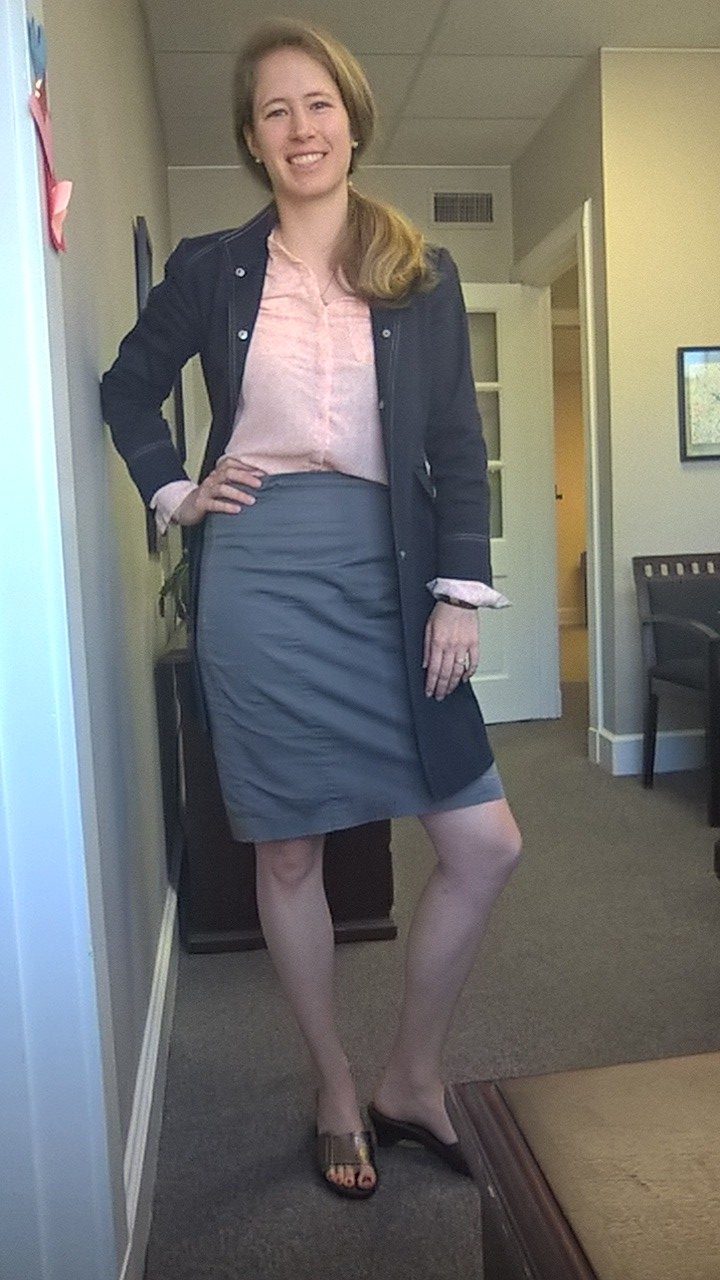 Bonus shot:
You're welcome. Ha.
This outfit feels really "me" – classic silhouette and proportions with the subtle leopard print thrown in for a dash of interest. The coat is still a newer (to me) piece but every time I put it on I feel like Jackie O. Bam, done – call the elegance paparazzi.
If you're doing the 10×10, how did your planning go? How's your first outfit?  Have a great Monday!